In 2009, Lauri Stallings had a vision for Atlanta's public spaces—to fill them with dancers. You've seen them around town—performers dancing in the middle of a downpour in Midtown and filling empty store fronts in Little Five Points. After six years at the Atlanta Ballet, Stallings founded gloATL and started recruiting dancers from all over the city.
In Dutch, glo means "a gathering of people who witness a unique event." Under this mission, gloATL has brought a breath of fresh air to Atlanta's performance community. Headquartered at the Goat Farm Arts Center, gloATL performances incorporate storytelling, choreography, music and interpretive dancing. All performances are a balance between choreography and art installation. Liquid Culture, shown over this past summer for the second year in a row around town, was a collaborative project with the Atlanta Opera and Sonic Generator. It was based on the idea behind the word 'utopia,' and it let the public interact with the dancers to provide a shared experience.
Now, on their fourth season, Stallings talks to CommonCreativ about the process behind the performances, her thoughts on Atlanta's creative scene and what's next for gloATL.
CommonCreativ: What was the force behind creating gloATL? How did that mission come about?  
Lauri Stallings: The force…we had to. We didn't know why, we just knew we had to. The mission "in action" came 3 years ago when glo began. Writing it down proved more challenging!  I received a great deal of council in order to pare down in writing the essentials of what we do. It became very apparent the medium of performance is the thing.
CC: What's your thought process when putting together choreography and deciding on spaces?
LS: More than a "thought process", I would call it a "feeling process." All of my work begins with a feeling, and from that feeling comes the sounds, the smells, the galaxies that torque into the work. The feeling itself is found in the space I'm using as material at the moment.  As for storytelling, that comes from people. Only people can tell stories over and over again and still have value.
CC: How do you choose the performance spaces around the city, aside from your headquarters at the Goat Farm?
LS: I usually look at it as an inside out x-ray. First I spend a lot of private time in the space, then I tend to spread my interest quickly to the surrounding neighborhood to feel around for pockets of hidden potential—the good virus to spread.
CC: The level of vulnerability and focus is high during these free public performances. How do you and the gloATL members prepare for that?
LS: The relational aspects of the work are at its very center.  We assess where our eyes are landing moment by moment. And the vulnerability is the double sword—it keeps me connected to the universe. It keeps me honest and available to be brave and silly.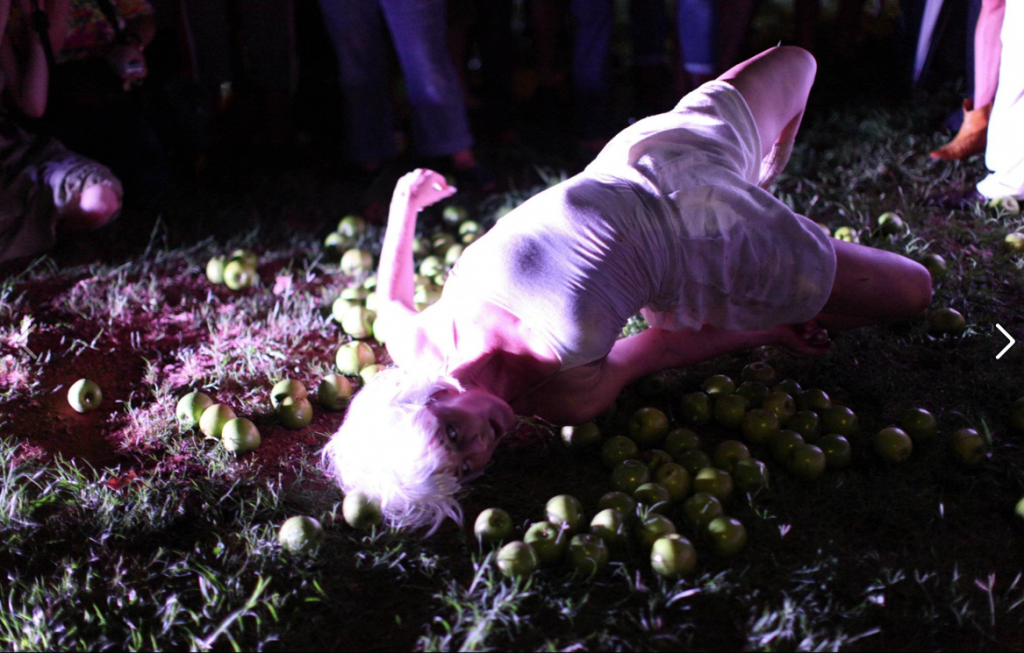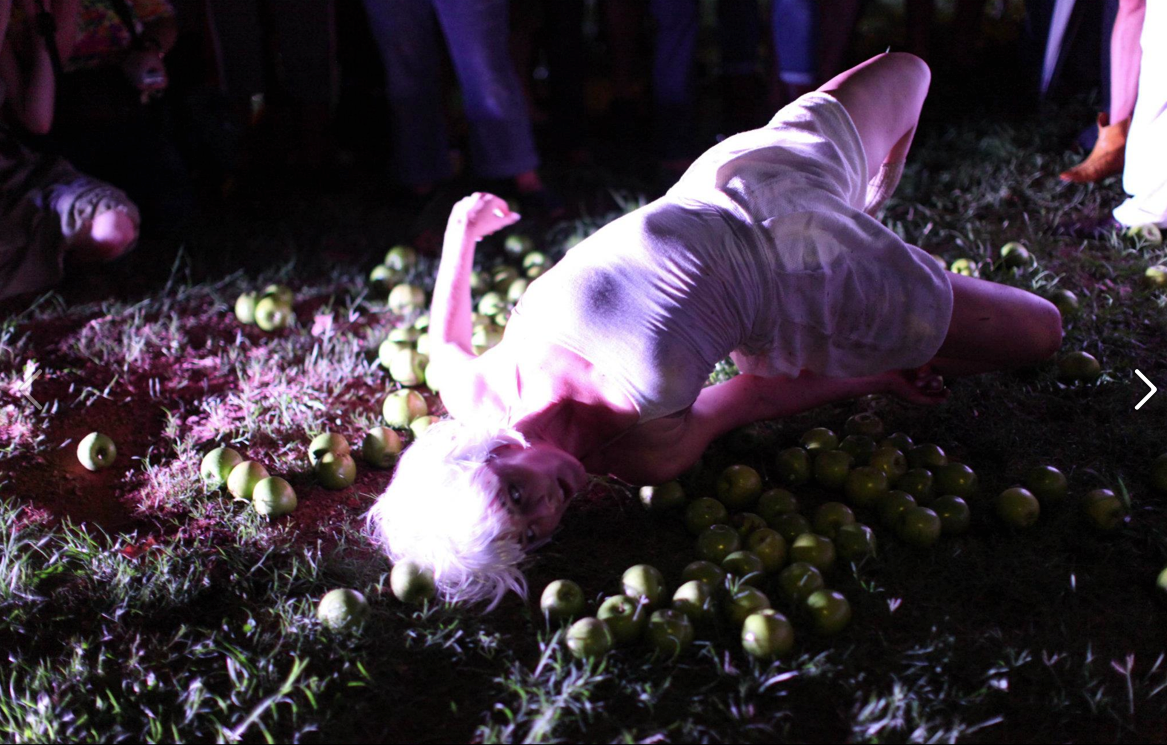 CC: What inspires you on a daily basis? 
LS: Everything. I believe this is the life we should cry over, we should lose sleep over it, so I let inspiration flood the gates while they're open.
CC: What do you have in store for FLUX 2012?
LS: "Act of Devotion." Composer Daniel Clay and I are working together for the first time. It's a pleasure and wonderfully challenging on many levels. There is no migration—the work is localized, so basically I am walking around with my lower legs cut off, trying to find what it means for gloATL not to roam, not to spread. It's great.
CC: What do you think of Atlanta's creative scene? 
LS: Atlanta is thriving—it's making it happen and is poised to thrive in ways that will make what's happening last. It has endurance, and endurance is the key. A few of my favorite Atlanta projects include Trees Atlanta, Wheat St. Garden, the Atlanta BeltLine, One Love Generation and the Living Walls folks.
CC: Why do you think it's important for the Atlanta community to support creative projects and organizations?
LS: Creativity begets action, begets awareness, begets empathy, begets education, begets maturity, and begets a great city.
See gloATL perform in October at FLUX2012 in Castleberry Hill.