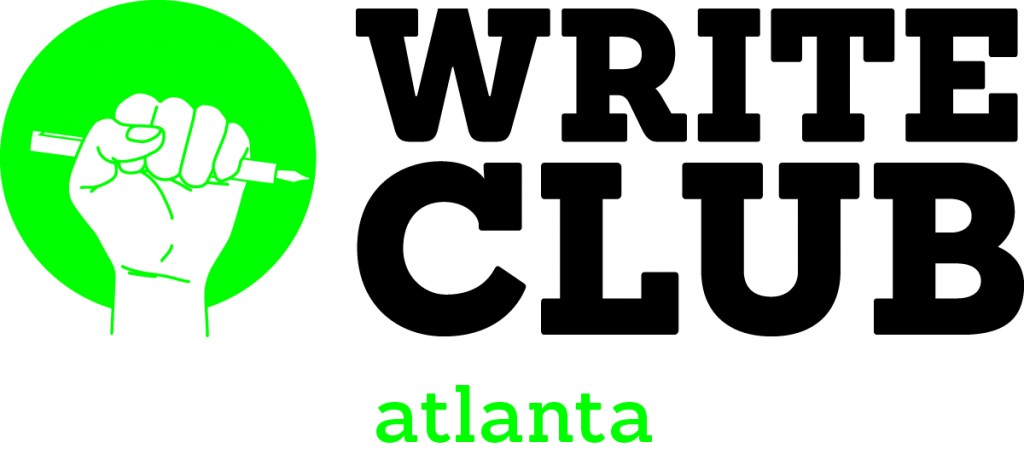 We're continuing our celebration of ATL Literary month with WRITE CLUB Atlanta, a Fight Club-like monthly reading series helmed by Myke Johns, Nicholas Tecosky and Emily Philp. Every month, they ask writers to come up to the PushPush Theater stage  and battle it out over two opposing topics for seven minutes each. The events have three parts, each part with two writers. Opposing topics are assigned by WRITE CLUB a week in advance so the writers can prepare and bring their A-game.
The battles are not without a good heart. A portion of the show's proceeds is donated to the charity picked by the literary match winners, who are selected by the audience. It's been over a year since Tecosky took the reigns from WRITE CLUB Chicago's Ian Belknap and created an Atlanta chapter. They've successfully brought a new twist to Atlanta's literary scene by revamping reading events with unpredictability and fun energy. Creative Loafing even named them the Best Reinvention of the Reading Series for 2012. These guys are the real deal.
Here, we talked to the WRITE CLUB Atlanta gang about their inception, their NaNoWriMo shame and favorite Atlanta projects.
CommonCreativ: Happy National Writing Month! Tell us about WRITE CLUB Atlanta's inception.
Myke Johns: As with many other great things, it started in Chicago. Ian Belknap brought his one-man show down to PushPush Theater back in the fall of 2010—"Wide Open Beaver Shot of My Heart." And while he was in town doing that, he decided to try and put up this other show he'd been doing where he got writers to see each other as they naturally are: bloodthirsty, jealous, wrathful enemies. [You can see videos of that first show here.] Tecosky was in that first batch and in a couple more after that and Belknap saw something in him and asked Nick to helm WRITE CLUB Atlanta (always in caps, because WRITE CLUB is always yelling at you). Nick immediately came to me to help out and we were off. That was April of 2011. We were up and running with our first show in June.
CC: What's the process behind putting together one of these monthly events?
Myke: We have to wrangle together a bunch of writers every month, which never seems to get any easier. I think the competitive aspect of the show is intimidating. Actually, I know it is. It's kind of designed to be. But the hope is that the high stakes nature of WRITE CLUB acts as incentive for writers to bring their A game. Anyway, basically, we ask people to participate. Or the braver folks ask us.
Emily Philp: We try to bring in a variety of styles into each month's roster.  We wish to strike a balance between theatrical and mellow.  We know our audience is diverse in age, experience, background, etc.  We hope to find someone who can get each member of the audience to sit on the edge of his or her seat at some point during the evening.  Of course, we are hardly puppet masters.  Aside from emphasizing the seven minute limit, we give our combatants no guidelines or expectations.  We have to wait and see what happens with everyone else.
CC: How exactly do you stay "in shape" and prepare for literary death matches as a participant?
Myke: Once I put myself out there as a person who writes things who was attached to this monthly series, for some reason, people assumed I was worth listening to and started asking me to read at their series. Hyde ATL, True Story!, Vouched… Which was alright, except until WRITE CLUB came to Atlanta, I had all but stopped writing. I was a non-practicing writer. Lapsed, if you will. Then I had all these invitations and no portfolio to draw from, so I was having to write something new every month. It was kind of like literary boot camp. When I stopped concerning myself with what I thought would do well in front of an audience, I feel my pieces improved greatly. Still, I went something like six bouts without a win.
Emily: I often think about my next bout and wonder what my topic will be…I obsess about it a bit.  It's such a relief to get the actual word or phrase I need to focus on, but it's also paralyzing for a little while.  I suppose my regimen between thanking the crowd at the last bout and finding out my next topic includes—jotting down random thoughts as they occur to me in case I can find a home for them in a piece, figuring out what crap I've got to get down to clear the way for a new piece, and remaining willing to hear people clap loudest for the other guy without imploding.
Nicholas Tecosky: I spent 10 years writing children's theater for theme parks, and have spent the last couple of years writing horror films (most of which are unlikely to ever see the screen). In order to receive a paycheck, I've had to at least pretend to keep a tight writing schedule, though I've spent most of the time writing long-winded journal entries about how hard writing is. These elements combined have resulted in both my discipline and voice in creating WC pieces. A heady, constant panic also helps keep the mind sharp.
CC: Episode 26 is still one of my favorites—Gwynnedd Stuart and Thomas Wheatley in Add v. Subtract. How do you choose the participants for the matches? Do personalities matter?
Emily: This bout was before my transition from audience member to producer.  I also call it a favorite.  As I said above, people can (and often do) surprise us.  Sure, we might consider the fact someone is shy or bombastic, but the fact is that someone who always writes creative non-fiction will show up with fiction.  Recently, someone broke into a rap.  We've had singing.  Someone who had nothing written in front of him.  Puppets.  The crowd enjoys a rematch from time to time, and those tend to deliver what's expected. Beyond that, I suppose we'd be foolish to assume we know what anyone is going to bring.  I like it like that.
Nicholas: Personalities do matter- whether you are shy or bombastic by nature, it's important to have the fight in you, deep down. The desire to want to bring your best and throw down. That usually overrides any introversion in the end. Also, a thick skin helps. It's not easy to get up there and be judged. Most people figure out pretty quickly upon taking the stage that this show is almost completely not about winning, but about the joy of the fight.
CC: Weirdest Suggest-o-matic topic you've ever received.
Emily: For me, horseshoes vs. hand grenades.
Myke: Dollars vs donuts. I barely knew that was an expression. I still don't know what it means. I'd be willing to actually assign that just to see what the hell would happen.
Nicholas: This isn't "weird," per se, but we have gotten Star Trek vs. Star Wars more frequently than you'd imagine. Sometime, we may just have to have a night filled with those. I, also, have no idea how dollars and donuts have come to be viewed as mortal enemies. And I'd really like to find out.
CC: Since we don't have seven minutes, tell me what you think about Atlanta's literary scene in five words. GO.
Myke: We be runnin' this town.

Emily:You ain't seen nothin' yet.

Nicholas: Ponies ponies ponies ponies blood.
CC: Can we talk about our NaNoWriMo shame? Have you ever seriously attempted to finish?
Myke: God, I have zero discipline. Before Nick asked me to work on WCA with him, I had all but stopped writing. I majored in creative writing as an undergrad but then I dropped out, worked shit jobs, went back to school for audio engineering, and finally, started working at WABE. I left writing behind, and those muscles had definitely atrophied. And jumping back in like this, where every other month or so, I'm having to murder another person in a thousand words—it's like that scene in Rocky IV where he's in Russia all chopping wood and pulling heavy shit around in the snow. Every month, an intense montage sequence. Like, with a Bonnie Tyler song in the background and everything. But no, I've never even attempted to write a fucking novel in a month, that's crazy. I did write a story for the Creative Loafing Fiction Contest this year, and those three thousand words took the better part of a month to complete. What I'm saying is that I'm not very good at what I claim to do.
Nicholas: Yeah, I made an attempt and failed last year. I'd like to say that I failed gloriously, but it just sort of petered out after a week and a half of waking early and writing on it for a few hours. I was only marginally employed at the time, and my holy terror of starving or getting kicked out of my house eventually proved more gripping than the story I was trying to tell. My stress started seeping in. You know you've lost the thread when you start opining about the power bill in the middle of your pirate novel. But I've looked it over recently and decided that there are some pretty neat things in there that are not involved with my financial troubles at the time. Maybe I can go back to that. Or split the difference, and write about pirates who are looking for part time jobs in restaurants.
CC: What inspires you?
Myke: A toxic combination of self-loathing, an inferiority complex, and the unbridled ambition to be the biggest swinging dick in the room.

Emily: Shaking voices and quivering hands behind microphone stands. Faith that there will always be more phrases and passages I will want to underline and rewind to read/hear/experience again. The blank page and a new pen.

Nicholas: Other people's good work.
CC: What are your favorite Atlanta projects and people?
Emily: I'm a huge fan of local theater.  I have enjoyed being a season ticket holder at the Horizon Theatre for many years.  I love the work of several local artists—most notably, Hilary Yarbrough and Kristi Hyde.
Myke: I got to meet and interview Catlanta as he walked around town planting cats! Big fan of that project. Randy Osborne of Carapace recently came out as the force behind Narrative Urge—I am a fan of both of those things. WRITE CLUB got one of the envelopes. We used the money and the excerpt to hold a writing contest…which it turns out Emily actually won. And I've gotta give huge props to both my colleagues Em and Nick. Amazing writers, the both of 'em.
Also have to give a big what's up to everyone else in the awesome community of writers who are organizing and putting live lit in front of audiences: Kate Sweeney with True Story, Randy, Joyce and Lance at Carapace, Jayne O'Connor with Hyde, Kory Calico with Kill Your Darlings, Laura Straub with Vouched Books and of course our siblings Bernie, Gina, and Topher, with Naked City and Syllabus. I know I'm missing people. It's a big community.
CC: What's next for WRITE CLUB Atlanta aside from the possibly incoming Mayan Apocalypse?
Emily: Our December show is one of two in the year in which we put together four bouts rather than the usual three.  They often feature rematches, and this year's 12/12/12 show is no different.  We also have writing prompts cycling through on our website, and we post some of the submissions.
Many many more podcasts to come. You should subscribe to our podcast on iTunes here and listen all the way back to our first show.
Myke: We will celebrate this apocalypse the same way we celebrate every apocalypse: doing all we can to gather followers into our cult so as to appease our Overlord to the North.
Don't miss WRITE CLUB Atlanta's Cornucopia of Literary Shit at the Goat Farm's Warhorse Coffeeshop this Wednesday. More info here.