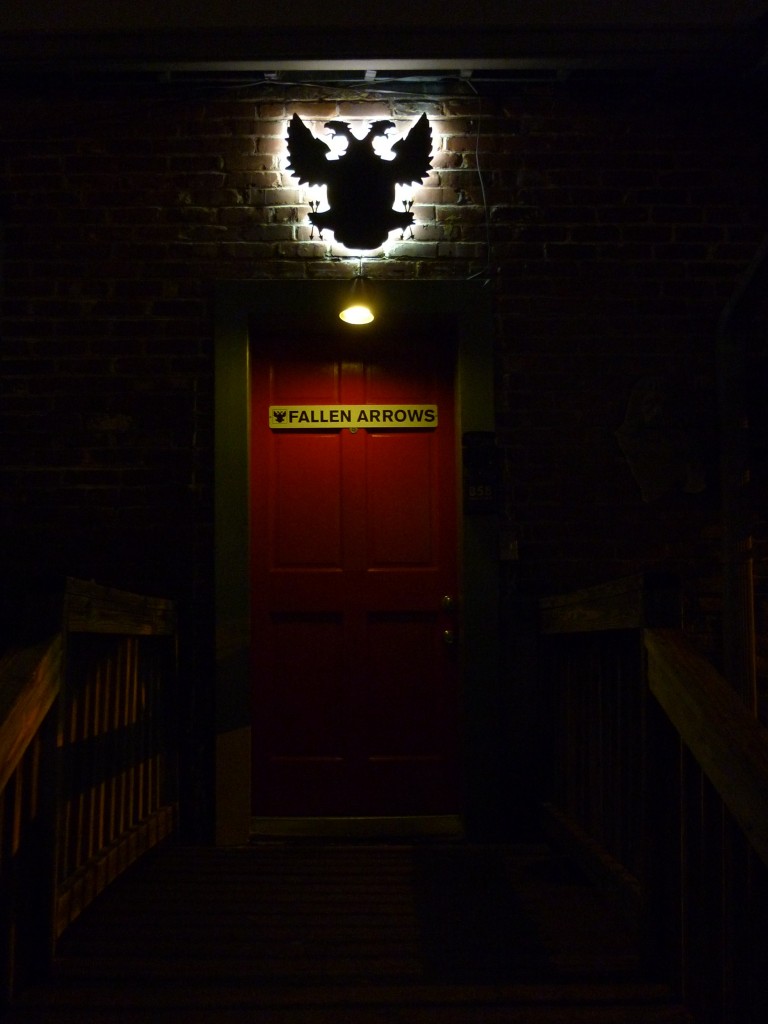 Independent custom garment-printing company Fallen Arrows is bringing a unique service to artists and businesses in Atlanta—whether you want a few printed shirts for your band's merch table or hundreds for a new entrepreneurial venture, they work directly with you to make it happen.  Owner Tito Sands,  along with partner-in-crime Andrew Bellury and co., make it easy with no minimum order, quality printing, soft  t-shirts and their large warehouse that can accommodate giant orders. Whatever your design, they can print it.
Sands ended up in Atlanta by pure serendipity and the classic boy-follows-girl.  "I came here looking for love and found it in this city, which I've called home for six years now," he recalls.
With collaborations under their belts with Dashboard Co-op, SOPO Bikes and MINT, Fallen Arrows has really grown and fulfilled its niche market since its opening in 2010. Last week, they unveiled a new line of apparel, Poisons & Antidotes, in collaboration with artist Mike Germon (Read our Q+A with him here). This t-shirt line explores the concepts of healing and destructive forces.
Here, CommonCreativ talks to Sands about the local community, upcoming collaborations and thoughts on the current art scene.
CC: You became involved with SOPO Bikes when you first arrived in Atlanta as a volunteer. What do you think of the state of Atlanta's biking community right now?
TS: SOPO was just getting off the ground, and their mission really resonated with me. Over the years, I've watched it grow and build up its volunteer and participant base, but the mission has stayed the same: Give anyone wanting to bike the opportunity to do so without hassle or huge expense. I think the state of biking in Atlanta is incredibly encouraging. Especially when you consider what it was just a few short years ago. It does my heart good to see things like the Living Walls bike mural tour, Tour de Fat, and Atlanta Streets Alive get so much attention and draw so many cyclists. I'm really excited that the city seems to be noticing as well, based on the fact that they just awarded Streets Alive with $50K. The one area of concern that I do have is Atlanta drivers' general lack of awareness where cyclist are concerned. I've seen far too many accidents where someone in a car was not paying attention and hit someone on a bike, myself included. People messing with their phones while driving is one of the most common culprits. Drivers need to stay off their damn phones and keep their eyes on the road. If the roads were more cycle-friendly, more people would see it as a viable mode of getting around.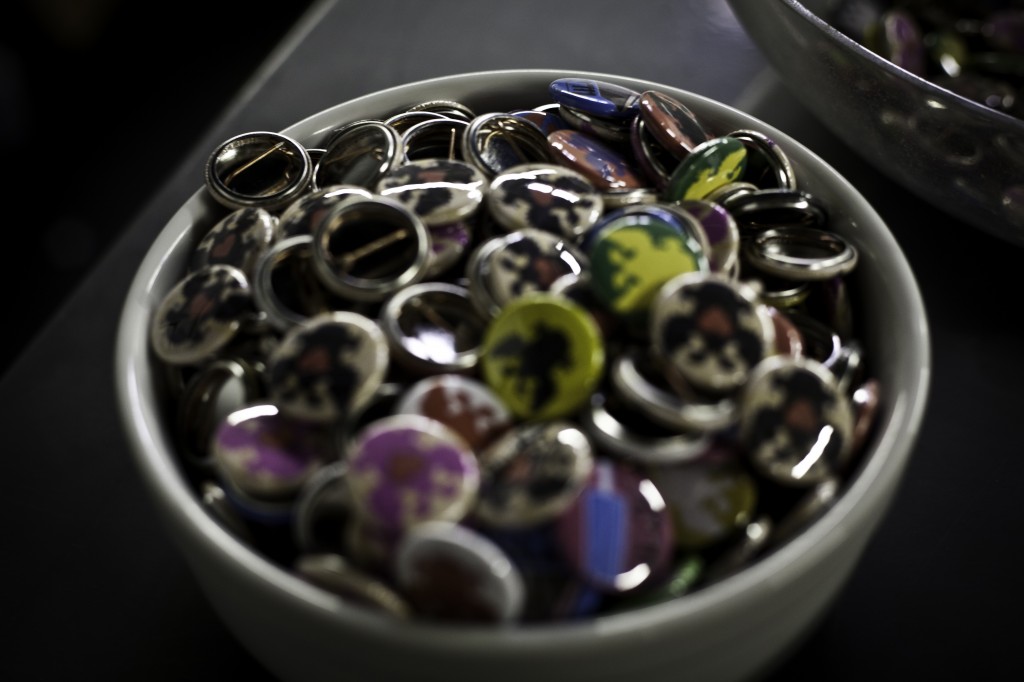 CC: Do you have a favorite place to bike to?
TS: When the weather is nice I like to bike around Old Fourth Ward Park, the BeltLine, Arabia Mountain Park or just around the city. One of my favorite biking memories was last year when everyone at Fallen Arrows dressed up like Power Rangers and rode in the Streets Alive Halloween Parade. We didn't win, but it was a great time.
CC: How did Fallen Arrows get started?
TS: I started Fallen Arrows because I felt like there was a market that was being underserved. It occurred to me  that digital, direct-to-garment printing could serve artists, bars, restaurants, small businesses or anyone who needed high-quality, full-color prints but needed as few as one or two runs per order. I loved the idea that anyone could come up with an idea for a tee and then get that tee with none of the  minimum order requirements, limits on color, or set-up fees of traditional screen printers. In 2010, the business had grown so much I had to seek new digs and found them on Dekalb Avene.
CC: You help many artists by providing affordable printing. What's the main mission of your company?
TS: The service we offer is basically custom made for people like artists, bands or startups. If you're an artist and you're trying to get your creations out in front of the largest amount of people, obviously you're going to look to the internet. You set up an online store, hype your store through social media, and hopefully the orders start to come in. But, most artists don't have startup capitol, and they certainly don't want to spend the money they do have on a million tees that will probably collect dust in their closet. The appealing aspect of what we do at Fallen Arrows is, because there are no minimums, we can actually fulfill the online orders as they come in. Someone orders your tee, they pay you for it, we print and ship the tee, and you pay us for it. It cuts out the upfront costs and makes it drastically easier to get things up and running. And that's our mission in short: taking the frustration and intimidation out of printing so that anyone with a great idea can get it on a garment and get it in the hands of their customers.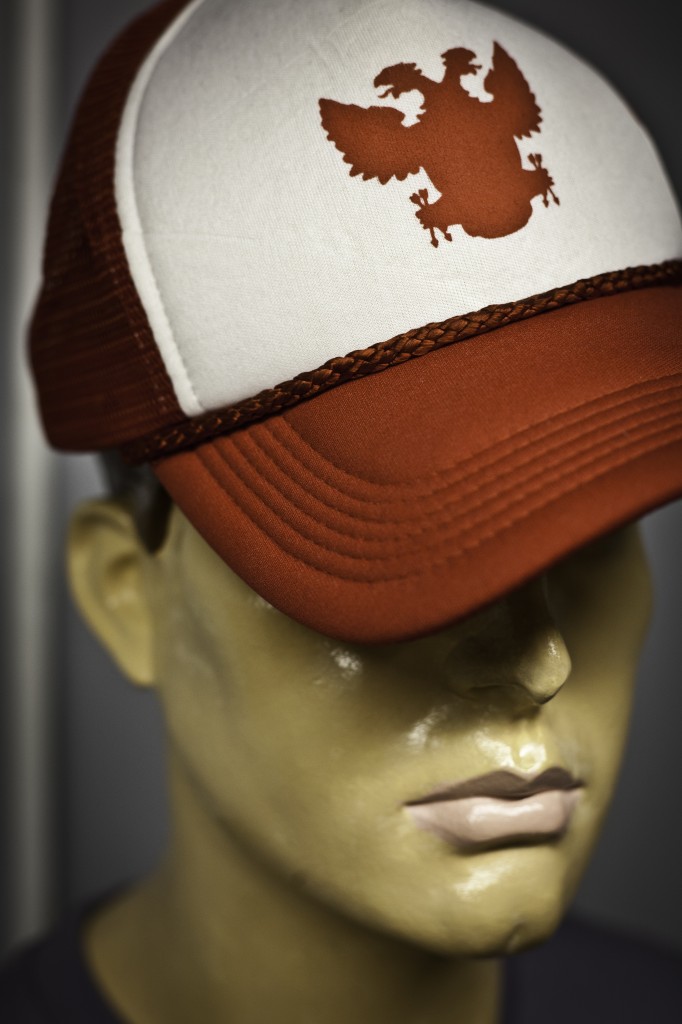 CC: How did you get into printing? What kind of materials do you use for your apparel?
TS: I kind of Forrest Gumped my way into printing honestly. It was definitely not something I went to school for or thought I would do when I was younger. It sort of presented itself at one point and I liked what it had to offer, so I jumped at it. It's certainly not always the easiest industry to work in, but it also allows you to work with a wide array of really cool and fascinating people, and every day is a new challenge and reward.
American Apparel is my main go-to for printing. It's pretty affordable, the quality standard is high, and it holds the print a ton better than most of the other options out there. Plus, it's really comfortable, and that's huge. We do offer Alternative Apparel for people who aren't afraid to shell out a few extra bucks. We like their product a lot, but it's not a viable option for every person who walks in the shop.  We also support smaller local garment producers like The Honorary Citizen, who makes top quality products in small American-made batches. Check them out!
CC: What are some of your favorite collaborations that you've done in the past?
TS: Oh man. That's a great, and hard question. We've done a lot, and most of them have been pretty amazing. We've partnered up with everyone from musicians like Maseo from De La Soul to Little Dragon to art organizations like Burnaway, MINT, and Dashboard to non-profits like SOPO, Upper Chattahoochee Riverkeeper, Common Threadz and Trashwater, and we've worked with a ton of really inspiring individuals whose paths just intersected with ours. We're always looking to cozy up with people doing good things.
CC: Any weird/memorable printing requests?
TS: Oh boy. Yeah, a few. Since we can print on basically anything made out of fabric, we get the occasional requests to do underwear. We've definitely printed some odd things in odd places. One of the odder ones was a crop top that was supposed to be cut so that the bottom of the shirt would hit the woman wearing it halfway across the breast. So, you know, getting the print and the cut of the tee exactly where it needed to be was a little tricky.
CC: Where do you find your inspiration?
TS: I wake up early every day so that I have time to myself before work. I spend a lot of that time thinking, exercising or just staring at the TV but, in those moments a lot of my best ideas have come to me. I'm a very driven person who does not sit still well so, even when I'm not looking for new ideas or inspiration, it's still a constant thing for me. Beyond that, I find inspiration mostly in the people I surround myself with. I have a great team at the shop who are also very driven and creative and most of my friends are the same way. Honestly, seemingly benign or mundane conversations with these people often lead to some of my best ideas.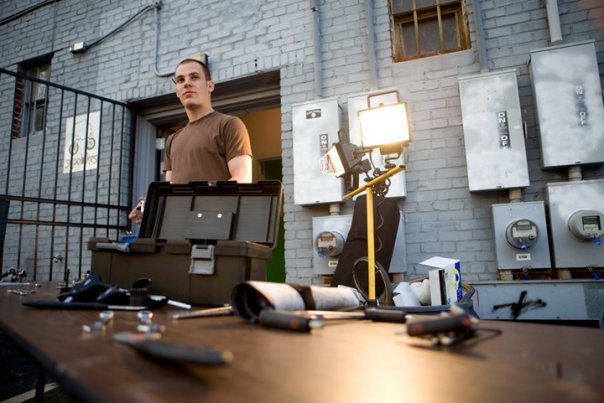 CC: What are your thoughts in Atlanta's current art scene?
TS: While I'm a little discouraged by seeing certain galleries close down, I'm encouraged by how many of them have managed to not only stay open but also grow in this tough economy. The situation at Young Blood is a good example, and I'm really excited to see what grows out of that new arrangement. Beyond galleries, there is so much else going on that's very cool. Public art, really unique shows like the ones Dashboard just put on, and things like Living Walls or Art on the BeltLine are awesome because they not only engender artistic creativity and growth but they also put art directly in front of so many people who would never be exposed to it otherwise. And, especially for the ones I just mentioned, using old or abandoned spaces as a showcase for art is a great way to bring attention to those great locations in need of a little love. It changes a lot every year, so it will be interesting to see how things transition over the next few years, but it's definitely exciting to be a part of and watch.
CC: What are your favorite projects in Atlanta right now?
TS: Well, obviously I'm a big fan of Dashboard and the work that Beth Malone and Courtney Hammond are doing, but I'm also really excited to see what Streets Alive does with the new good will, and good fortune, coming it's way from the City.
CC: What's next for Fallen Arrows?
TS: 2013 is a huge year for us. We have a lot of irons in a lot of fires and it's keeping us psyched and incredibly busy. The [latest] big thing [was] the launch of our new Poisons and Antidotes line with Mike Germon. The purpose of the line is to seek creative artistic ways to explore the interplay between things that are good for us and things that are not.
Keep your ears open for other fun ventures like the Young Blood Shirt Club, The FA Showroom, The Straight and Arrow and myWundershop.com!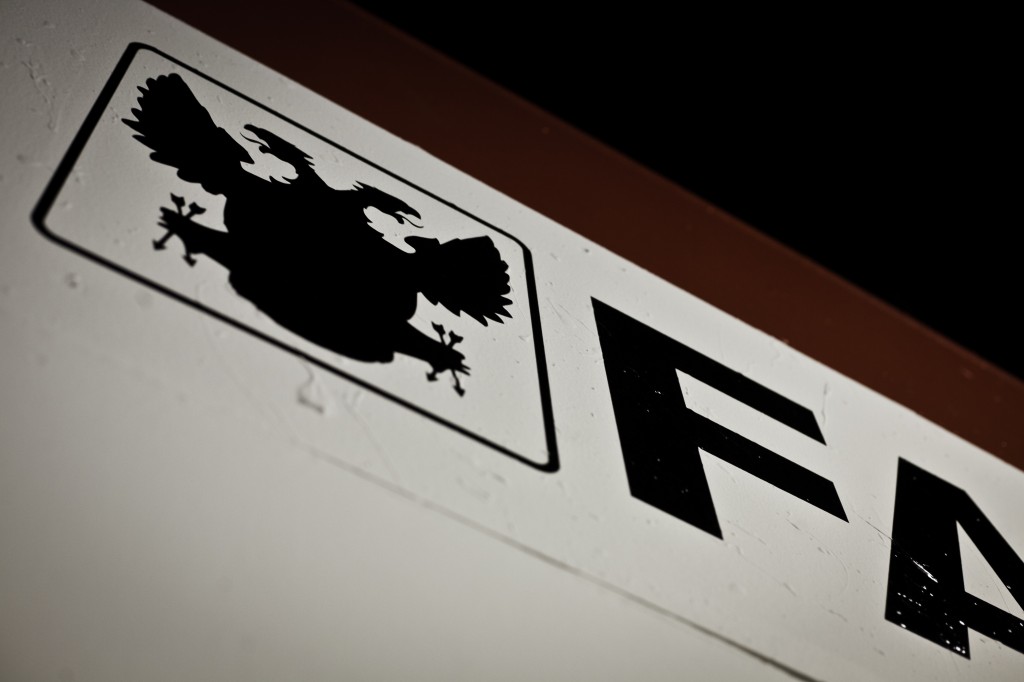 CC:  As a small business owner, do you have any advice to artists trying to follow their passion?
TS: For starters, don't be afraid to follow your passion, but also don't be afraid to have a solid contingency plan. I have seen so many insanely talented artists end up burning out because they either didn't have any idea how to market their art, they were terrified of being accused of "selling out" if they did try and sell pieces in more traditional markets, or they just didn't see a "career" in art as an actual business. There are some great resources like C4 or WonderRoot where artists can learn how to approach the more business side of things like taxes, marketing or sales, and artist should definitely utilize those things. The other important thing to remember is that there will absolutely be days where you don't feel inspired, you're bogged down in the day-to-day bullshit of "making it work" and you feel stuck, but if you can learn to see beyond those days and continue plugging away at your goals, you'll always be happier that you did. Even if it just means you're better equipped for the next thing.