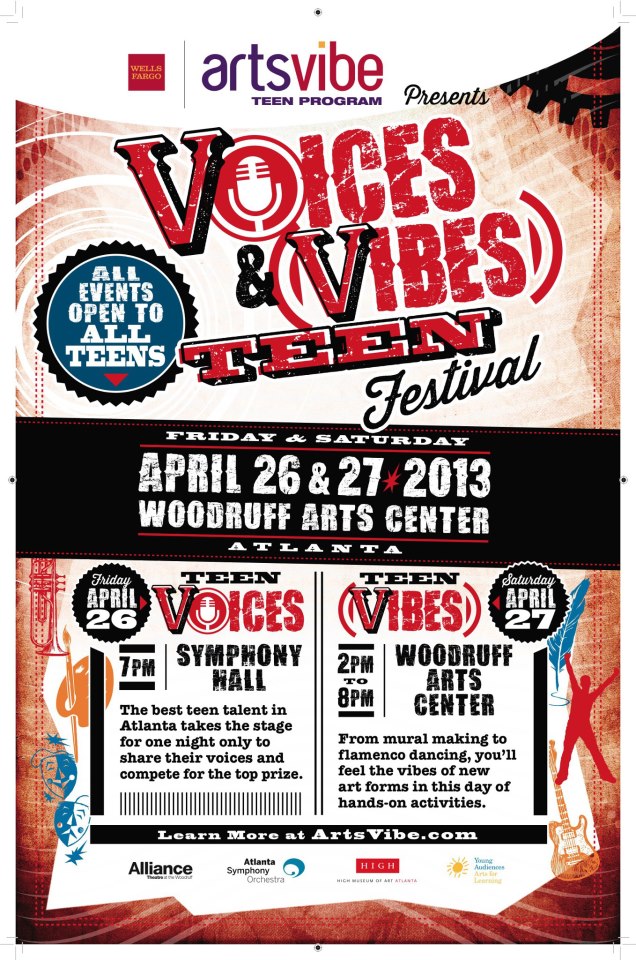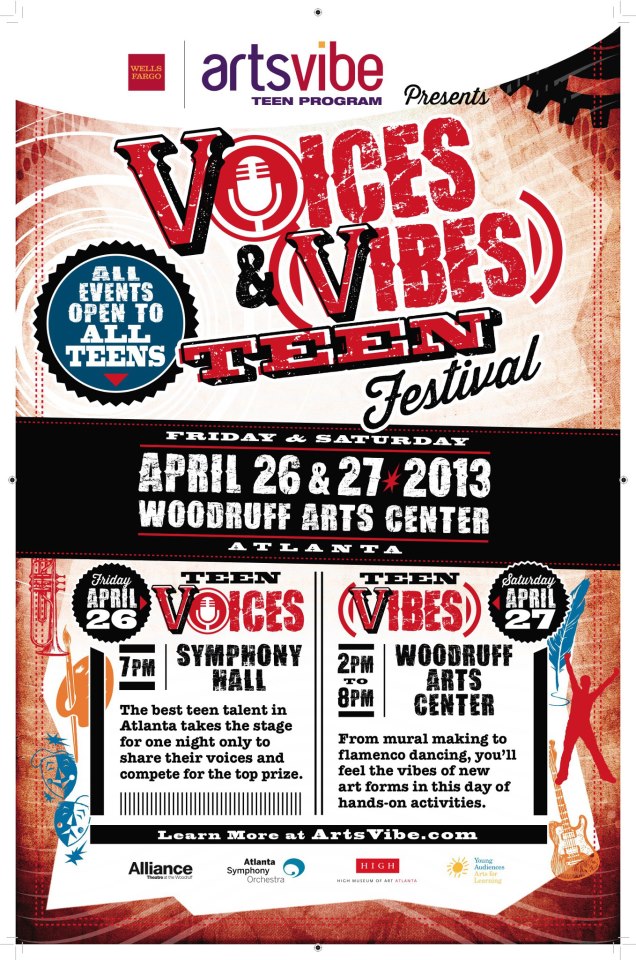 In hopes of engaging metro Atlanta teens to actively participate in the arts world, the ArtsVibe Program, which launched just last year, is investing in the new generation through art activities and education. In that spirit, they're throwing the (free!) inaugural Voices and Vibes Festival this weekend. The event will include a talent showcase at the Symphony Hall on Friday, and on Saturday, the Woodruff Arts Center will transform into a Teen Creativity Zone with viewings of the High's Frida & Diego exhibition, live music, workshops and performance bits throughout the day.
We talked to ArtsVibe Program Coordinator Kaitlin Gress about how the festival came together, the importance of art education, and why you should be there this weekend.
CommonCreativ: What can Voices and Vibes attendees expect?
Kaitlin Gress: We've got two days packed with great activities. On Friday, April 26, we've got the Voices Teen Showcase.  It'll be a show like no other—some great teen talent in Atlanta will share the stage for one-night only. You'll see dancers, hip-hop stars, rock bands and more collaborate together to create an unforgettable show. We want anyone and everyone in Atlanta to come check it out.
CC: This program is the first of its kind in the U.S. Could you give us the lowdown on how Voices and Vibes began?
KG: I was drawn to this [because it's] a program, focused solely on teenagers, that combines both performing arts and visual arts, which has never be done before.  Which is shocking, because they complement each other so naturally. One medium influences the other, which influences the next.
CC: And how did you turn the idea into reality?
KG: Wells Fargo approached us to see what we, as an entire campus, could do to engage teenagers in the arts. All the divisions (Alliance Theatre, Atlanta Symphony Orchestra, High Museum of Art and Young Audiences) got behind the idea, and the Wells Fargo ArtsVibe Teen Program was born. Members of all the divisions worked out what we should offer.  It's been an exciting first year, and we've learned so much.  I have no doubt next year will be even bigger and better.
CC: What made you want to get involved?
KG: I remember how important the arts were to me as a teenager. Between marching band and the spring musicals, my "people" were the ones who shared these artistic experiences with me. I wanted to work with this program because it celebrates teens in the arts. We showcase their voices and give them opportunities to learn even more about their mediums.
CC: How can teen get involved in Vibes, the second day of events?
KG: The first step is get yourself to the Woodruff. Then, all you have to do is the on-site registration, get your all-access bracelet, and then explore!  We have so many activities happening from 2-8PM.  You can learn stage combat, paint a mural with Cey Adams (founding artistic director at Def Jam Records!) or get tips from ASO concertmaster David Coucheron.  We've also got live performances from local teen talent all day, a dance party on the Piazza, and so much more.
CC: What advice would you give to teens who have never drummed up the courage to be involved in something like this?
KG: Give it a shot and try something new! We have everything here: music, theatre, dancing, filming, painting and more. You might find your next passion, or simply enjoy learning about a new art form. Finding a new way of expressing yourself is always really rewarding.
Teens are so smart and passionate and aware about the world around them. The arts that they have access to allow them to explore new cultures, understand generations past, or imagine worlds unseen. Atlanta's culture is being molded by this next generation, and they're going to have amazing things to share with the world.
CC: How would you describe the musical vibe in Atlanta?
KG: Atlanta's has excellent taste. It's nice to be living in a large city, because take any genre of music you like, and you can find a live show pretty easily. Atlanta celebrates all types of music, which was evident when I saw the kind of auditions kids were doing for the Voices Showcase. We heard everything, from opera to hip-hop, and it was all fantastic! It makes me really excited to be working within that scene and finding new favorite bands every day.
Get more information on this weekend's ArtsVibe Teen Festival here.