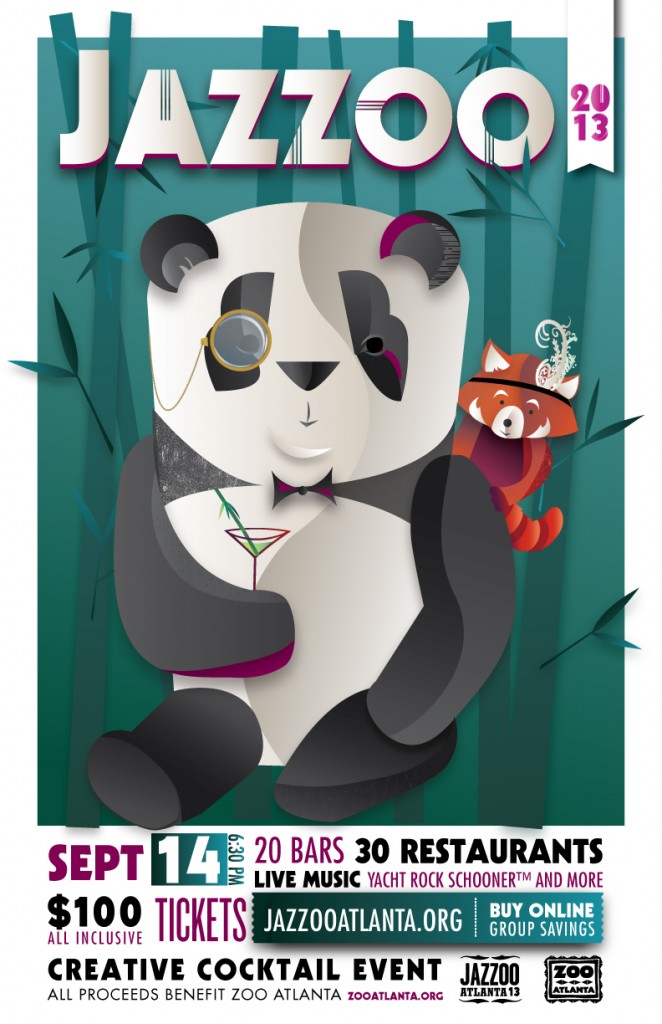 Next time you're wandering around the zoo—meandering from pandas to giraffes, following little signs to get around—you can thank Becky Scheel for all those quirky, informative illustrations. For the past nine years, she has been the go-to graphic designer for Zoo Atlanta, bringing the (already lively) place to life through designing everything from zoo license plates to a naked mole rat exhibit. Yes, it's fair to say that, as the multi-hat-wearing employee of a non-profit zoo, she's got a lot on her plate (including moderating a Google+ Hangout of a live voluntary gorilla heart echo procedure demo, which sounds a little more complicated than your run-of-the-mill design job, we'd say).
"If you need an illustrated timeline of giant panda developmental milestones," Becky explains, "I'm your girl." She handles more general tasks too—you know, painting Chinese lettering, illustrating and spending time with the giant tortoises (her favorites)—stuff like that.
Scheel sat down with CommonCreativ to tell us about her unique design gig, finding inspiration and her "biscuit quest."
CommonCreativ: What's your creative process?
Becky Scheel: I have notebooks everywhere, as inspiration usually hits me in the middle of the night, during a creative talk, or in yoga. The process at the zoo is probably a lot different than that of a creative firm. Most of my coworkers—scientists and zookeepers—are not up on design speak. I find it's best to omit words like 'kerning' and 'cantilevered' in most meetings. Sometimes projects are very hands-on. Having a bird curator tweak a feather illustration to a fine detail is very much part of the process.
CC: How has working in the South influenced your design?
BS: Besides fueling my biscuit craze? I am about to start a very serious #biscuitquest. I've never worked anywhere else! But many of my friends have gone off to work in New York or California, and I've heard through their experiences that we're probably a lot less cut-throat down here. This doesn't mean we're not competitive; we're just polite and positive about it (and we have a plethora of delicious biscuits to keep us that way).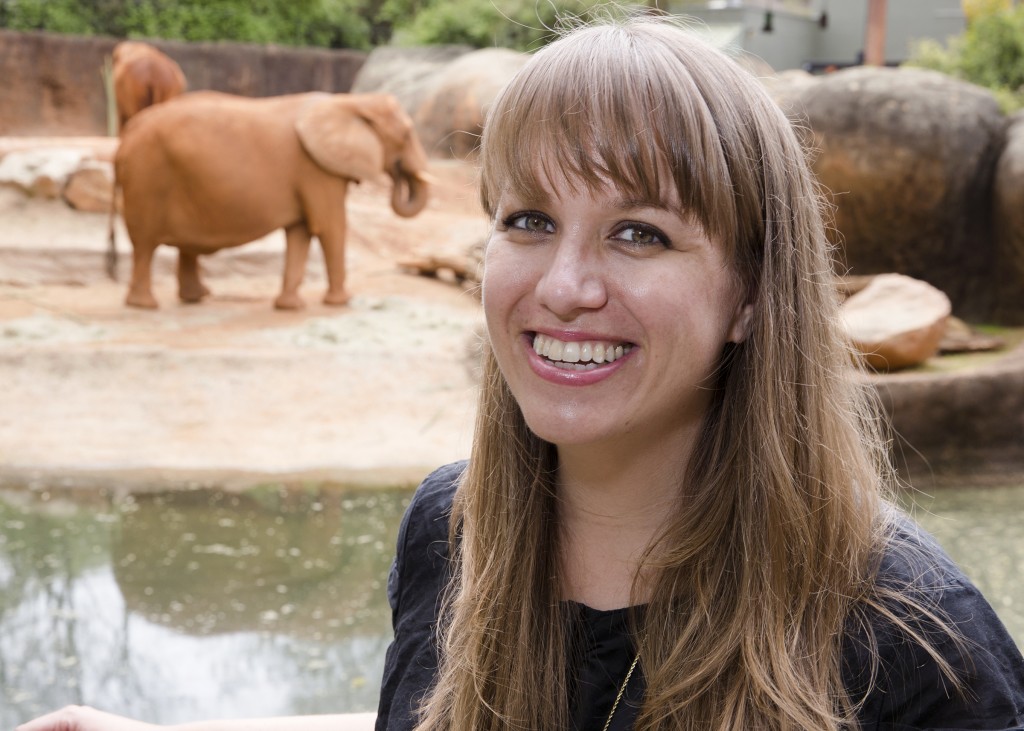 CC: What's a day in the life of a graphic designer look like?
BS: I wish it was just graphic design! Working at a nonprofit means you're going to be wearing many hats, but it also means you're going to learn a lot. I manage our website, create print and digital design, community manage our Google+ and YouTube pages, illustrate, exhibit design, paint Chinese lettering on buildings, put together email newsletters, the list goes on. Sadly, I'm at my desk a lot. On the tough days, I usually pay a visit to the closest animal exhibit—the giant tortoises. I figure they're 100-plus years old, so they make good listeners. I also get many great photos at the tiger exhibit; it gets crazy good light in the afternoon.
CC: What is it about graphic design that you find most fulfilling?
BS: There's a lot of interesting work being done at Zoo Atlanta, and I like to think what I do allows for the information to be more palatable and effective. It's extremely rewarding. We've been creating more infographics, which is challenging and exciting for me.
CC: What inspires you?
BS: I'm always on the lookout for inspiration. I probably drive my friends and family crazy by having to visit the local zoo or aquarium while traveling. Besides obvious and wonderful sources of inspiration like art museums, architecture and the movies, I feel that designers need to be active in social media! I follow and, more importantly, engage with people who inspire me on Pinterest (though you will rarely, if ever, see me pin a cupcake recipe), Twitter and Google+.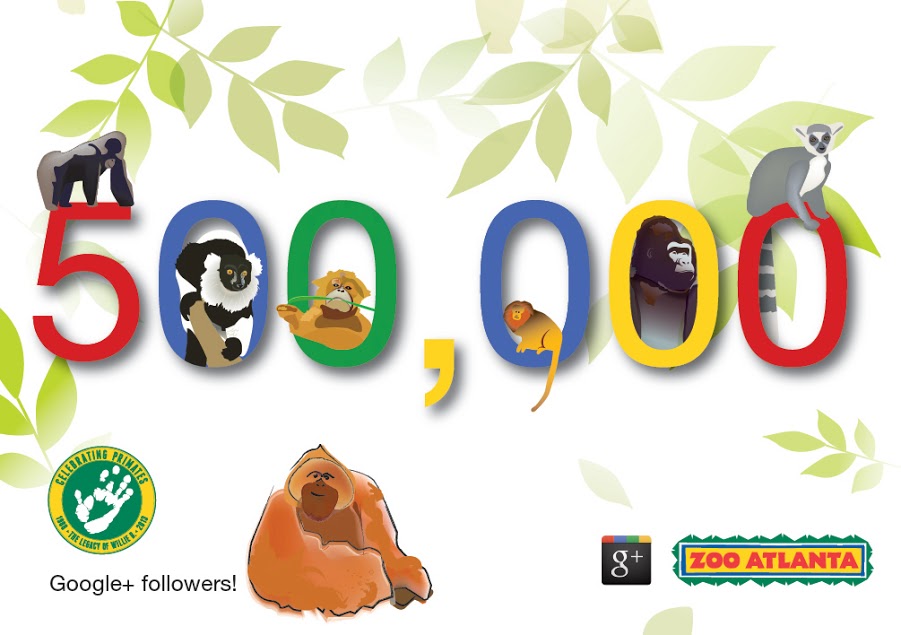 CC: Have any tips for artists who aspire to take it pro?
BS: Find a mentor and get involved in your community. You will undoubtedly make mistakes; it's the best way to learn! But to mitigate some large pitfalls, it's important to have a network to fall back on when you need help.
CC: How would you describe the Atlanta creative scene?
BS: The Atlanta creative scene is small but mighty! It's interconnected, so it pays to be nice. Thankfully, I feel like the community is incredibly supportive—there have been numerous times when all I had to do was tweet out a question or concern to have someone step in and help. I feel like, if you wanted to make a niche for yourself, this is the city to do it in. It's the Atlanta creative crescendo wave: a giant need and many possibilities.
CC: What are some of your favorite local creative projects?
BS: I was on the BeltLine Eastside trail during its opening weekend, and I slow-jogged by everyone and overheard "This is so awesome," over and over. I've never seen the city so excited. It completely altered how I saw the city I've called home for the past 15 years. I was at Georgia Tech studying Industrial Design when Ryan Gravel was working on the BeltLine. I didn't know him, but I like to believe that I was probably sitting next to a rendering of the BeltLine in the College of Architecture computer lab.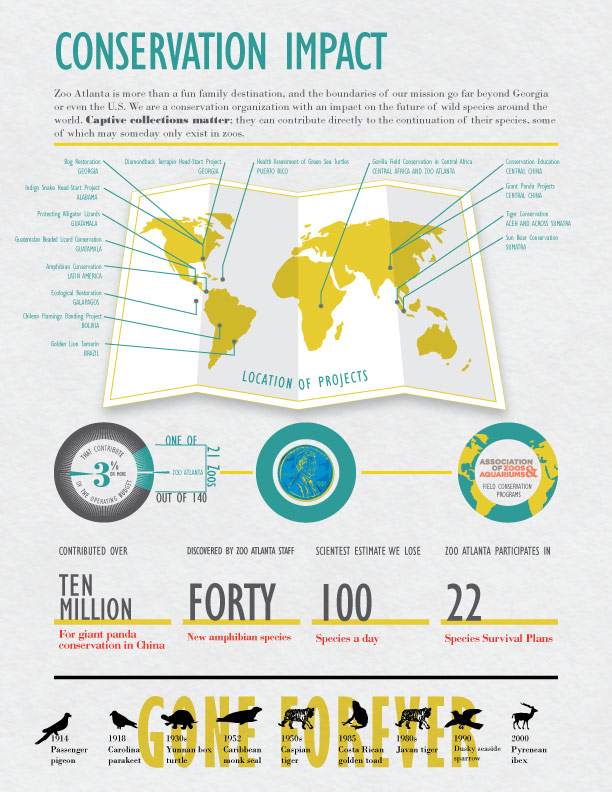 CC: What's one project you still want to do?
BS: I'd love to work on an interactive, technology-rich exhibit. We have a lot of cool ideas in the works for the new Reptile House, but we're a nonprofit, and technology can be expensive. I went to Georgia Tech, so I'm always looking at incorporating technology for an elevated experience. I recently walked around the zoo with a borrowed pair of Google Glasses and geeked out over all the opportunities this would afford the zoo.
CC: What's one unexpected benefit that this job has given you?
BS: I've learned so much from my coworkers and the animals that I've subsequently become a huge advocate for conservation and wildlife. Frankly, you'd have to be a soulless weirdo for that not to happen after almost ten years. I've spent the day mourning a lizard. Granted Slasher was not just any ol' lizard, but one of the oldest Komodo dragons in the world, but still I am mourning a lizard.  Sometimes I get to work with projects directly affecting conservation, and it has inspired me to look for work projects that are more meaningful.
See more of her work and projects here.