Joe Tsambiras is a peddler of the fantastic. Not the dragons-and-elves variety, but he'll be the first to point out there's worth in that, too. The Atlanta printmaker has been showing his particular blend of surrealist artwork and stained glass at art galleries around the city for more than seven years, invoking popular and critical praise from ATL's faithful.
His most recent exhibition, PORTL at the Swan House, explores the inner worlds of the mind and domestic spaces, employing intricate and evocative line work and inviting the viewer in with supercharged imagery.
CommonCreativ caught up with Tsambiras at the Swan House gallery, where we talked everyday magic, the printmaking process, and how to give a budding king a sword when there are no lakes around.
CommonCreativ: Printmaking is a unique art form—you see its influence everywhere in modern graphic design, but the general public knows little about it. What's the most challenging aspect of the printmaking process? 
Joe Tsambiras: My current work is primarily etching, and the most challenging aspect of etching is the ability to function efficiently within the process. I learned this past year that to function efficiently within the process you have to realize that you are a part of the process too, not the axis that everything moves around. Some of my current work is very involved, process-wise. It can be easy to answer to the desire to stop doing etchings, as I have done in the past, and to do more direct drawing onto paper. I now have a different point of view. I have learned very much from printmaker R. Krishna Reddy. Not that our work is in the same vein, but from him I've gained insight into the fascinating nature of the process of etching: Once an idea or image presents itself to me, it sets me in motion.
CC: What does the process entail? 
JT: The image reveals itself through the collaboration between the materials, the printmaking studio and me; I am a participant, not the leader. Through that journey, I search and, in the best of instances, discover that I am seeing or thinking as I hadn't before. I always feel like I am beginning again with each new piece. I am definitely not a "master printer" by any means. In the roles of "printer" and "artist", I come to the medium more versed in the latter, as the drawings themselves have been the most important to me. But this past year I have made major strides in my relationship to printmaking, and I hope to continue on that path.
CC: What was the transition from illustrating to printmaking like? Did it accompany your moving away from commissioned work?
JT: I got a BFA in illustration in 1994 and briefly did some commission work. I quickly realized I was unhappy doing this work so I stopped that, and for about 7 years I drew in my sketchbooks, amassing hundreds of drawings that have never ventured out of those books. During that time I held over 15 various jobs. Around the year 2000, I decided I was being drawn to the art of etching to such a degree that I bought my own etching press and created my own home etching studio. I built up a portfolio of etchings and applied to GSU for graduate school. My goal before school was that when I came out, I would be creating roots in Atlanta's art and printmaking scene. Since graduating in 2006 I have persisted with this goal and continue to do so. I'm only just beginning to see the plants and trees growing from those roots.
CC: What are some of the themes of PORTL?
JT: In this new work I created for PORTL, I found I wanted to touch on my interest in fairy tale, fantasy and science fiction. When I use the word "fantasy" I am not referring to the popular use of the word (i.e. Tolkien's elaborate stories that emulate historical fact). In this case, I'm more interested in the idea of fantasy as a world where reality is called into question, where what we experience through the five senses is complicated and elaborated by what we experience through intuition, emotion, and instinct (i.e. Carroll or Borges.) There may be a relationship in my new work to some points where surrealism, symbolism, and classic fairy tale imagery cross into each other.
CC: What drove you to explore these themes?
JT: My drive comes from the fact that they make themselves apparent to me. Whether I see these themes or ideas outside of myself, or they generate directly from my imagination, I recognize the spark that it creates inside me, exciting me to explore what the essence of what that spark is. The ones that decide to make a welcome stay in my mind and demand that I interact with them eventually end up in an image I create. It feels good to make an idea concrete that I keep obsessing about. To let those ideas live, no matter what they may mean to anyone else.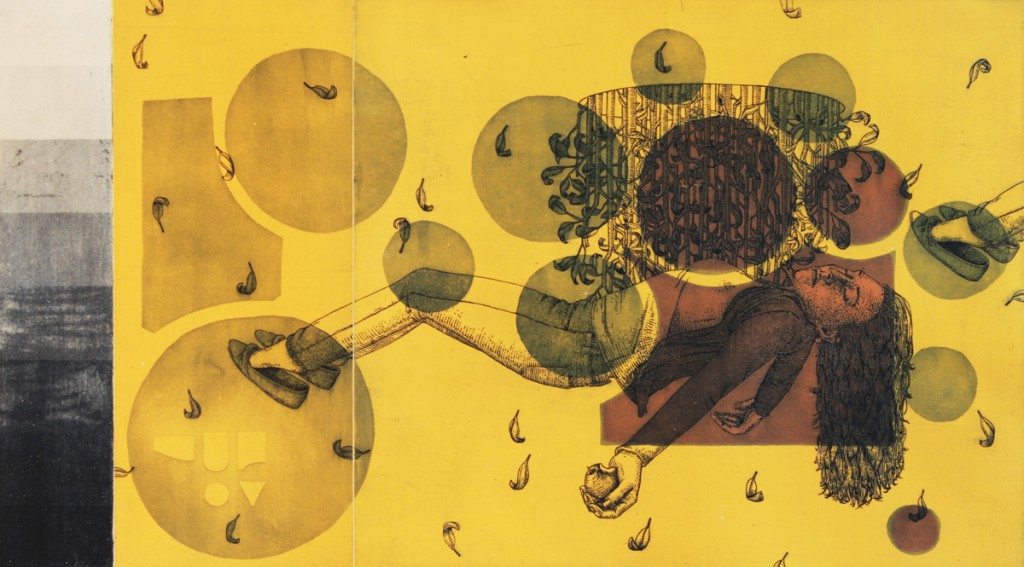 CC: Much of PORTL hints at where human life meets animal and plant life. If you could have one talking animal from fiction to be your assistant in the studio, who would it be?
JT: Is Swamp Thing an animal? I guess he would be considered plant-life. So I would have to say the "Hakuna Matata" animal from that one Disney movie. The little one. (Timon!)
CC: What are your favorite artist projects currently in Atlanta?
JT: My favorite local artists are the ones who are making work quietly and diligently; those who maybe aren't questioning things like "worth" and "success" in a business or social sense, but do question those things when it comes to the artwork they make. Current favorite projects: Atlanta Printmakers Studio, Atlanta Zine Library and Atlanta Zine Fest.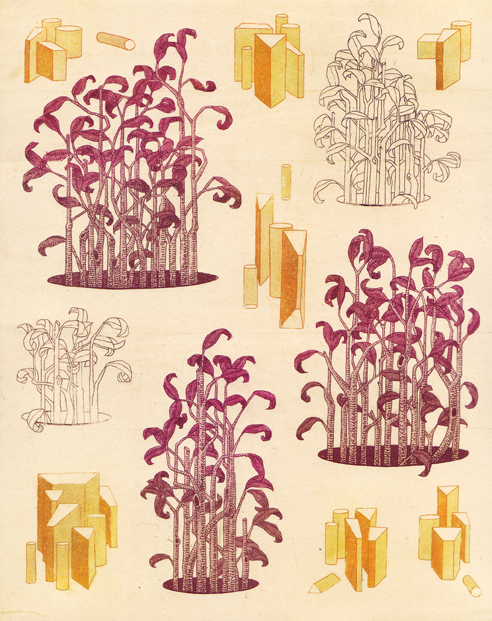 CC: Any advice for other artists?
JT: I may not be the best person to be giving advice, but here goes: First off, develop your work. Have a body of work that may be ten pieces or so that you feel really great about and personally connected to before you submit it to anyone. It helps to have a fairly clear vision about what you are trying to do with your work.  Also, don't try to "network" in the vampire sense of the term. Don't be a desperate leech. Go to art openings and exhibitions… talk with artists whose work you connect with. Talk with gallery owners whose galleries you enjoy visiting. Keep your eyes, ears, and heart open. Things will fall into place.
CC: What do you think of Atlanta's creative scene right now?
JT: Art is like any other vocation. Some people approach something creatively, others don't. That being said, I think the art scene here is very happening and alive with creativity. I know of so many different individuals and groups that devote a lot of their time and energy to creating, collaborating and sharing artistic creation. And it's not just young upstarts, but people of all ages. You can feel creative energy crackling in the air. It's like a New Egypt here… and people are constructing pyramids all over Atlanta. And they are being constructed willingly by people who feel they have something to offer and want to belong to something bigger than themselves. I like to think that I am not just projecting this feeling into the void. In fact, I know I'm not. To name just a few examples of this positive creative movement: GloATL, WonderRoot, the Atlanta BeltLine art installations, Dashboard Co-op, APS, AZL, AZF, Living Walls, BeepBeep Gallery, MINT Gallery, Kibbee Gallery, Poem 88, Kai Lin Gallery, Swan Coach and Forward Arts Foundation, Goat Farm, The Creatives Project, the High Museum's (Michael Rooks) current interest in local art, art departments and students at SCAD, GSU, KSU, etc.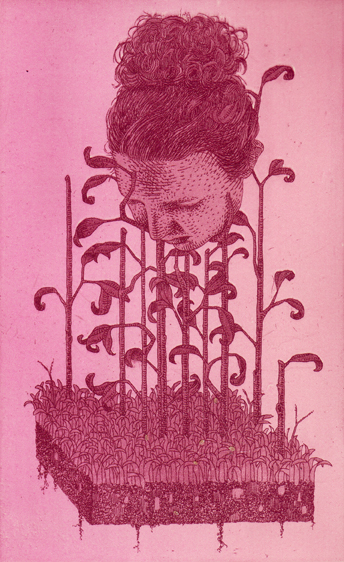 CC: What's coming next for you after PORTL?
JT: I'm in the process of working on a series of works that will function as "print sets" (a series of prints that are contained in a folio not unlike a paper CD cover with liner notes, etc.). I have flirted with this medium before and now I want to do a more substantial version. I'll be making a series of individual print sets that will also have an attractive slipcase, not unlike a slipcase for a set of books. And there will be a book format published that will contain all the images in the print sets plus more images, for those who are interested in the work but can't afford the more pricey original prints. I'm going to make this a Kickstarter project, and if everything works out as planned it should be advertised in spring 2014. As a fine artist, I don't want to get caught up in the "do work for two years, have a solo show for a month, and repeat" pattern—not that I don't like that concept. I'll also be doing that sort of thing in the future I'm sure…but the gallery space to me is like a stationary curated book that only exists for a month or so, while the printed, handheld format is much more appealing, to me considering its lifespan, maneuverability, and personable charm.
For more of Tsambiras' work, visit his portfolio here.