Jen Soong's business, SOMA Goods, embraces Atlanta's creative community in a truly unique way. The company sells gifts and home accessories handcrafted by refugee seamstresses in ATL. Despite her work in freelance writing and branding, she's a maker at heart. After a decade spent living in the city, and with a dream to unite makers in Atlanta, Soong embarked on a journey and founded Root City Market. Root City Market was inspired by markets abroad and in New York City, and it currently pops up quarterly around the city—most recently, on the Westside this past June.
Here, Soong talks to CommonCreativ about falling in love with Atlanta, working with makers and the future of Root City Market.
CC: How did you end up in Atlanta?
JS: Moved to Atlanta 10 years ago and didn't know a soul. My husband, who was doing a fellowship at Emory, likes to say I came here kicking and screaming. But now I've fallen in love with this city and can't imagine living anywhere else in the South.
CC: How did the concept of SOMA Goods come about?
JS: I was doing some markets and noticed that farmers markets and farm-to-table restaurants have made a lot more progress in building the local marketplace. So in a similar vein, wanted to align SOMA with other high-quality local makers and showcase homegrown talent in a way that locals could rally behind.
CC: What's the purpose behind Root City Market?
JS: Our mission is to connect makers with the community. Sitting at the intersection of culture and commerce, we're looking to create a destination experience through arts, makers, music and interactive projects. Last summer, we began with a small pop-up in Grant Park in the space behind Octane and have grown from there—and we've moved to different neighborhoods each time.
CC: All of SOMA Goods products are made by refugees in the area—tell me a bit more about that.
JS: Our products are made by seamstresses originally from Iraq, Afghanistan and Sudan. They're starting new lives with their families in Atlanta, and they take pride in making beautiful products here. We take radiant fabrics like saris and transform them into modern home items like pillows and table runners. We also make other accessories like bags, scarves and pocket squares.
CC: Are you a maker?
JS: Yes—I spent many years as a freelance writer sitting in front of my laptop after fleeing corporate life. So it has been refreshing to sew (albeit slowly) and discover the joys of working with my hands and tapping into my creative side. In addition to SOMA Goods, I work on branding projects from time to time.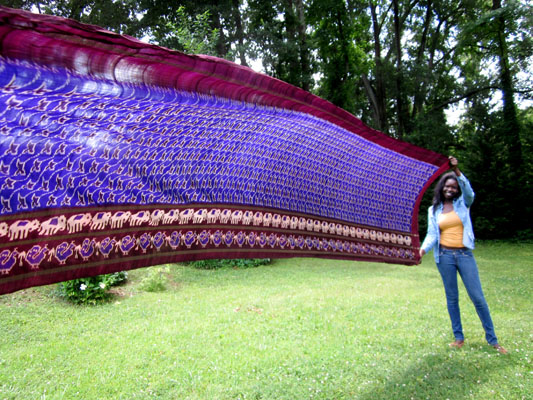 CC: What's been most rewarding about these projects?
JS: I absolutely love working with other makers and the synergy that comes from being side by side. My hope is to create a strong network of makers that can support each other. I believe that locals love to discover what's being made locally and the dialogue that comes out of it makes our city even better.
CC: What do you think about Atlanta's current creative scene?
JS: It's full of possibilities. I love seeing art become a part of the city's identity from amazing murals (Living Walls) to the BeltLine lantern parade. Also, I feel optimistic that it's also becoming more accessible and inviting to everyone. I especially love seeing maker-spaces sprouting up, from MASS Collective to Decatur Makers, and getting behind the idea that everyone can be a maker or support a maker.
CC: What's next?
JS: Our next market will be Sept. 13th. We'd love to bring locally made collections to coffee shops and other pop-up venues and are open to collaborations—and we're exploring ways to take this concept on the road. Stay tuned!
For more information about Root City Market, SOMA Goods visit their site.