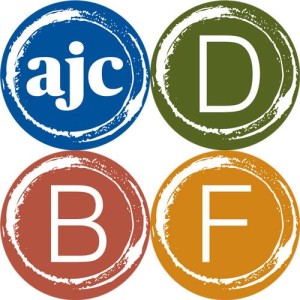 More than 600 authors will descend upon downtown Decatur this Labor Day weekend for the annual three-day Decatur Book Festival. Now on its ninth year, the fest is a big celebration of literature and authors, from the up-and-coming to the world-renowned. The days' schedules are packed with activities spread throughout the downtown area at 20-plus venues. We're excited to see our favorite local writers and of course, the ART | DBF Pavillion. Here are five reasons why you should check out the fest this weekend and enjoy the last days of summer at this beloved local event.
1. Hear from living legend Joyce Carol Oates: On Friday, Aug. 29th, author Joyce Carol Oates will kick off the fest with a keynote address at Emory University at 8p.m. Premiering her new short-story collection, it will be a unique opportunity to hear from this literary giant.
2. Discover new emerging writers: Get a unique chance to interact with your favorite writers while discovering some new ones. The Emerging Writers Pavillion hosts the best upcoming voices and the opportunity to chat with them and peruse their titles before they become big.
3. Art, art and more art: The fest is not just about words—it's also about art. Local artists and organizations have planned pop-up performances, parades and presentations throughout the weekend. Art on the Atlanta BeltLine, ART PAPERS, C4 Atlanta, DearBearWolf, Indie Craft Experience, and so many others will be there. We're looking forward to seeing the collab between artist Mike Germon and MakeBlackOutPoetry's John Carroll. They'll be fusing words and illustrations together with an interactive component of collaged poem structures scattered around the ART | DBF area.
4. Multimedia and interactive words: Vouched Books is teaming up with #weloveatl for a reading collaboration. On Saturday, Aug. 30, four writers (Christina Lee, Thomas Wheatley, Amy McDaniel and Alex Gallo-Brown) will read original works inspired by images from local photographers at the ARTS | DBF Stage at 5:30 p.m. The photographs will be projected while the writers read their pieces as a fun collaboration between two amazing Atlanta organizations.
5. (You knew this was coming) It's free!: Seriously, guys. You get more than 20 platforms, plus  your favorite authors and booths filled with infinite goodness throughout downtown Decatur for zero dollars. So download a schedule and get your plan of action ready.
The festival runs Aug. 29-Aug. 31. Download the schedule of events and find out more about the authors here.