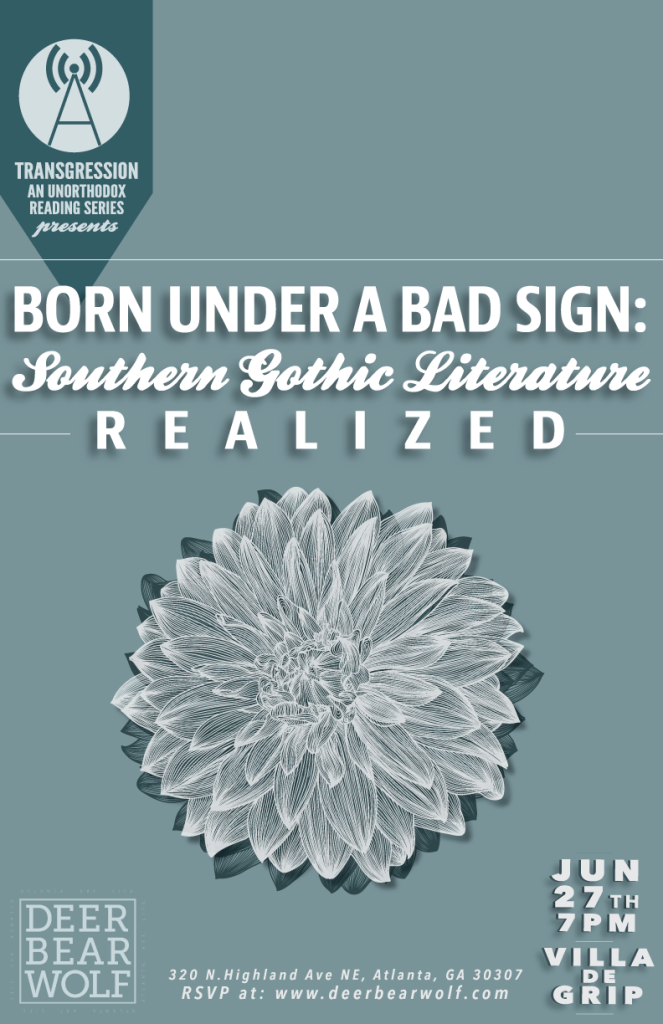 A slam poetry night, this ain't. The second installation of Transgression: An Unorthodox Reading Series is happening this Saturday at 7pm at Inman Park's Villa de Grip.
A Deer Bear Wolf production curated by Laura Relyea and John Carroll, this event is dubbed "Born Under a Bad Sign: Southern Gothic Literature Realized." A group of six readers will each embody different characters from a beloved Southern classic — think "the misfit" from Flannery O'Connor's A Good Man is Hard to Find, Maggie from Tennessee Williams' Cat on a Hot Tin Roof and Boo Radley of To Kill A Mockingbird by Harper Lee.
Here, we've got five reasons why you can't miss this event:
1. It's not your typical reading series.
Transgression touts itself as "an immersive experience where the venue is transformed into the setting of the story at hand, and the writers are tasked with taking on the characters they've written about."
2. Become acquainted with a handful of awesome ATLiens.
The handpicked list of performers at this event runs the gamut — from a webshow co-creator and a comedian to a national magazine editor and a screenwriter/actor, this is your chance to get to know some of the big players in the local art and lit scenes.
3. Get an inside look at Inman Park's Villa de Grip.
You may have walked by this funky prop, set and scenery construction hub and never noticed it—or, if you're like me, you became intrigued after biking by as an open door revealed the flash of what appeared to be an enormous astronaut sculpture tens of feet high. This private company seems like the ideal setting for this reading event.
4.Learn a thing or two.
Unfamiliar with Eudora Welty's work? Know the name William Faulkner, but unsure about this "deal"? Brush up on your lit knowledge by getting familiar with the characters from some of the biggest names in Southern Gothic literature.
5. Support the local arts scene, y'all.
Price of admission is $15 if you pre-order online and $20 at the door, with proceeds going to supporting future programs of this sort in the community. Buy tickets here. See you there!
For more information on the event, visit the Facebook invite.