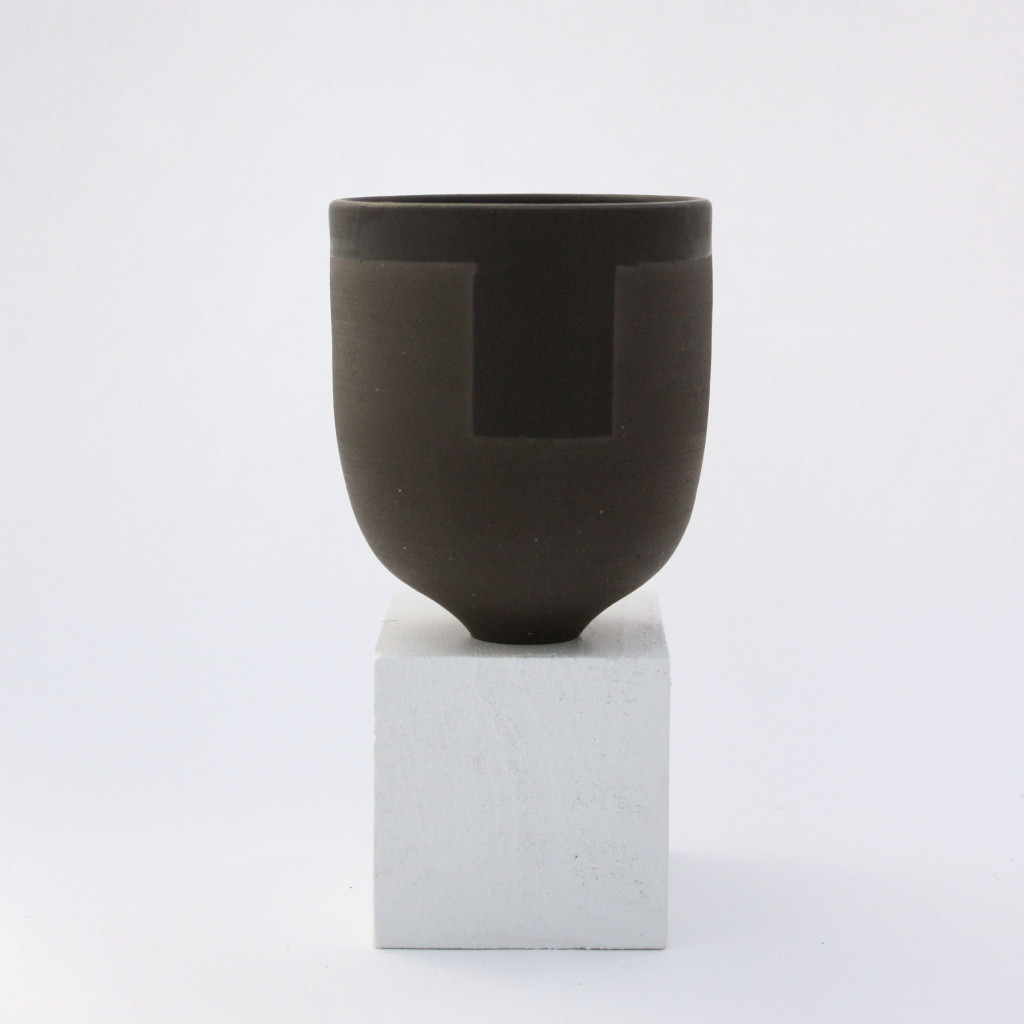 Mississippi-raised Charlotte Smith has earned a name for herself thanks to her unique hand-crafted, hand-painted cups with original, minimalist designs that have been flying off the figurative shelves of her online store. Even before her semi-recent move to Atlanta and discovering her knack for functional wares, Smith's sculptural work shows a striking simplicity that permeates her designs.
CommonCreativ talked to Smith about how her family influences her work, landing in Atlanta and how she's taking her work to the next level.
CommonCreativ: How has growing up in Mississippi influenced your work?
Charlotte Smith: I think the people influenced me more than anything, but there definitely is a simplicity to living that I've found to be unique to Mississippi.
CC: You come from a family of makers, right? 
CS: My maternal grandmother worked in a factory where she was a seamstress, and my grandfather was a farmer. We have so many things from them that they made and used in their daily lives. I was always impressed at my grandfather's ability to make whatever he needed. He never threw anything away and made his lathe and drill press out of recycled parts. My paternal grandfather was a carpenter and my dad followed in his footsteps. My brother also works for a commercial construction company. Because my grandmother was a seamstress, she taught my mother to sew, and these skills were also passed along to me. Making things has just always been a part of my life. I remember being younger and being in my dad's shop while he was working and using his scrap pieces from his projects to build tables for my room and other wobbly items.
CC: How did you end up in Atlanta? 
CS: Initially I didn't want to move to Atlanta. My boyfriend got a job here and it was better than Mississippi, so I tagged along. BUT! I love Atlanta, and I really can't picture myself anywhere else. I have met so many great people here and after we moved here, I realized how much potential there was to do so much. I know that if I had stayed in Mississippi I wouldn't have the opportunities that I've had here, and I feel like the city is at a perfect place to grow my business. I also didn't realize that a city could have so many places to learn about arts and crafts. When I first moved here I was unemployed so I joined a ceramics co-op to keep myself busy. This was a completely new concept for me, and I think that places like these really add to the creative momentum of the city.
CC: What's your favorite part about the city?
CS: I love that there's always somewhere new to go. I've been here for two years and I feel like I never stop discovering things.
CC: What made you decide to move toward functional ware? 
CS: When I joined the co-op I had more interest in the wheel than I did with hand building. The cups that I started making became instant gratification and gave me the ability to use them as mini canvases to experiment with surface design. I had taken a few ceramic classes in college, but I had never really had much of an opportunity to explore my own aesthetic with ceramics. These cups have allowed that and the reason why so many of them are one-offs.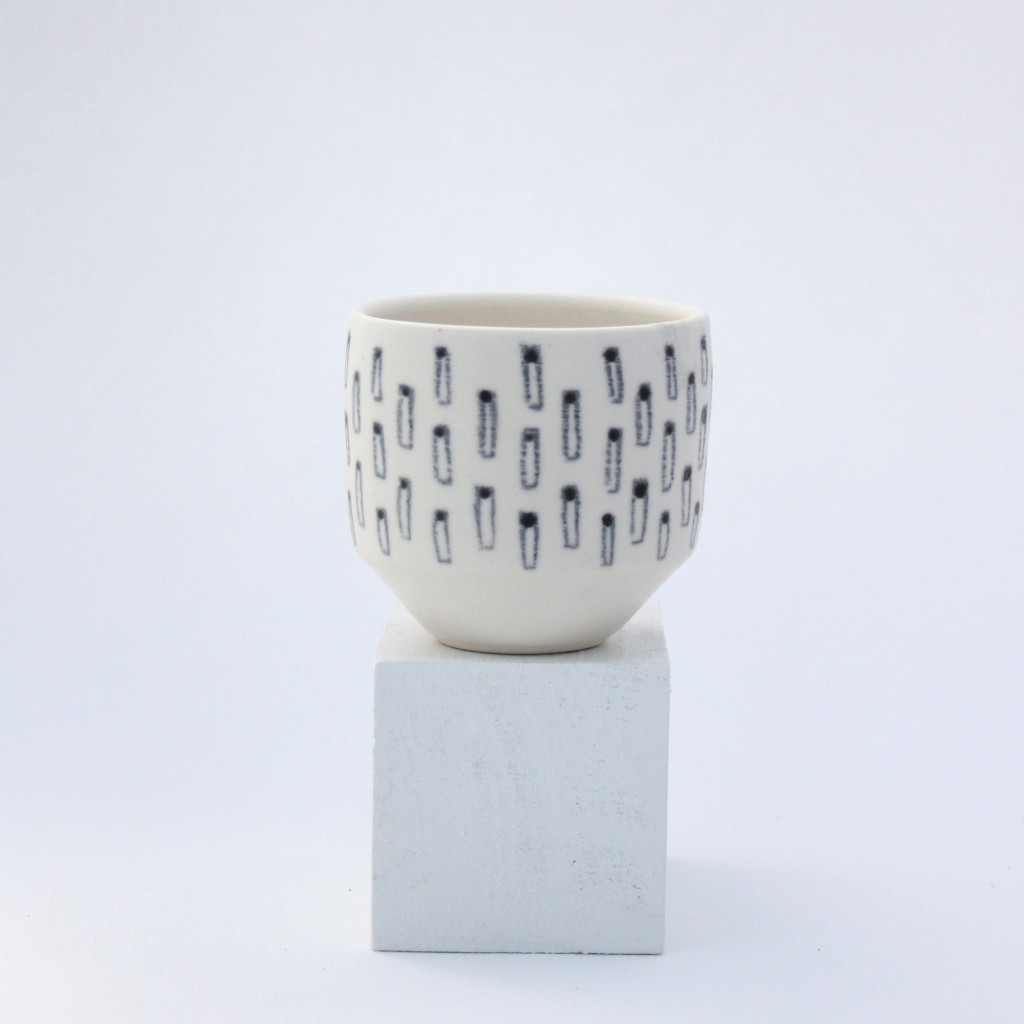 CC: How does your process differ between making conceptual pieces and functional ones? 
CS: The process doesn't really differ, but I think my intentions through my work are different. Maybe that's an obvious thought, but with my conceptual work, it's more based on feelings or ideas, whereas with my functional pieces it's based on how it will be used. I think with my conceptual work I leave more up to the unknown and let things evolve, and my functional work tends to be more structured. With both my conceptual and functional work, I start out with sketches and go from there. I think I'm intuitive with my work and I enjoy the process of solving problems, which is why I like to start out with my end goal, my sketches.
CC: Your cups are a huge hit. Do you anticipate branching out into other types of kitchen ware? 
CS: Yes! These cups have unintentionally become tests to see what people really like. It's always interesting going to a sale and having one-of-a-kind items and seeing who picks up what and which ones sell first. I also like having different options at home when people come over and seeing which ones they choose to drink from.  Eventually I want to apply some aspects from the favorites to other dinnerware.
CC: What's your favorite material to work with? 
CS: Most of my pieces are made from porcelain. It's definitely my favorite. I also use a black clay to mix things up every once in a while.
CC: Do you have any exciting projects you're looking forward to?
CS: I'm working on a holiday catalog right now, so that's exciting and a new adventure for me.
See more of Charlotte Smith's ceramic work on her site and Instagram.