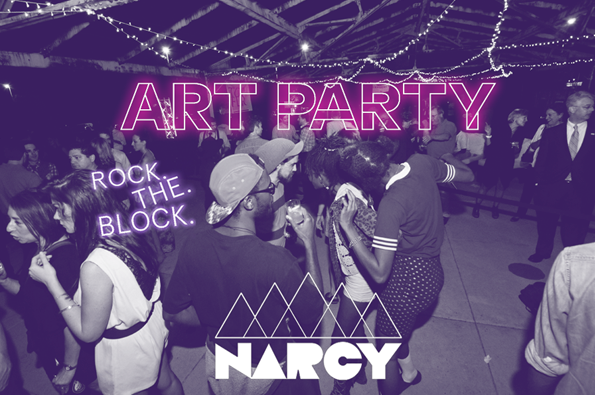 If you caught our photos from last year's event or even attended yourself, you know the Atlanta Contemporary's annual fundraiser, ART PARTY, is a seriously good time. There's photobooth fun, live music, drinks and eats galore, plus tons of amazing art that you can see both on display and in progress when a handful of local artists open their studio spaces for public viewing. Here, the top reasons this local art event, happening this Saturday Aug. 29 from 7pm to midnight, is can't-miss.
It's a block party, y'all.
That means upbeat music, dancing in the street (or near the street) and a reason to get out and enjoy a late-summer evening on the city's Westside neighborhood with other cool arts advocates and party people.
There's food and drinks — and they're gonna be good.
Expect various on-site bars shaking up signature cocktails, along with dishes from local restaurants (like Bartaco, Farm Burger and Eclipse di Luna) to satiate you while art-ing and partying.
Did we mention the roller rink?
You read that right—this year's event will include a rollerskating rink at the Atlanta Contemporary's outdoor pavilion. Simply purchase neon socks (if you didn't bring your own) and glow-in-the-dark necklaces, then snag your free skate shoe rental and go to town! Bonus: the Atlanta Rollergirls will be on hand to show us how it's done.
The jams will be aplenty.
To keep things lively, Montreal-based musician/actor/professor/artist NARCY, an Arab Hip-Hop artist, will take the stage for his first Southeast performance. DJ Sandhill will follow for maximum dance-floor time.
Get up close and personal with artists and their work.
Last but not least—the art. Check out the open studios of on-site artists including Stephanie Dowda, Sarah Emerson, Jane Garver and Nathan Sharratt, and peruse the pieces on display inside the ACAC. No, this one isn't free, but proceeds help support exhibitions, programs and the Studio Artist Program, and the Atlanta Contemporary begins offering free admission on Sept. 1. Win-win!
Don't have your tickets yet? You can still pick them up on their site.