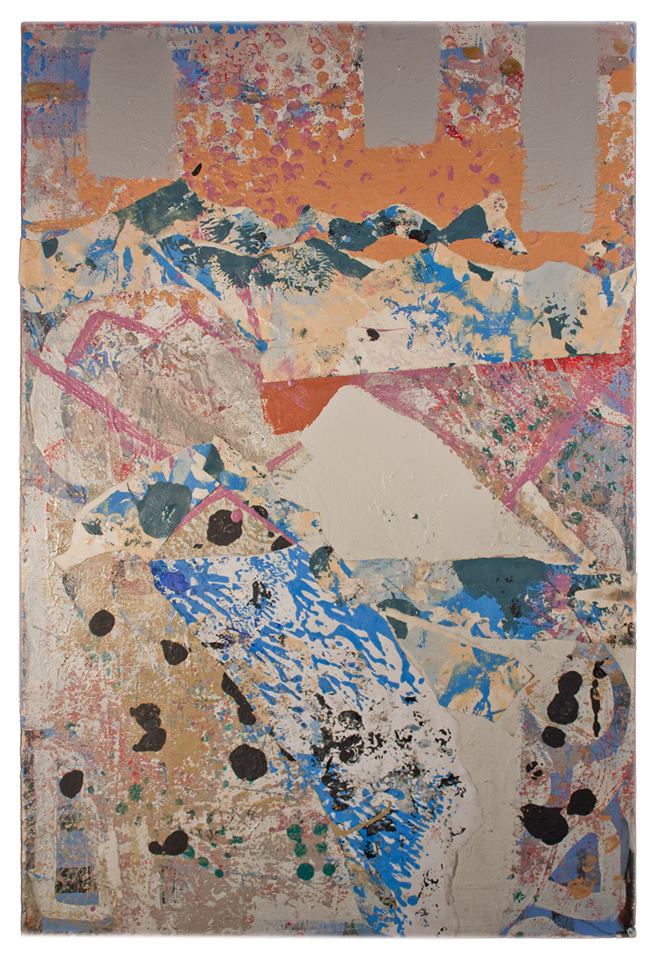 "Art is a place where I project my mood and ideas and still be productive," says Atlanta-based artist Danielle Brutto. "I feel my most grounded and connected when I am making objects or sounds."
Growing up, Brutto had a wide array of art supplies at her disposal that she made good use of to fuel her creative expression. Encouraged to develop language through a variety of mediums, she has always felt at ease expressing herself. Brutto attended Parsons The New School for Design where she tapped into her main medium of choice, painting, while adventuring into performance art and discovering the beauty of fluidity through embarking on new projects. This fearless spirit has served Brutto well. She has made her mark in Atlanta and beyond—from working locally with the King of Pops to NYC Fashion Week and, currently, MOCA GA.
CommonCreativ talked with Brutto about the electricity lighting up the Atlanta creative scene, the endless possibilities that come with owning your own studio space and cleaning up her flow.
CommonCreativ: How did you find your path as an artist?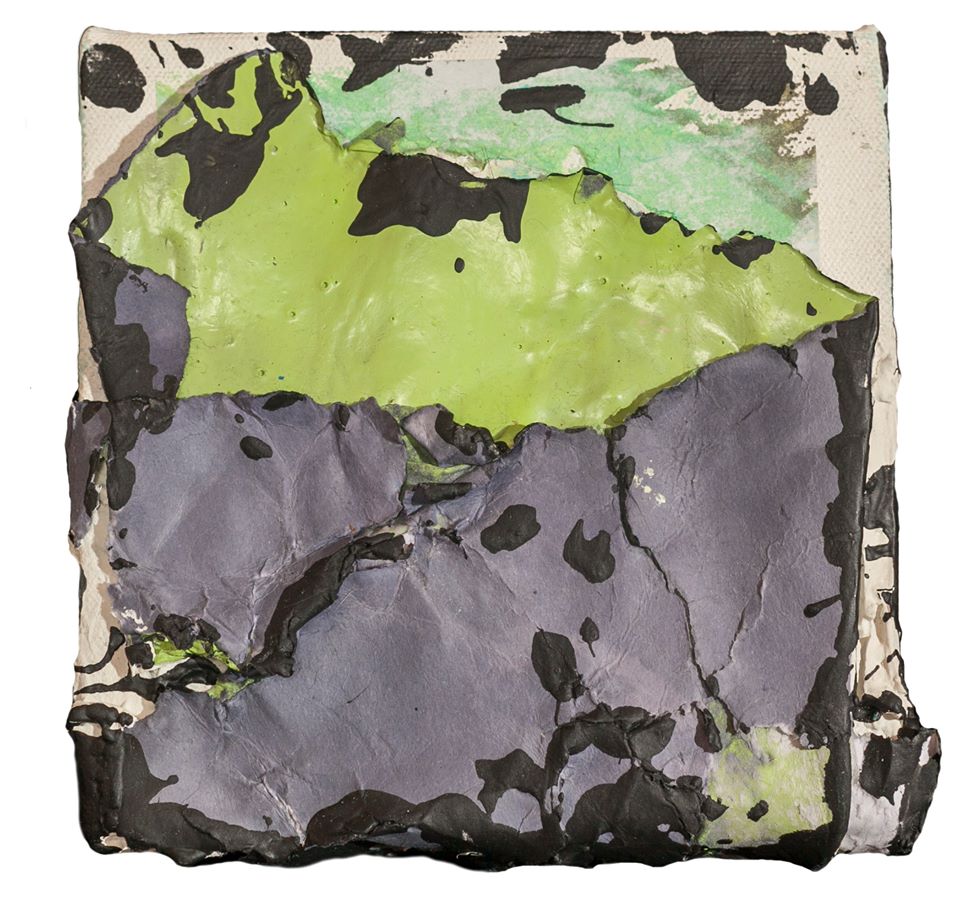 Danielle Brutto: I've always had really busy hands. As a kid I was constantly making something: sewing, crocheting, folding a lot of modular origami—really anything tedious and repetitive. My grandma on my mom's side was a painter. Both sides of my family are super crafty and romantic. I always felt comfortable and encouraged to try new things and develop that sort of language. I never had a problem expressing my feelings, if anything I've had the opposite problem in learning when to hold back. Art is a place where I project my mood and ideas and still be productive. I feel my most grounded and connected when I am making objects or sounds, so I keep doing those things. Experimentation is a driving force.
CC: What medium did you start with?
DB: I started with painting and messing around with other traditional art mediums. My grandma (the painter) owned an art supply store in the '70s, so she had tons of pencils, pastels, all sorts of stuff around her house leftover from when it closed. She would give us little graphite bars and encouraged us to sketch and observe. It's been a great tool for me, and I've kept some sort of journal or sketchbook pretty consistently since I was about 5. Painting, observation and writing are my backing beat.
CC: How did you venture into areas such as performance and commercial work ?
College was the first place I felt drawn to performance.  I was scared to death to try any idea that involved my body, even playing music or singing in front of anyone. Overcoming this fear was reason enough for me. I continue because I'm nowhere near over it.  I'm still incredibly uncomfortable, but more and more in a way that's enjoyable and keeps me coming back for more. Painting is performance in of itself, but it starts to get a little head-heavy and lonesome. Performance is pure in that it's about the action, rather than the object resulting from the action, which is liberating.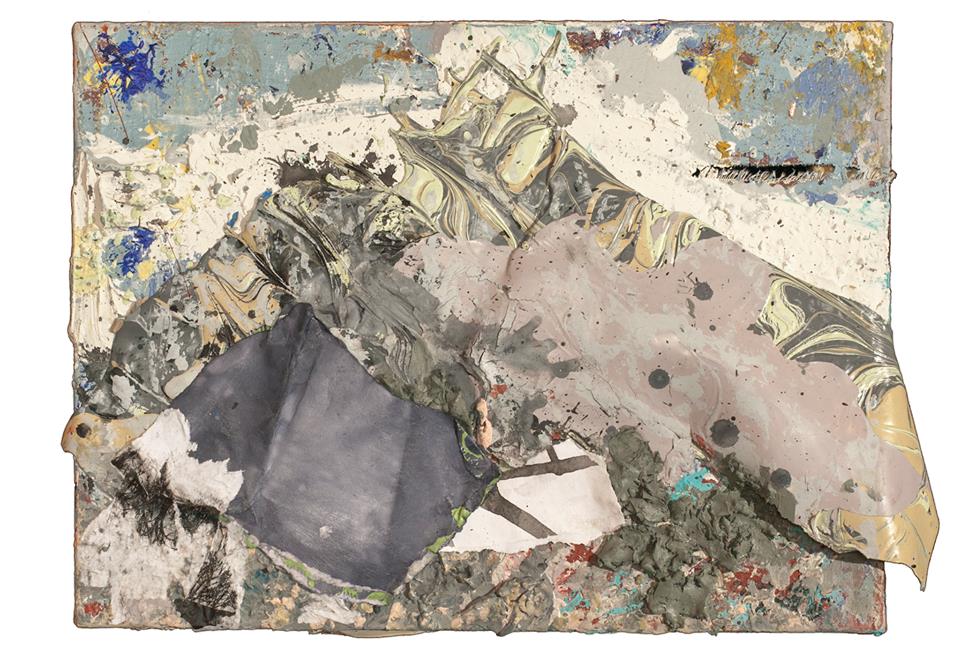 Ultimately, I don't want to limit or rule out possibilities if I have an idea or an urge to do something, it's best for me to just do it. Sometimes it takes a while before I decide if it's worth the effort or not, but I try not to judge myself too harshly or put limits on my want to explore and allow the idea to dictate the medium, so to speak.  It's easy to get wrapped up in labels: painter, musician, performance artist. In the past I've censored myself and told myself I eventually have to choose one. But, I do all of these things and they all feed on each other, so why not share?   
As far as commercial stuff goes—when I first moved here I was working for King of Pops and would get really elaborate with my menu boards. Eventually they had me paint some coolers, signs and murals. It's been really fun and I've definitely learned a lot. It's a pretty sharp contrast to my studio practice which can be cleansing—it keeps my hand sharp and eye challenged.  All those crisp lines! This past Fashion Week I had the opportunity to paint with my friend Violet and her mom Sara for Oliphant Studios in New York, which was an incredible.  Sara has been at it for 20-something years, and there's so much to learn from her. I'll be back for sure (if they'll have me, of course!).  If my life could be a string of big projects like that, I'd be thrilled.
CC: You're a very multifaceted artist—what led to paint being your main medium of choice?
DB: It suits me the best. I have a certain reverence for the medium. There's so much it can do!
CC: What inspires you?
DB: Rocks, decay, the messing up of things, layering experimenting, eyes, superstition, magic, lore, secrets, moss, mold, outside, inside, science, the vast inexplicable nature of things, our desperate wanting/needing to know more, mania, impermanence, creation, destruction, delicious word pairings, peeling paint, the future, the past.
CC: What have been some of your favorite projects to work on?
DB: The Cube performance I did with Faun and a Pan Flute at The Goat Farm was really special. Chris Childs and I were in talks about the project for almost two years. In that time it evolved into a something much bigger than we imagined—definitely different than the original plan, but that's the beauty of making things and my favorite part of it all; not knowing exactly how things are going to turn out; being fluid enough respond and go where the project takes you.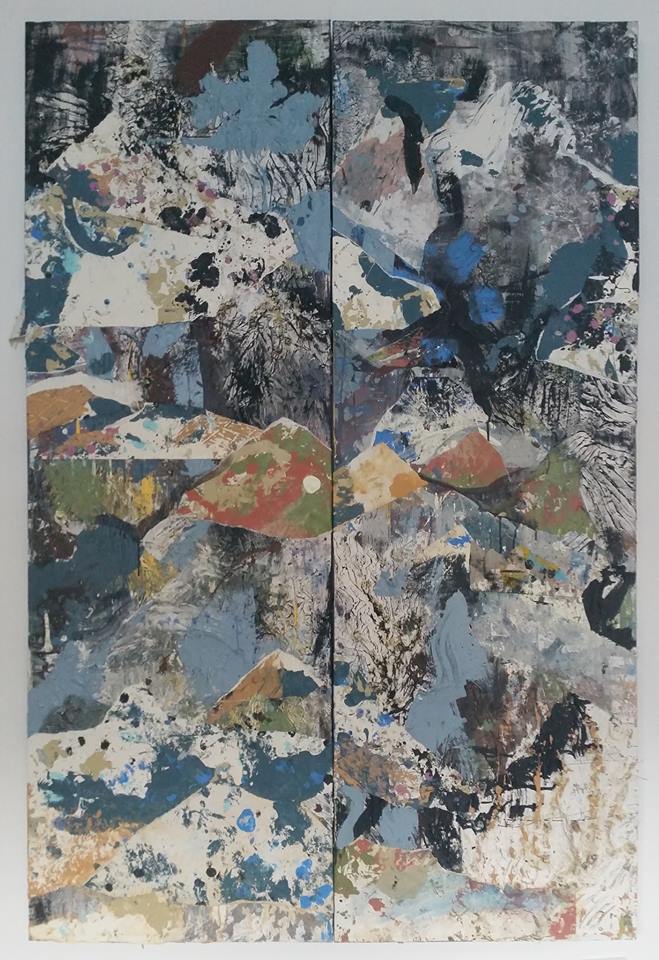 CC: Tell me about Yolkspace.
DB: Yolkspace is the building I live in that's also my studio that I have opened up in the past to some shows. It's such a beautiful blank slate, it could be anything. Everyone who comes over sees some potential in it like, "it could be this," or "it could be that." And it already has been so many different things: a hair salon, a garage, a mattress store. Yolkspace was and is an attempt to let other creatives do what they want with it, but I'm still figuring out how much time and energy I can dedicate to the space as a venue reliably. I've had some music shows, some gallery shows, poetry, comedy—all were great. At the time, I was just settling into the space and it hadn't really taken over by painting yet. Now that the inside is all filled up, there's not really space to put an audience. I'd like to sync programming up somehow to the rhythm of my studio practice, so I can keep at it. For example, I'm repainting my floors soon, so that could be a good time for some music and a gallery show. It's such a gorgeous little room when it's cleared out and squeaky clean. I've also been thinking about figuring out something with the outside of the building or the storefront windows. Stay tuned.
CC: What are some of your favorite projects, and who are some of your favorite fellow artists in Atlanta?
DB: I was really excited by the Blood, Milk, & Fire show. It brought to life things I'd previously only witnessed through documentation. All the spaces popping up Downtown and on Broad Street are really fresh. As far as people go, there's so many people I respect and look up to, but here are a handful: all 11 of my Walthall Fellows, Hannah Helton, Wihro Kim, Nick Lowery, Kris Pilcher, Allie Bashuk, Ali Hosher, Edgar Lopez, Estela Semeco, Anna Jacobson, Brian Egan and Chris Childs. Also, I am a fan of Xie Caomin.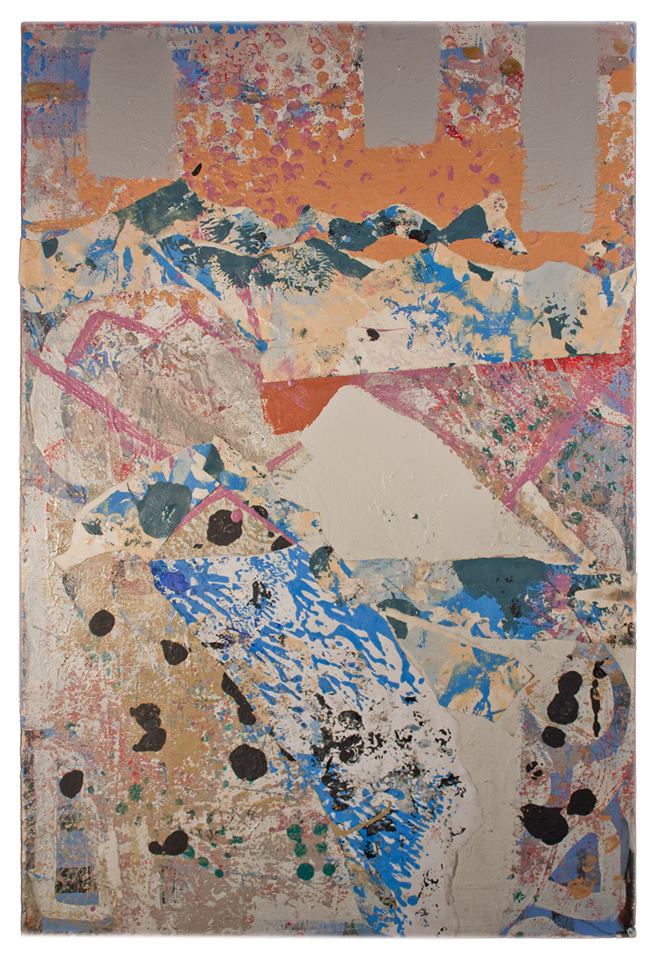 CC: What are your thoughts on Atlanta's creative scene right now?
DB: It's been really electrified lately.  I feel like something is about to happen. I'm not sure exactly what, but a lot of things are changing at a very fast pace.
Otherwise, it's so warm and nurturing, but still curious and weird. The people are patient, encouraging and positive overall. They're willing to work. For the most part, when someone has an idea they execute it. The scene isn't perfect of course, no scene is, but there's an eagerness to grow and learn. Things are happening out there! Right. Now.
CC: What's up next for you?
DB:  Right now I'm a Walthall Fellow, so the main thing for the next couple months is absorb and be present for that and make some solid paintings for the culminating show at MOCA GA. I want to keep focusing on the work and let it lead me. It would be nice to have a solo show. I'd like to make some large-scale work in the vein of these little experiments that have been piling up.  
I'm think I might stick around the city for the next couple months, and try to get rid of some bad habits that no longer serve me—clean up my flow a little, you know? I feel this itch to ground and root, build a deeper rhythm to my practice, but at the same time there's this constant this call to travel and run from here to there. I'm always trying to figure out how to make that happen: strike a balance between the two. Ultimately, I don't really want to live in any one place and I'm happiest in motion.
CC: Why do you make art?
DB: Simply because I want to. I think objects hold energy and have the power to alter and affect people and environments. It's the best way I've found, so far, to bridge the gap between the tedious, fussy, compulsory side of myself, and the explosive expressive, no-fucks-given side. I'm conscious of my dream world, it makes sense to want to make a dream of the physical realm. I want to take my old dreams and root them all in objects.
You can see more of Danielle Brutto's work on her portfolio site and Instagram.