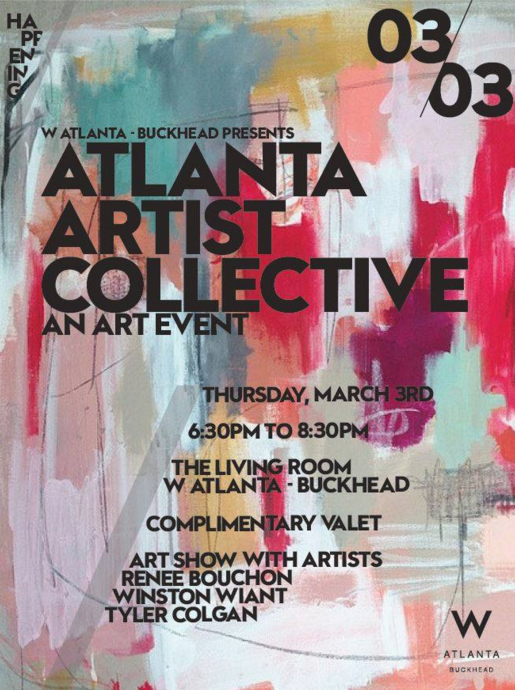 The next few days are full on fun art happenings around the city — from swanky hotel bashes to edgy art openings and student showcases. Here, we break down five art-centric events, and why you'll want to hit them up.
Tomorrow, March 3, the W Atlanta – Buckhead will host an exclusive art show with Atlanta Artist Collective, an online gallery of affordable pieces from Atlanta artists, with a portion of sales benefiting a local charity each month. Gussy up on a Thursday and check out original works from artists Renee Bouchon, Winston Wiant and Tyler Colgan while enjoying drink specials and more.
On March 3, the Mayor's Office of Cultural Affairs' Gallery 72 will feature Paul Stephen Benjamin's solo show Come Over. Benjamin's show will focus on aesthetic politics, cultural assumption and misrepresentation using language and visuals to put a spotlight on the American public's cultural narratives. Benjamin has been awarded the the Winnie B. Chandler Fellowship, Diasporal Rhythms Artists Recognition Award, Hambidge Fellowship, The Atlanta Contemporary Studio Program and the Forward Arts Emerging Artists Award.
Created by local photog/designers Tim Lampe and Keith Weaver, Future Photomakers is an arts program for local middle schoolers that helps them express themselves through photography. They worked with 12 students last fall to help inspire their creativity, and the culmination of that work will be on display at Edgar Allan inside The Goat Farm Arts Center starting March 5 with an in-house opening, complete with prints for sale along with posters, pennants, badges and free libations (or soda for the kiddos, of course).
We can't enough of the work being churned out by the talented artists at Paper Ghost Studio. This Saturday, March 5, they'll host The Tiny Art Show: A big show full of small art. At 10 inches or less for each piece, the gallery touts the fun exhibit as showcasing work where "everything is fully portable and will happily fit in your tote bag or can be carried out by hand." Snag a piece for your gallery wall, refrigerator or office to instantly brighten up your space.
Poncey-Highlands' Kibbee Gallery will play host to this show of installations and paintings by local artist Megan Mosholder and Santa Cruz, California-based artist Cheralynn Johnston on March 5. Both grads of the Savannah College of Art and Design, this duo brings together artistic inspiration from both coasts for boldly immersive and extra-sensory art experience.