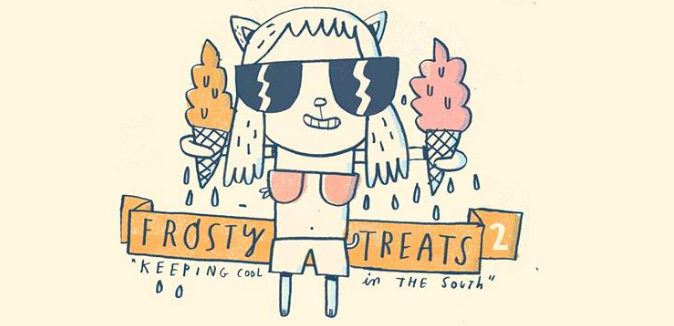 It's summertime in the city, and two things are for certain: my A/C bill has never been higher, and there is tons of art to see. Beat the heat (well, except for the outdoor stuff, for which you should seek shade and a King of Pops treat A.S.A.P.) while supporting local artists by checking out one — or all — of these upcoming openings and events happening this month in ATL.
You may have been to past Elevate events — a series of outdoor art pieces, installations, performances and more, all backed by the City of Atlanta's Mayor's Office of Cultural Affairs. They recently announced Elevate: Summer, a one-day Broad Street-based event on July 22 that's reportedly the first in coming initiatives to make Elevate a year-round happening. Expect poetry readings, music, dance, installations, an artist market, food trucks and more.
You've likely seen Brown's bold, colorful abstract pieces (no paintbrushes allowed) at past Kai Lin exhibits or hanging at local spots like Made Again in Inman Park. On July 22, the aforementioned Westside gallery will play host to his newest solo show, dubbed "This I Know," with additional pieces from Patrick Heagney and Blockhead. Plus, the event is sponsored by Heineken and Deep Eddy Vodka, so cheers to that.
On July 15, Notch8 Gallery will host the "Inratio" group show, focusing on the theme of the dichotomy between art and life and how each featured artist interprets that balance. See pieces from artists Erin Bassett, Carl Janes, Pash Lima, Sanithna Phansavanh and Tanner Wilson while DJ Skybison spins jams.
Be part of the Dream Collection Agency's Dream Exhibition 2016 grand opening as they "transition to a new era of wakefulness" in the heart of Downtown Atlanta beginning July 16. For this performance art series, "professionally trained dream technicians" will collect "dream donations" and guide attendees through their patented dream experience. Sounds, well, dreamy.
Head to twee Candler Park gallery space Paper Ghost Studio on July 23 for the second iteration of its Frosty Treats art show. There will be a slew of new works from featured artists including Caleb Morris, Bary Lee, Sarah Watts, Katrin Wiehle, Mike Lowery and others, plus drinks and ice cream on hand to help keep that Atlanta summer heat at bay.