What happens when you can't find the exact bag you're looking for at any store in town? Well, if you're Rachael Riedinger, you read up on leather tanning, get your hands on some tools, and make your own.
While this Atlanta seamstress-turned-leather designer may have started out small, she's made quite a name for herself in Atlanta and beyond with her business, Neva Opet. And that's probably because Riedinger's chic, modern handbags and leather accessories manage to strike a perfect balance of classic style paired with surprising shapes and details. So, what could possibly make Neva Opet even cooler? Both her business and designs are named after (and, of course, for) badass women.
The only possible drawback of owning a high-quality leather bag that you absolutely love may be that you want to keep it looking brand new. But Riedinger has one request of anyone who buys a Neva Opet piece: Please don't try to keep your bag pristine. She'd much prefer you "beat it up and wear it forever."
We talked with Riedinger about running her own business, big-name collabs, and what keeps her in Atlanta.
CommonCreativ: When did you start working with leather, and what drew you to it?
Rachael Riedinger: I've been sewing since the age of 14. I taught myself when I desperately needed to sew all my cool band patches on my denim jacket. From there, I was hooked. I learned to create clothing from taking apart thrift store finds and figuring out how to pattern a skirt or a pair of pants. After college, I had a pretty unfulfilling job, so I started creating things as a way to help clear my mind. After searching for years for a handbag that was just right (the "Holy Grail" of bags: not too small, not too big, and sans logos), I thought "let me try and make exactly what I want to carry." Like they say, the best things are born of necessity.
I picked up some leather at a local craft store just to give it a go and fell in love with it immediately. I liked the permanence of leather, and (for me) ease of manipulation. Unlike fabric, once you pierce leather there is no going back — that hole can not be repaired. It was scary but challenging, and I was hooked. I threw myself into all things leather. I read books, learned the parts of the hide, the process of tanning — everything. As I delved deeper into my new hobby, I knew I needed to upgrade to an industrial sewing machine. From there, everything changed. I could sew through any leather and I quickly started churning out bags. To my total surprise, the next thing I knew, I was turning my side hustle into a full-time business.
CC: What inspires your pieces?
RR: I'm always guided by the work of contemporary female artists. I name each bag after a female artist that has made a particular impression on me (like Eva Hesse, Louise Bourgeoise, and Carolee Schneemann). Once I start creating a bag, I first consider the occasion which dictates the size and shape. The inspiration is usually simple geometric shapes and bold lines. I believe handbags should last for years and that a great leather bag is a must-have staple. Stains and scratches that come with age and wear make your bag uniquely yours.
CC: How would you describe your style?
RR: I always live by the mantra (and style words of wisdom) passed down from my fashion buyer Great Aunt Rena: "Don't spend a lot on clothes. Invest in your bags and shoes. These are the pieces you use every day." Classic pieces, muted colors, clean lines. I guess you could say my personal style is probably the love child of Yohji Yamamoto, Jane Birkin, and Debbie Harry.
CC: Tell us about your recent collaboration with Alternative Apparel.
RR: I've loved having the opportunity to work with Alternative Apparel. Their belief in sustainable and well-made clothing aligns with me and my mission of creating long lasting, classic handbags. Plus, it doesn't hurt that they are based here in Atlanta. I'm currently working on a new order for them that includes several gold-foil monogrammed pieces with cheeky words. Stay tuned!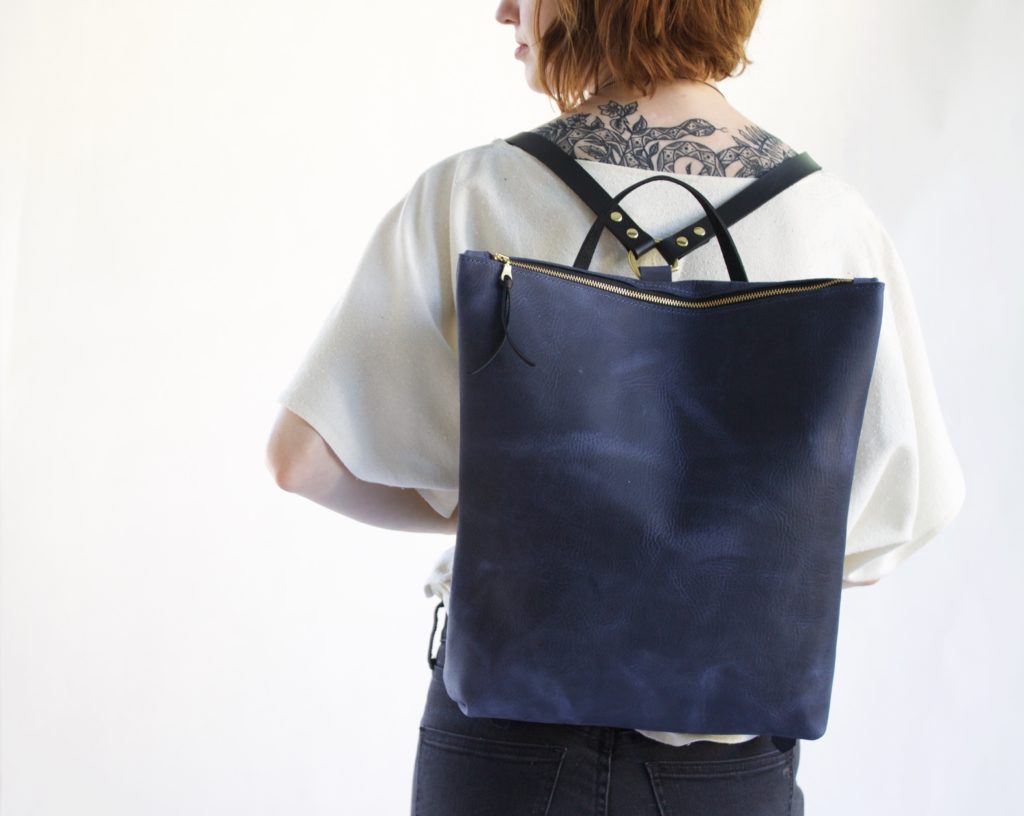 CC: What brought you to Atlanta originally, and what keeps you in the city?
RR: I was born in Louisiana and lived there until I was 4. I moved to the suburbs of Atlanta and lived there through high school. I broke free from the 'burbs at 18 when I started classes at Georgia State. I love living in such a diverse city, being surrounded by talented artists, makers, and small business owners. Something new and exciting is always happening and I couldn't imagine living or growing my business anywhere else. Atlanta has been great to me!
CC: What's on the books for 2017?
RR: I have a few new styles ready to hit my website this month. I'm changing up that old retail cycle of having two standard seasons to release new items. Instead, I'll be releasing a few styles every other month. That way, I can keep y'all interested and work when I am inspired. My inspirations come from women; what they do, where they go, how they live, what they are interested in.
CC: Where can we buy your work in Atlanta?
RR: Around Atlanta, you can find a various selection of current styles at Young Blood Boutique, Coco + Mischa, Made Again, Little Barn Apothecary + Co. and Miko + Boone Home. And of course, you can find all styles online at nevaopet.com.
Check out more of Neva Opet's work in her online shop and on Instagram.