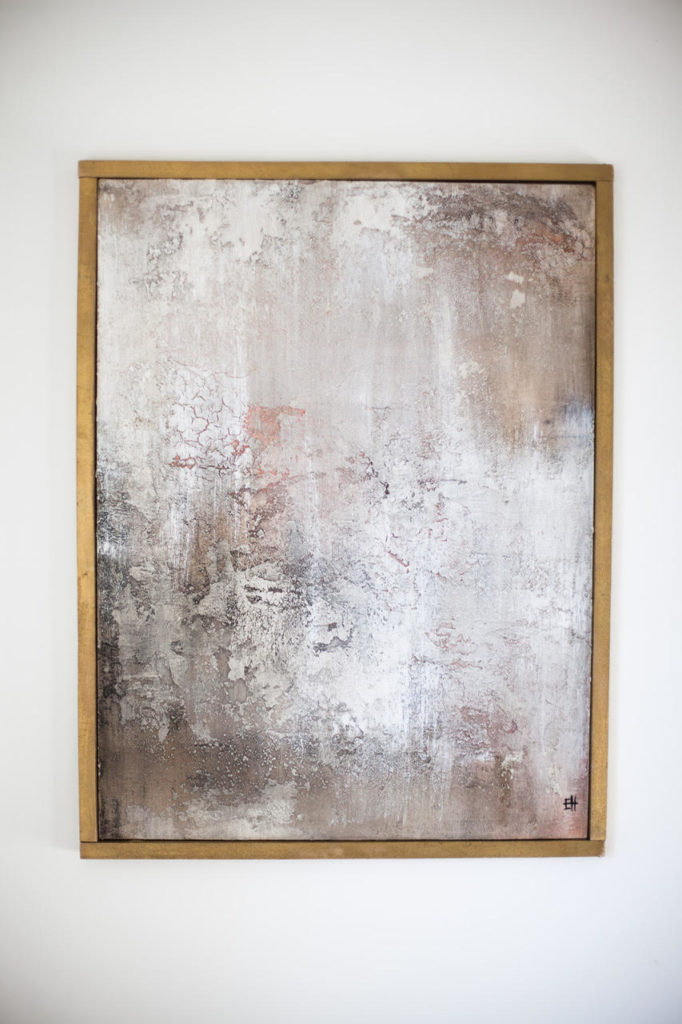 Emily Harris is a quintessential silver-screen Southern woman, with her 60-watt smile and buttery blonde locks; but don't be fooled — this artist loves to get dirty. Pulling her hair into a messy topknot, she picks up a trowel, bucket of plaster and climbs onto a sunshine yellow scaffolding tower to create her original art. Today's challenge is transforming a wall of basic brick into a weathered, textured, and aesthetically pleasing backdrop for a family to create memories in.
By trade, Emily is a decorative artist. She creates custom finishes on walls and home fixtures, enhancing their beauty by elevating the overall design of the space while still maintaining their function. Her custom finishes range from fireplace and mantle makeovers to brick painting, whitewashes and bespoke plaster work. Influenced by weathered, crumbling architecture surrounding her hometowns of Savannah, Georgia, and Charleston, South Carolina, she mimics the colors and textures of these soulful spaces to create her romantic modern ruins, both for interior design work and as a fine artist.
Emily's fine art echoes the same techniques and concepts of her professional work and is available for purchase at Citizen Supply in Ponce City Market. Her beautiful backdrops have made appearances in Atlanta Magazine and product shoots for local pottery studio Honeycomb Studio. Here, she shares more about her creative process and her past projects with CommonCreativ.
CC: When did you know you were an artist? 
EH: Art does not run in the family blood at all, but I had always loved design and aesthetics from a young age. I didn't realize that I had any real talent until I took my first Studio Art class in college, and I immediately changed my major from Interior Design to Art.
CC: What is the greatest inspiration for your artwork?
EH: I am constantly inspired by old, crumbling architecture. I grew up in Charleston and Savannah, so there was no shortage of weatherbeaten facades for me to admire, but a trip to Italy really set my soul on fire. I take hundreds of photographs whenever I travel so that I have a direct frame of reference. I sometimes try to meticulously mimic the colors and textures I find, other times I just to create a version of what I see.
When I'm working on a home I draw inspiration from the existing decor and specifically enjoy looking at the fabric swatches that will be used in a space.
CC: How do you stay inspired? 
EH: I'm always inspired while traveling, but if it's been a while since a trip, I can always turn to Pinterest. I also catalog images on my phone and computer, and sometimes you just can't beat a good old-fashioned magazine.
CC: How do you manage the different aspects of your business? Do they ever fight for your attention?
EH: Managing two separate pursuits is not without difficulty!  Sometimes it's very hard for me to find time and energy to create new pieces when I have a lot of custom finishing projects going on out in the field, but I've recently made the decision to dedicate my Fridays to working solely at the studio, so hopefully that will help with creating some order and balance.
CC: Can you walk us through your creative process from inspiration to final product? 
EH: I find a frame of reference, usually a photograph, and attach my focus to the most visually appealing details. I decide what kind of texture that I want to create, whether it be heavy, light or varied, and then I begin to trowel layers of plaster onto a wood panel. The plaster is white and has to dry completely before I can add any kind of color to it, so it takes several days to complete something from beginning to end. I use a variety of glazes and watered-down paint.
It also takes me several days to complete a piece because I swing between loving what I'm doing and questioning every mark I make until I am beyond irritated, hate everything about it and have to walk away from it. After I've chilled out,  I'll come back, add some more layers, and become obsessed until it's finished. It never fails, it's an emotional rollercoaster and I annoy myself the whole time.
CC: What are the projects that you've been the proudest of in the past?
EH: This year I was involved in the Charleston Symphony Orchestra League's 40th Annual Designer Showhouse where different designers got to renovate a house in Downtown Charleston to raise money for the arts. I was thrilled to be involved in such a huge project. My textured backdrops have been used for a number of photo shoots; most notably, one was featured in Atlanta Magazine.
I was very excited to sell my artwork at Citizen Supply in Ponce City Market. Most recently I was asked to create a feature wall for influencer/lifestyle blogger Anna Liesemeyer in partnership with Home Decorators & The Home Depot, so I've gotten to do a lot of varied projects which keeps me energized.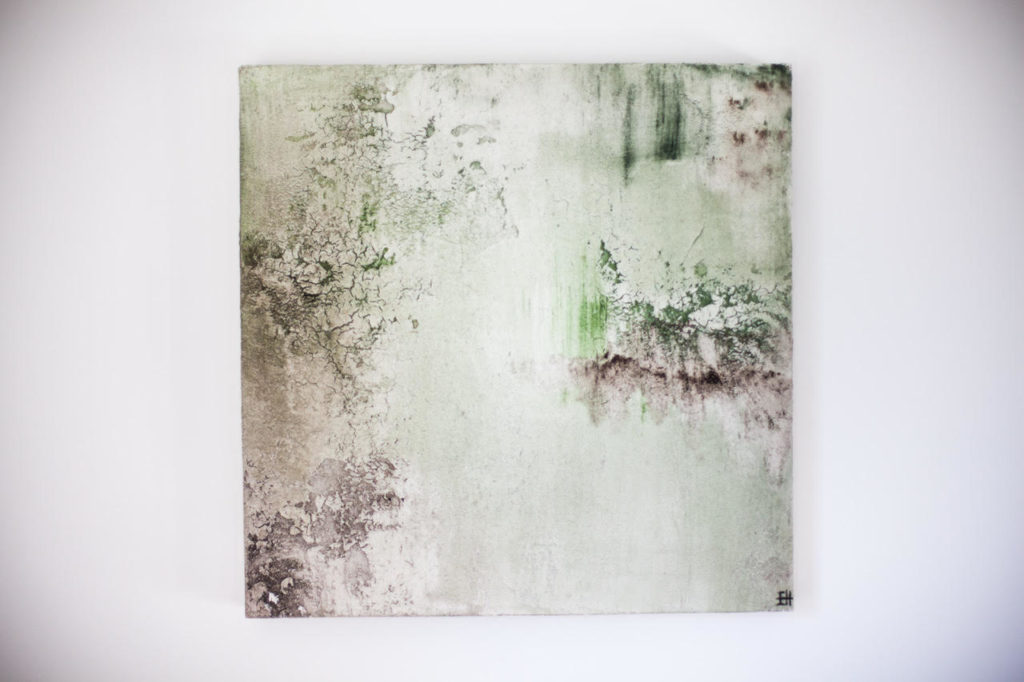 CC: What's coming up next that you're excited to get started on? 
EH: I'm so thrilled to be delivering some of my pieces to the Southeastern Showhouse in Atlanta event!  The space is designed by Gordon Dunning and based out of Decatur.  The showhouse opens April 21st and goes through May 14th. Also, Art Market Magazine [published] its first "Gold List Top 60 Emerging Artists," and I was chosen to be in the top 60, so I'm very eager to read that feature.
CC: What's the most challenging part of being a full-time artist? 
EH: The thing that I struggle with the most is balancing the time needed to complete custom jobs out in the field and still create pieces of my own back in the studio. I know I'll figure it out at some point, but until then, if anyone has any tips, reach out!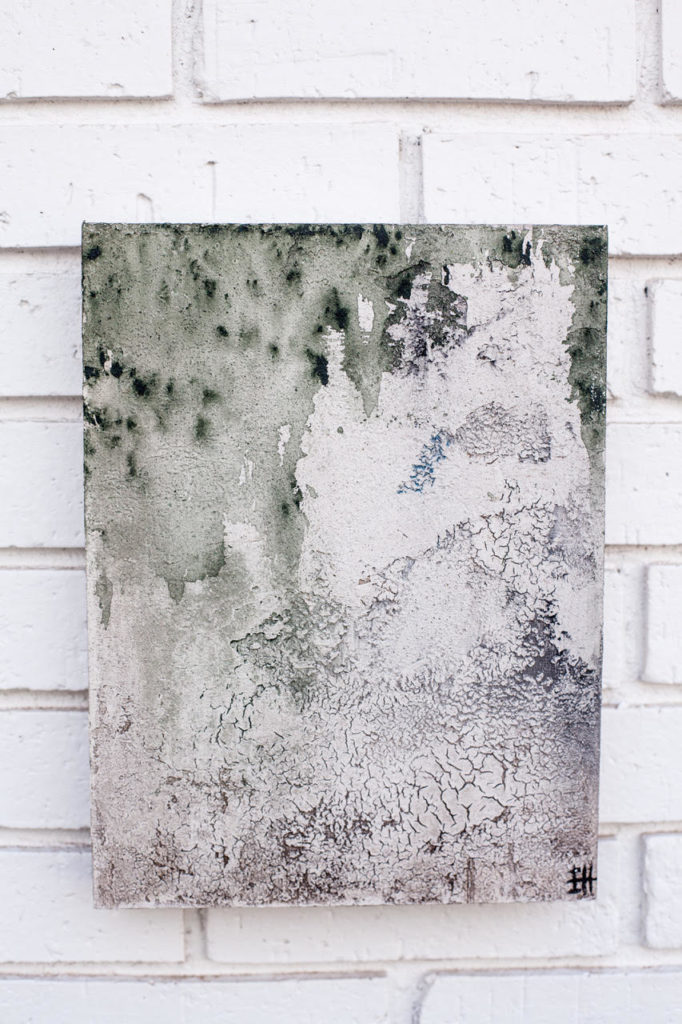 CC: If you weren't an artist, what would you be? 
EH: It's really hard to imagine what my life would look like without paint drips on my shirts, but if I absolutely had to choose something else I think that I would love to be a part of some sort of Historic Preservation/Restoration organization.
CC: What are your favorite things about being in the South? What keeps you here?
EH: Obviously the No. 1 reason to love the South is the warmer weather, and I adore living so closely to the coast. Southern hospitality is like no other, and of course college football! Go Eagles! I have some roots in the area north of Atlanta, so having family and friends nearby is wonderful. I live in Cumming, but it's close proximity to the city and all that Atlanta offers is perfect for me. The creative arts communities on the rise in Atlanta and the surrounding cities has me really excited to be in the South.
CC: Who is your favorite Atlanta artist? Are there any collaborations you'd love to be a part of?
EH: My favorite Atlanta artist is Sally King Benedict.  There are so many artists in Atlanta that I adore and am inspired by, but Sally truly stands out to me. I would also adore the opportunity to collaborate with Anthropologie somehow. Whether it be selling my art, or creating backdrops for them to use as decor, in their window displays or photo shoots, I definitely think we could create something spectacular together!
CC: What advice would you give your 18-year-old self?
EH: I briefly left my field to explore the corporate world, and it didn't take very long at all for me to realize that I did not belong. It was a terrible fit for me, so I left my briefcase behind to start my creative business and I'm happy to say I've never looked back. Talking to an 18-year-old Emily, I'd probably tell her to have more confidence in herself, stay true to herself, build up her skill set and work hard.
You can see more of Emily Harris' work on her site and her Instagram.