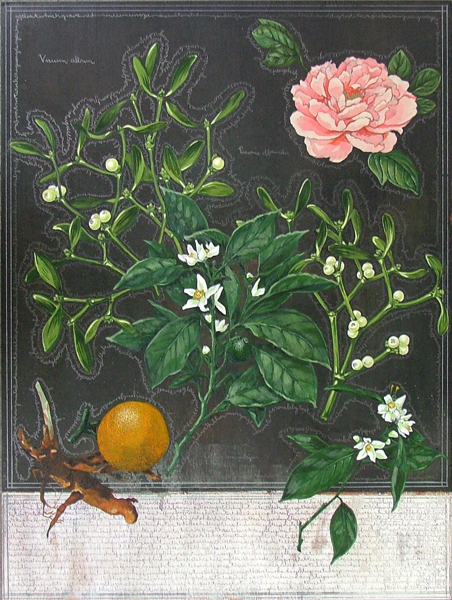 Scott Silvey's favorite creative processes involve blades or fire. He likes to move around in space, get physical. Interact. Because cutting, welding, manipulating earthy materials feels like living. For certain ideas that require a little more expression, focus, he turns to painting. Gouache, acrylics, carbon, laying into hemp, denim, canvas. It's stationary, almost lethargic. Body still, hand in motion.
As a child, Silvey used to create secret spaces in woodlands, along the flat fields of central Indiana, collecting whatever natural materials he could find, building structures to observe the world. He took those impulses to create things that speak, out of everyday nothings, through writing, poetry, then photography, eventually leading him to an MFA in sculpture at Georgia State University.
Fusing steel, suitcases, and soil to create corn stalks, noting the power of curiosity in one installation, then painting circles of medicinal herbs along hues of chakras in another series, Silvey's pieces study interactions of psychology, nature, and humanity in visual space. His work has shown up in exhibitions all over the world, but as a current artist-in-residence with Creatives Project, Silvey calls Atlanta home.
Here, he talks with CommonCreativ about cemetery adventures with his father, inspiring positivity into negative spaces, and how he just wants everyone to play nice.
CommonCreativ: How would you define art? Great art?
Scott Silvey: Good art is art that I feel attracted to both aesthetically and conceptually. I think that good art is subjective beyond fulfilling the basic requirements revolving around the fundamentals of design. However, I believe that great art is timeless. Even if it deals with a contemporary subject, I feel the best art transcends its content to touch those elements that are common to all human beings.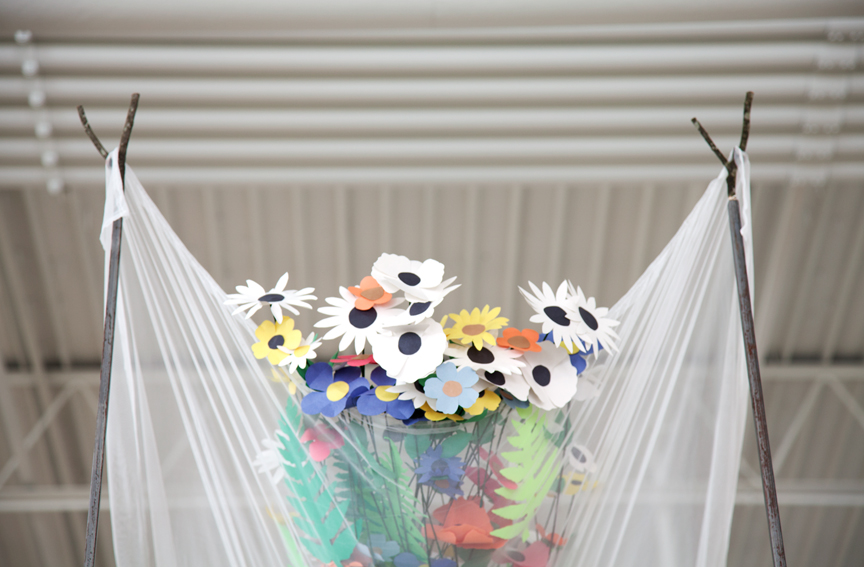 CC: What informed your current style?
SS: Fundamentally, I believe my style is informed by the Indiana landscape where I grew up, and the Sunday adventures my father, brother and I used to have in a local cemetery.
I grew up in farmland which meant wide, open spaces punctuated by nature and the occasional architectural structure. If you look at my composition and the forms I choose to link together, you will see a lot of angular geometry engaging with the organic forms of nature. The Indiana landscape in the winter is endless lines and boxes emerging from an eternally gray sky. I love that boxiness and that is where the cemetery also comes in. My father would take my brother and I to a graveyard after church to look at all of the magnificent mausoleums and the stained glass they contained. Again, box-like and architectonic forms inlaid with colorful images of flowers and nature robust with symbolic elements. I will take a Donald Judd any day, just impregnate it with concept and that is where I'm at.
CCL Where do you go to find inspiration?
SS: I believe the artist lies at the intersection of all other disciplines. As a result, my inspiration comes from many sources. I am especially interested in Carl Jung, spiritual and cultural traditions from around the globe, anthropology and especially paleolithic culture, natural healing practices, psychology, history, physics and my peers' work.
CC: What are your favorite pieces that you've made?
SS: I think my favorite pieces have always been the result of a number of different factors coming together simultaneously. An early example in sculpture was a piece I did called "disconnected." Its conceptual content was related to the distancing of humankind's relationship with the rest of the natural world. Aesthetically, however, it was the first time I felt I successfully combined appropriated objects, a fabricated steel superstructure, and an unshaped natural form into a single piece.
A more recent example is "Pulse Nightclub Realignment." Although the impetus for the creation of the piece is painful, I felt the resulting work was able to capture that initial feeling and the hope it was meant to encourage. The image is meant to inspire the reinsertion of positive energy into the places where extremely negative events have occurred. I just felt that the opposition of light and dark, the colors, the composition, and the concept all came together on that one.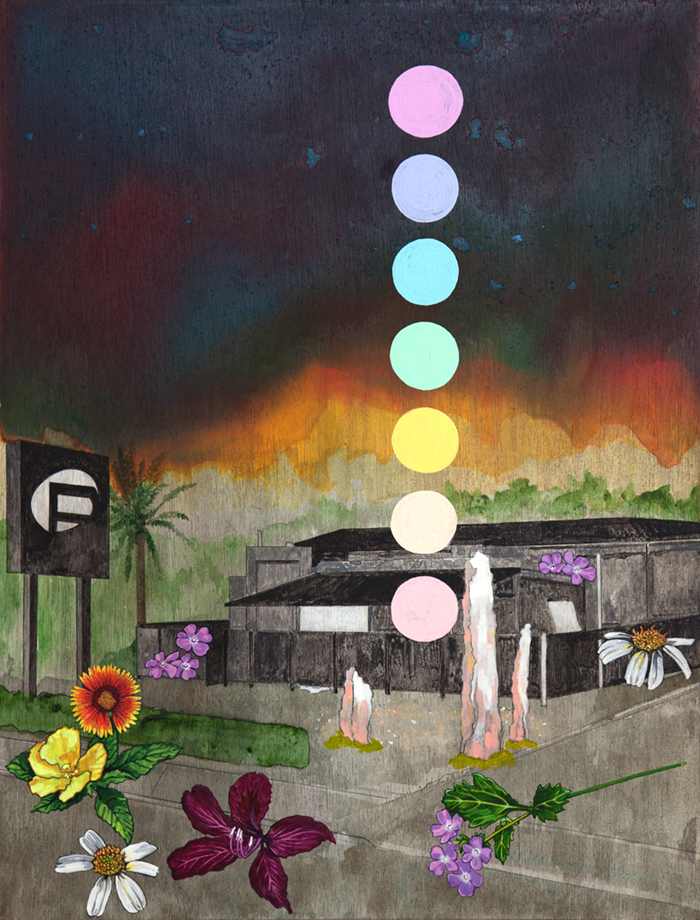 CC: Any projects in the works?
SS: Yes! This is turning out to be a very busy year. I have already exhibited in the Art Papers Auction and a show titled The Art of Healthy Living at the Fulton County Government Center. I will have a solo show called Soft Border at Poem 88 at the end of June/early July. I will have another solo show in November titled deep time inhabitants at Day & Night Projects and will also be in a group show through The Creatives Project around that time. Finally, I have a collaborative performance project with my friend Dan Walsh of Shy Layers at The Swan Coach House Gallery scheduled for May of 2018. Lots of new installation and sculpture with a few 2D works thrown in!
CC: Yell me about this year's deep time inhabitants.
SS: deep time inhabitants is a title I have been using for a number of different pieces lately. Those words speak to me of something that is ancient and unchanging. In this highly charged political atmosphere, I want to make work that speaks of unity, and not separation.
Consequently, deep time inhabitants will address those human behaviors that transcend fleeting political positions. As visualized at this point, the show will be comprised of three main installations and perhaps one painting. The installations represent the profundity of fundamental human acts through their connections with the idea of place. Although physical location necessarily brings to mind thoughts of country and culture, the places I will speak of exist on a more universal and spiritual terrain.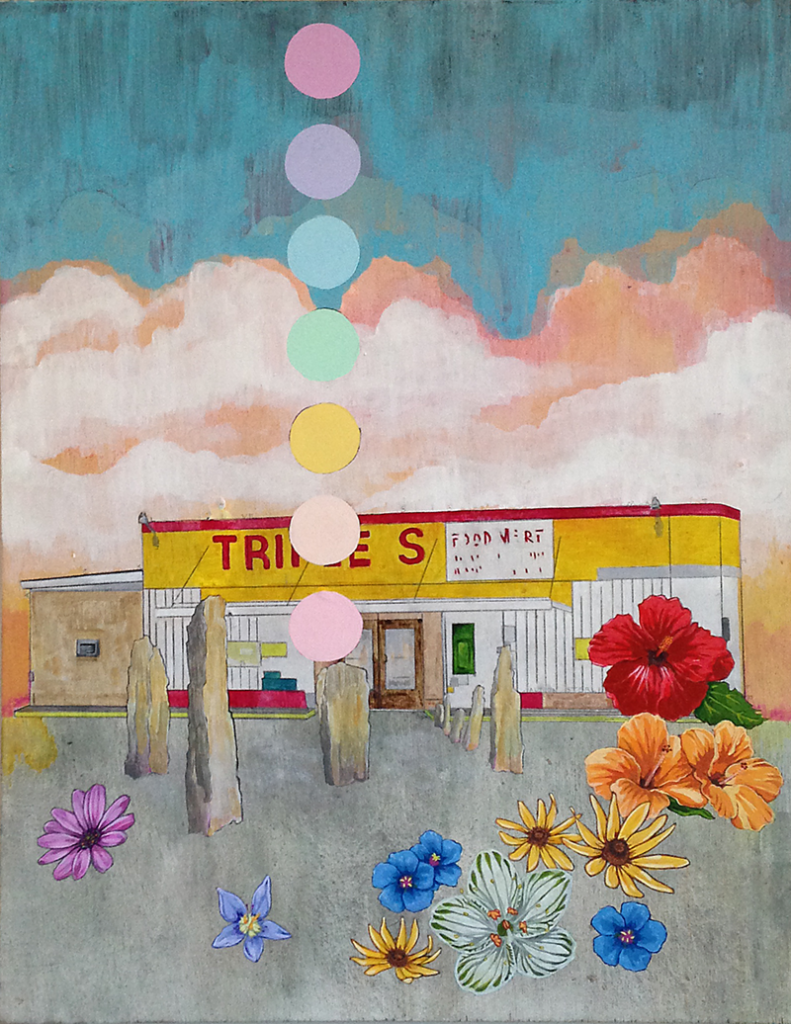 CC: What's it like being an artist-in-residence with The Creatives Project?
SS: My studio residency at The Creatives Project has been a real blessing. Having a studio at The Goat Farm has put me in contact with so many great people in an atmosphere of mutual respect and support. Neda Abghari, the executive director of the program, is an angel straight from heaven! She is a talented artist and community organizer who has built the organization into a vital force in the Atlanta community and beyond. I am very thankful to have had the opportunity to work with her and all of the amazing people I've met because of my involvement with the program.
CC: What is it about Atlanta that you love? 
SS: I love the community nature of the art scene here. There seems to be a real interest in supporting one another and coming together to make the best and most innovative work possible. There are quite a few of my friends who, like me, went out into the world after graduation and then have returned recently bursting with new ideas, advanced technical skills and a network spanning multiple countries. Also, there is a lot of new talent coming out of GSU and SCAD that is bringing fresh ideas and energy into the dialogue.
Although some of the older institutions have closed, multiple new art spaces and organizations have opened in the city since I left in 2001. There is a sincere desire to make Atlanta better for the people who live here and all of those exposed to it. Atlanta is on the global stage right now with so much entertainment being produced here. The spotlight is on our city and it's time to make it the international art destination I know it could be.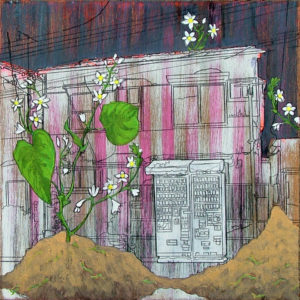 CC: Any dreams for yourself?
SS: Yes, rarely asleep but always dreaming… Honestly, like most of us, I just want to see my son grow up into a happy and healthy person and my family to be safe and together. Also, although I have done a fair amount of traveling, I would like to visit quite a few more countries. In my art career, it would be nice to be in the Whitney Biennial someday and have a fully-stocked and spacious studio.
CC: Dreams for the world?
SS: I just want everyone to play nice. Come on people, really.
CC: Any advice for fellow artists?
SS: As the therapist Carl Rogers said, "What is most personal is most universal." Follow your vision, keep doing your work. The world will find you as you seek yourself.
You can find more of Scott's art on his website and follow his journey on his Instagram.