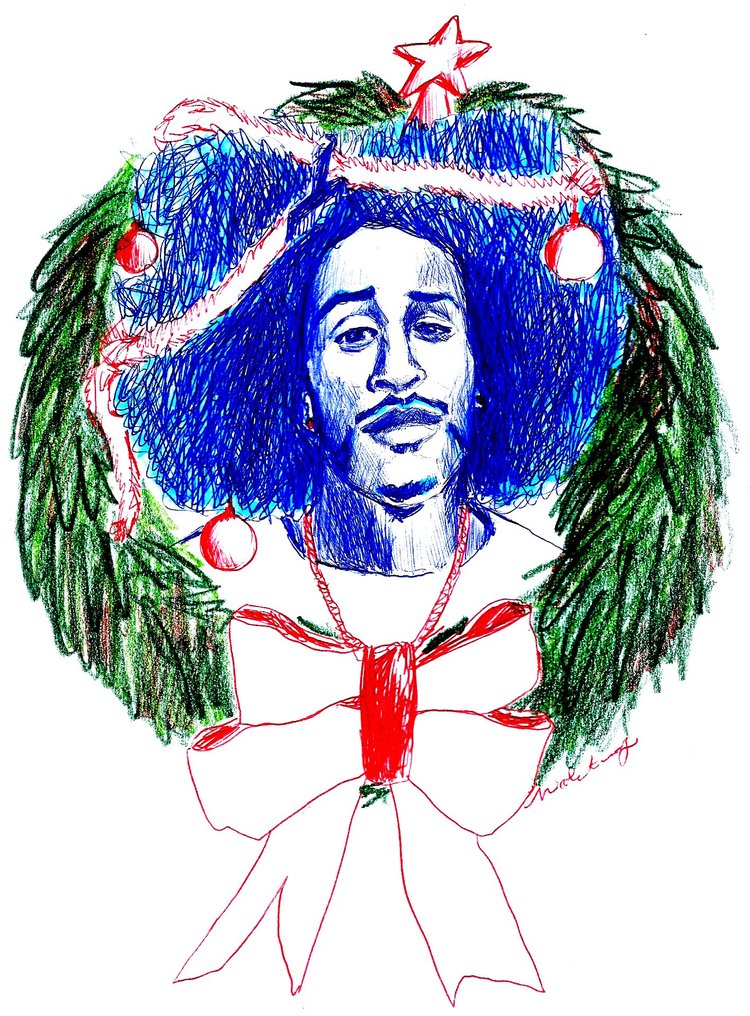 Nicole Kang is a great representation of what it means to be an Atlantan. As a transplant who's called quite a few places her home (the list is long and crosses quite a few state lines and oceans), she ardently roots for Atlanta and its community. She's also a fighter who has often been at a disadvantage but, through hard work, has pulled herself up. Her art often features bold colors and patterns that speak confidently of a young woman who knows who she is, where she comes from, and where she wants to go.
During the day, Kang works in the education department for the Alliance Theater. As for her artistic endeavors, her latest exploration of women's portraits (which she began after taking a break from art when she lost her mother) is an honest series of technical and artistic bravura.
Overall, her pieces vary in theme and mood, digging into deep cultural experiences and then jumping to hilarious pop culture references (her proudest moment was when Ludacris retweeted her "Ludacrismas" illustration). She has created her own colorful coping mechanism through her art and formed a language of personal peace despite the losses and hardships she has encountered.
CommonCreativ spoke to Kang about the value of art, its place in Atlanta and the merits of being "a big fish in a small pond."
CommonCreativ: When did your interest in art begin?
Nicole Kang: I have always wanted to be an artist. This is something my mother encouraged in me. I would doodle all over the walls, so she would buy me tons of sketchbooks when I was little and I would get through them in just a few days. I'd draw and draw and draw. This is something I grew up with, it's been a big part of my identity. I moved around a lot when I was a kid and art was something I held onto. I knew that no matter where I was, I could always draw.
CC: What caused you stay in Atlanta after college?
NK: In Atlanta, you have the option of being a big fish in a small pond, rather than a small fish in a big pond like New York. I think accessibility is a reason why I stayed. Also, the sense of community here. Especially because I'm Korean, and the Korean population is pretty large in the metro Atlanta area. It just became home.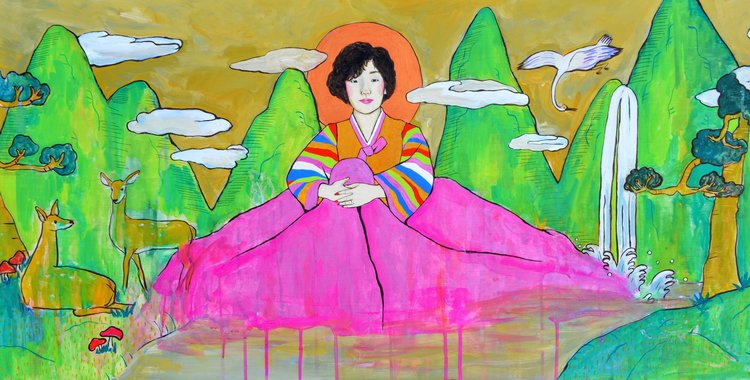 CC: What has influenced your artistic style and aesthetic?
NK: I feel like I'm still developing! I've kind of been meddling with illustration and painting. My work isn't graphic but it isn't necessarily fine art. I'm still navigating through that. In high school I was able to be part of the government honors program (in two different states) and I was able to experiment with all the supplies presented to me. Then in college, I learned more about art history and found my influences as an artist, which allowed my style to settle a bit.
CC: Where can people see your work right now?
NK: Currently, I have part of my women's series at Paris on Ponce. I've been working on flowers lately and moving away from portraits [and] just exploring that. I've been playing around minimalism a lot. I'm also interested in children's book illustration, something that started when the Alliance produced a play around [the Eric Carle children's book] The Very Hungry Caterpillar called "Pancakes, Pancakes."
CC: What inspires you?
NK: There's a big cultural inspiration, but it really comes from my mom. She's a big source of inspiration. I look through her photographs often and I'll recreate a lot of them. I also look at a lot of art around Atlanta. I look at what's worked in the past and what's working right now and also what works for me. Though, it does always go back to my mom for me. I did a lot of pieces where I'd look at pictures of her wearing a traditional Korean dress and pick out a pattern from that.
There's a specific floral pattern that has resonated with my pieces. My relationship with my family is also an inspiration. Inspiration is a really hard thing — if you wait too long for it, you end up not making anything. You have to force yourself to work. I take in a lot so I can produce a lot. I'm constantly going to art openings in support of other local artists. I take in a lot of different art to inform my work.
CC: What do you think of the Atlanta arts scene?
NK: I'm incredibly excited right now, especially with all the murals popping up everywhere. Public art is so important, and the fact that the public art realm is really growing here, it's making more people interested. I think giving people the access to look at art will give them an appetite for more. I'm a socialist when it comes to art — I think the Atlanta Contemporary Art Museum becoming public and offering free admission is a huge step.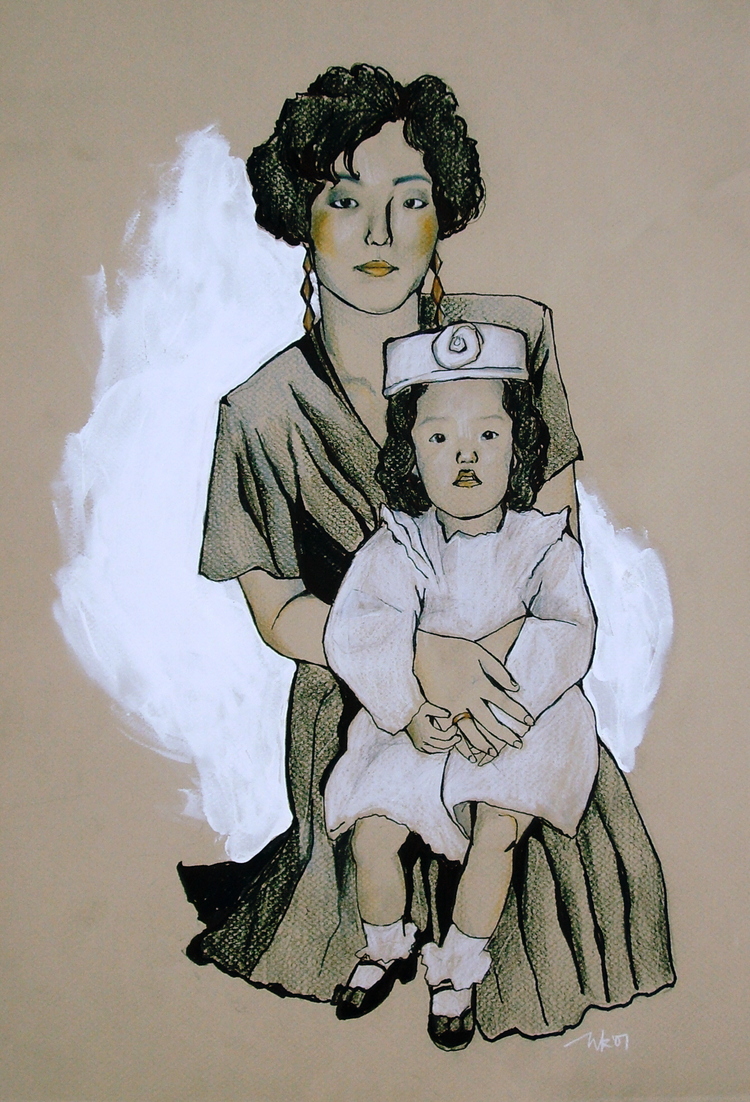 I've been in Atlanta consistently for six or seven years, and it seems that with the new developments there has been a drive to bring more culture to the city. We do need to be more supportive of our local artists, though. I don't think we should constantly reach out for outsiders to represent us. We need to nurture and support the talent within the city. I think we really need to work on that. But we're on the right track to becoming one of the most artistic cities in America, I think. We shouldn't replicate other places, but embrace what we have to offer.
CC: What keeps you in Atlanta?
NK: I know it's cliché but, it's really the people. If it weren't for the deep, meaningful connections that I have in this city, of course, I'd be shopping elsewhere. But the quality people that live here really shape my experiences and my life here and, again, the fact that I have so much access to things here. I work for the biggest art organization in the city, so it's easy for me to participate in these artistic activities and be a part of the scene. I wouldn't have that in New York, you know.
You can find more Nicole Kang's work on her site and Instagram.