Tes Arlette is a self-professed "Jane of all trades." As a teacher by day and street artist by night, Tes is taking her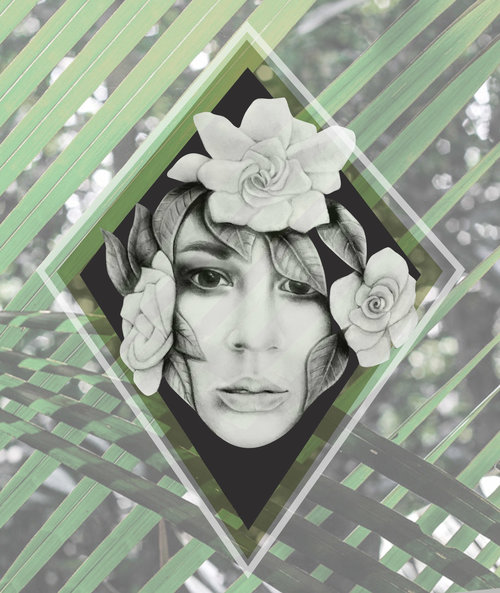 time and slowly immersing herself into the Atlanta arts scene — battling her meekness, embracing fear-based creativity, playing by her own rules, and finding projects that fulfill her desire to live a creative life.
Although she was an excellent scholar, Tes will argue that she's not a naturally talented artist and didn't entertain the idea of being a full time "creative" until she went to college. However, that's exactly what she is. This past year she has become the youngest teacher at The Creative Circus, completed eight large-scale murals, and has only just begun to dip her toe into the arts community that she's been admiring from afar. So, how did she get off to such a good start? HARD. WORK.
Here, CommonCreativ chats with Tes about how design is a puzzle, arts activism, and her favorite "artist rock stars" in Atlanta.
CommonCreativ: How did you get started with your art career?
Tes Arlette: I'm not one of those souls who knew that they wanted to be an artist. My family always encouraged my creativity, but I absolutely did not think that regular people were successful artists. I just knew that I had an inherent need to create. My hands were always dirty as a child because I was interested in how things were made, so I always rolled up my sleeves and gave whatever I wanted to make my best shot.
I only went to Georgia State for a year and a half before dropping out and enrolling in The Creative Circus because I figured that if I was going to learn I was going to go full force and really go for it. The tuition cost gave me the push that I needed so that it wasn't an option for me to fail. I work best in a state of fear-based creativity, which means that in order to do my best work I need to feel like I have something to lose. I'm sure that doesn't work for everyone, and maybe my therapist would argue about finding a sunnier disposition, but it's gotten me this far.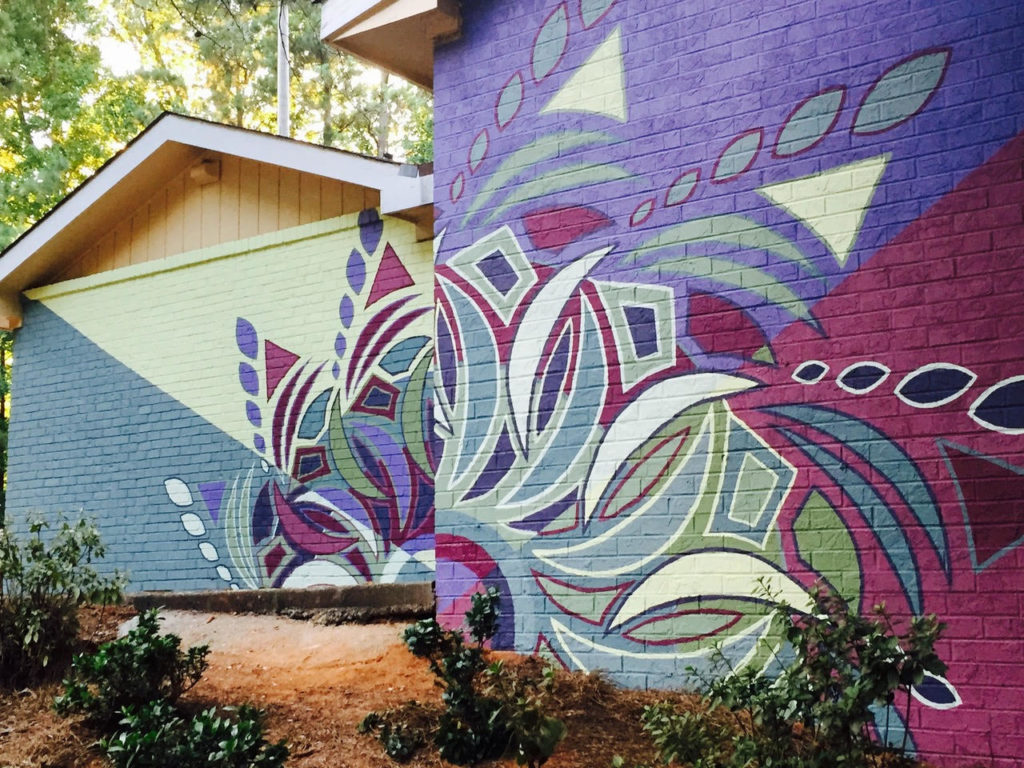 CC: What's your main source of inspiration?
TA: I am the kind of girl who steals a handful of matchbooks and a menu when I go to a restaurant that has super stellar branding. "Design" is a puzzle, meaning that good design creates a call to action, or adds value to someone's life. I love watching people interact with cleverly thought-out marketing materials. Good branding, typography and certain color schemes inspire me immensely.
I also get my general inspiration from tattoo artists, street art, and macro photography. I could look at macro photographs of beetles and bees and honeycombs all day, I'm so fascinated. I even have a giant stag beetle tattoo on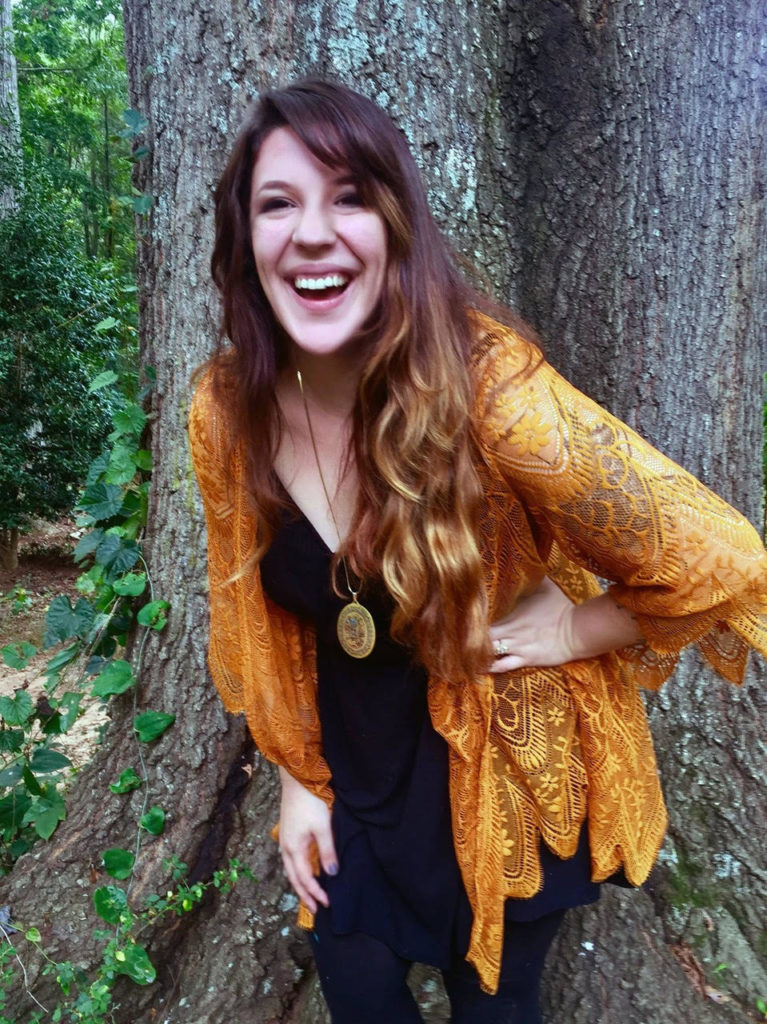 my arm. As far as inspiration on how to live life, my dad always told me that I could do anything if I worked hard enough, and my mom said that being nice goes a long way, so "Be Nice, Work Hard" is my motto.   
CC: What projects do you have on the horizon?
TA: I'm really excited to have landed a job teaching Intro to Interactive Design at The Creative Circus, which involves me teaching skills that designers haven't learned before, such as building their website, how to work on "responsive design" and digital design. It's exciting to have a job that's creative on so many levels and at the place where I learned so much. I'll be the youngest teacher there, which is both validating and scary in equal measure.
Apart from my day job I'll hopefully have the opportunity to do more murals and get involved in more arts activism. My social anxiety has held me back when I've wanted to do volunteer work, but it's something that's important to me, so I'm a work in progress.
CC: What has been your favorite project?
TA: I was truly terrified at the prospect of creating a mural, but it's something that I've embraced wholeheartedly. I figured that if I was scared to create a large scale piece of art then I was going in the right direction. I'm a creative adrenaline junkie for sure! Murals have become my passion and I would be so thrilled to have the opportunity to create more.
The "Atlanta isn't Perfect" mural that I painted downtown happened because I asked the Dream Warriors community if they knew anyone who wanted a mural painted, and by a total stroke of luck the Switchyards got back to me. It was a collaborative effort as far as the design went. It's a quote from Ryan Gravel, and when I heard it I was inspired because we're all looking for progress, not perfection.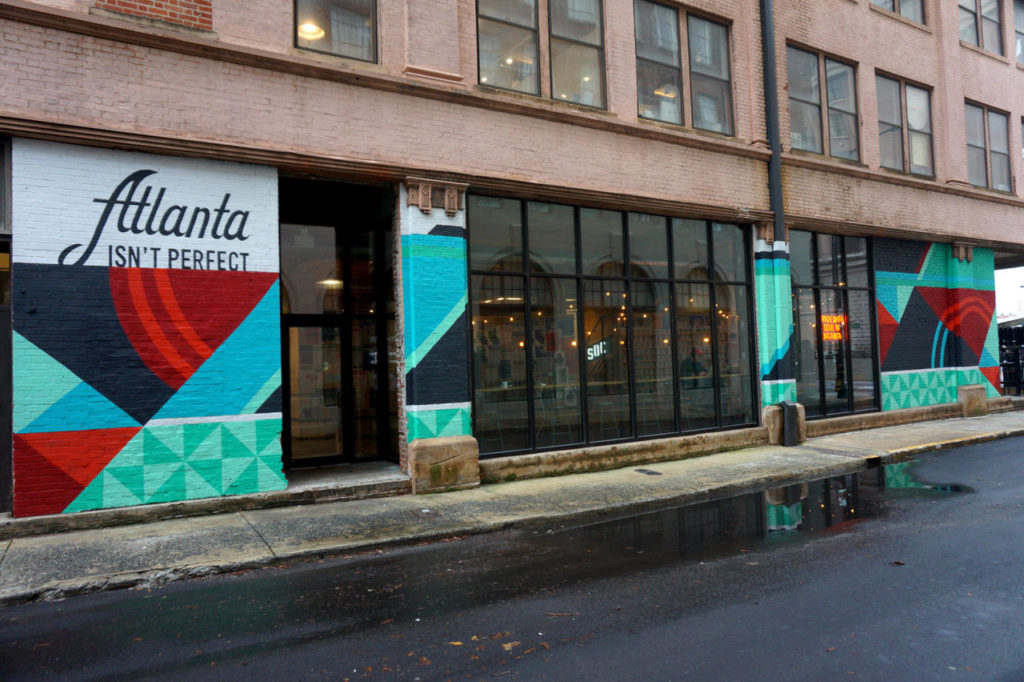 CC: What are your thoughts on Atlanta's creative scene?
TA: I know that there are a lot of opportunities out there for creatives in Atlanta if you're willing to network. The Free Art Friday community is a great example of that. Artists are rock stars in Atlanta; people like Greg Mike and Peter Ferrari are my inspiration. They do what they want. I like that. But even though they could have a "too cool for school" attitude, they're really accessible and do a lot for the arts community as a whole. I'm a pretty shy person by nature, so it takes a lot of effort for me to network, I'm getting better though…I hope. I don't have a definition of "success," I just really want to explore my options and enjoy the process.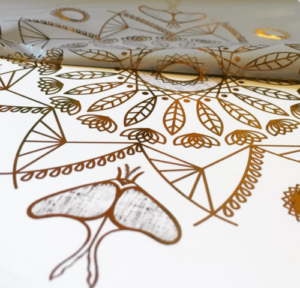 CC: What keeps you in Atlanta?
TA: I know that there is a community that I haven't tapped into yet. It's cool to be in Atlanta, people are actually moving here now! I always said that I didn't want to stay in Atlanta. I was raised here and thought that I'd have traveled all over the world by now, but I keep finding reasons to stay. Atlanta has this gravitational pull for me, and I want to establish myself in my hometown before I move on to another city (if I ever do). Atlanta is home. Why would I uproot myself when there's already a beautiful garden around me?
CC: Which Atlanta artists would you most like to collaborate with?
TA: Molly Rose Freeman because I love everything she touches. Peter Ferrari because he inspires me so so much. I love that he's taken his art and turned it into a business that champions other artists through Facet Gallery. I'd also like to work with R.Land because he's weird and different…and I feel like we'd get along just fine.
You can check out more of Tes' work on her portfolio and Instagram.