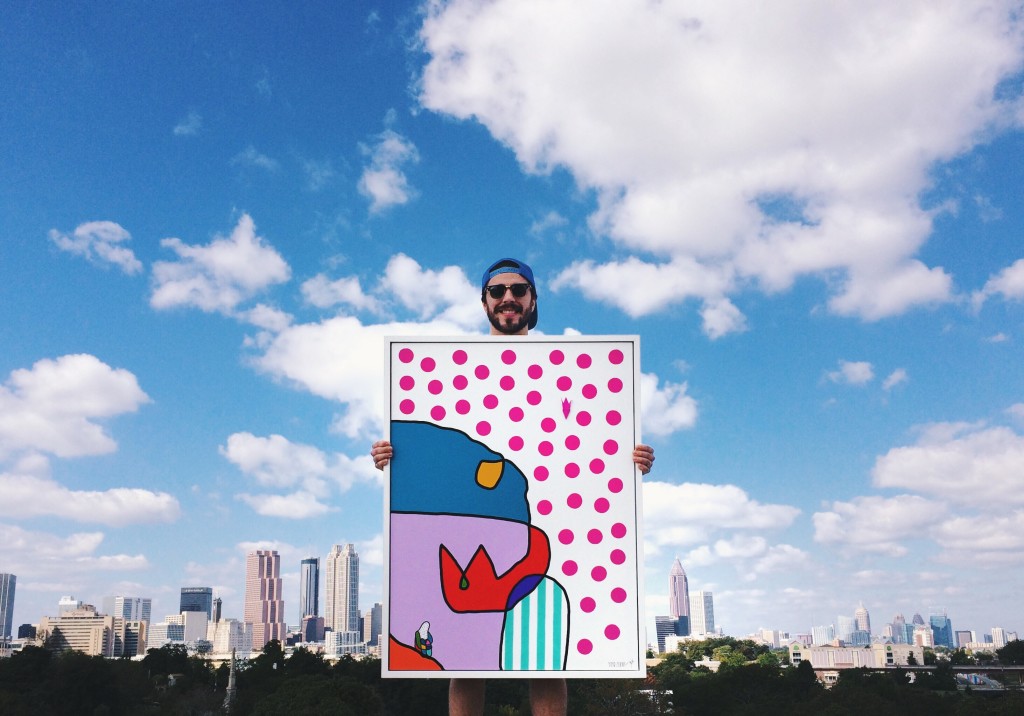 We've been diving deep into the creative processes of Atlanta's emerging and established artists for more than seven years now (wow!). Each one of those weekly in-depth interviews gives us a glimpse into the inspiration behind the artist's work and how they climbed the often-difficult artistic ladder here in the city.
One of the questions we always ask artists is how they promote their work and get their name out there. With this question, we move forward with our mission of spotlighting Atlanta's creativity and helping other emerging artists to get their foot in the door.
Here, 10 Atlanta artists from a variety of genres and points in their career pass along some wisdom on promotion.
I frequently use Instagram, my website, art show submissions and attending events where there's the opportunity to meet people and make connections. My preferred method is through personal connections and relationships. It is especially important to me when I'm creating an art piece for a person that they play a part in the inspiration of the creation process.
I always make sure to take the time to send out email, messages, comments, even calls: It's a hassle, it's not fun, and sometimes you feel as if you're wasting your time, but it's so important. You need to take it upon yourself to go to them. Provide more value. Use your skills and craft as that value. You have to be hungry for it, so go get it!
I use Instagram and Facebook to promote exhibitions and events. I have a MailChimp email list that I send announcements through a few times a year to keep those interested updated on my exhibition schedule and activities.
It's important to take the time to talk to everyone you meet; to be genuine and always keep in contact with the connections you make. I want to build relationships with everyone I meet whether it be online or in person. I think successful promotion is about being yourself and letting your soulfulness shine through your work. I use social media such as Instagram and Facebook.
Attend openings, volunteer for organizations and events, lend an artist a hand with an install, just make yourself known. Secondly, pounce on any opportunity that comes your way: Hang work at that coffee shop, apply for that grant, and increase your visibility at every chance. Make good work, and don't sit around waiting for opportunities to come to you.
Instagram has been the most effective venue for getting my work out there so far. Showing my work around the city has helped as well through group shows. Not only have I gotten the chance to meet other artists in Atlanta, but it's been a great venue to further promote my work as well.
I believe that first and foremost you need to focus on making quality work, keep improving your craft and stay "true to yourself" (a.k.a. make art that you're proud of). Then, where ever you go to share your work is up to you. I really like to share my work and progress on Instagram. However, Instagram might not always be a good representation of your portfolio, so having an organized website with good quality photos is helpful when presenting your work to a potential client.
I try to take every opportunity that comes my way. Making connections and nurturing those connections usually creates other opportunities. Social media goes a long way these days. It has been a way for me to connect with others. I've also had great success from just word of mouth and referrals.
When I was listening to people telling me to brand myself and promote my work, I was miserable and my work suffered. Word of mouth, a strong portfolio and an ability to follow through on a paid commission are all that I've ever needed to get by.
I use Instagram a fair amount. It's the only social media I like because it's just pictures. Beyond that, I don't do much to actively promote myself. My approach is to keep working and making meaningful relationships, and let the connections form.