It's probably no surprise that, as a dog person, self-described "bird nerd" and nature documentary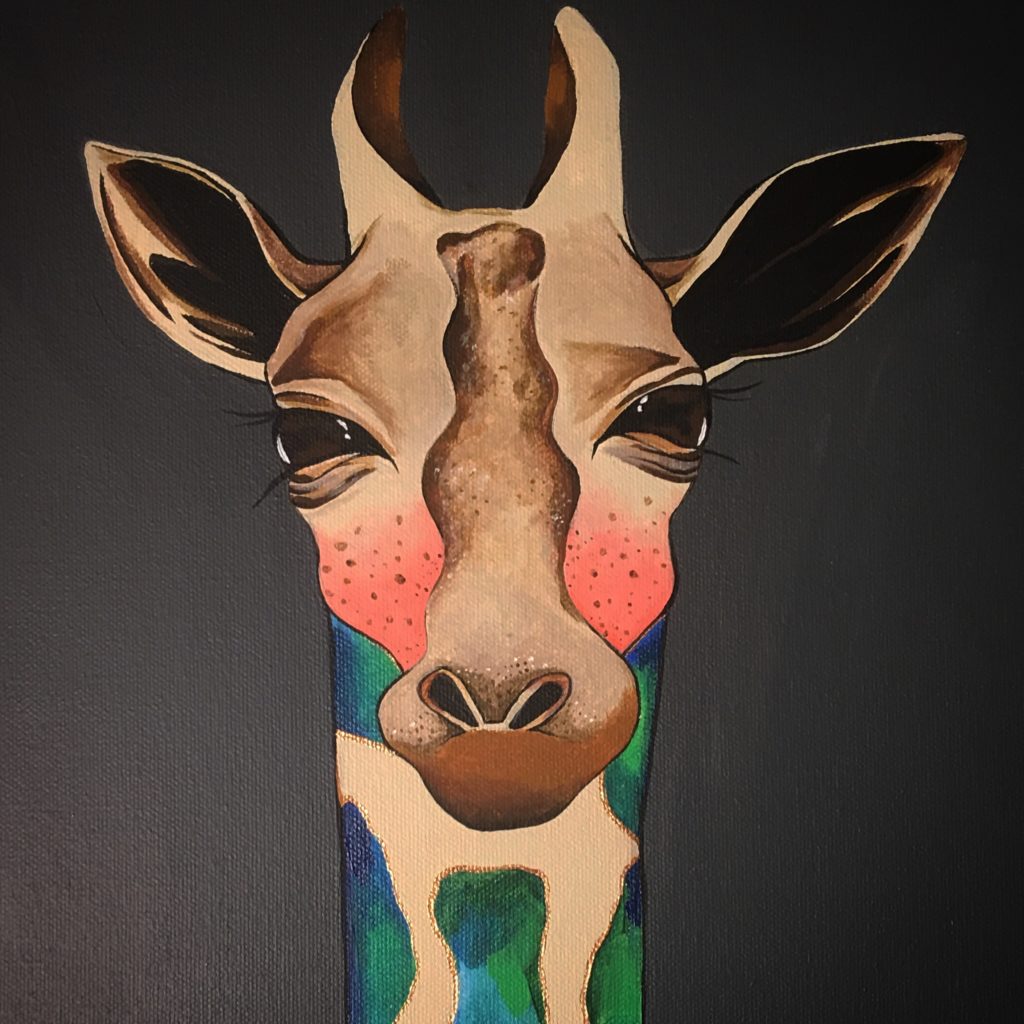 aficionado, artist Lacy Freeman is often inspired by animals. But the creatures that are often created in her work are no ordinary animals — these are characters plucked from the middle of a story, each rich in color and personality. Like many artists, Freeman inserts a bit of herself into her playful animal portraits. Frustration, joy and even hunger are built into these furry little faces and whimsical palettes.
Originally from central Florida, Freeman moved to Atlanta in 2014 and started creating art full time. Now, her work can be found at several locations in and around Atlanta, including Coco + Mischa, Crafted Westside, Wild Oats & Billy Goats in Decatur, and Sis and Moon's in Alpharetta.  
CommonCreativ chatted with the artist about her process, that time she spent a week at the zoo, and what's next for her.
CommonCreativ: What's your artistic process?
Lacy Freeman: I mostly create original acrylic paintings on canvas. I start with an image of an animal, infuse a little extra personality into my initial sketch or design, then create a color scheme to play up the mood or emotion I'm attempting to illustrate. I'm left with an overly exaggerated version of the image I started with.
CC: You've described your style as whimsical and playful. How did you develop this style?
LF: I think the art I create came from a need to express myself. That sounds like a pretty cliche thing for an artist to say, right? I think visual artists have a hard time expressing themselves through words, so we create images to say what we often can't. At least I know that's true for me, and I try to capture my moody feelings in an animal's face and story. Sometimes the story being told is playful, colorful, and invokes a feeling of general cheeriness. Other times it's a way of sharing my frustration, sadness, or just plain hunger. It all started with this goofy alpaca painting I created years ago, after finding two alpaca in a neighbor's yard, and has evolved into something more.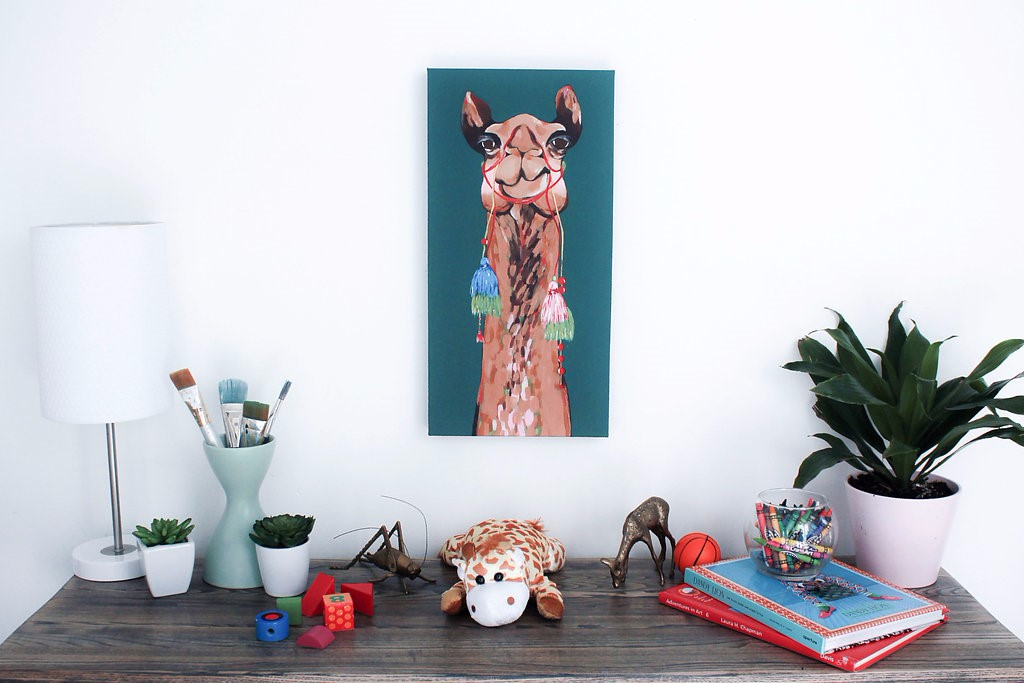 CC: Each of your animal portraits has an individual personality. Do you find yourself creating stories for each of your images?
LF: I totally do that! Every animal gets a name and almost every animal portrait illustrates a feeling, a mood, or an emotion. Some of those emotions were felt on a personal level. Many of the animals have #firstworldproblems, some of them have weird hobbies. I get a lot of feedback on the storytelling part of my work, and I love making that connection with someone who can relate.
CC: How does color impact your work?
LF: Color impacts my work in such a major way. I love the way colors invoke certain feelings and I try to capture that with each animal's portrait. Color helps tell a story. I recently painted this sun bear who looks like he's always hungry. I incorporated red and yellow to really drive that sense of hunger forward. When I think of red and yellow together, I automatically imagine fast food chains and the way those colors make a person feel they need to eat quickly and leave.
I love to experiment with mixing my own paint colors from primary, black, and white. I almost never squeeze paint out of a tube and apply it to my work. I mix colors in large batches and often use these palettes to create series. I take design and color trends into consideration and am slightly obsessed with Pantone Color Institute's color forecasting.
CC: What inspires you?
LF: Obviously nature. But everyone says that. I'm a dog person, a bird nerd, and I think that all animals have souls. I'm obsessed with nature documentaries and I rewatch Planet Earth videos over and over. My favorite film is My Life as a Turkey. It's about this man, Joe Hutto, who spends a year practicing imprinting (raising from birth) on a group of wild turkeys. He spends the year with these turkeys, maintains very little human contact during this time, and writes in his journal every day about the personalities of each turkey and the things he has learned or gained from his time with his flock. It's more emotional than scientific, and that's something I appreciate and directly apply to my art. The animals I paint are not to scale, are not totally accurate, yet they still share something with the viewer.
CC: What's been one of your proudest art-related moments?
LF: The fact that I've been able to create a business around my art makes me very proud!
CC: What do you have coming up?
LF: I'm currently working on creating art to show and sell at holiday markets like Root City Market and Indie Craft Experience, and the Holiday Pop-up Shop at Spruill Arts Center. I'll also have a booth at Chomp & Stomp this year! I would like to have a solo show soon, though I don't have anything on the books just yet.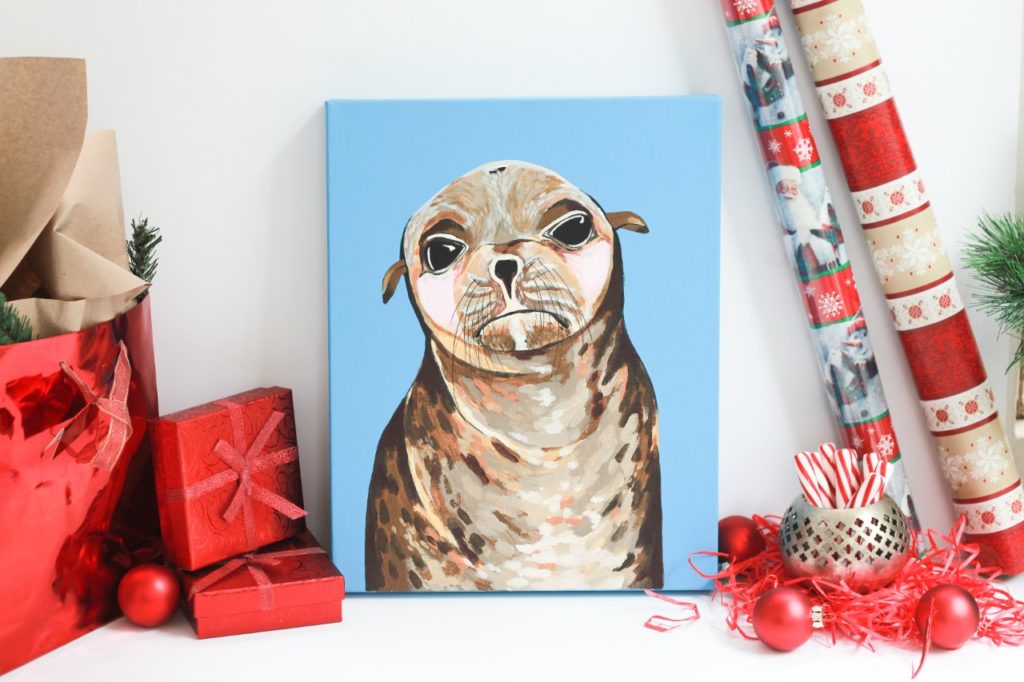 CC: What are some of your favorite art happenings, organizations or people in Atlanta?
LF: I'm a big fan of FamilyHood ATL. The community those guys have created and continue to build upon is so welcoming. They have monthly one-night events to showcase local artists,  provide them with a space to share their art with an audience and to connect with other artists. It's pretty damn special. I love working with Root City. They host pop-up markets, workshops, and so much more. Root City strives to make things easier for the local maker and offers support in a large variety of ways, like hosting Maker Mingles and Work Together Wednesdays.
My favorite art happening of 2017 so far has been Art Gone Wild at Zoo Atlanta. They invite a number of artists to paint at the zoo for a full week, then they have a gallery show at the end. Half of all proceeds from art sold goes directly to the zoo's conservation programs.
CC: Lastly, how would you describe the local arts scene?  
LF: I love the artist community in Atlanta so much. There is always somewhere to go see art, someone to talk to about art, or someone here who supports you as an artist — a stark contrast from the industrial town I grew up in. I love that kids are growing up seeing murals and art all over their city. We have murals, artist markets, local galleries, Free Art Fridays, and a tunnel where hundreds of people gather to share their artistic ideas of peace, love, and unity. What's not to love?!
See more of Lacy's work on her Instagram, Facebook or her portfolio site.