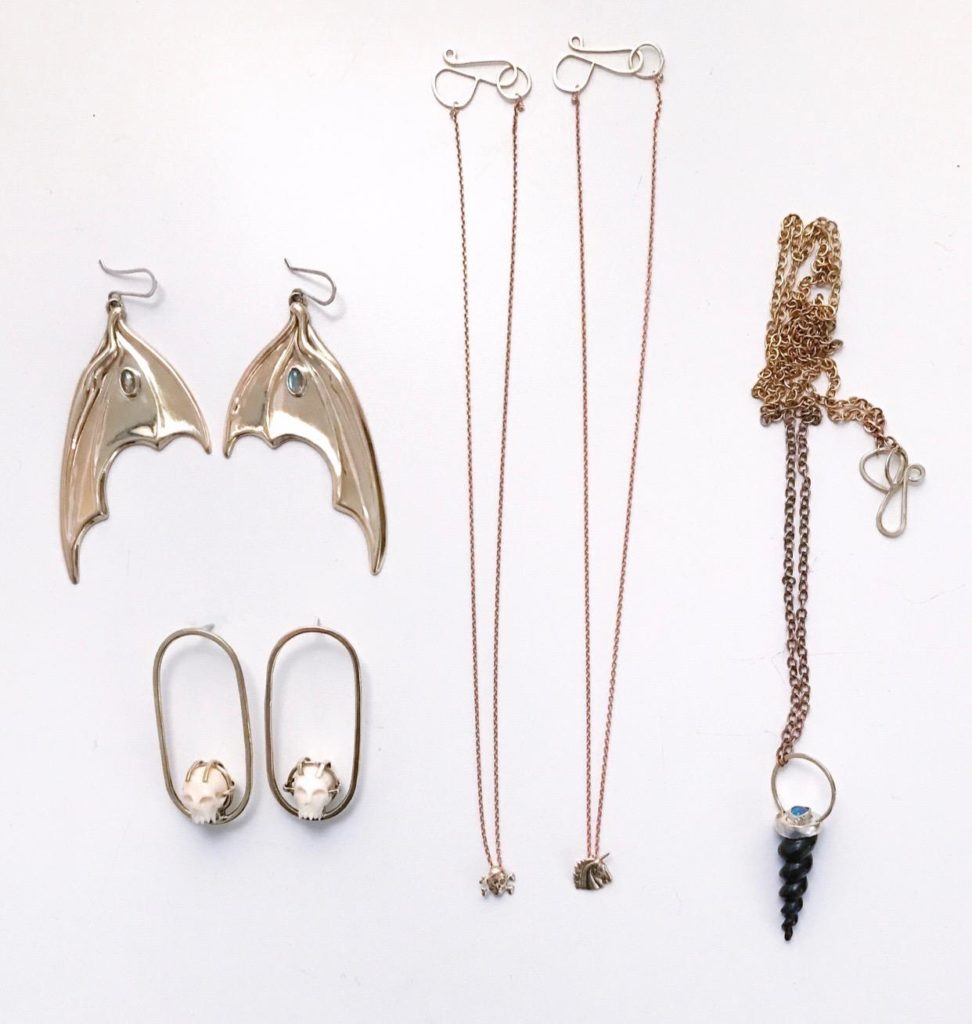 Most of Rebecca Holt's jewelry falls under the category of "statement pieces." Whether it's an oversize ring with a stone that stretches from the hand to the middle knuckle or a pair of bejeweled earrings shaped like bat wings, her wares are anything but understated — without crossing the line into gaudy.
A Richmond, Virginia, native, Holt arrived in Atlanta about three years ago, after her husband got a job at a local startup. They now reside in Decatur, where she runs her jewelry business, Rebecca Holt Jewelry. Using her experience in metalsmithing (more on that below), her aim is to craft unique, wearable pieces at a price point that is accessible to everyone, not just the affluent. The result is a collection of eye-catching accessories — her latest Halloween line features a black unicorn-horn necklace with a deep blue opal, and earrings adorned with tiny vampire skulls carved out of bone.
CommonCreativ chatted with Rebecca about where she finds inspiration, how she promotes her work, and the exciting things she's got in store.
CommonCreativ: What sparked your interest in art?
Rebecca Holt: I've always loved art since I was a baby. I've been drawing and in art class all through school since I can remember, all the way up to college graduation.
CC: What drew you to metalsmithing?
RH: I've always loved art but couldn't really connect to 2D art and always found myself burning things like paper in a piece and playing with texture. In college, I discovered metalsmithing and realized this was what I'd been waiting for! A logical (wearable and sellable) form of art that is 3D and uses a torch.
CC: Where did you go to school?
RH: I went to school at Virginia Commonwealth University in Richmond, Virginia. They have a Craft/Material Studies program in their Fine Art school, that's what I studied alongside getting a minor in business. The Craft/Material Studies program had 5 areas: glass, metal, textile, clay, and wood. I took classes in everything except clay and wood, mostly stuck with glass and metal, and focused in metal by graduation.
CC: How would you describe your work's aesthetic in one sentence?
RH: My work uses sharp angles and bold shapes to play off of natural materials like fossils and semiprecious stones.
CC: What drove you to launch Rebecca Holt Jewelry, and why was affordability important to you for its mission?
RH: I launched my business right out of college because I had a clear vision of pieces I wanted to see in stores with semiprecious stones that weren't available anywhere. If they did happen to have something in the style of what I wanted, they were either cheaply made or seriously expensive. I think everyone should be able to afford to support artists and wear the style they want and have nice pieces they will treasure.
CC: What inspires your collections?
RH: So many things! I'm inspired by art history. I studied Art Nouveau and Art Deco styles for a long time, creating pieces mostly inspired by those shapes.  I also love TV and movies. TV shows have inspired me so many times because of the environment they create and the stories they tell.
CC: What have been some of your greatest artistic achievements?
RH: Some of my greatest achievements just happened recently! My pieces were worn on Heather Pain, an assistant stylist for the show Grace and Frankie on Netflix, a nominee for the Creative Emmy's this year. I think because I love TV and movies (especially Grace and Frankie) so much I was so excited she was interested in my work, I still can't believe it. Some other achievements are honestly just being able to pay my bills easily with the money I've made; there isn't a feeling that's more accomplished for me than that.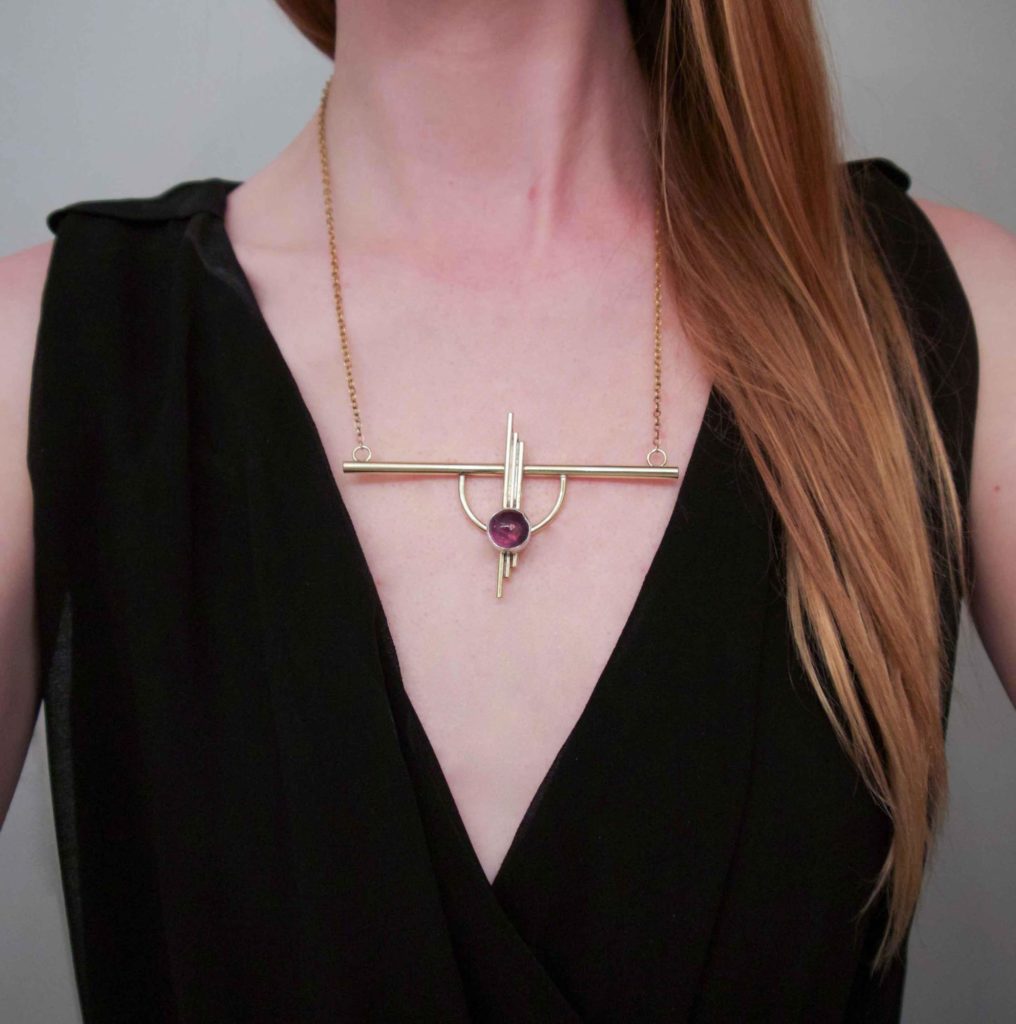 CC: Who are some of your favorite artists?
RH: Pamela Love. I used to watch her interviews through college to keep my motivation up. She's fascinating as a person, and her shapes and cast objects are inspired by Egyptian hieroglyphics and other really cool points in art history. She was the one who started the fad of cast bird skull jewelry. She talks about finding bones and how she wanted to wear them but they were too large, so the only way to do that was making a carving much smaller from wax and then [casting] it.  
Some other artists I love are people I work with sometimes and are my friends that I admire.  Eryn Price-Ormsby is an amazing fantastical photographer, she also makes faerie wings that are gorgeous and iridescent, I love anything inspiring and otherworldly like that. I love and admire my two aunts who are also artists: Lynn Townsend Dealey and Cris Townsend. Lynn in Dallas, Texas, is a cartoonist and hand-drawn logo/freelance painter and designer. Cris in Salem, Massachusetts, is a graphic artist and designs websites and logos. Their work is so near and dear to me and they've helped me develop as an artist. Erte is also a really big influencer of my work, I learned about him from art history classes, as well as Renee Lalique.
CC: How do you effectively promote yourself and your work?
RH: I do one show a month (except summer because wow, it's hot) and during the holidays sometimes three or four events a month! I've found that's the most effective way to promote other than all my social media. I love being a consistent presence on Instagram because it creates a community that is visual and appreciates art and photography. Instagram and Facebook (and having an easily navigable website) are the key things, I think, for a running small business right now.
CC: What do you think about the current state of Atlanta's art scene?
RH: I think there's more to the Atlanta art scene than meets the eye. It was hard for me at first in Atlanta because I didn't do shows until last year and this city is spread out, so the art scene isn't just going to show up on your doorstep. But once I tapped into meeting some of those store owners that carry my work now and did shows with Indie Craft Experience and Indie South in Athens, I really found a community.
I wish there were more people that were interested, and came to craft shows and supported those stores! Some neighborhoods are great about it, but what if there were as many people buying from artists year around as Walmart or Target? How amazing would that be? That's my dream city. I wish there were even more great stores like Made Again Gallery in Inman Park, Garage Door Studio in Avondale Estates and Coco & Mischa in Decatur [which recently relocated to Ponce City Market] around. I'm really happy I've been able to work with these fabulous women who support artists and are great artists and business owners themselves.
CC: What's next for you?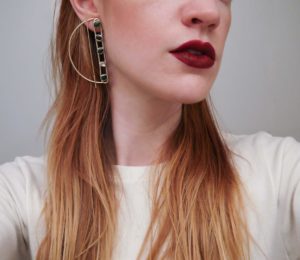 RH: I'm excited about a few things coming up! I have a lookbook shoot coming up with Eryn Price-Ormsby and some other very talented women who are modeling, doing hair and makeup and helping me out that day. They're all artists themselves as well in different mediums: Hannah Mayhew, Kate Adams, Astrid Winter, Nomi Bowie and Zaynah Mason.
I'm also really excited to be releasing different collections every month for October, November, and December that will only be available through that one month. I've never done such limited-edition pieces before and put them together in a collection style release. I really like how the Halloween Collection turned out — it looks like one cohesive thought and is so festive.
CC: Lastly, why do you create?
RH: I create because I need to. In my head, it's my purpose each day to start a project that will be a beautiful thing that will make someone happy whenever they look at it. But also because I have things in my head that I need to make realities in my work (sometimes kind of manically) — the shapes and stones I use, I tend to stare at and meditate on for a while and then design a gut reaction piece and take things off or put things on as they come to me. I think creating like that gives me the biggest sense of what I'm here for.

See more of Rebecca Holt's work on her website, Instagram, Facebook and Twitter.