Niki Zarrabi's work is dizzying in its thoughtfulness. Her multi-layered installations and paintings are as rich in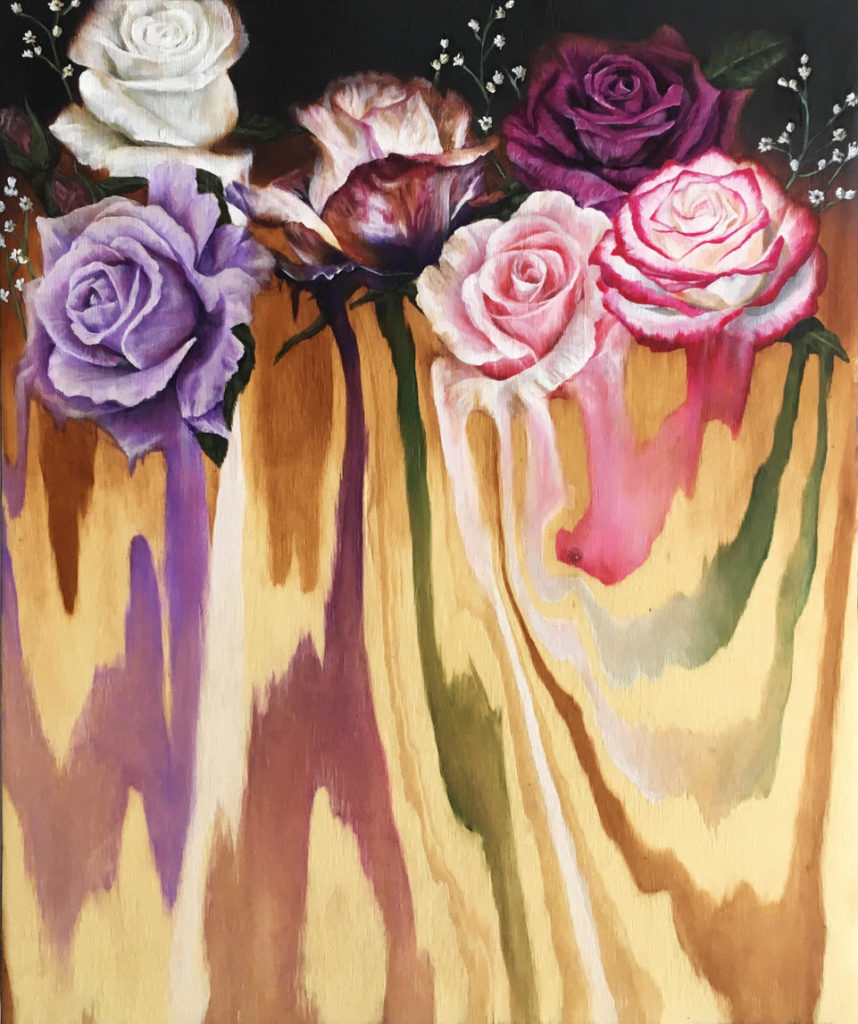 texture as they are in philosophy. A seemingly random "core science" requirement in college took a serendipitous turn when the ideas that she was exploring in the science lab collided with the work she was creating in the art studio.  
Each piece that Niki creates is conceptually abundant, exploring the vastly layered and complex relationship between metaphysics and the science of the human experience. Niki uses her artwork as a tool to feel more connected to the universe, obsessing over the idea that we are all made of the same atoms, and therefore intrinsically united. Through her work, Niki wants to spark conversation; whether that be with another person, or an internal soliloquy to analyze the countless complex elements that allow us to exist.  
Here, CommonCreativ talks to Niki about Atlanta's take-charge attitude to art, feeling lost and lonely after art school ended, and the importance of being a businessperson as well as an artist.
CommonCreativ: What started you down your artistic path?
Niki Zarrabi: It wasn't planned at all. I went to college thinking that I was going to study to be an engineer. My father was an Iranian immigrant who moved to America at 17 and is the hardest working person that I know. I rejected the typical "daughter of an immigrant" path of studying medicine, law or science; something safe and stable that will make your parents proud.
As first-generation Americans, we're supposed to respect our elders' struggle and keep our head out of the clouds, but I've been fortunate enough that my parents are my biggest fans, and have never made me feel like I'm squandering my opportunities. Knowing that they have faith in my abilities has made me work harder and has powered my drive to be more successful because I want them to be as proud of me at an art show opening as they would be if I were receiving accolades for technological breakthroughs.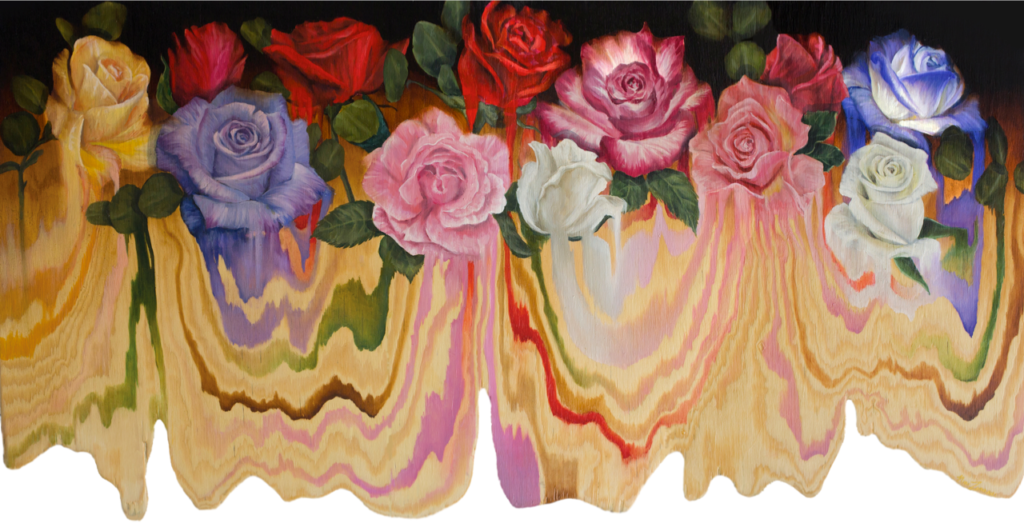 CC: What inspires you?
NZ: My peers ultimately. I was recently involved in [the group art show] Paint Like a Girl at Facet Gallery which was curated by Kayleen Scott, and the vast amount of important work on display was so inspiring. I felt really proud to be in a lineup of women who are shaking up the art scene.
The challenge of creating also inspires me. I find it comes easily for me to paint with oils, but I found abstract work to be very difficult at first. It was a puzzle that had to be solved. How do I convey what I'm trying to say with shape, form, line, and color, but no obvious imagery? I had to change my idea of what art was. Now everything is about how a piece feels; I love to use that as a barometer of how successful a piece turns out.
CC: Color is an imperative part of what you do. How do you land on color combinations?
NZ: They're all neutral palettes that are a response to nature. I feel as if I don't have too much control over what colors crop up because I drop colors onto surfaces randomly and they mix together to create their own color story. Sometimes it works and sometimes it doesn't, but that's an intrinsic part of the process because the world itself is so random! It's a crapshoot, and it definitely keeps things interesting.
CC: What artistic challenges have you encountered?
NZ: It was hard to leave the lovely, safe bubble of being in art class where you have a built-in support system and peer review. I felt like I had sea legs after I left school, because I didn't want to fail, but didn't really know how to get started. My friends in the art community are wonderful and inspiring, but they are my friends and don't want to give criticism, no matter how constructive that it may be, so at times it has felt lonely.
I also had a hard time actually getting down to business; I tried co-working spaces, but they weren't for me. Being in the city is super distracting because there is always something to do and see. In response to these challenges, I have turned my garage in the 'burbs into a full studio complete with power tools! It's humble, but it has kept me so much more focused.
CC: You've achieved success in a relatively short period of time. What do you think have been the keys to that success?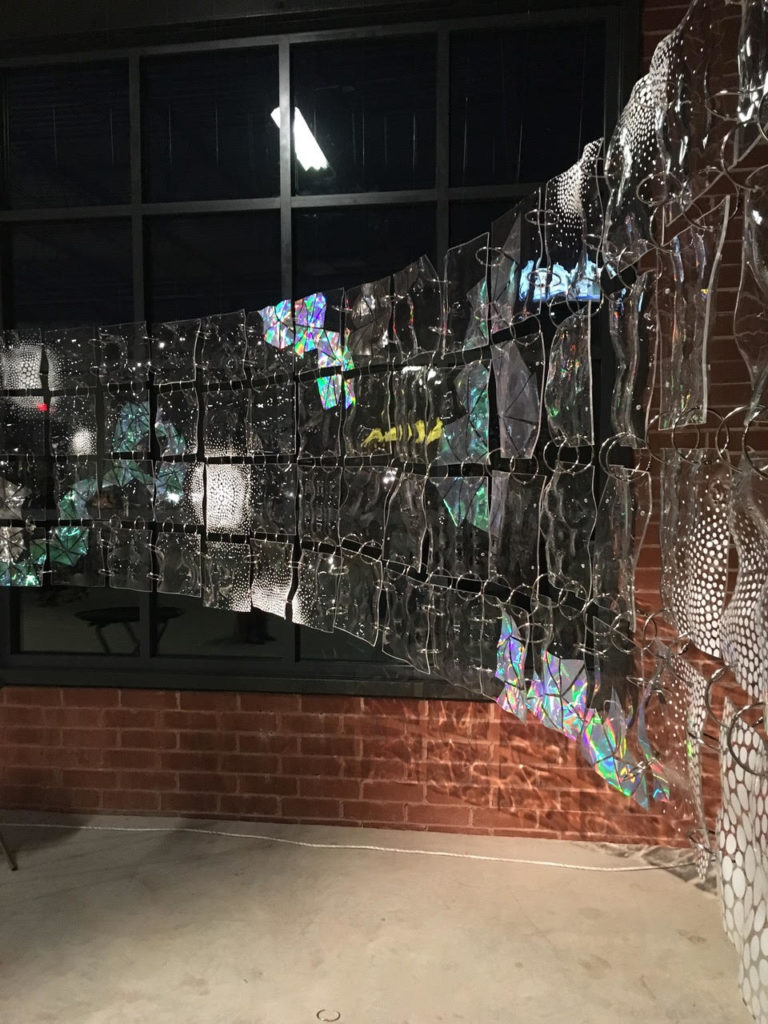 NZ: I treat my art as a business. I learned really early on that that I had to study up on marketing and business if I ever wanted to make a dime. I don't love that I have to do that, especially when it feels like a full-time job itself, but I had one professor in school that kept it real with us. He said that out of our whole class there would only be 5 percent of us that would become full-time working artists. On the assumption that he was right, I stayed motivated to make sure that I was in that 5 percent. I use social media and branding to stay consistent and engage my audience as much as I can.
The biggest advice I can give to an aspiring artist is to be present. Go to art shows and meet your peers. Say yes to everything until you know what you can say no to. Networking is work, but it works! You should show up as much as you can.
CC: What do you consider your greatest accomplishment thus far?
NZ: Without a doubt, my show Meet Me in 4D. It was an interactive installation that felt very different to what Atlanta was offering at an art show. It was not just a show, it was an experience. I had wonderful, positive feedback, and it was validating to have such a huge crowd that came and participated. Even though it was the most stressful show that I've been involved in, it was my favorite event. I would do it all over again in a heartbeat.
CC: How do you define success?
NZ: My main objective is to make people think and feel. I feel successful when I hear people's responses to different pieces of work. It fulfills me on an energetic level.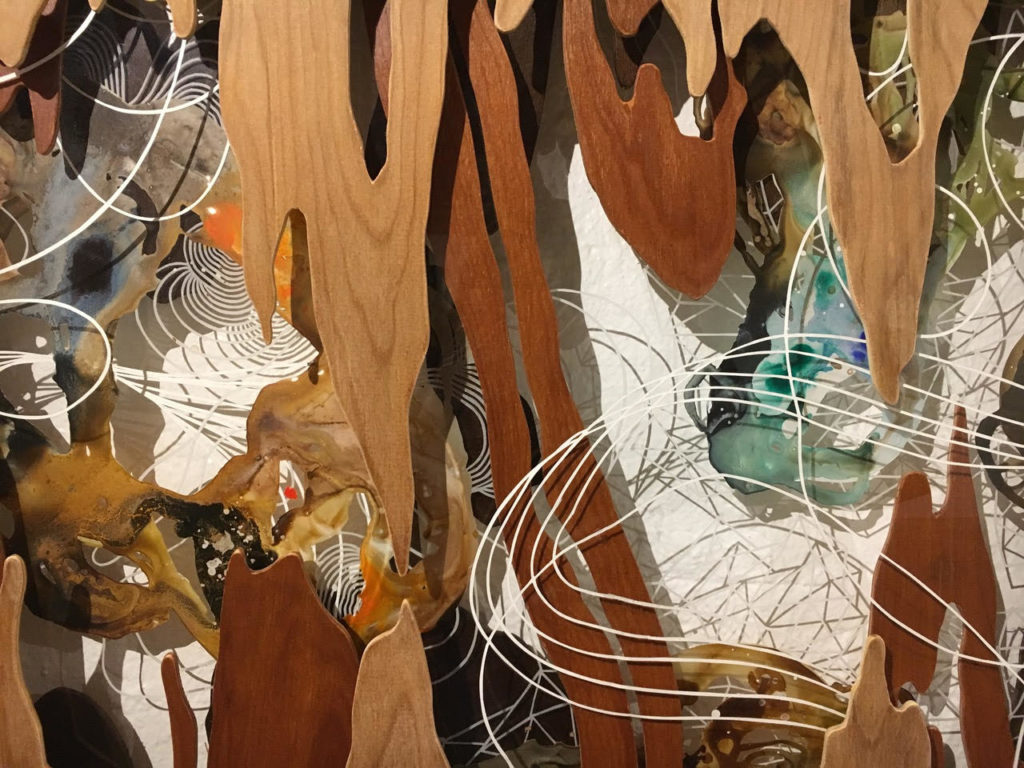 CC: Who are your dream collaborators?
NZ: Pam Longobardi's collage work is extraordinary. I was lucky enough to have her as one of my professors for an installation class in college. Her concept of collecting ocean trash and turning it into beautiful pieces of artwork is truly compelling. Conceptual work like hers makes me want to have a strong narrative with my own work. I also adore Barbara Kruger. I heard that she may be showing at the High [Museum of Art] soon, so I'll be first in line for that.
CC: How do you feel about Atlanta's creative scene?
NZ: There are so many different audiences in Atlanta. You have your highbrow white walls at Kai Lin Art Gallery, but also the coffee shop scene. Both are arguably just as important.
I do like that artists don't seem to wait for an opportunity to knock in Atlanta, they will make a show happen by themselves. You have to appreciate that grassroots effort. The murals around town make me happy as they are bringing art to the masses without any consumerism.
CC: What's next for you?
NZ: A rest! I've had three openings [recently] and I need some downtime to get inspired again and maybe learn a new medium. I was [also recently] involved with ColorATL's Vol. 2 coloring book launch. I created a coloring page of one of my oil paintings for their book and had a piece of original art for sale at their launch party. The project is so inspiring in of itself — for every book that they sell, ColorATL delivers a free copy to someone at a local health or social impact organization. This allows those in difficult circumstances to have access to the therapeutic benefits of creative activity.
CC: What advice would you give your 18-year-old self?
NZ: I would advise my 18-year-old self to find the window where the pressure is on, but you're not stressed as hell. There is a balance — find it! Start earlier. Create more. Spend more time making art and less time thinking about making art. Procrastination never helped anyone. I guess, in short, "Get to work, Niki!"
You can see more of Niki's work on her portfolio site and Instagram.