One thing Krista Jones (AKA Jonesy) seeks to communicate through her art is the notion that everything is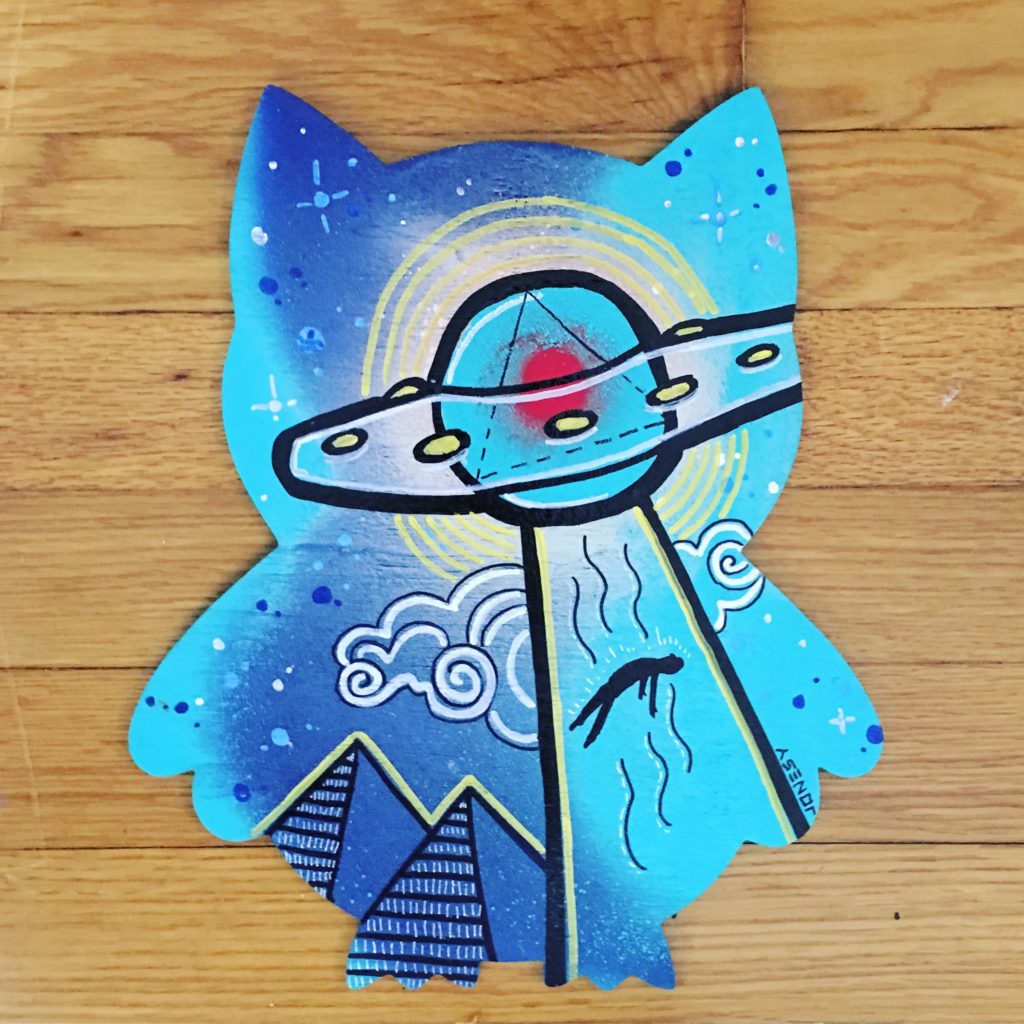 connected. Whether it be through paintings, murals or illustrations, she often uses symbolism and patterns to combine elements that don't necessarily belong together to challenge perceptions of reality and demonstrate the complexities of the human condition.
As a multifaceted creative, Jonesy also enjoys music, science, and energy work, but uses mixed media painting as a form of therapy and self-healing. Now she consciously sets intentions when creating art to infuse healing for the viewer as well. Her intricate pieces are a story of life, sometimes reflecting the chaos of her past and the prosperity of her present in hopes to showcase her progression as a person and as an artist.
Here, Jonesy talks to CommonCreativ about her creative process, developing collaborations with other artists, and the myriad projects she is currently working on.
CommonCreativ: How did you get into art?
Krista Jones: I have identified as an artist for as long as I can remember. My very first oil painting was in Mississippi with my grandmother when I was four years old, after returning from living in Bangkok, Thailand. I continued exploring my creativity in several artistic careers throughout the years, like tattooing and photographic sales, and eventually gained my BFA in photography and painting.
Most of what I've developed as an artist has been outside of the school atmosphere through real-life experience. Directly out of college, I went into graphic design for over a decade thinking this was my only strategy in sustaining myself as a creative. After a couple decades working for other people in many fields, I made the decision to pursue my passion as an independent artist full time. I am about a year into being a creative entrepreneur, and even with its challenges, I value the flexibility and choice of collaboration that comes with it.
CC: What is your creative process?       
KJ: Since I'm a multidisciplinary artist, my creative process really varies depending on the medium. But if I had to simplify it would be in four basic steps: preparation, incubation, illumination, and implementation. For example, my mixed media painting is a very quick intuitive process, but all of those steps are in there. I developed this particular process over the last couple decades as an intuitive form of self-expression. I started out using found objects to paint on out of necessity and found I love painting on wood for many other reasons.
It starts with preparation of the background, typically wood or metal, using mostly spray paint and industrial paints. I may have a subject in mind as I quickly create the backgrounds, but usually what comes out isn't forced. I allow the existing colors, shapes, and texture to help guide the direction of the piece. I then work in the details with paint, markers, and paint pens utilizing animal imagery, patterns, symbolism, and sometimes combining elements that are often not seen together in the same spaces. The result is typically a vibrant and sometimes whimsical piece of art. It's about the process of creation for me most of the time.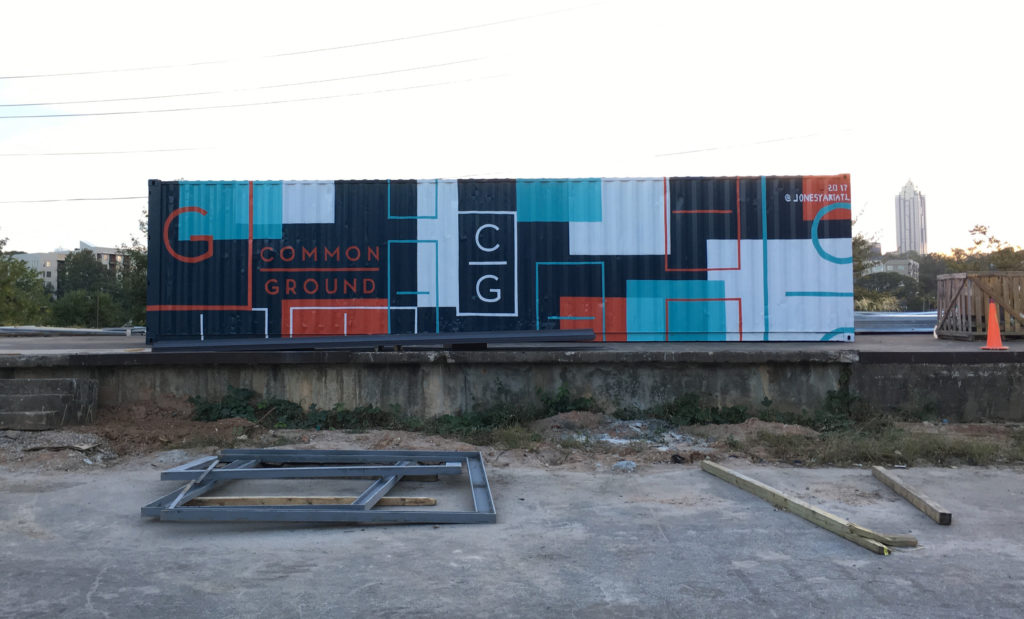 CC: What inspires you?
KJ: Life and learning inspire me. I gain inspiration from new experiences, science, travel, stimulating conversation, building authentic connections with people, and witnessing others accomplish amazing things. Music also inspires me, and I pretty much always have some kind of music playing while I create. Appreciation for what I do as an artist has been the biggest inspiration in why I continue to create for others. When I resurfaced in Atlanta, I began having random people reach out to show appreciation for a piece they purchased from me in [Little 5 Points] many years ago. It has given me a beautiful perspective on a very dark time in my life, where I did not think I was adding value to the lives of others. I'm grateful there was light coming out of my darkness. This inspires me.
Regarding travel, I just booked a trip to Iceland, and it'll cover a lot of firsts for me. It'll be the first time I'll be traveling just for the experience and the first international trip I'll be taking without my family. I'll be going with my best friend whom I haven't seen in 11 years, and most importantly it's a trip that I booked with money I've made from my art alone, so that's pretty significant. I'm hoping to find a lot of inspiration for my art during this trip.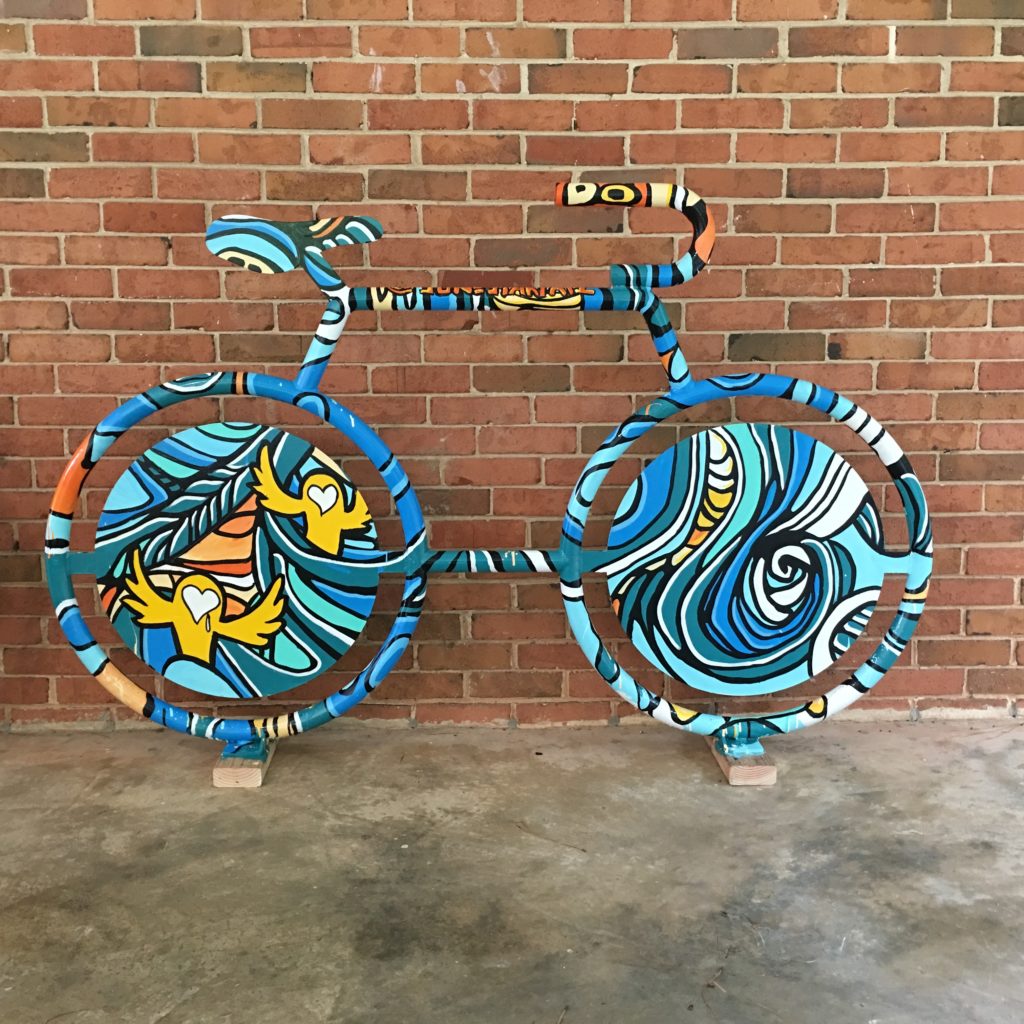 CC: You've worked with Ray Geier of sQuishiepuss and assisted Jessica Caldas on her mural for Forward Warrior. How do you establish collaborations with local artists?
KJ: I believe that creating authentic connections and supporting other artists in the work they are doing has helped me establish collaborations, and more importantly, friendships. I show up and ask how I can help without expectations. That's how I ended up assisting Jessica Caldas with her Forward Warrior mural and Lauren Pallotta Stumberg on several of her large mural projects over this past year.
Being an active member of the Atlanta arts scene has also helped me establish these collaborations with other artists. For example, my now close friend Ray Geier (sQuishiepuss), in particular, is someone I met about a year ago at a "Tiny Doors ATL Turns 2" art event. I met Ray that day and reached out to him to see if he would be interested in doing a collaboration because I thought it would be fun to mash our styles together. He eventually contacted me to work on a collab piece, and we've developed a friendship through this connection. Most of the artists I know in Atlanta are very personable and are willing to connect and help out.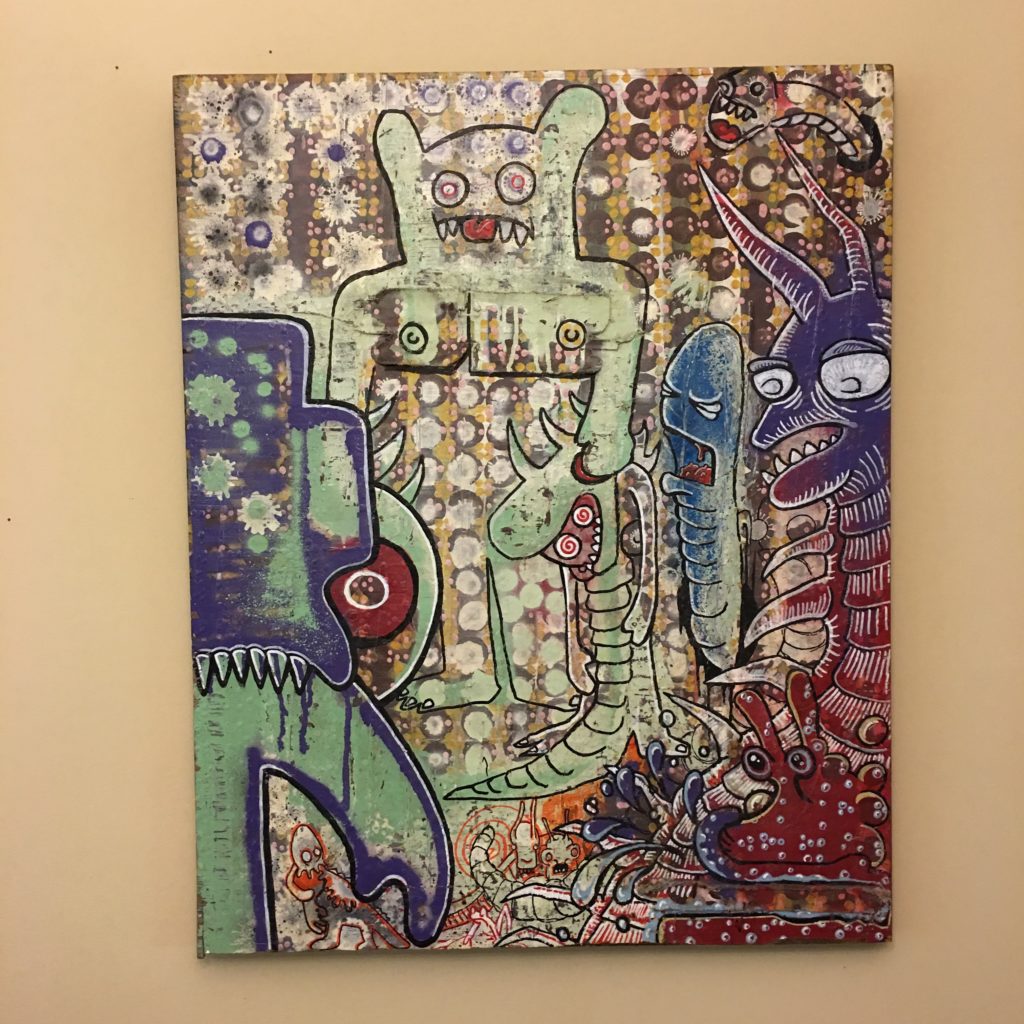 CC: What have been some of your favorite pieces you've done as an artist?
KJ: I have a special love for each piece when I create it but have learned to energetically let go once it's complete so I can share it with the world. There are specific pieces I've done that I value because they serve as a marker to a particular time in life. Two of those are mixed media on found wood I created in 2006 in San Francisco. I keep these in my studio as a reminder of where I've come from, both in my life and in my style as a painter.
Aside from that, the third piece that is significant to me, is my first public piece that I did a year ago for Decatur Box Project. It definitely opened up a lot of doors, both as an artist and becoming more connected to the art community here. It helped me realize that my art could speak in a different way and brought me back to my roots of making art on the street and connecting with community.
CC: You use a variety of mediums. Do you have a preference?
KJ: My preference is typically the one I'm working [with] at the time. Each medium provides a different element of exploration, expression, and processing for me as an artist. I'm grateful for being able to shift mediums for all of the variety it provides. It also seems to keep my creative process fluid and never stagnant.
CC: What are your thoughts on the local arts scene?
KJ: I believe the arts scene is what you make of it anywhere you are. It's about who shows up. I have been a part of Atlanta art scene off and on for over a decade and am currently seeing a surge of makers and artists that come together to help scaffold each other. I believe we have a strong core network of artists here, and it's growing. I love seeing and participating in the public art initiatives in and around Atlanta. Hopefully, the city will continue this support its growing art community during our city's expected expansion. I think in another five years, our city will experience exponential [growth], and it'll be very hard to become established as an artist here without art organizations that help new emerging artists.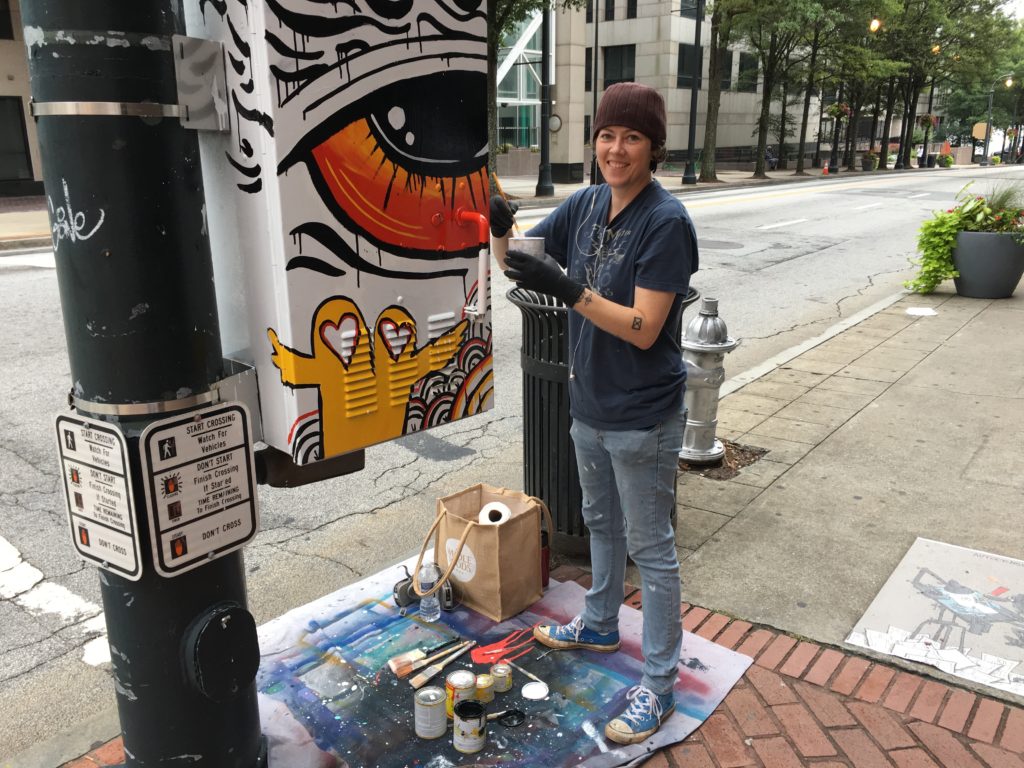 CC: What are some of your favorite local arts organizations?
KJ: Some of my favorite arts organizations are nonprofits with members I know personally who are doing really great work that aligns with my core values: C4 Atlanta, which helps artists develop their professional business skills; Drawchange, which works with children who are underprivileged in poor communities by empowering them through art; and Alternate ROOTS, which uses art to promote social justice. I also love Indie Craft Experience and Root City for bringing local makers together. There are a few other organizations aren't in the visual art realm, but I consider them to be in my creative circle like Modern Mystic, the Center for Love and Light, and ATL Craft. I am grateful and inspired by all of the companies and organizations that are owned and operated by strong Atlanta women.
CC: What brought you to Atlanta, and what keeps you here?
KJ: My wife and I moved to Atlanta from San Francisco in 2007 because she had lived here before, and it provided a way for us to be in a metropolitan area and still be close to my family. When she passed away in 2011, I moved away for a few years to grieve and reclaim my health and well-being. I moved back to Atlanta about three years ago with a completely different outlook and lifestyle and resurfaced as an artist. I have a great love for this city — that's why it's a part of my business name: Jonesy Art ATL. I appreciate its diversity and openness, and it also keeps me close enough to my aging parents. After spending most of my life traveling, feeling like I belong somewhere is very important to me. I feel like a part of a creative community here, and this is why I call Atlanta home.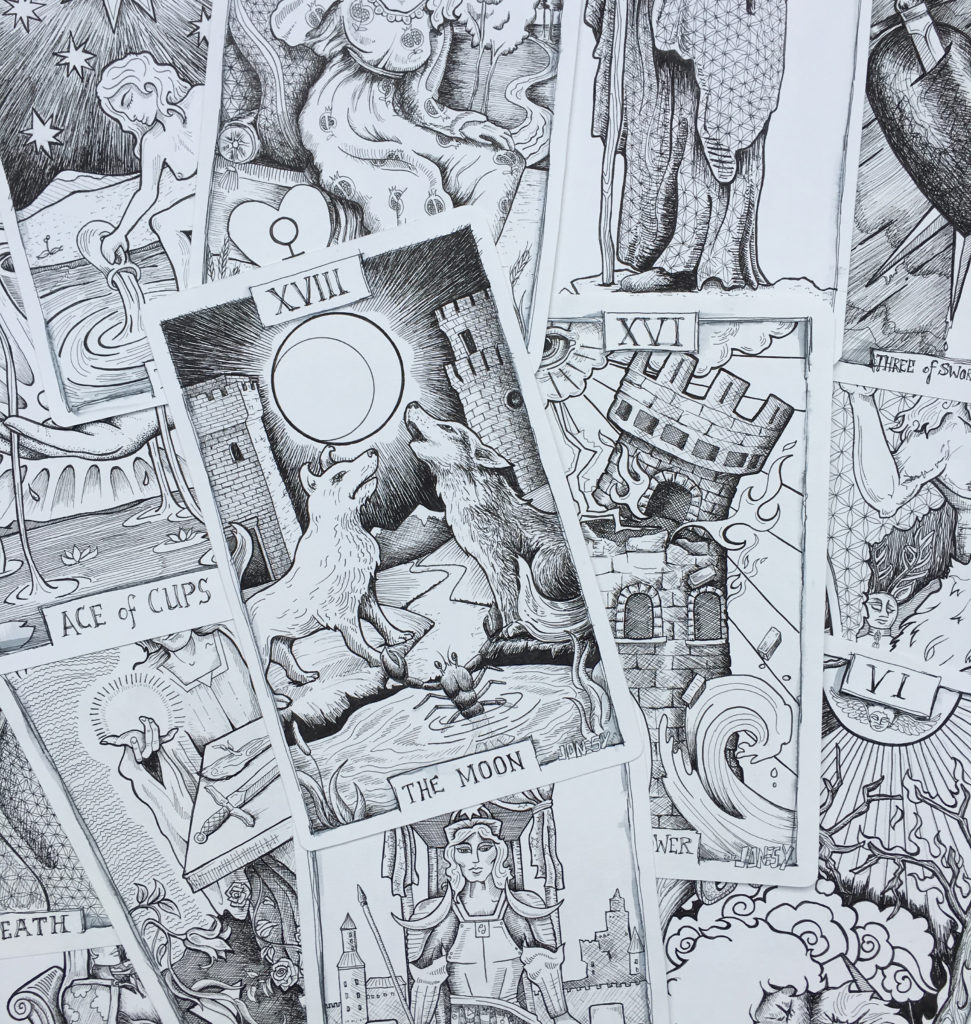 CC: What are you currently working on?
KJ: The next few months are packed full of a lot of exciting creative work. [I've been] working on completing some smaller pieces and products for the holiday pop-up shops and will be helping Shannon Kroll of Root City run a month-long pop-up shop in downtown Decatur. I have some of my work there. I will also be in several shows in the upcoming weeks. I [just did] a small event with the High Museum, in which I constructed a gingerbread house from an interpretation of one of the pieces or one of the artists from the permanent collection. I have a few small pieces at the Kibbee Gallery "Nick O' Time" show [which opened] December 9 and an exhibition with "In These Streets" in Athens with Trio Contemporary Art Gallery coming up in January.
I was a recent recipient of the Laura Patricia Calle Grant in a five-female collective to work on a project for Living Walls. It's Lauren Pallotta Stumberg's vision, and I'll be working alongside Jessica Caldas, Angela Davis Johnson, and Lela Brunet Raymond. I'm excited to get the opportunity to work with them in the spring, and this has been one of my greatest achievements as a public artist so far.
I've also been selected and paired with a scientist, Dr. Gina Lewin of Whiteley Lab and Georgia Tech, to collaborate on an art piece that visually represents the research she's doing on microbial studies. This collaboration between art and science is part of the Science.Art.Wonder Initiative founded by Emory University and will be presented in March for the 2018 Atlanta Science Festival. I'm looking forward to exploring a world within our world and helping illustrate how these organisms interact together in a community.
See more of Krista's work on her Facebook, Twitter, Instagram and portfolio site.