Lourdes Montes makes the kind of lush art that pleads to be touched. It's a spark of candy-colored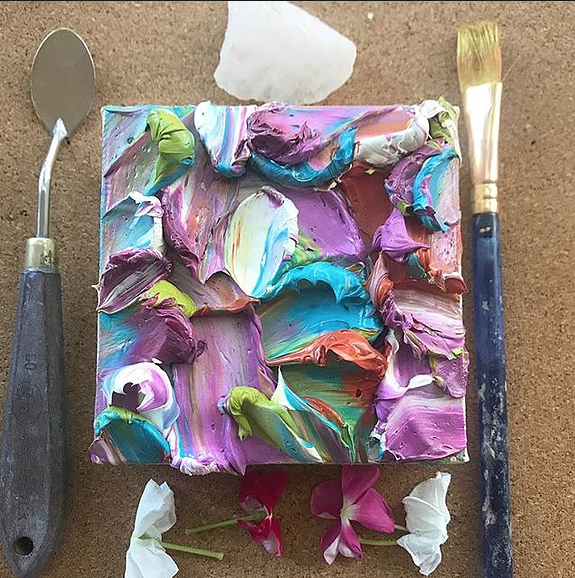 electricity that you feel in your fingertips. Each piece is a sensory adventure; a rainbow of puffy peaks and valleys reminiscent of renaissance cloudscapes, dreamy beach days, and rooms inside Willy Wonka's chocolate factory.
Originally from Mexico, Lourdes has called Atlanta home for the past 7 years, and it's here that she's established a loyal following for her delightfully undulant style. She uses oil paints, mixed mediums, and an amplitude of patience to create work that acts both as a barometer of her inner happiness and a channel for relating to the world around her.
Here, Lourdes talks with CommonCreativ about the challenges inherent in such a textural process, how her color choices evolve alongside her state of mind, and her goal to connect more to the local Atlanta arts community.
 CommonCreativ: How did you get started with your art?
Lourdes Montes: I got started with my art after high school when I moved from Marietta to Jonesboro and decided to take a gap year. I didn't have friends in Jonesboro, and my routine consisted of work and home only, so I decided to pick up hobbies. I learned how to crochet, I made some jewelry, and I tried different painting mediums, but it was oil paint that stuck around.
[Creating art] started as a way to help me feel productive and creative, but I continued painting and it became a need. Now, if I go too long without painting I feel uneasy; my mind gets filled with too many ideas that need a way out into the world.
CC: What's your main source of inspiration?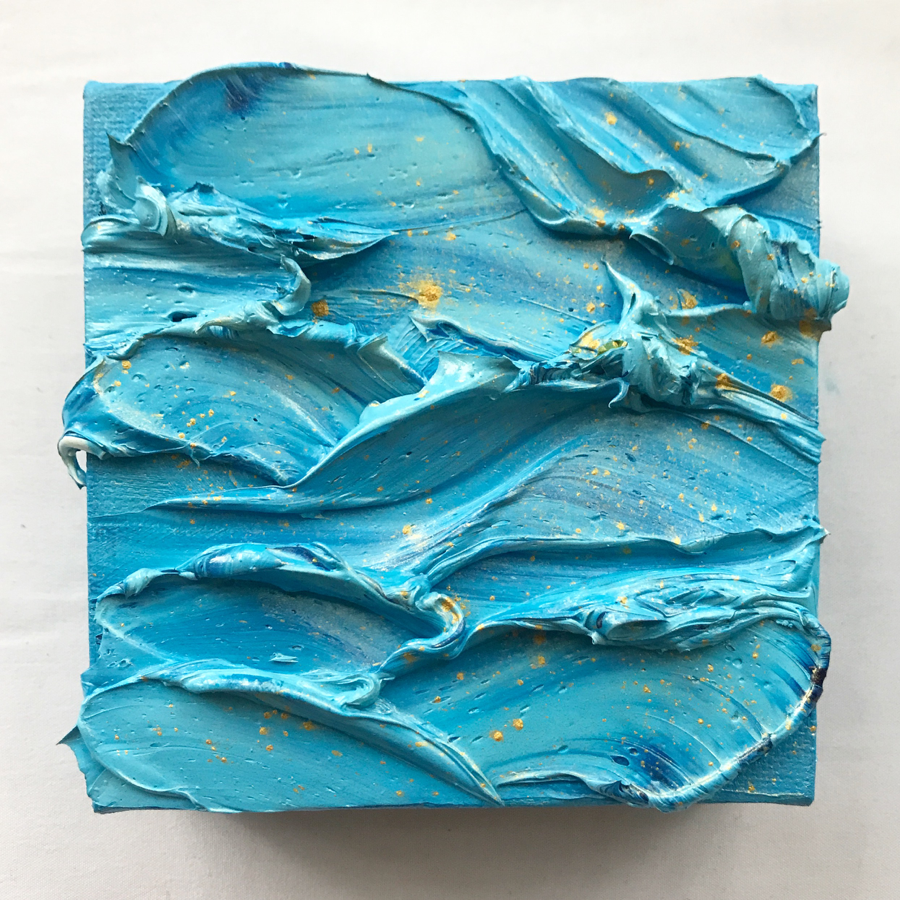 LM: I would say feelings and nature. I realized the impact feelings have in my art because I noticed my older art used to be a lot darker than what I create right now. My feelings inspire the colors I use and the end result of my art. I cannot consider a painting done unless I feel satisfied with it, and if there is a feeling of uncertainty with a painting I may decide to scrape it off halfway through the drying process and paint over it. It can be a messy process. Nature also influences the colors I use because there is so much inspiration around us. Sometimes I paint flowers or petals in my paintings with my fingers or my palette knives.
CC: Your work is incredibly textural. How did you arrive at this technique, and what challenges have you encountered?
LM: I would say it's because of Instagram. I came across the work of Australian artist Alesandro Ljubicic, and the details of his work ignited something in me that I knew I had to express in my art. Other artists that also inspired me are Sára J. Molčan, Sarah Lund, and the early abstract works of Carrie V. Smith. I knew that the way their works made me feel is how I wanted feel about my own art. To me, texture is the most satisfying element in my art, and these artists were what pushed me to go that direction. I have since been exploring different textures and playing around with my palette knives.
The main challenges I encounter working with textured oil paint are with the drying process, and the method of painting with palette knives. I have ruined paintings because I touched them before they're fully dry, or they fall when the paint is still fresh or halfway dry. Believe me, it can be my worst nightmare for anything to happen! Sometimes it can take weeks for a painting to be safe; it will never be less than 2 weeks for sure. Also, in working with palette knives, I realized that if apply the paint too much without cleaning my palette knife, the paint mixes and becomes a really dull color. Sometimes a lot of paint gets wasted this way, which is a shame.
CC: Your color palettes are simultaneously dynamic and thoughtful — sometimes vibrant, sometimes subtle. How do color choices play into your creative process?
LM: It depends on how I feel. As I mentioned, my art used to be a lot darker — I used to focus on blues, purples, reds, then I moved into a phase where most of my work was magenta or pink. Later on, I used a lot of purple. It was around this summer when I tried to challenge myself and try more colorful palettes; I explored greens, yellows and oranges. My art used to be more spontaneous in color. Now I try to have a certain palette and explore different textures with that palette. I'm in my second collection trying that.
The first was the 'Aqua' Collection, which incorporated different shades of blue, and was inspired by the element of water and hurricane season. Right now, I'm working on the 'Rebirth' collection, which consists of pastel colors. It's inspired by the rainbow you expect to see after a storm, and by the concept of beginning again. So, now I'm trying to select my colors based on my interpretation of whatever theme I plan to explore.
CC: How does your work reflect who you are as a person?
LM: I feel like my work is me reaching out and connecting to whatever it comes in contact with, whether it's the theme itself, or the world. Sometimes I'm surprised with what I create, and it has helped me evolve as a person, especially when I share my art with people on Instagram and they react positively to it.
Realizing the impact my art can have on people has enriched my life so much, I feel thankful and I try to show it by reciprocating the kindness I receive. My art journey has definitely made me a more loving person because it is such a blessing that, even in the toughest of times, I have had other artists' support and encouragement. I remind myself that I make art to be happy and that as long as I'm in love with my art, others will fall in love with it as well. I'm currently trying to use my art to help, too, by donating a percentage of my sales to charity. I believe the world needs more love, more art, and more kindness.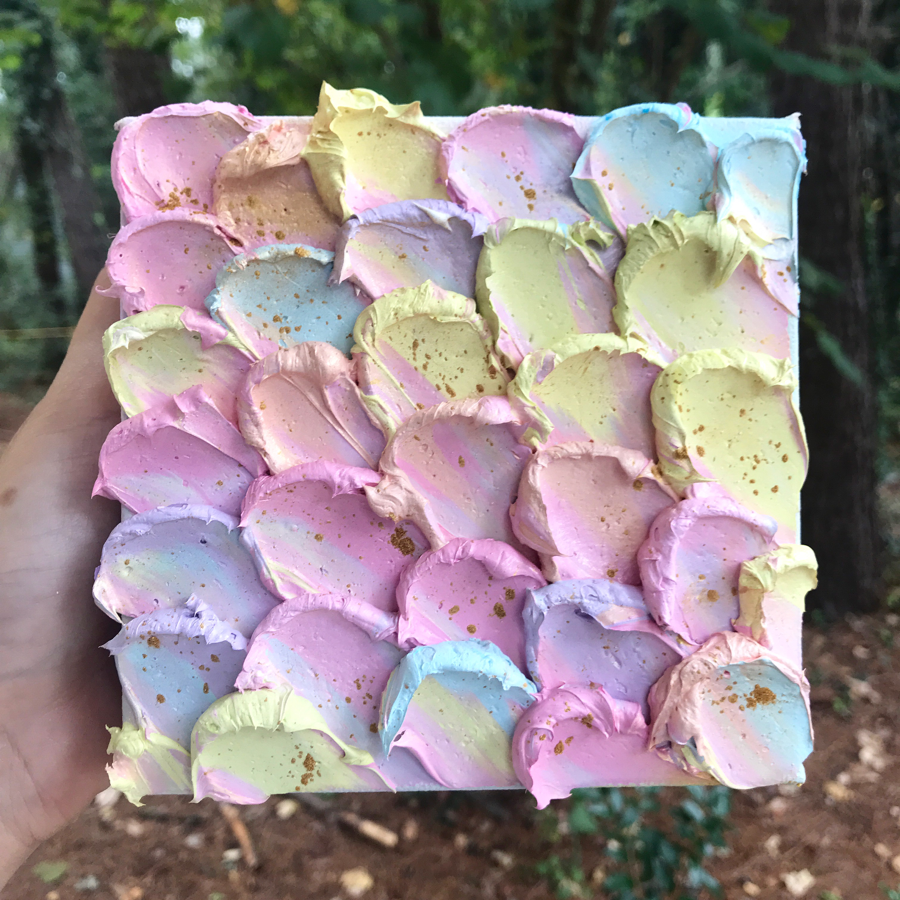 CC: How did you make your way to Atlanta, and what keeps you here?
LM: I moved here in November of 2010. Before that I lived in Charleston for six months and before that I lived in Mexico, where I grew up. What keeps me here is my family, friends, and my career. I'm currently in college at Clayton State University pursuing a B.A in English (writing); after that, I really don't know where I'll go, but I know I will always come back here because Atlanta will always be my home.
CC: What do you think of Atlanta's creative scene?
LM: It's more diverse than I expected! I haven't had the opportunity to really get myself out there because I never knew how, but I've recently met a couple of amazing local artists and that has helped me feel a little braver. I've always been a shy person, but lately I've felt the need to connect more with people that understand the passion I have for art.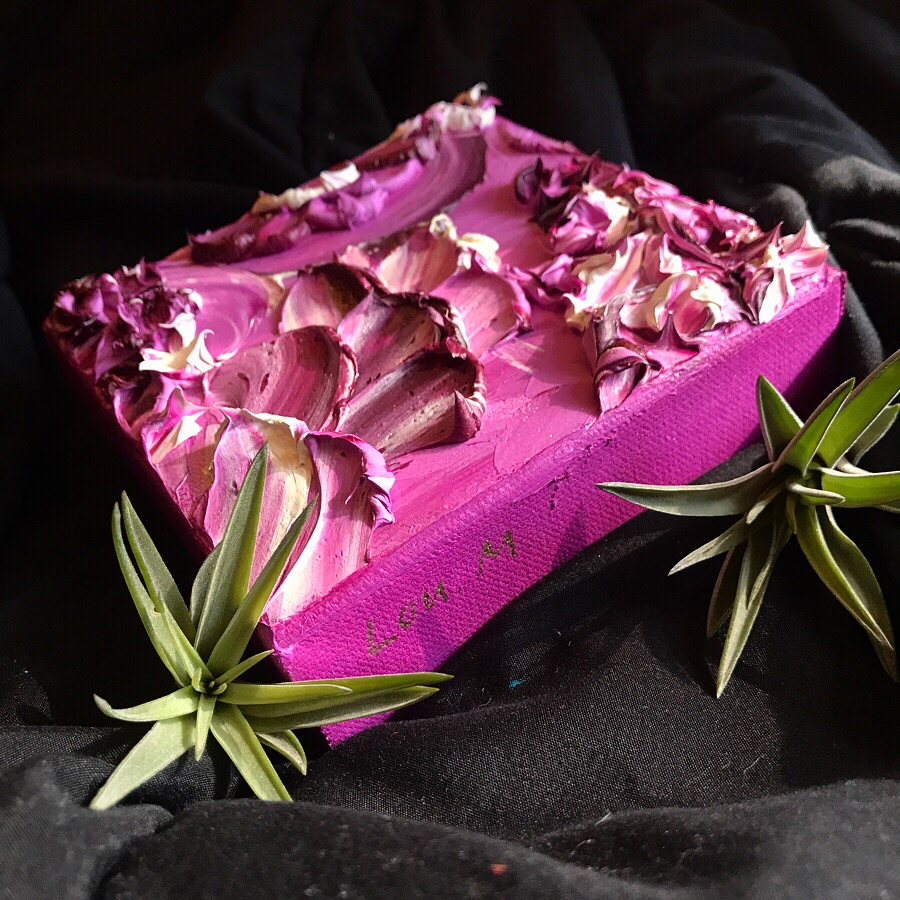 CC: What drives you to make art?
LM: The need to express the ideas piling up in my head, and the uneasiness that fills me if I don't. I can't imagine my life without art now, because creating makes me feel overjoyed and satisfied — I wouldn't change that. I've learned the happiness that comes with doing what you love, so I will do whatever I can to keep it in my life. I have other dreams too, like becoming a writer, but writing is art too, right?
CC: Any exciting projects on the horizon?
LM: I already have the theme for my next collection, so I'll start working on it as soon as I'm done painting the rest of my current one. The goal was to begin sharing it around mid-December, because I'm planning on committing December to finishing the first draft of a novel I've been working on since the beginning of the year. I'm also hoping to combine these two passions and guide my blog towards an art-based audience to share advice from what I've learned in my art journey. Hopefully everything will go as planned!
See more of Lourdes' work on her portfolio site and Instagram.