Hannah Helton's carefully curated pieces are the product of repetition, play and endless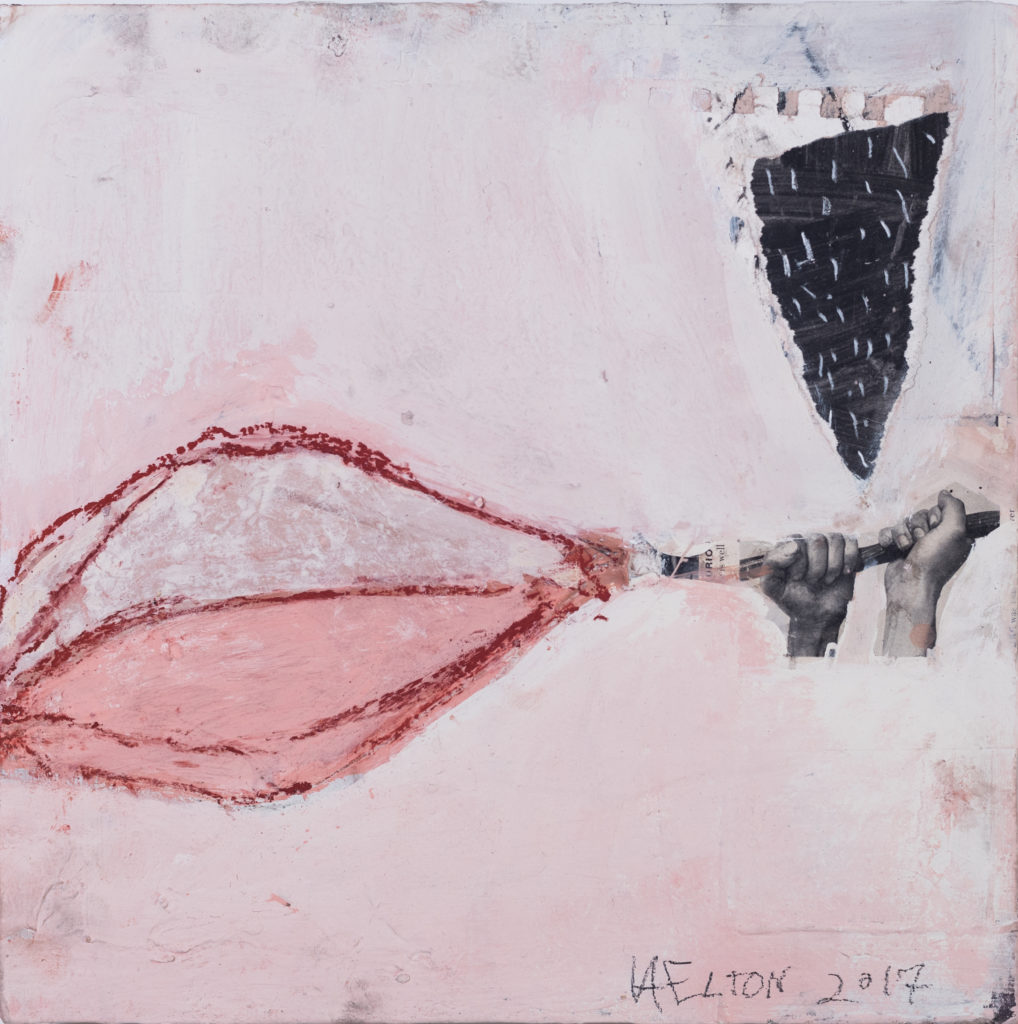 exploration. Looking at her portfolio, it feels like far more than just a series of elegant markings, found imagery, and carefully placed color. Her work is daring and personal but universal. It fearlessly dives into the elements and characters of myth, exploration of archetypes, poetry and the human condition.
Here, Hannah chats with CommonCreativ about why being a self-taught artist is only a label, how rejection inspires her, and what's on her horizon for 2018.
Common Creativ: You're a self-taught artist — tell me about your art background and how you came to make your current work.
Hannah Helton: Self-taught is really just a placeholder for not having any formal education, but everyone makes their own education anyhow. Either way, you develop an eye and hand by working a lot. It's only an issue when a gatekeeper tends to think you're less serious or dedicated because you lack that initial institutional backing. I firmly believe there are so many different ways to educate yourself as an artist and you should always be looking and learning. All it takes is that desire and hard work. It may mean it takes you longer than four years to find your path, but that's OK.
I met a sort-of mentor in painting when I was 17, and he showed me how joyous the process of painting and mark-making is, and I just ran with that little knowledge. I was too difficult to complete more than half a semester at college by then, and so anxious to develop my own work and voice outside of academia.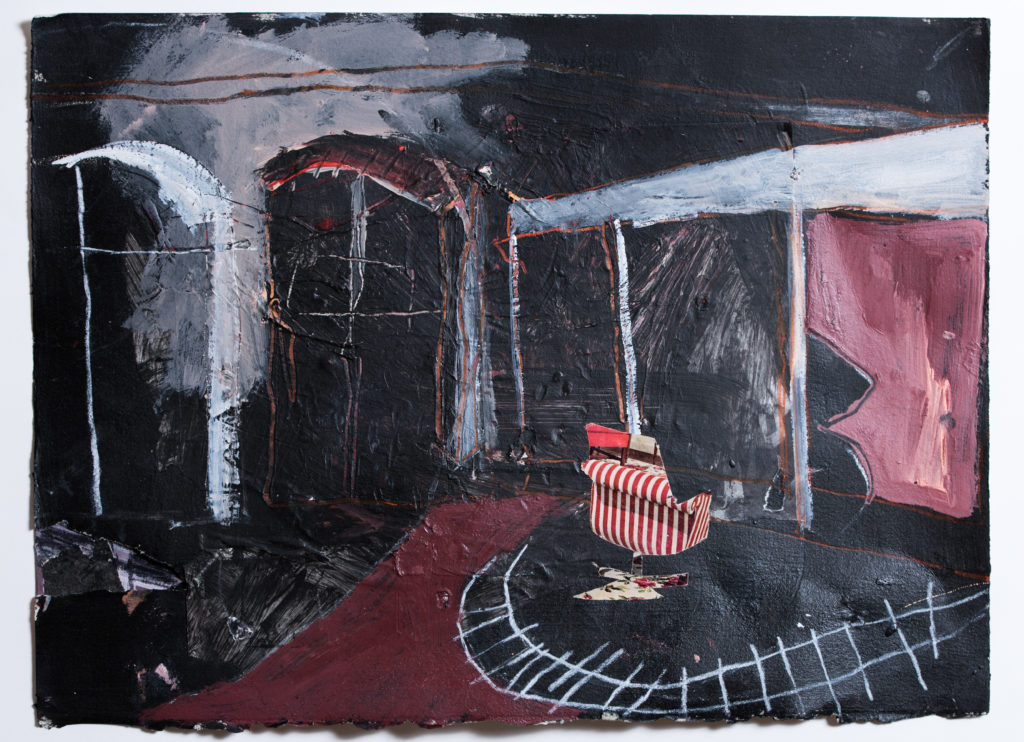 CC: What's your artistic process?
HH: My process is really rooted in play. I'll make hundreds of paintings in a few sittings with images in mind and keep ripping up and painting out elements, adding simple textures. It ends up being just addition and subtraction of elements until it works. The mantras are Use Everything, Don't Be Precious, and Keep Playing. I do my best when I work on dozens of pieces at once — otherwise, I get too picky and the pictures will become labored and joyless. I started using whatever I happen to have around or left over out of necessity, but now I see resourcefulness as having endless possibilities.
CC: How would you describe your style?
HH: I really like the idea of making dirty or crude marks and pushing to elevate it to some graceful thing. I think a lot of people see my style as hyper emotional and personal, but it's more about that visceral push and pull of materials where you can feel that tension of internal versus external.
CC: Tell me about your color palette — you tend to use neutrals and then splashes of color.
HH: Working in mainly black and white allows me to work out tone, contrast, and texture within a set parameter. I mix my own black and play to get different shades and depth within it. With white, I'll layer tissue paper and whatever else, and then I can make negative space count as much as the forms. I love color, but it's more interesting for me when it feels like it's physically being wrestled or pulled out of the composition with the eye.
CC: What inspires you?
HH: The one really inspiring thing is rejection: it keeps the fight in you. Otherwise, I don't really think of what's inspiring as much as I just collect a bunch of ideas and carry them around with me until I can sit and work them out in a picture. Whatever I'm reading, listening to, stuff people say that I can't get out of my head, they all end up connecting somehow or are edited out in the work. Maybe that's just called being obsessive.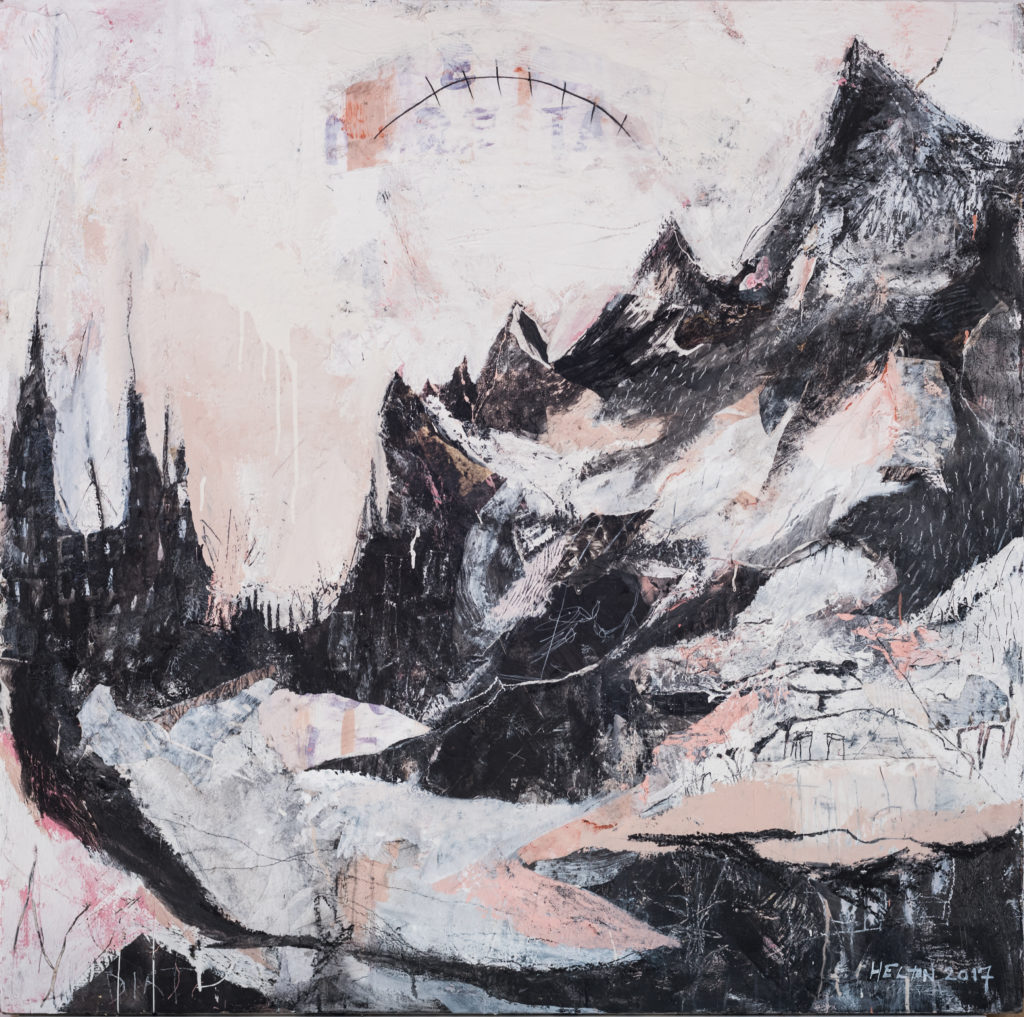 CC: You've explained that your series Empire of the Senseless "begins with the question, 'What if the dirt swallowed us whole?' There is a poetry to destruction, a quiet redemption in total rupture." What inspired this body of work?
HH: Empire of the Senseless really is just that: the fantasy of the dirt or the ocean swallowing everything. There's something really exciting to me about nature as this force you can't control completely or argue with — the ocean being the ultimate example. I'm always obsessed with that total wildness and the idea of rupture, and wondering where the human comes in and what the human mind or spirit counts for against something so ultimate. I borrowed the title from a Kathy Acker novel where my favorite passages are about the archetype of the sailor and his search for absolute freedom and, ultimately, death.
CC: Who are some of your favorite artists?
HH: Joan Mitchell, Mildred Thompson, Lee Lozano, Sue Williams, and William L. Hawkins.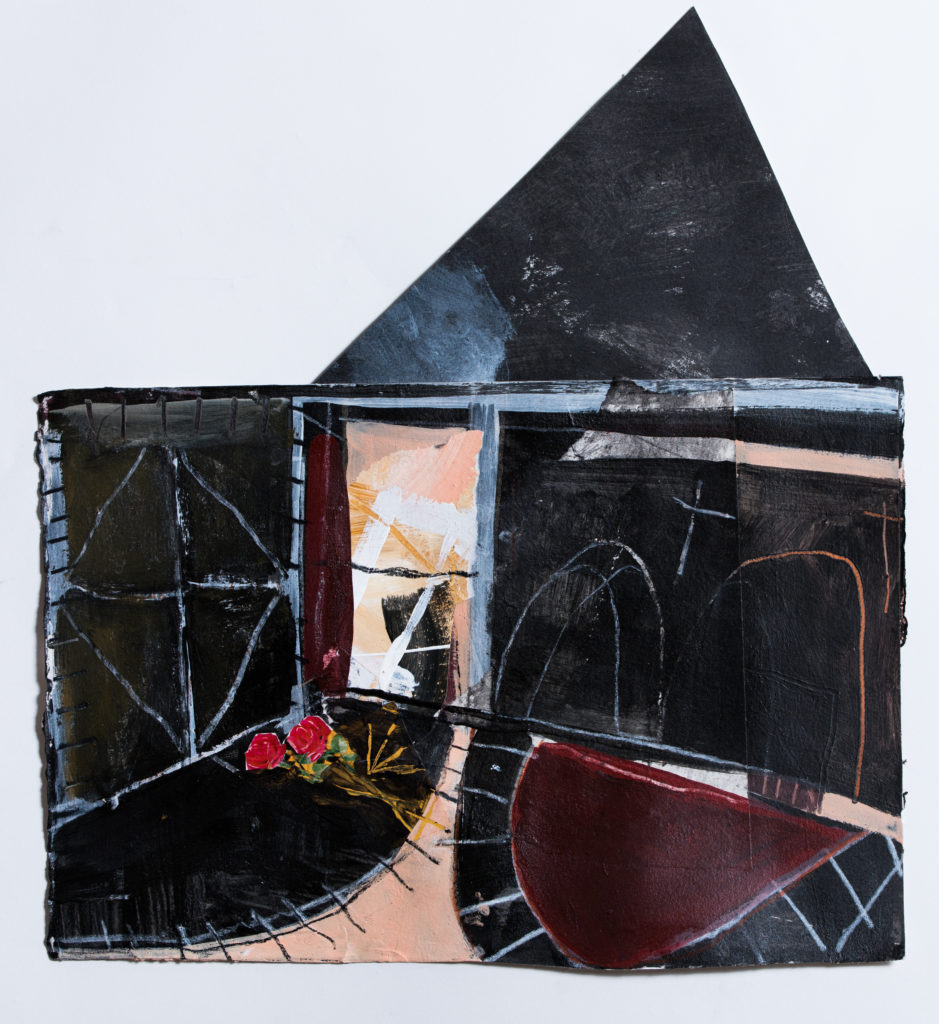 CC: What's been one of your proudest art-related moments?
HH: When a composition works out and I can't stop thinking about it!
CC: What projects or shows do you have coming up?
HH: My new series of small works on paper, For Your Pleasure, is up at Parlor in Midtown on February 3rd. I'm working on a small series about rogue waves for the Science Art Wonder program at Emory University. The sirens and sailors series I've been developing may end up being companions for the rogue waves, and I want to keep exploring those themes. The Atlanta musician Haint and I are working together to incorporate her music into an immersive live painting performance sometime in 2018.
CC: What are some of your favorite art happenings, organizations or people in Atlanta?
HH: I was a part of WonderRoot Imaginary Million auction in 2017, and it was lovely to interact with other artists in that way. Maybe it was so refreshing because artists seem happiest when we have a task, and it's this event where we have the job of bidding on each other's work. It was refreshing to have this condensed experience of basically celebrating each other for an evening.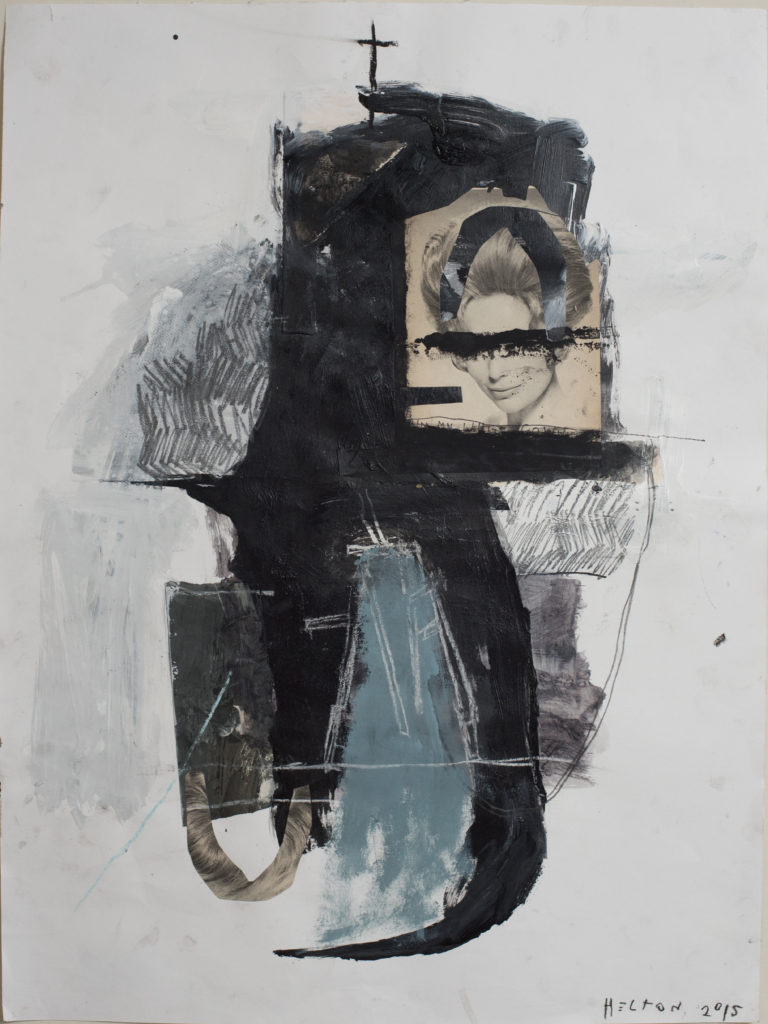 CC: In your second series, Devil's Purse, you say that the works on paper explore this symbol of sharp femininity as a ghostly guardian warding off ills, casting its hand toward whatever fate. How did that come about?
HH: I started doing these little exercises in contrast, form, and line quality, and someone pointed out this shape I kept repeating. I didn't realize those sharp black hooks were devil's purses: the egg sacs of stingrays. It came together with these stark interior and exterior scenes full of signifiers of the protective, possessive home. To me that series is so rooted in a personal experience of the American South and its weighted history. There's a comfort in the familiarity of the imagery, but the other side to that is this menacing undercurrent that sort of infects everything and everyone.
CC: Lastly, How would you describe the local arts scene?  
HH: I think Atlanta is interesting in that it's sort of a magnet for all the people who just couldn't live their lives in their small Southern hometowns. It's also a really transient city for artists, but ultimately a good place to be based and work.
See more of Hanna's work on her portfolio site, Facebook, and Instagram.