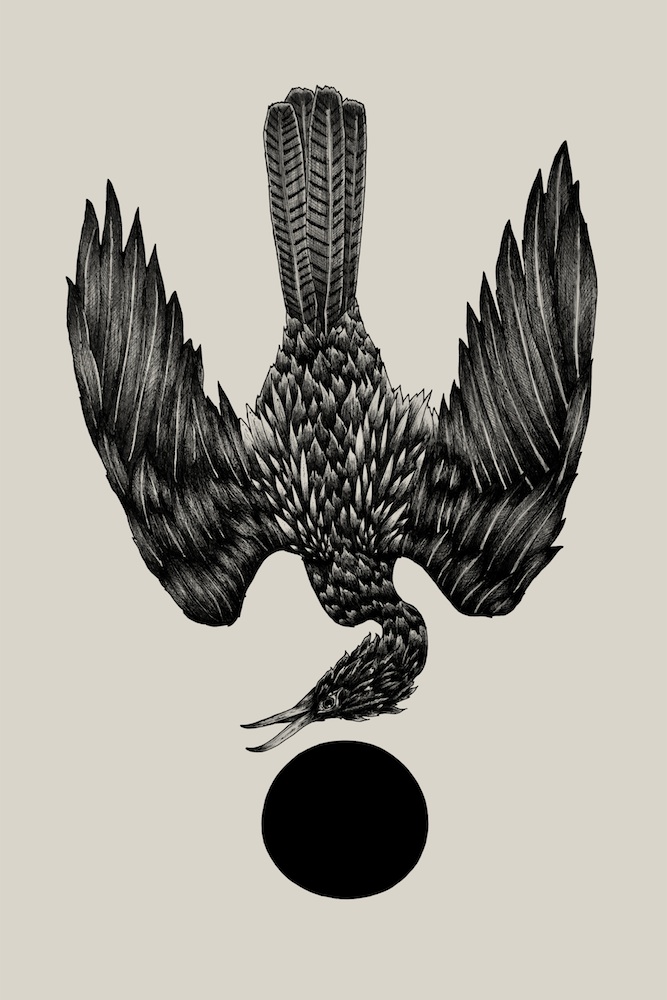 Artist Jonny Warren (aka The Double Wolf) draws characters, whether it's animals or mythical women, that exude strength and energy beyond this world. Often with the use of ink and intricate details, many of his works are in black and white but are far from one-dimensional. They give the illusion of movement and a feel of wanting to escape the page. With a BFA from Florida State University, Warren arrived in Atlanta and was quickly noticed by the local art scene. After appearances at ABV Gallery's Drink and Doodle and several exhibitions under his belt at Kai Lin Art, Borderline Gallery, Cube Gallery and MINT Gallery, Warren is finding his footing in this creative city of ours and growing as an independent artist, all while working full-time.
CommonCreativ talked to Warren about balancing art with work, self-promotion and surfing magazines.
CommonCreativ: When did you start making art?
Jonny Warren: Like most artists, I started practicing drawing very young.  I was heavily inspired by video games and animations and would try to emulate the art styles.  Eventually, this led me to graduating with a BFA in studio art from Florida State University in 2010.
CC: Animals are a big part of your art (and nickname!), as well as mythical women. What made you pick this motif ?       
JW: I find animals to be a great source for art because they can be visual metaphors for human emotions and ideas. Aesop's Fables come to mind in this respect.  Each animal has unique behavioral and physical characteristics that can be used to depict a certain feeling I want portrayed in my drawings. Regarding the mythical ladies, I really enjoy how Mucha depicted his female characters with spiritual qualities. I try to create my own characters in a similar light by showing physical manifestations of internal energy and strength, often in the form of auras, floating objects, or waves of organic forms and energy.
CC: What are your favorite materials to work with?
JW: I really enjoy working in grayscale, so I mostly stick with ink and graphite.  There are a wide variety of materials and techniques within these two mediums that I continue to experiment with. Sometimes I'll add color as an emphasis. Lately, I've been experimenting with digitizing my ink drawings and painting over them in Photoshop.  This has given me a chance to experiment more with color and see what works visually.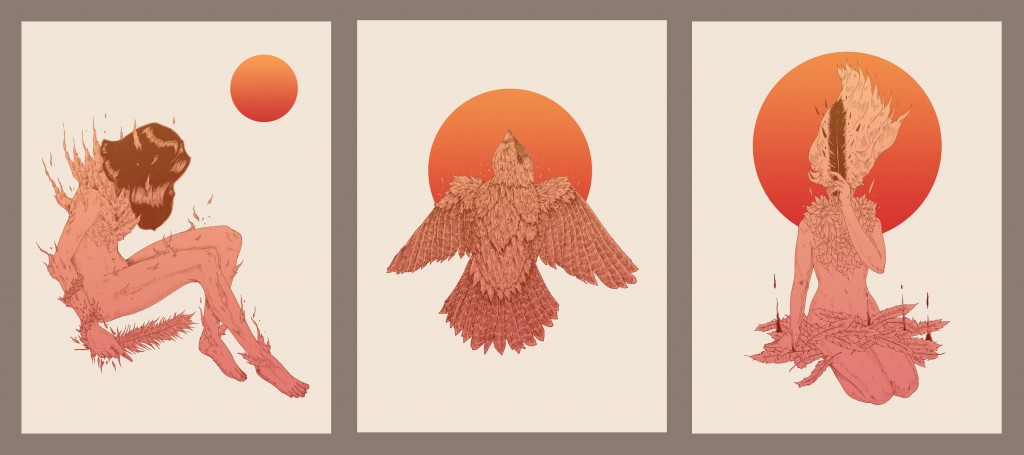 CC: How do you choose a theme for your pieces or shows?
JW: Oftentimes, ideas will come to me randomly, so I usually keep a pocket-sized sketchbook with me at all times. I'll jot down notes or scribble out a quick composition that I'd like to explore further. I usually like to do research behind themes that I think of to strengthen them. Eventually, all of those notes and scribbles are combined into something cohesive that can be used for a series of final drawings.
CC: Do you have any plans for large-scale works, like a mural?
JW: I have played around with the idea of going large with my work.  I would definitely love to explore it!  Eventually I want to get some large 4×8 wood panels and practice in my backyard.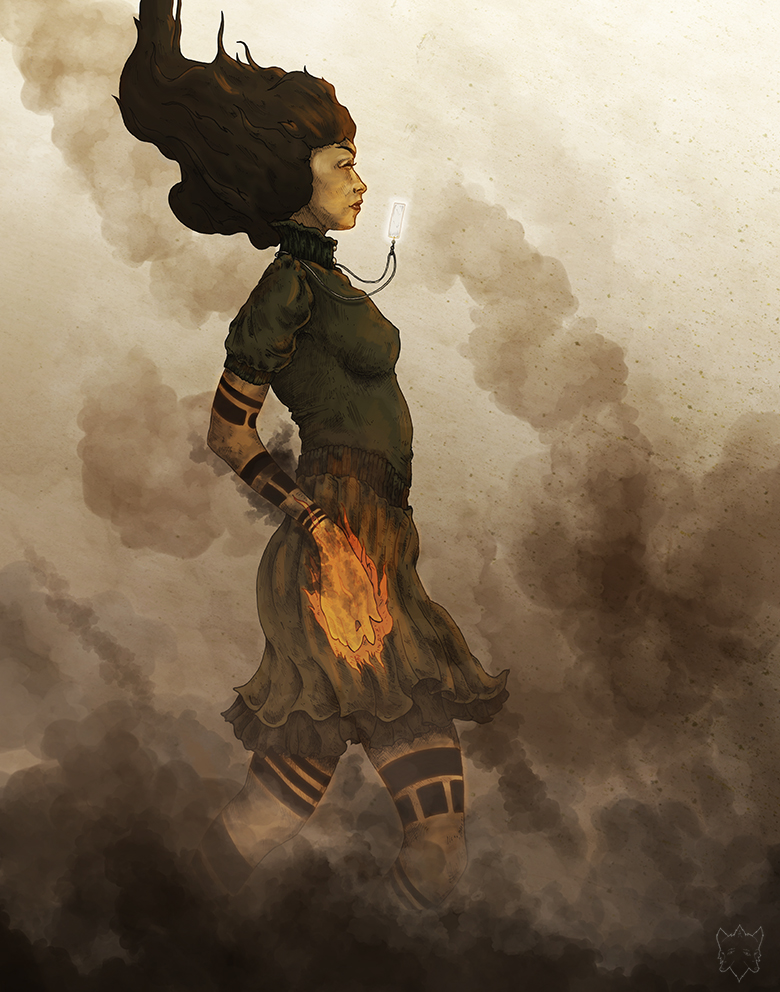 CC: How do you balance art with your day job?
JW: I work full time as a framer at Sam Flax Art & Design, which has been great because I get discounts on art supplies.  When I get home from work, I usually eat dinner and jump right into my artwork for a few hours before I sleep.  On my off days, I'll spend around 10-12 hours making art.  I consider it a second job, which motivates me to spend as much time as possible creating. There is no time for boredom!
CC: As an independent artist, how do you promote yourself?
JW: As an artist today, having an online presence is more important than ever. Social media [outlets] such as Facebook and Instagram have been excellent sources for reaching out to a wide audience. I also have a Tumblr-based portfolio and blog that allow people to see and share my work with others.
CC: How do you stay inspired?
JW: I try to remain open to my experiences, because I never know where inspiration may be. If I have the urge to explore something new, I'll go for it.  For example: Last year I subscribed to a surfing magazine purely for the images and colors. The organic flow of waves really drew me in and has influenced me to be more fluid with my line work. I'm inspired by anything from song lyrics to passages in philosophy books, and anything that I find visually striking. In the past couple years, I've collected over 2,000 images from the Internet, and the collection grows everyday. I like to go back through the images and combine things that I never would've imagined going together.
CC: What are your favorite art projects in Atlanta right now? 
JW: Living Walls is definitely a big one because it really put Atlanta on the map as a home to high-quality street art.  GloATL is something else that continues to blow me away.
CC: What do you think of the city's current art scene?
JW: Having only lived in Atlanta for a few years, I'm amazed at how open and nurturing the art community is here.  There is a lot of local rising talent, and the quality of artists will only get better.  I don't think I could've moved here at a better time.
CC: What's next for you?
JW: Currently, I'm working on an illustration-based portfolio to pursue more illustration projects.  I am also creating new work for a couple exhibits at Kai Lin Art.  Be sure to follow me on Tumblr and Instagram for updates!
See more of Jonny's work on his online portfolio here.