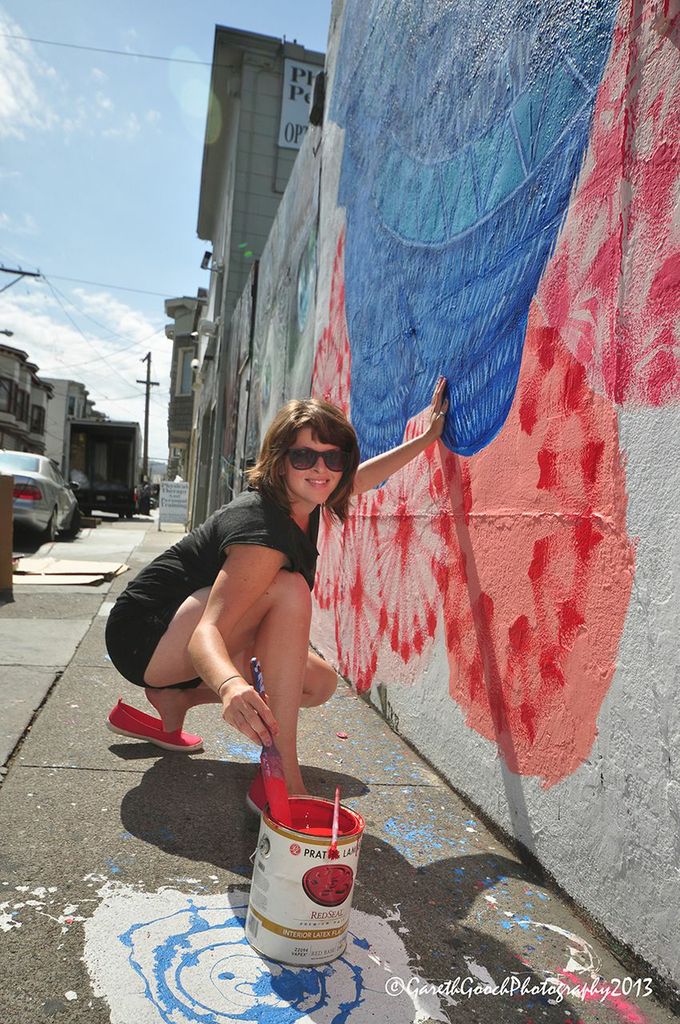 With geometric forms and bright colors, artist Molly Rose Freeman transforms spaces and walls in cities including Asheville, San Francisco, Charleston, Miami and, of course, Atlanta. A former Living Walls artist, Freeman has been slowly leaving her mark in corners of our city, most recently in Cabbagetown through a collaboration with Travis Smith. Freeman's art exudes happiness, strength and liveliness with its bold, neon color and free-hand designs that act as much as pieces of art as they do unique backdrops eliciting their own feel within their surrounding environment. A child from the South, she transitioned from creative writing to art after her college graduation and eventually landed in ATL, where she has found her home. With the ability to envision works on such a grand scale, she makes the city a bit more colorful—one interconnected triangle at a time.
CommonCreativ talked to Freeman about public art, her favorite collaboration and feeling the love from our local community.
CommonCreativ: What brought you to Atlanta?
Molly Rose Freeman: I first came here to work on a mural project. I had graduated from college in Asheville, N.C., and after I left, I spent about a year bouncing from city to city looking for something that felt right: just some kind of chemistry. I found it here. I've lived all over the South—I love the South—but there's something about Atlanta in particular that resonates with me. I just moved into a studio at the Goat Farm with three other residents from the Creatives Project: Lucha Rodriguez, Fatimah Abdullah and Jason Kofke. I can't wait to see what happens in there—I feel like some level of cross-pollination is inevitable, and that's really exciting for me.
 CC: How did you become a muralist?
MRF: About three years ago, I was in my studio working on a little drawing—maybe 6 x 6 inches, very detailed—and having a hard time figuring out why I wasn't satisfied. I was talking to my dad, and he said, "Maybe it should be wall-sized." It was kind of a passing comment, but it started me thinking about the scale and scope of a piece, and how working big would have an entirely different impact. I realized something fundamental about where I wanted to go with the exploration of pattern: I wasn't as interested in making objects as I was in making environments. I wanted to create work that life could exist within, around and in front of—work that had a sort of implied ritual, an invitation to commune and move with it.
From there, I just started working however I could: painting on my studio walls, building my own walls, helping friends with murals. I put my blinders on and for a while I painted every wall that was offered to me. It was the only way for me to learn: there wasn't any space for me to practice, so I just started painting and figured out along the way what worked and what didn't. I am still very much a student, though now it's self-guided. I like to accept projects that require me to deal with something I have never dealt with before—a tricky surface, a new piece of equipment, a collaboration. That's how I've learned everything so far: trial by fire.
CC: Why do bright colors and geometric shapes dominate your style?
MRF: My eye and my mind try to find patterns everywhere, all the time, and my work is an extension of that. In drawing and painting, I give myself structure through very basic geometric forms, and then I improvise within that framework. It comes very naturally, so my job is more about not letting my analytical side take over and not letting self-consciousness cripple the fluidity of the patterns. For me, these networks of lines are a language that I can use to explore the personal, emotional parts of my own life, but because the language is universal, I think the impact can be incredibly broad.
My approach to color is generally intuitive: in the same way that shapes form themselves from connected lines, colors choose themselves in a given space. I go through color possibilities in my head, like a catalog, until I hit on one that seems to vibrate at the right frequency. There's not a lot of deliberation, it just feels right or it doesn't. I tend to use high saturations because they represent the purest forms of each color, and that's where you find the pinnacle of their impact.
CC: What are your favorite materials to work with?
MRF: Latex paint, gold leaf, India ink, charcoal, watercolor sticks—I just got a wood-burner for drawing on panels, and I already love it.
CC: What's your artistic process?
MRF: It's much easier for me to imagine something on a wall than on a canvas, maybe because on a wall, there's interaction with light, architecture, trees, people walking by. I respond to those things when I'm envisioning a mural. I only do sketches when I'm required to (they're often required for city projects)—I would always rather just begin and let it evolve however is natural. Because I work in geometric shapes, I know all the pieces will fit together, so even if I don't know what the end product will look like, I know there will be a sense of unity.
CC: You have degree in creative non-fiction. How did you transition from writing into visual art?
MRF: Writing, reading and art have been a trifecta for me since I was a little kid—they feed each other. I stopped writing as much after college to focus on painting, but maybe I'll take time off one day to write something again. Who knows? I think I'll always have them as an outlet for whenever the time feels right.
CC: How do you think public art influences communities?
MRF: Public art gives us a sense of place—something human and intimate to grasp onto when we're surrounded by a city landscape that can feel too faceless, too gray, too expansive. It's a reminder that we all have some tenderness, some desire for magic. Every community could use that reminder.
CC: Tell me about your favorite collaboration, and your most recent one in Cabbagetown.
MRF: Last month, I had the chance to collaborate with Travis Smith, a fellow Atlanta artist, on a mural for the Cabbagetown Neighborhood Improvement Association. It was a fantastic project, and we got unbelievable support from the neighborhood. Their level of engagement and encouragement reminded me why I love working in Atlanta. I've also been fortunate to work on projects with Kyle Brooks (Blackcattips) and Sam Parker, who are not only amazing talents but incredible people as well.
My favorite collaboration was a dance/music/art mashup with choreographer Garth Grimball and composer Michael Libramento. In 2011, we were living in Asheville and decided to build an outdoor performance from the ground up… literally. We crowd-sourced the funding, constructed a free-standing mural on the foundation of a torn-down transmission repair shop that acted as our stage, and held a free, one-time performance on the banks of the French Broad River. We worked for months and months on every tiny detail of that project, and to see it come together was unbelievable.
CC: You've been named a top 30 under 30 by ArtsATL and participated in The Creatives Project, among other organizations. How have these opportunities help you grow as an artist?
MRF: I was surprised and honored to be included in ArtsATL's 30 Under 30—it is humbling to be in such visionary company. The Creatives Project residency has been a godsend: free studio space at the Goat Farm, outreach opportunities, and a community of artists and professionals who are there as a support network. It is amazing to me that this residency exists; it's an incredible model and one I hope will be an inspiration to create more and better structure for working artists throughout the country. If it weren't for groups like this—open-minded, focused, hard-working groups—I wouldn't be able to survive as an artist. I rely on groups that have resources I don't have, like equipment, venues and funding, to create things larger than I could ever do on my own. These partnerships are what allow me to move forward with both imagination and focus.
CC: How do you promote yourself as an independent artist?
MRF: I use Instagram a fair amount. It's the only social media I like because it's just pictures. I started using it as a way to document my work or things that struck me day to day, like a public sketchbook. But it's also given my work visibility that I didn't imagine. Beyond that, I don't do much to actively promote myself. My approach is to keep working and making meaningful relationships, and let the connections form.
CC: What do you think about Atlanta's arts scene?
MRF: I think there is power and authenticity here that doesn't exist in other places, and I can't wait to see where it takes us.
CC: What's next for you?
MRF: Right now I am working on some pieces to show in Miami for Art Basel next month. Once I get back from that, I want to take a little time to figure out what's next. I have so many ideas I've put on the back burner the last few months, I want to focus on some of the more ambitious ones and see if I can bring them to life.
Check out more of Molly Rose Freeman's work here.