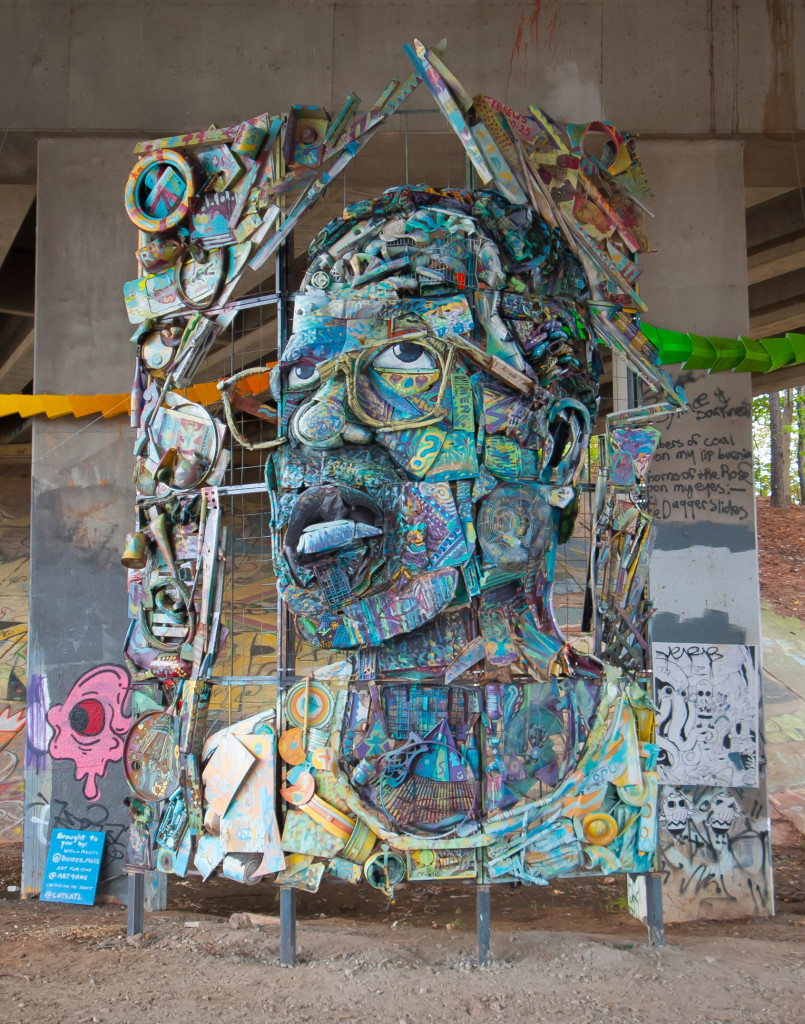 It's hard to tell which is more important to Atlanta artist William Massey: art or Atlanta. In 2009, the corporate-bound undergrad switched his major from business to studio art, giving him a new purpose to his artistic skill and his life as a whole. He's been keeping busy in the Atlanta art scene ever since.
Motivated by the forgotten stories that used and abused materials have to tell, Massey creates sculptures made of recycled and found objects, some of which have been installed on the Atlanta BeltLine. He also helps underserved and struggling individuals in the local community with the same intention, giving them a platform to highlight their inherent beauty and worth. There is rarely an artist who spends just as much time contributing to their community as they do making art. But in Massey's case, the two acts are often one in the same.
CommonCreativ talked with Massey about what motivates him to spend so much time creating and volunteering in Atlanta and why he just can't seem to stick to one art form.
CommonCreativ: Were you involved in the Atlanta art scene growing up?
William Massey: Absolutely not. I lived in the suburbs and never took art seriously on a soul or societal level until the middle of my college career. Up until that point, I had been chasing self-indulgence, money, status and job security. It was only in 2009 that I switched my major to Studio Art at Valdosta State University and began to tap into my passion in the creative spirit. I graduated in 2012, spent five months in Europe, then moved to Atlanta in 2013. Only then did I begin learning how to invest in and appreciate the art scene here in ATL.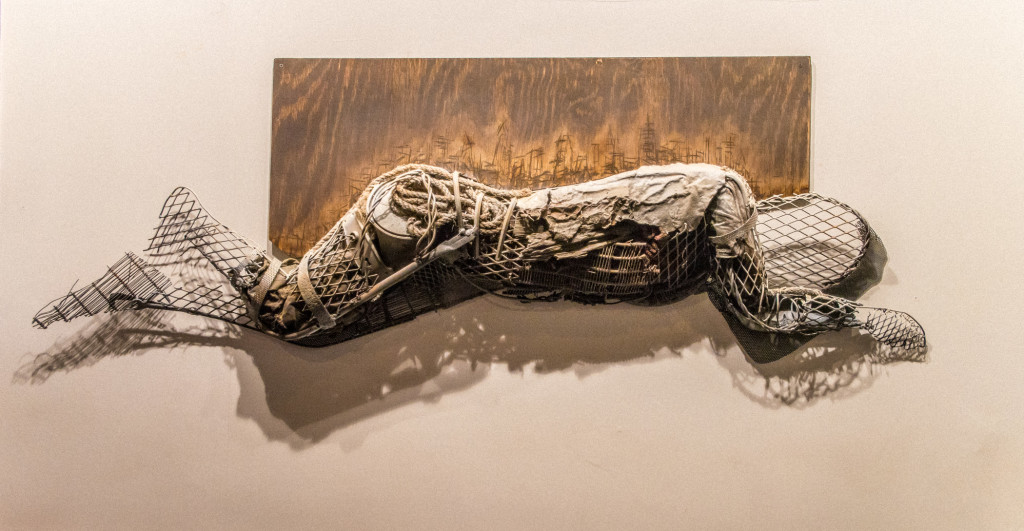 CC: I'm always curious about how sculptors first got in to such large-scale work. When did you become interested in sculpture and what was your first "big" piece?
WM: In school, I fell in love with sculpture during my first 3-D design class — I had only been drawing with pencils and pens before that. The final year of my college career birthed my first "big" piece (only about 7 feet tall), which also served as my first step outside of clean, new materials, and into old, broken, reclaimed items. I was immediately enamored that the sculpture was bigger than me, took up more space, made me look up and down and walk around it. It made me feel that child-like awe that I value so much.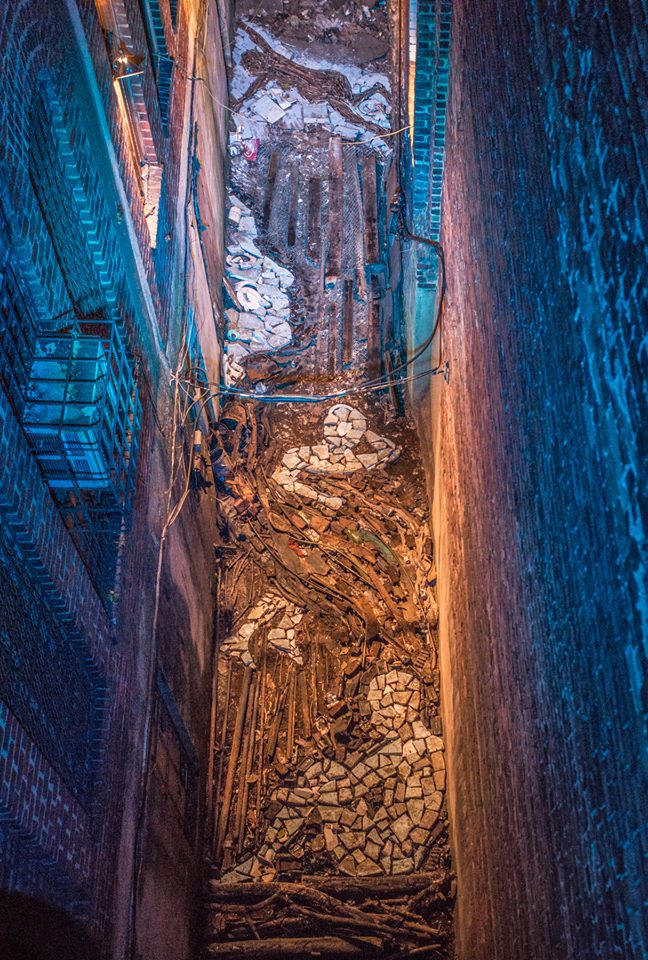 CC: What is it about trash that inspires you to turn it into art?
WM: To set the context for where I am now, I should admit that for years I leaned toward clean, sharp, geometric and stylistic stuff. But as I continued creating artwork, I found myself much more attracted to things that have a history, a previous story to tell. I'm so intrigued and drawn toward the broken, abandoned, dirty stuff most others would walk right past. I'm interested in things and people that have an extensive story, that have been used, bent out of shape, and then forgotten. My favorite part is finding them again, highlighting their worth, beauty, and value in relation to the whole big picture.
CC: Your work is often interactive in some capacity. Which came first: the desire to include the community or the community's interest in participating?
WM: I used to love people and art separately, but the more I created artwork alone in the studio, the more I recognized my need to directly welcome others into the peace and power of creativity. My public art installations, which have captivated people, mostly stem from my own desire for discovery and illumination that I couldn't keep to myself. I didn't think too much about the impact it had on others at first, I was just personally intrigued by it. But the minute I saw people's reactions and awe and enthusiasm, it was infectious. That direct impact art has on people has also provoked me to get others making art as well. Over the past few years I've worked alongside people in cancer centers, homeless shelters and nursing homes, using the process of making art to bring peace, relief and relationship to those in difficult situations.
CC: Most people are familiar with your sculptural art from your work displayed on the BeltLine. However, you create paintings, drawings and even ceramics. What inspires such varied forms of art?
WM: I get bored fast. Once I feel comfortable or accomplished in a certain art medium, idea or direction, I lose my zeal. This is absolutely a blessing and a curse. On one hand it keeps me moving forward, on the other hand I am rarely comfortable with or certain of whatever I'm working on. (But I secretly love the struggle and it makes me appreciate the finished product even more.) More than anything though, I'm a man who is fascinated and drawn to relationships. And when I make art, I try to unify separate things, and that intrigues me above all else.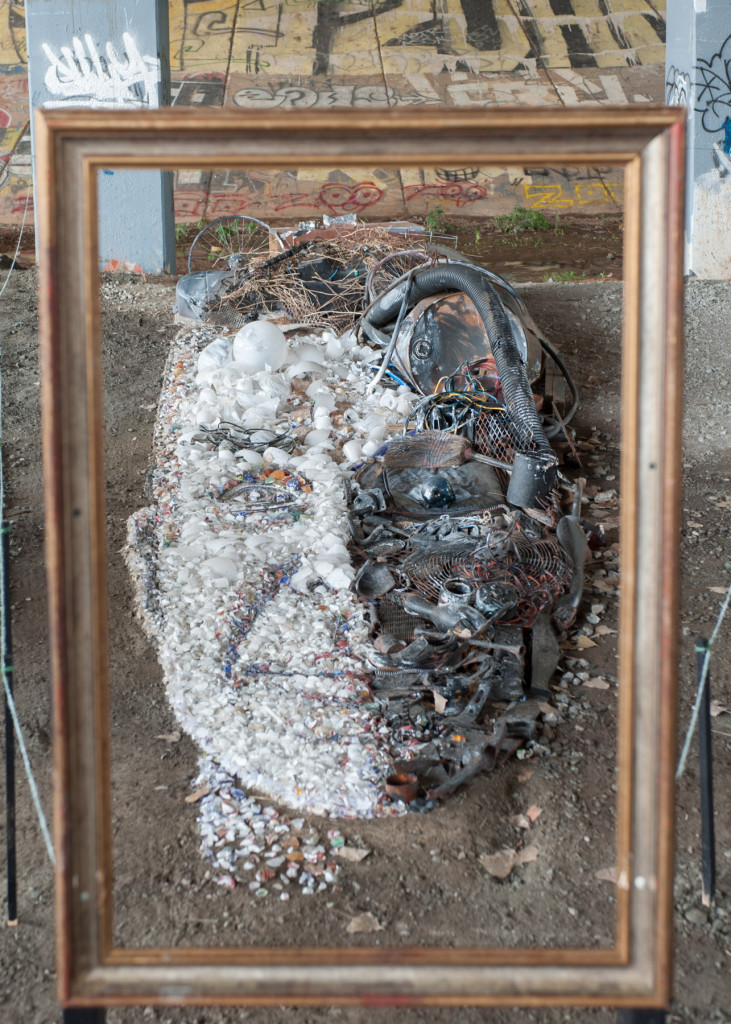 CC: Do you have any projects in the works?
WM: At the moment I'm helping expand a number of weekly art-making gatherings which I facilitate in medical and homeless communities around the city. We have workshops, collaborative projects and community-building sessions that all involve quite a bit of planning. My personal artwork comes second to that. I have a few private commissions to be completed in the spring while wrapping up a season of project proposals and grant applications. The warmer months will be a hustle of completing whichever large projects are accepted. Oh, and another fun side-project I coordinate is CarCanvas; I hook up artists with car owners to provide Atlanta roadways with mobile murals. I just love getting art into places where there isn't much yet.
CC: It's a Saturday afternoon: Where in Atlanta are you?
WM: Somewhere outside taking a walk with my dog, Lucy.
You can view more of William Massey's work on the Atlanta BeltLine and on his website.