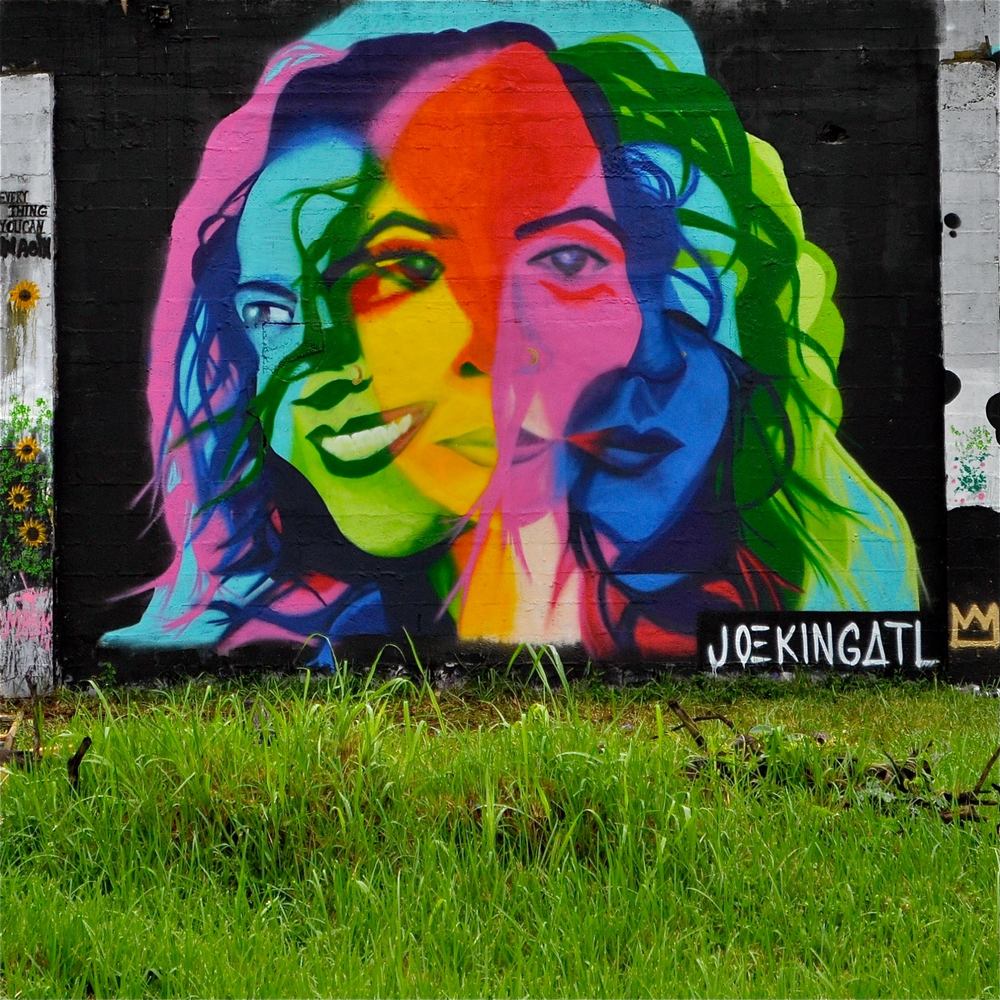 Joseph Dreher (JOEKINGATL) makes art a party. At least he feels that if it ends up as one, he's done his job. He also makes our Atlanta community the center of it all — whether that means everyone joining in to observe and celebrate the work being created, or being the central focus of the art itself.
2016 has been a big year for Dreher so far, with a major mural commission for The High Museum's Basquiat: The Unknown Notebooks exhibition, as well as being part of creating the newest addition to the MARTA King Memorial Station. However, he is hesitant to call himself a muralist — and maybe even an artist — if he's not putting paint to the wall in that exact moment. A careful observer and a sponge for emotions and stories, Dreher strives to live in the now and encourages others to do so as well.
While busy with various projects, Dreher took the time to share his stories about the people who inspire him, a recent mysterious occurrence in the Atlanta skies, and why everyone should wear a crown – invisible or otherwise.
CommonCreativ ATL: You're a New Jersey native. What brought you to Atlanta and made you want to stay?
JOEKING: Education brought me to the South, but the people made me want to stay. It took a while, but I fell in love with the city and the people of Atlanta and now I couldn't imagine being anywhere else. Well, maybe the beach.
CC: Do you currently have a "day job"? Are you a full-time muralist? Architect? Painter? All of the above?
JK: I AM…whatever it is that I am doing. I am my action, not a thing. I will always be an architect, but only part-time so I have time to be an artist, a husband, and a father.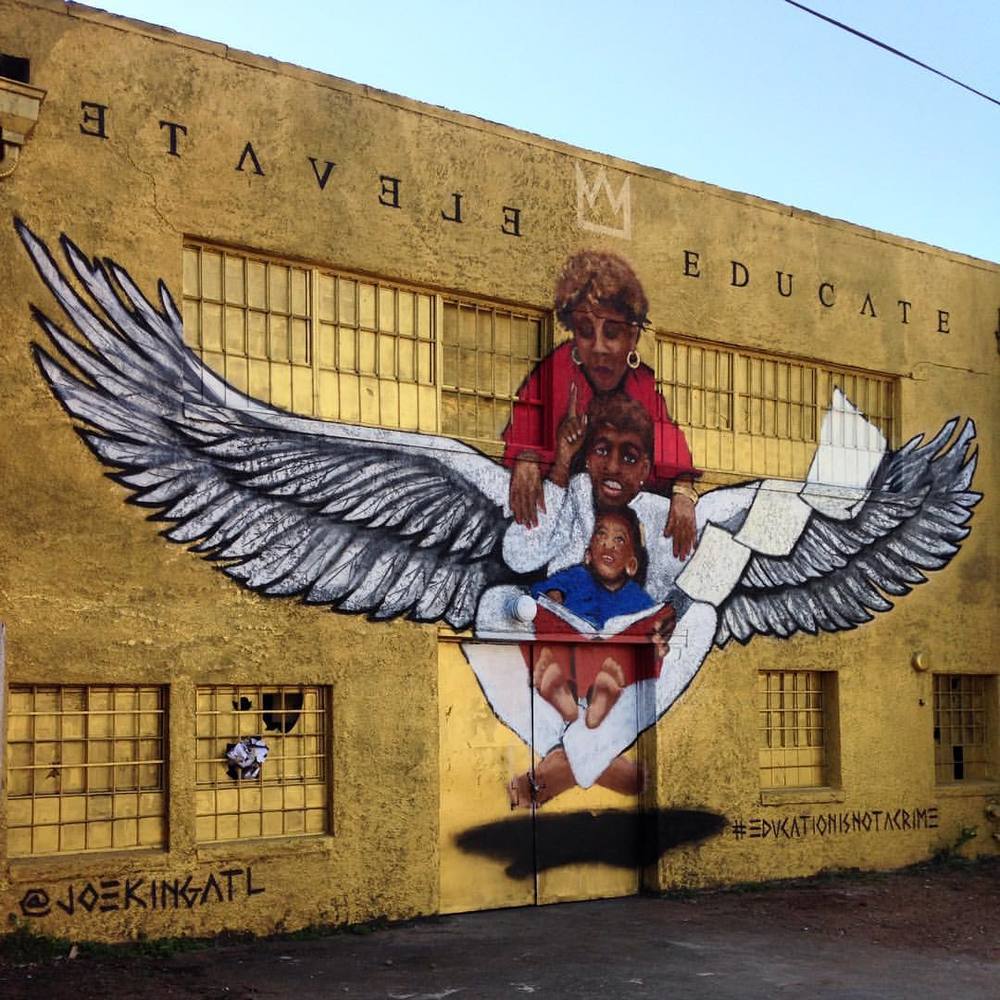 CC: Your art focuses on people and their environments. Can you talk a bit about how this theme became central to your work?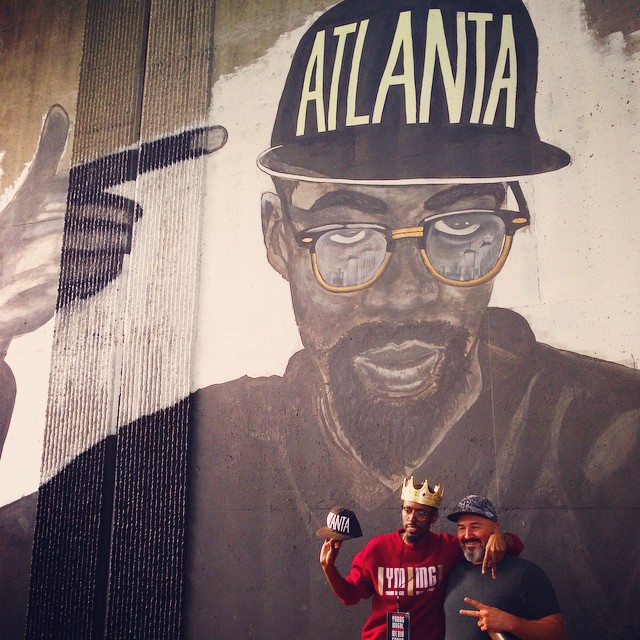 JK: I want my work to be less about me and more about the people and places I experience. When you remove ego from what you are doing, it opens your heart and mind to feelings and emotions of others. This is very important for me as I get joy and satisfaction out of making people happy and smile. That's why I started taking pictures of people I had never met before.
My first mural, the one in Cabbagetown, is a result of one of those photos. After volunteering to assist several artists, I was eventually offered the opportunity to paint my own mural. Because I didn't have a particular style, it was suggested that I paint one of my photographs. I had taken a photograph about a year prior that had been, in my mind, the best photograph I had taken and one that captured a mood about the city I am a part of. Brian, who I met working at the gas station I frequent, caught my attention with his hat that had the tall white embroidered letters — ATLANTA. He looks to many like a mixture of Spike Lee and Malcolm X with his horn rimmed glasses. I asked to take his photograph and he was surprised. I told him "I like your hat" and he pointed to it as I snapped an image. I thanked him without even looking at the photo to see what had been captured. Later upon downloading it from my phone I realized this was truly an image that spoke a thousand words. It took a few return [to the gas station] before I saw Brian again, but when I did I was prepared to show him the image and was determined to get to know him better. I told him that I wanted to do something with this photo. I didn't know what, but I promised it would be big. It took about a year, but I had the opportunity to make good on my promise. I sent him a message that I wanted to paint his image and wanted his permission. I don't think he believed me at first but and was hesitant, but agreed.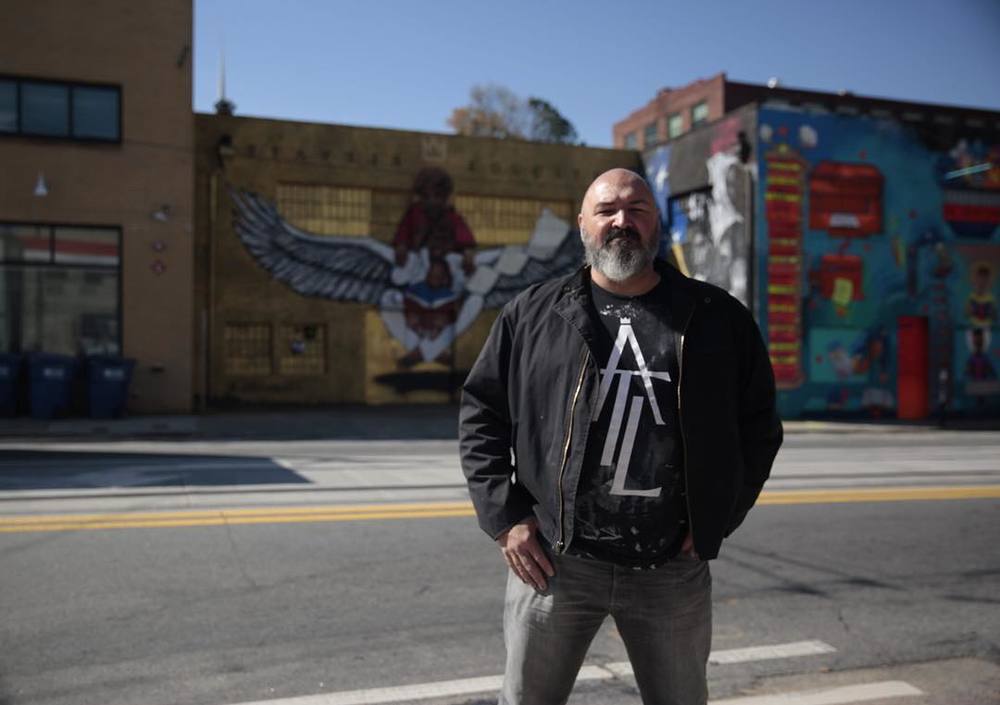 Then, a few days later after seeing images of the mural's progress on social media, he sent me a message that brought me to tears. He told me he felt immortalized, that I had given him a gift that he could not possibly repay or even know where to begin. He told me how he, like me, was struggling at the time I took the photo. His relationship with the mother of his son had fallen apart, he had to drop out of school, move back in with his mother and sister and work more to make ends meet. He said, "I don't know why I agreed to let you take my photo, you were a stranger but you had good energy and I wanted to be open minded." I never realized how someone I had never met before could end up making such an impact on my life. Brian later returned to school telling me he would spend six hours a day on public transportation getting from home to school to work and back again. Last month, Brian graduated from college and had already been hired for a job doing what he has always dreamed he would do. He sent me a photo standing in his cap and gown in front of the mural.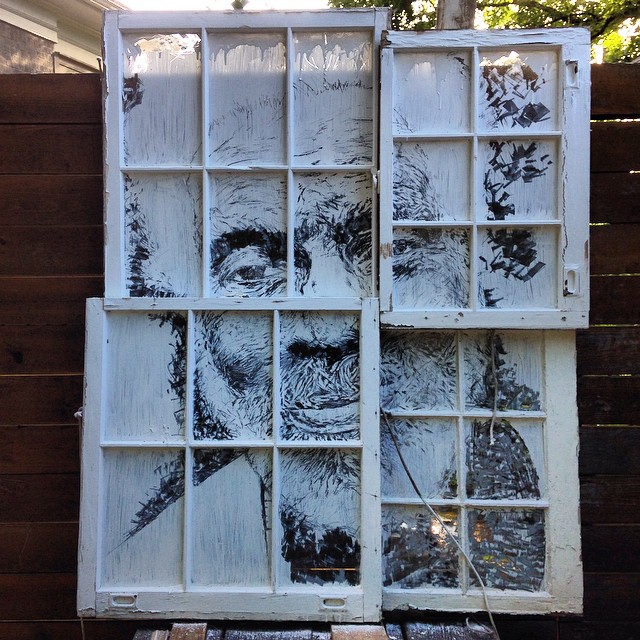 CC: Are there any artists or collections of work that you recall feeling particularly moved or inspired by as a young person?
JK: As a teen, I saw a painting of a black cook wearing all white. He was holding up a frying pan with two fried eggs that looked like another face and he was wearing a name tag that said JOE. I later came to realize the name of the painting was "Eyes and Eggs" by Jean-Michel Basquiat. As I learned more about Basquiat and his start as a street artist with a message to the public, I became more interested in his work. Later, the use of the crown as a symbol of importance and significance would find a place in my work, not just for specific people, but as a way to say to everyone that we are all worthy of respect and dignity. We should all feel as kings wearing crowns, whether others can see them or not. It became a constant in my work and a way for me to sign my work without using my name.
CC: Since you worked on the RISE ABOVE mural at the King Memorial MARTA station, I'm wondering: Do you know who wrote RISE in the sky?
JK: I helped paint a mural for WonderRoot's EnRoute program for MARTA with two other amazing artists Fahamu Pecou and Fabian Williams. The letters I painted were close to 20-feet tall and can certainly be seen by a plane overhead or from the street down below. Many people looked up in the sky and saw the letters as did I and they seemed to be in the proximity of the King Memorial MARTA station. With that said, I think people like a mystery, so why not let it that remain that way? People react to the work you do in many ways and are inspired to do so by what you have done. Never underestimate the power and meaning of what you make and how it will touch and inspire others.
CC: Does your artistic process differ when painting a commissioned mural for an organization as opposed to creating art independently?
JK: I approach each project as a unique experience for myself and those who will experience it. Usually when I am approached about creating for someone, whether it's an individual or an organization, I make it clear that the process will be a collaboration and they will be part of that process. I have no shortage of ideas or concepts, but I don't come to the table with pre-conceived ideas. I listen to their needs and desires and I respond with something that speaks to both of us.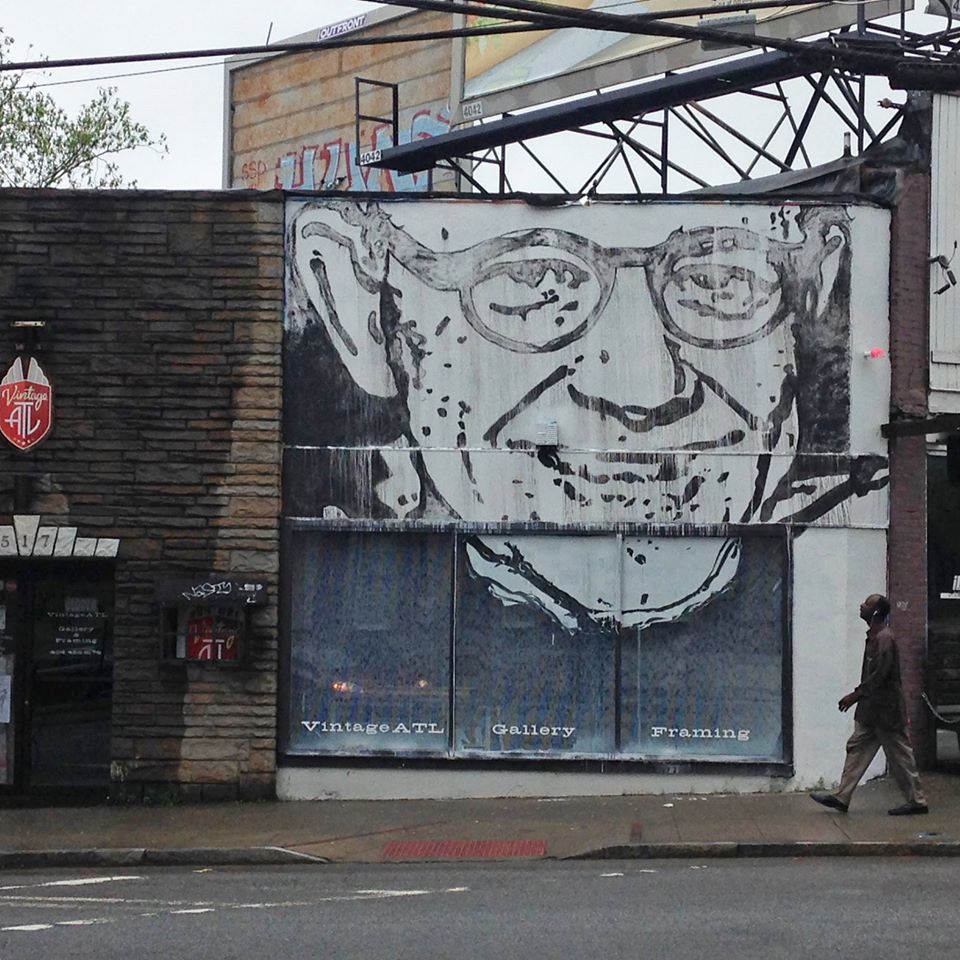 CC: Are there any new projects in the works that we should keep an eye out for?
JK: I am currently an artist-in-residence at the Goat Farm Arts Center with TCP-The Creatives Project and we will be having our first exhibition in October. I will also be part of two shows in September, the first being at Mammal Gallery called "ART + ACTIVISM WCAGA" sponsored by the Women's Caucus for the Arts Georgia. The second is a group collaborative show with EVEREMAN at Notch 8 gallery.
I am also working on two sizable private commissions and I am planning to return to Miami for Art Basel in December to paint a second mural in Wynwood. And, of course I am always on the lookout for mural opportunities and collaborations with other artists.
CC: Any art events in Atlanta that you've been a part of and enjoyed recently?
JK: This has been a great year so far with a mural commission from the High Museum for the Basquiat: The Unknown Notebooks exhibition, the "Education is Not A Crime campaign" mural in Old Fourth Ward, which I was able to include two additional artists and their murals, the New South works on paper exhibit at KAI LIN ART, and most recently working on the mural at the King Memorial MARTA station. All were great experiences, especially the murals, which all culminated in my usual fashion with a community block party, something I try to do on every mural project.
CC: Describe your perfect summer Saturday in Atlanta.
JK: Every Saturday is perfect, but one that is outdoors and social and involves making or experiencing art and culture is the best.
You can see more of Joe King ATL's work on his portfolio and Instagram.