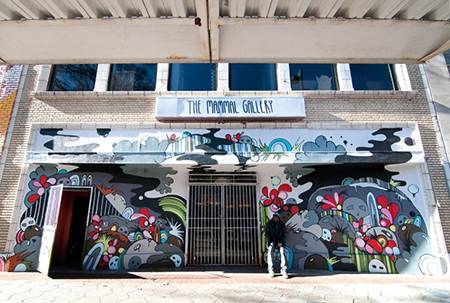 When Mammal Gallery opened in 2013, it became a beacon of culture and art in South Downtown and, particularly, Broad Street. The often-overlooked strip quickly became filled with murals, art festivals, and block parties. The Living Walls' alligator mural (on Forsyth Street) was no longer alone.
Other local organizations followed in search of community and affordable rent for their projects and businesses. ELEVATE Atlanta, a weekend-long art event featuring exhibitions, murals, and talks in the area, only got bigger. Ladyfest Atlanta, a three-day showcase of local musicians, performance artists, and feminist-themed conversations, premiered there last year.
At CommonCreativ, we love that this area has flourished into an awesome arts district. Due to recent news of nearby developments and possible new landlords, we wanted to highlight some of the organizations that are making the area a creative haven for Atlanta artists.
Looking for more treasures in the area, including the Downtown Players Club? Head this way.