"Fill your life with wonderful people and stick honestly to what you love. The rest will come." That's the advice Jessica Collins, the founder of Machine Room Pottery has for everyone — and we have to admit, it's pretty great.
The Atlanta native went to school at Kennesaw State University to study biology, but realized after studying abroad that her heart was set on one thing: ceramics. From the smell of the clay and the way it feels on her hands as she works with it, to opening the kiln and seeing physical manifestations of her soul — in the studio is where she's meant to be. Now she keeps busy as part of Goat n Hammer, the Goat Farm's blacksmithing studio, and working on small batches of pottery at the Goat Farm's old machine room (hence, the name).
Here, Collins talks with CommonCreativ ATL about her relationship with the Goat Farm, the inspiration behind her pottery designs, and her current projects in the works.  
CC: Where are you from?

Atlanta is my hometown. I was born in Piedmont Hospital and have lived in and around the city my whole life.  There have been times in the past when I've considered moving, but this city, even with its problems, is just so vibrant. I can't bring myself to leave. 
CC: How did Machine Room Pottery come together? When did it open?

JC: It happened because of a series of whims, which began in college. I started school, Kennesaw State University, in 2001 as a biology major with the intention of going into biochemistry or nursing. About two years into it, I decided to go on a study abroad trip to Oaxaca, Mexico, to study language, and I took a drawing class while I was there. It was an incredibly beautiful place and the pace of life there was slow and easy, it made me realize that I wanted that kind of life for myself.  When I came back from my trip, I immediately switched majors.
Luckily, KSU's art program was so small at that time that they didn't require a portfolio review. The only art class I had ever taken was the one on my trip. It wasn't until I took my first ceramics class though that I fell in love with it. After I graduated, I didn't have the means to practice pottery again until 2011. During that time, I became involved with The Goat Farm Arts Center and MASS Collective. Through those connections I began working with a blacksmith, Mark J. Hopper, helping him develop what has now become Goat n Hammer, a school for blacksmithing. Mark greatly inspired me — he was living and doing what he was most passionate about, and pushed me to get back into pottery.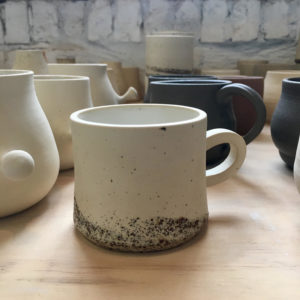 CC: What is your favorite part of creating a piece?
JC: Oh, all of it. I guess though, if I had to pick a favorite, it would be seeing the reactions that people have to it.  I've put several mugs in the coffee shop here at the Farm and I love to watch people who have no idea that I made the mug they are using. They often have these little moments with the piece, mostly unconscious, they caress the surface with their hands or lips and you can see them start to sort of merge with the object. It's lovely.
CC: What inspires your pottery designs?

JC: Aesthetically, my work leans towards minimalism and traditional Japanese pottery.  
I strive to allow the function of the object and the beauty of the clay itself inspire the forms I make. I love making functional work, and I don't want anything I make to feel too precious, like something that you would hang on your wall or keep locked in a cupboard.  I don't want to make a mug or plate or bowl-shaped sculpture.  I want people to have relationships with the objects that I create.  My work in the blacksmith shop is an inspiration as well. The way the metal moves when it is hot is quite similar to the way the clay moves when thrown or pulled, and the marriage of the forged steel and clay is quite a lovely one.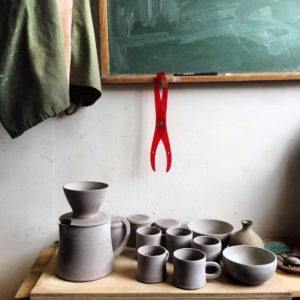 CC: What are some of your favorite items to make?
JC: Mugs and spoons. Out of everything that I've learned to make, those are the two objects that bring me the most joy.  They can be incredibly simple, design wise, but still be sensual. They are objects that feel good in your hand and mouth.  
CC: How do you promote yourself? What tips do you have for people and small businesses in a niche market such as yours for doing the same?

JC: Honestly, I don't promote myself much at all, because I am so involved with both the Goat Farm and Goat 'n Hammer. I don't have the time to make more than small batches of pottery at a time and therefore have been somewhat reluctant to advertise much. I have an Instagram account which I keep updated fairly regularly, but any notoriety that I have received has been through word of mouth. 
I am blessed to have an incredibly supportive network of friends and acquaintances who enjoy what I do and share it through both social media and in person encounters. So, my advice for others is to fill your life with wonderful people and stick honestly to what you love. The rest will come.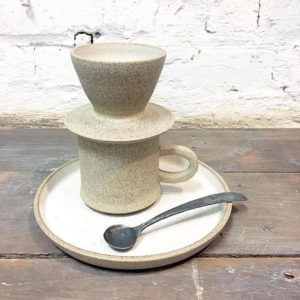 CC: Do you have any new projects in the works?

JC: Always. Among the many projects that I am working on at any given moment, there are two that come to mind most prominently. Mark and I are planning an art show in celebration of the spoon. Though it likely won't happen for a year or two, I'm pretty excited about it.  I am also designing a custom tea set for a friend of mine, Brandon Sadler (aka Rising Red Lotus). I've not done custom work before, and I'm looking forward to learning how to combine my personality with that of another through this collaborative process.  
CC: Are there any local artists you'd want to collaborate with?
JC: Well, I collaborate with artists pretty regularly through my work, but I suppose that doesn't count. More specifically, I've had discussions with Stephanie Clayton Bennett, Goat Farm's Aesthetics Director, about future collaborations.  Her illustrative style will lend itself beautifully to decorations on functional pottery. Also, I would love to meet and work with a tattoo artist like Savannah Colleen or Dustin Swinks. I follow them both on Instagram and their work is impeccable. Think "tattooed" pottery. It could be quite nice.

CC: What do you think of Atlanta's creative scene right now?
JC: I work quite a lot, so I don't get to attend as many events and happenings as I once did.  Luckily though, being a part of the management team at the Goat Farm has allowed me to remain peripherally involved with the scene and I am excited about where it seems to be heading.  I love that so many artists are getting involved in their communities as opposed to just existing in them.
You can see more of Jessica's work on her pottery site and Instagram.