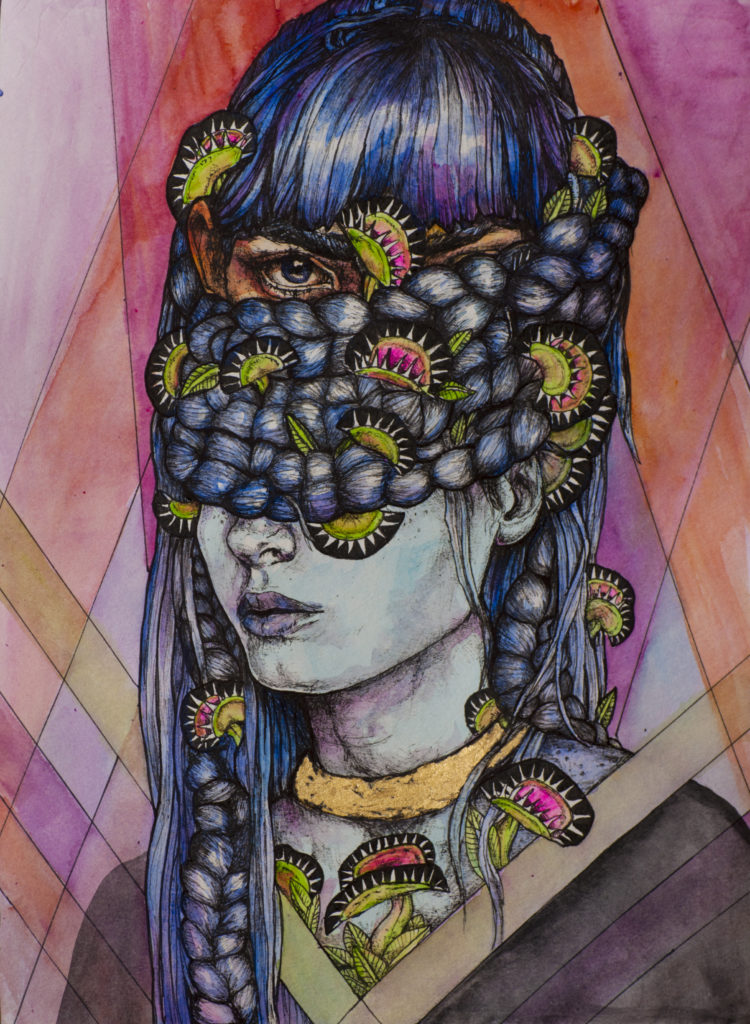 It's no secret that art has always been a close ally to Britt McDermott. A move to Georgia at a young age was a welcome change of scenery, prime for feeding her imagination. McDermott grew up with full permission to stoke the flames of her creative spirit as her sketchbook doodles have evolved into a flourishing career as an artist and teacher — she currently serves as a teaching artist at the High Museum of Art, and as an art teacher and therapist at Drawchange.
An openness to embrace the world around her has served McDermott well. She has never had to search out inspiration — her flowing, evocative oil paintings and drawings burst and bloom in colorful odes to nature and our role within it. McDermott's strong interest in the people, places, and creatures that surround her is an ongoing study in strength through a visceral lens.
Here, McDermott chats with CommonCreativ about the role mythology plays in her creative universe, how she's paying forward the impact art made on her, and valuable advice for artists looking to pursue art full-time.
CommonCreativ: What brought you to Atlanta?
Britt McDermott: I was born in New York, but we moved to Georgia when I was young. After working out of state for a couple of years, I moved to Atlanta a year and a half ago. I was drawn back to Atlanta because it was close to my family, it values green spaces, and it seemed like a good place to try to work as an artist. There is this young, buzzing spirit and welcoming arts community that I fell in love with immediately.
CC: What first sparked your interest in art?
BM: I have doodled on everything as early as I can remember and most of my after-school days were spent wandering outside with a sketchbook. I couldn't not make art. My mother is a musician, and I was lucky to meet all kinds of creative people doing what they loved when I was growing up. Creative endeavors were always welcome, and I feel blessed to say that.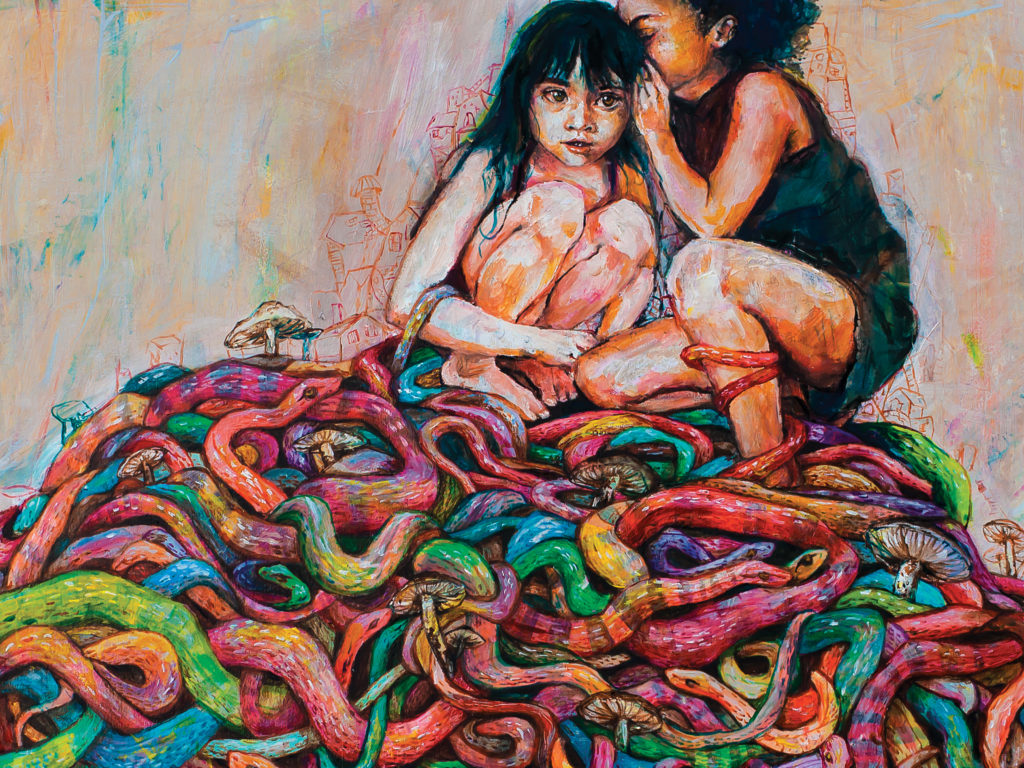 CC: Your work is dimensional, energetic and colorful. How did you develop your personal style?
BM: It's hard to pick a definite point when that happens. I think I just kept creating prolifically and researching other artists' work until a personal style developed. In college, I was fortunate to have a couple of professors who really pushed me to embrace my personal style. I would say that's when the dimensional, colorful work started coming out. My natural mode is going a bit overboard with color and detail, and it took me awhile to listen to that urge rather than fight it. Most of all, my style is an ever-changing beast, and I'll never stop trying to improve.
CC: Can you tell us about your background in art education?
BM: One thing that has always drawn me to art is its ability to empower, transform, and give an outlet to people. At least for me, art was the premier source of agency in my youth and it saved me in many ways. I want to help provide that same agency to youth. Teaching is the most direct method for me to use art to reach others.
After studying art education at UGA, I worked in a couple schools in rural Ireland, then worked with alternative high schoolers in Colorado, and now I teach part-time through a couple of art outreach programs in Atlanta, at the High Museum and with a nonprofit called Drawchange.
Working with youth will be something I'll always do in some capacity. It is as integral to me as making art.
CC: What do you draw inspiration from?
BM: The freshness and imagination of children's artwork is an obvious one. As a big outdoors lover, nature, wildlife, and the human role within those cycles inspire me. I draw inspiration from storytelling in many forms—music, literature, film, theater. I go on kicks of little niches of music; right now, I am super inspired by the mythology in old British folk songs but also equally inspired by the urgency and zeal in a lot of hip-hop and heavier rock. More than anything I think the relationships I have and the people I meet inspire me, particularly the stories of resilient women around me.
CC: Your work explores themes of myth, nature, mysticism, and the female experience. Can you elaborate on what this means to you?
BM: I am fascinated by the many roles women take in mythology, and how archetypes can be a means of strength and survival. Tales of women and serpents, like Melusine, particularly interest me. I love the idea of twisting this traditional symbol of evil into a tool of power. I explore this subject through a personal lens and a contemporary feminist lens. Moved by the incredible women I know, narrative artwork is my vehicle to depict modern myths of their perseverance in a world sometimes against them.
I feel a deep connectedness to nature and my role as an animal, so that embeds itself into my artwork. Above all, painting is my personal therapy, and if my viewers feel the strength, healing, or connectedness I experience when I paint, that would feel like success.
CC: How would you describe your creative process?
BM: I take research and inspiration from all over the place. I sketch all the time. Once a sketch seems ripe enough for a painting, I put it onto the surface. Sometimes I start with a found object, like an old map from a thrift store, or sometimes I'll build a traditional canvas depending on the idea. From there, it might change entirely. I try to listen to my visceral voice when I work and let the materials take control. I layer like crazy and sometimes spend months on a piece. I enjoy playing with the sculptural and mixed media possibilities of painting.
CC: Tell me about your work with Drawchange and the High Museum of Art.
BM: I work as a teaching artist at the High Museum, mostly working with visiting schools. Recently, I've been lucky to be involved with some exciting programs that cater to students with visual impairments and students on the autism spectrum. It's been a great learning experience for me as an art educator who values equitable art access.
I also work with Drawchange, an organization that provides art therapy and empowering art lessons to homeless youth in Atlanta. I began as a volunteer when I moved here and now I work there. It's an amazing organization run by the inspiring Jennie Lobato. I'd highly recommend volunteering for anyone looking for to get involved with arts outreach.
CC: Do you have any word of advice for artists who are looking to transition to creating art full-time?
BM: Talk to lots of artists to see how they make their living. Most are happy to offer advice. I hold on to cherished words from different artists I meet at festivals and events. 
Work really hard. Working artists are some of the most determined and industrious people I know. I saved up, bought an art festival tent on Craigslist, and applied to vend at a lot of art festivals when I started, which allowed me to hit the ground running and meet my customers face to face. I also suggest creating an internet presence for yourself on Instagram, Etsy, your website, etc., and frequenting art events to connect with other artists.
In the Fine Art world, I think there's sometimes a stigma against the nitty gritty details of working as an artist. If you can find art that you enjoy making but also pays you, then embrace the hell out of it. For me, it's commissioned paintings, prints, and smaller illustrations that provide my bread and butter. I love doing those because I love creating almost anything, but the stability they provide also allows me to focus on the greater goal of my personal projects. With that being said, make sure you don't let the business of it all cloud what you intuitively need to make. I firmly believe if you make what you are truly passionate about making, the right people will still want it. You'll fail occasionally, hear criticism, and lose money sometimes, but those trials are so worth being your own boss and living a creative life.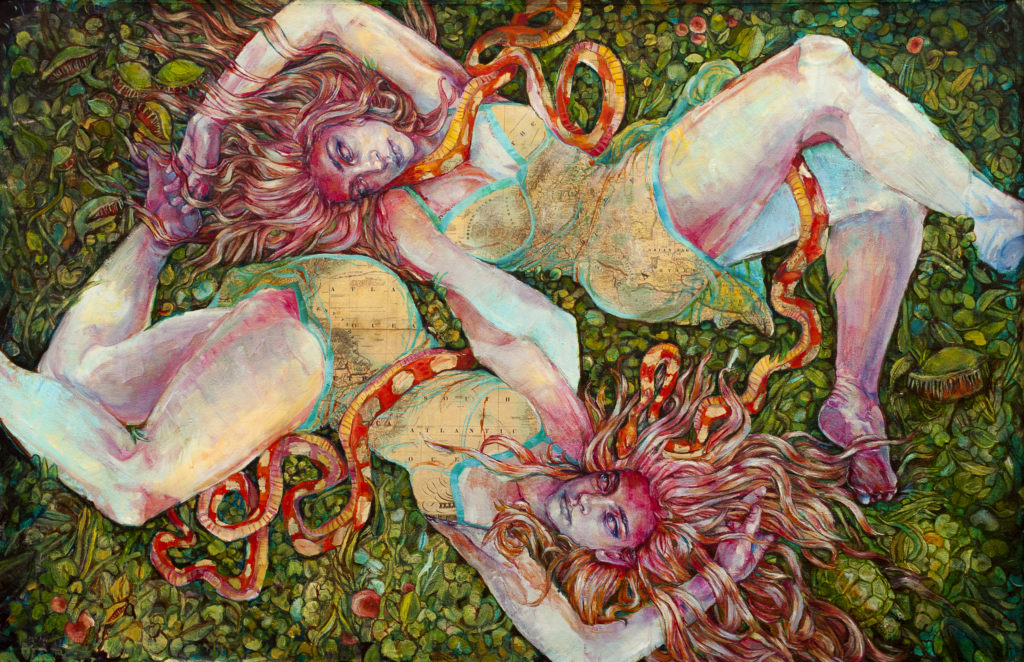 CC: What are some of your favorite events, organizations and creative people in Atlanta?
BM: There are so many, and I'm still discovering new things! I love the mixture of high and low art the Atlanta scene offers, as well as the blending of music, visual art, dance, and theater. All of the murals around town: Living Walls, Forward Warrior, Outerspace Project, as well as the organic street art that pops up all over the place. I love checking out what's going on at Atlanta Contemporary, MoCA and the High, as well as galleries like Mammal Gallery and Notch 8, plus the plethora of DIY art house shows.
Mindzai in Castleberry Hill has been putting on some really cool monthly exhibitions during the Castleberry Hill Second Friday Art Stroll. Indie Craft Experience does so much good for the arts and crafts community in town. WonderRoot is awesome, and I love their mission of combining social justice with art. My studio is part of a studio collective called Mutiny Artwrx, and I am inundated with inspiration from the fantastic artists that work there.
CC: What keeps you in Atlanta?
BM: Atlanta is a hidden gem I'm very protective of when I'm out of town. There is a down-to-earth vibe here that's hard to find in other cities. It's brimming with all kinds of people who work to make it a creative place and work together to better the community. The art, music, diversity, and emphasis on parks and trees make Atlanta my wellspring.
CC: What's up next for you?
BM: I want to create more public art and aim to have a solo show with the body of paintings I'm working on now. I have some collaborations coming up that I am very excited about, including a painting/photographic installation series. I'm hoping to collaborate on a project with local young people sometime in the near future as well. This spring and summer, you can find me at upcoming art markets around town like the Old Fourth Ward Arts Festival.
You can see more of Britt McDermott's work on her site, Etsy shop, and Instagram.