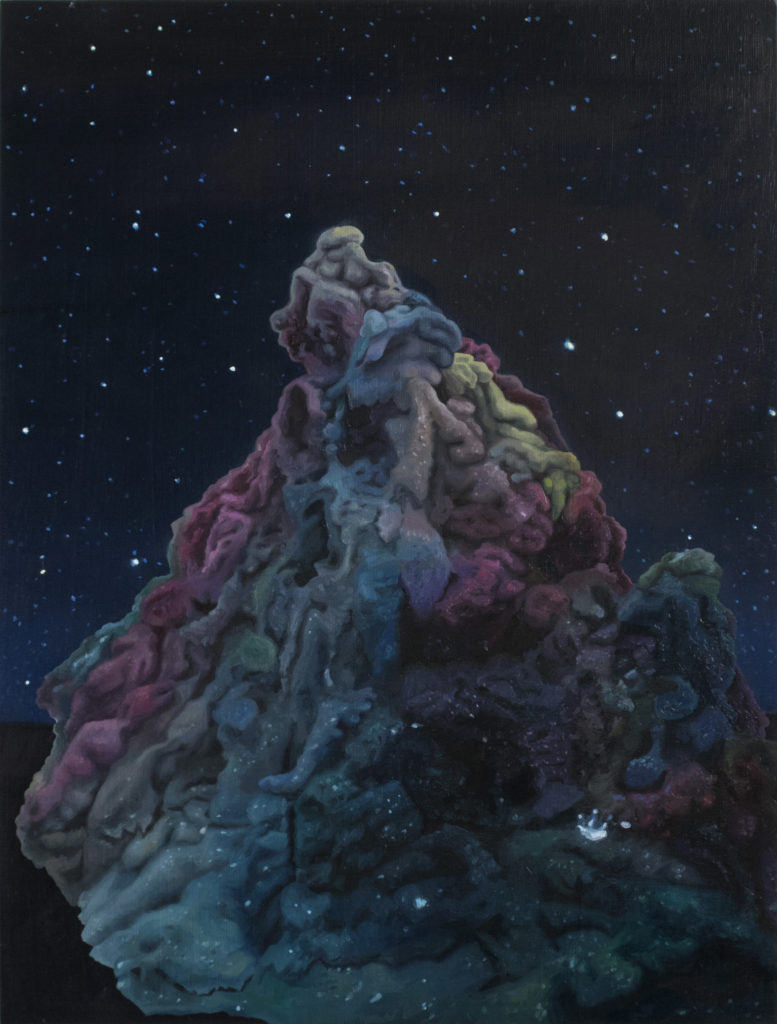 The theme of "hidden beauty" seems like the thread interwoven into most of Amelia Carley's work. The Colorado-born artist creates paintings, prints and drawings that feature close-up views of natural elements like coal, gemstones, and sand. The result is work that is undeniably beautiful, but still raw and, often, uncontained.
A current Old Fourth Ward dweller, Carley moved to Atlanta less than two years ago to attend graduate school at Georgia State University. She's currently studying to receive her Masters of Fine Arts in Drawing, Painting, and Printmaking. When she's not working in her studio (which is where she is most of the time), she can be found at Krog Street Market, 97 Estoria, Argosy or at one of the city's art openings.
Here, she chats with CommonCreativ about her wilderness-filled upbringing, her greatest artistic achievements, and what's on her horizon.
CommonCreativ: What first sparked your interest in art?
Amelia Carley: I was always drawing and painting as a very young child. I meticulously worked on drawings to a degree that my parents took notice of my intense interest in art making. I was fortunate enough to have supportive parents who signed me up for art classes and encouraged my art practice throughout my life.
CC: Which medium did you start with, and how did you transition to others?
AC: Drawing first then painting in watercolor and acrylic. I dabbled in stop-motion animation with Sculpey, wheel throwing, jewelry making, and started painting in oil during high school. More recently, I've been exploring some sculpture, video, and installations.
CC: What initially drew you to elements like coal and geodes?
AC: When I started this series of paintings, I was making outdoor and indoor installations of false historical narratives related to the history of mining and Western expansion through Colorado, where I was living at the time. I was interested in exploring abstraction through highly-detailed, close-up representation, and since I was already thinking extensively about the coveted geological material in my installations, I began looking at photographs of the surfaces of the materials. This led to paintings of gold, pyrite, galena, silver, quartz, amethyst, coal, and sand. I've recently been making strange sand sculptures, photographing them in environments, and then painting my fictitious landscapes.
CC: How would you describe your artistic style in one sentence?
AC: I mediate encounters with components of a landscape to construct fabricated natural experiences of fictitious sites through drawing, painting, sculpture and installations.
CC: What's your process for the installations you create?
AC: The installations are created in response to a specific location. I spend time there, doing research about its history, and develop a historical fiction narrative around an issue that seems engaging to me. I've used actual places and sprinkled in some historical individuals but invent an entire cast of people to enact my narrative. Recently, I've moved towards more fantastical invention which involves less incorporation of individual histories and more around invented landscapes.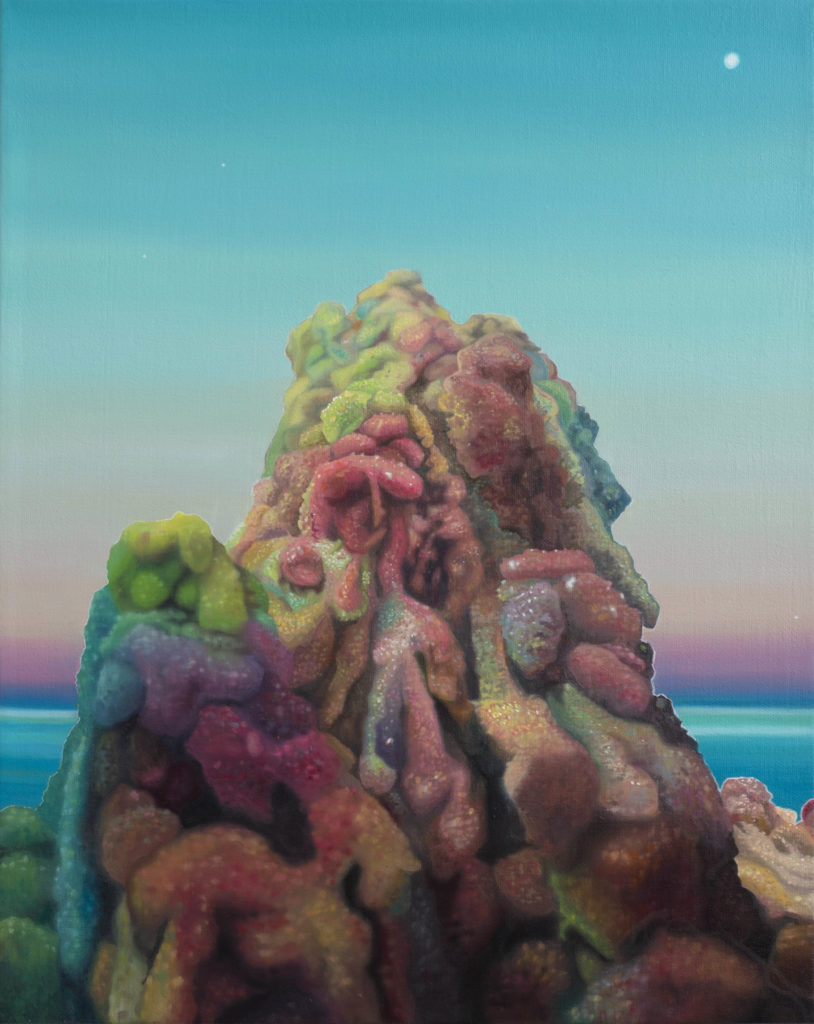 CC: You seem to be really inspired by nature — how do you glean that inspiration?
AC: Every summer in July, my parents and three siblings would cram into a minivan and take road trips to explore National Parks, predominantly throughout the American southwest, to places like the Grand Canyon, Dinosaur National Monument, Yellowstone, Chaco Canyon, Mesa Verde, Great Sand dunes and others. Those trips driving to remote locations and spending time hiking, climbing and backpacking informed the way that I think about the world and continue to influence my interest in the land.
CC: What have been some of your greatest artistic achievements?
AC: I would say that choosing to complete my Master's has been a major endeavor which brought me across the country challenging me in new and unexpected ways. I've been invited to attend artist residencies in Vermont, upstate New York, Utah, and I'm headed to the Atlantic Center for the Arts in New Smyrna Beach mid-May. I've been in exhibitions across the country from New York to San Francisco and have my first solo show coming up at the end of September at the new Day & Night Project space in Atlanta.
CC: Who are some of your favorite artists?
AC: This is always such a fun and difficult question — I have many artists who I find inspiring.  Recently, I've been looking a lot at Sascha Braunig (who currently has work up at the Atlanta Contemporary Art Center through the end of July 2017), Rachel Rose, Tauba Auerbach, Olafur Eliasson, and Robert Smithson, just to name a few.
CC: As an artist, how do you effectively promote yourself?
AC: Well, this is always a bit of a challenge. I use Instagram and Facebook to promote exhibitions and events. I have a MailChimp email list that I send announcements through a few times a year to keep those interested updated on my exhibition schedule and activities. There's a link to sign up on the "Contact" page of my website.
CC: What do you think about the current state of Atlanta's art scene?
AC: My sense after just a couple of years in Atlanta is that there is a significant and supportive art community here, numerous quality venues for exhibiting work, and great public and private grants for artists. I am looking forward to seeing the community flourish and I hope to contribute to its future growth and quality!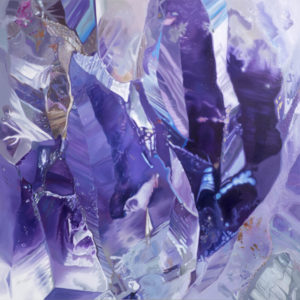 CC: What's next for you?
AC: I'm gearing up for a lot of travel this summer, as I mentioned earlier, I'm about to go spend three weeks at the Atlantic Center for the Arts in New Smyrna Beach, Florida for a residency. After that I'm headed off to Europe with some graduate students from GSU to see the Venice Biennale in Italy, spend time in Berlin, head to Documenta in Kassel, and the Skulptur Projekte in Münster. Then in mid-July, I'll be near Aspen, Colorado taking a workshop with NYC artist Wendy White for a week at Anderson Ranch. The rest of the summer is going to be preparing for my show at Day & Night projects in September and getting ready for my thesis show and graduation in the spring of 2018.
CC: Why do you make art?
AC: I make art because it provides a platform to better understand the world and reflect that awareness back into society in a way that is thought-provoking. I believe it is a valuable practice and one that I love.
Find more of Amelia's work on her website and Instagram.