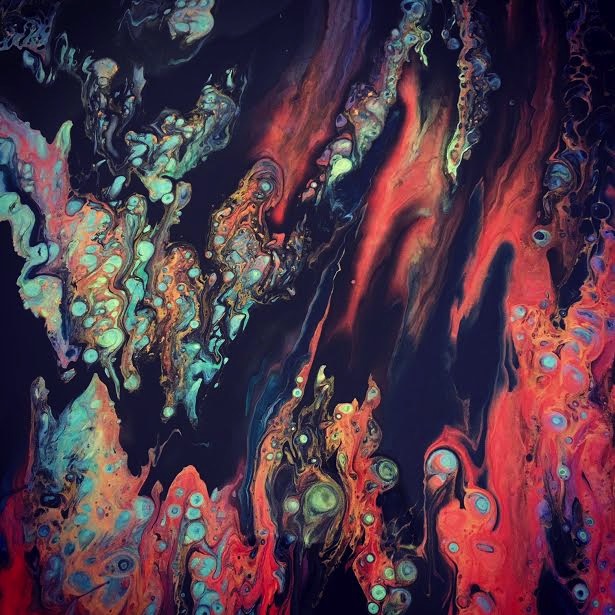 Painter Sophia Sabsowitz's brushstrokes move seamlessly throughout her abstract pieces, reminiscent of large ocean waves right before a storm and harnessing the force of nature within her canvas. Her childhood rockstar dreams and love of metal music influence her palette, often mixing dark hues and bright reds and oranges, giving each piece a psychedelic feel.
An Atlanta native, Sabsowitz left the South for the West Coast, including Seattle and San Francisco, but made her way back a few years ago and now considers ATL her home. "This city has such diversity, creativity, and passion. It is a true honor to witness and be a part of it," says Sabsowitz.
She has shown her work around New York City and Atlanta, including DK Gallery, Georgia Freight Depot, Ponce City Market and Terminal West. She's currently finishing up the cover on the New South Journal, coming out this August, and preparing for a solo show.
Here, Sabsowitz talks to CommonCreativ about how she developed her psychedelic artistic style, how energy influences her work, and why she makes art.
CommonCreativ: Have you always been an artist? When did you pick up the brush for the first time?  
Sophia Sabsowitz: It wasn't until my first year of college that my intentions and direction in the arts became clear. I embraced my creativity and craft after I lost my father in the summer of my first year of college. It was one hell of a year and it made me make think deeply about life choices. I chose to create, heal, and pursue happiness. I paint every day to honor my dad's life and memory. He was only able to see the beginning of my artistic journey.  When I'm painting, I feel his spirit right there with me telling me to push on and keep creating. He always inspired and encouraged me to express my colorful personality through the arts.
When I was young, I really enjoyed making booklets of paintings and illustrations. I recently found one of those booklets, and I asked myself what I wanted to be when I grew up. I said I wanted to be an artist and a rock star. It was sort of a confirmation that I knew at a young age what I wanted to do with my life. Now if I could only learn to shred on the guitar then I really will have lived out my childhood dreams.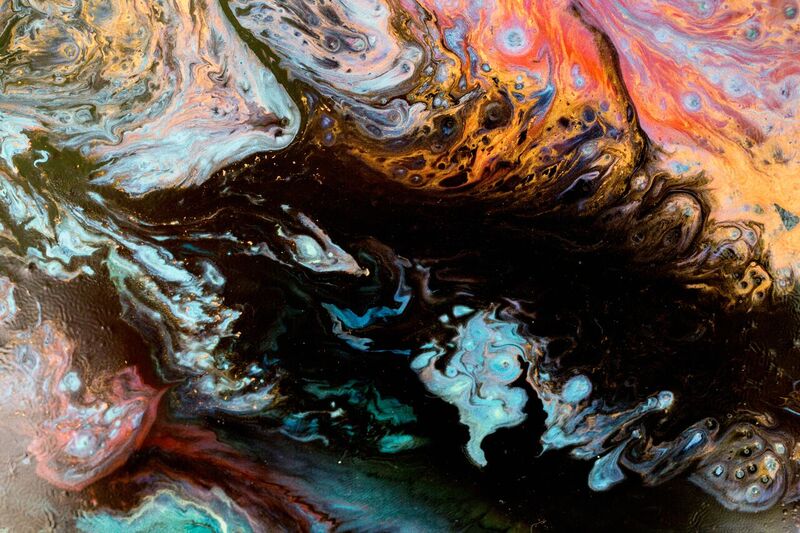 CC: How did you find your style?
SS: I was searching for a way to express what was going on in my head. I would have dreams of cosmic landscapes and oceans of merging colors and wanted to find a way to capture their essence. I think psychedelic art provides a field for contemplating an intersection of the metaphysical and logic. I wanted to create work that provokes you to ask questions about your origin.  
CC: Tell me about your creative process. Do you have a studio or do you work from home?
SS: I have a studio space in my house. When I go into the studio to work, I usually meditate on some ideas and colors and then begin to layer and texturize with nontraditional painting techniques. Sometimes I can finish a painting in a few hours and sometimes it takes weeks. Music is essential when I'm painting. The Mars Volta's Deloused in the Comatorium has been my jam lately.  
CC: What are your favorite materials? Do you have any you want to master soon?
SS: My main materials are glass paints, acrylic, and ink on different surfaces (canvas, panel, wood, metal, and glass) I am working on painting table tops (glass and chrome) and finishing them with an epoxy resin. The tables have turned out to be a really cool project to work on. I recently have been using glass paints layered with gold leaf and mixed with resin to introduce a different perspective on how we view landscapes and natural processes.  
CC: What inspires you?
SS: Human interaction. Forces of nature. The cosmos. Deftones.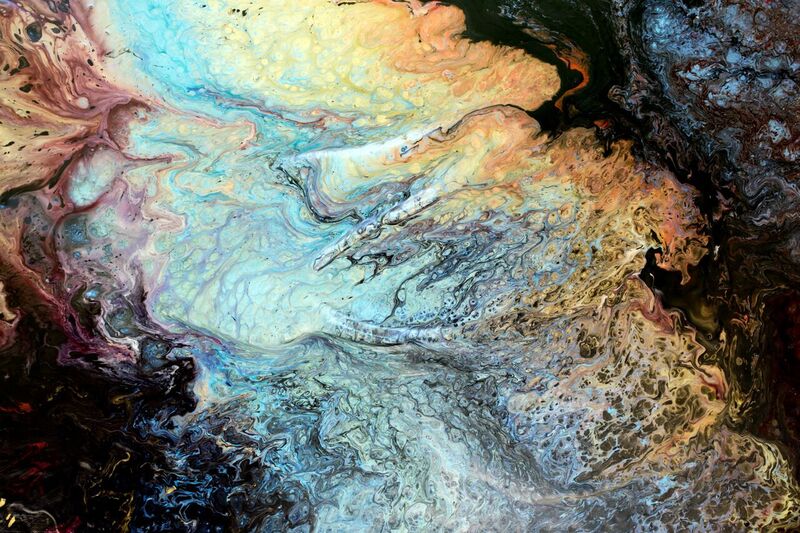 CC: You talk about energy and how it helps you create your pieces. How do you choose your color palettes based on that?
SS: As a painter, I rely on colors to communicate emotion and experience. There are endless color combinations that can be used to convey energy and movement. Colors can awaken corresponding physical sensations and speak directly to your soul. I choose my colors intuitively which sometimes are drawn from nostalgic memories of past experiences. Lately, I have been into vermilion and midnight blues mingling with violets and golds. I frequently use warm and cool colors to express the nature of duality reflected in life.  
CC: How do you promote yourself?
SS: It's important to take the time to talk to everyone you meet; to be genuine and always keep in contact with the connections you make. I want to build relationships with everyone I meet whether it be online or in person. I think successful promotion is about being yourself and letting your soulfulness shine through your work. I use social media such as Instagram and Facebook.
I also have a website which is a great channel for communication and promoting artwork. I recently made hard and soft copy books out of my work. The books are twenty pages of melt-your-face-off psychedelic awesomeness — it's a great way for people to see your portfolio and have a dope coffee table book.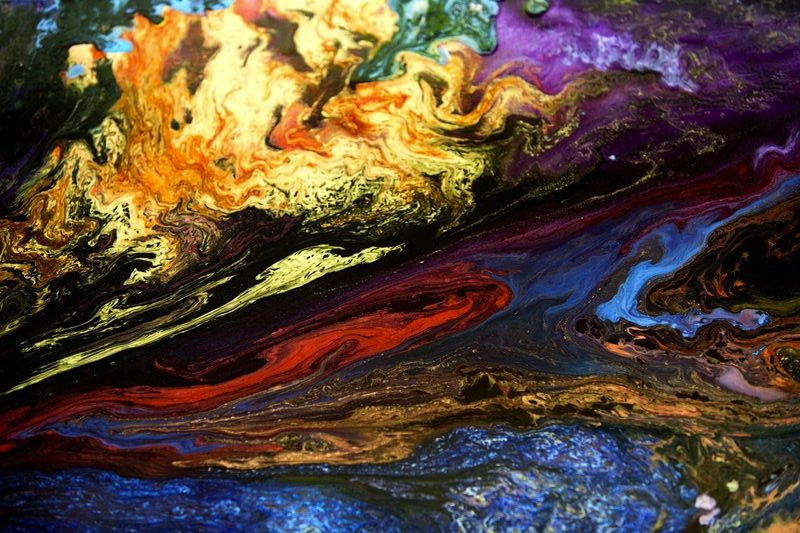 CC: Do you have any dream collaborations with other local artists?
SS: There are so many artists in Atlanta that make incredible work. I absolutely love Julio Mejia's abstract paintings. He is an amazing artist and it would be an honor to collaborate with him.  
CC: What are your thoughts on Atlanta's current creative scene?
SS: I'm so grateful to be involved in Atlanta's arts scene and to have watched it evolve over the years. There are so many opportunities for artists to mingle and show their work. Atlanta has become a hub for the art community to transform and flourish. 
CC: When you're not creating, where can we find you around town?
SS: For many years, East Atlanta Village has been my stomping grounds. Atlanta has such a great art and music scene. I'm always trying to go to different shows. I'm also a huge fan of the Atlanta metal scene. I'm always hoping to see Mastodon around town.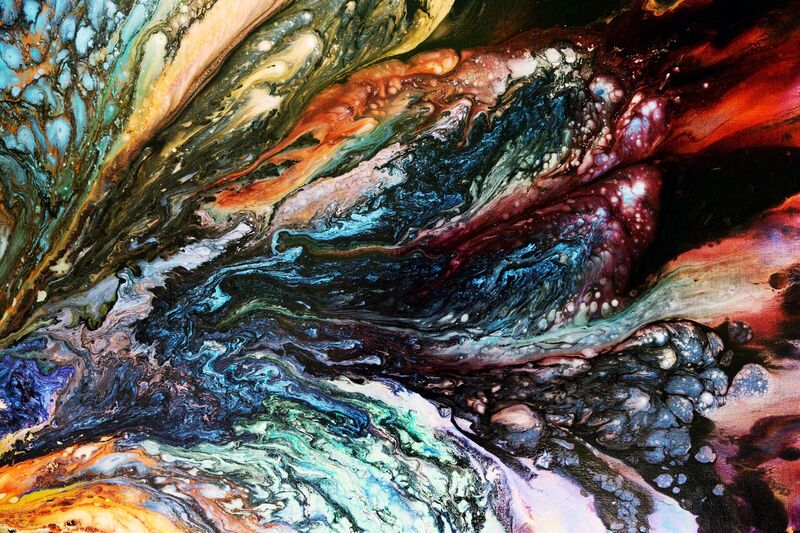 CC: What's next for you?
SS: I currently have a solo show in the works. I'm also working on some indie album covers, as well as the cover for the New South Journal to be released in August 2017.
CC: Why do you make art?
SS: Art has always been there for me. It has been a channel for me to express my most authentic self in my pursuit of happiness. I work through my feelings with my art and emotions are often abstract. I transform those emotions into abstract visualizations. When words fail, my art speaks.
You can find more of Sophia Sabsowitz's work on her site and Instagram.