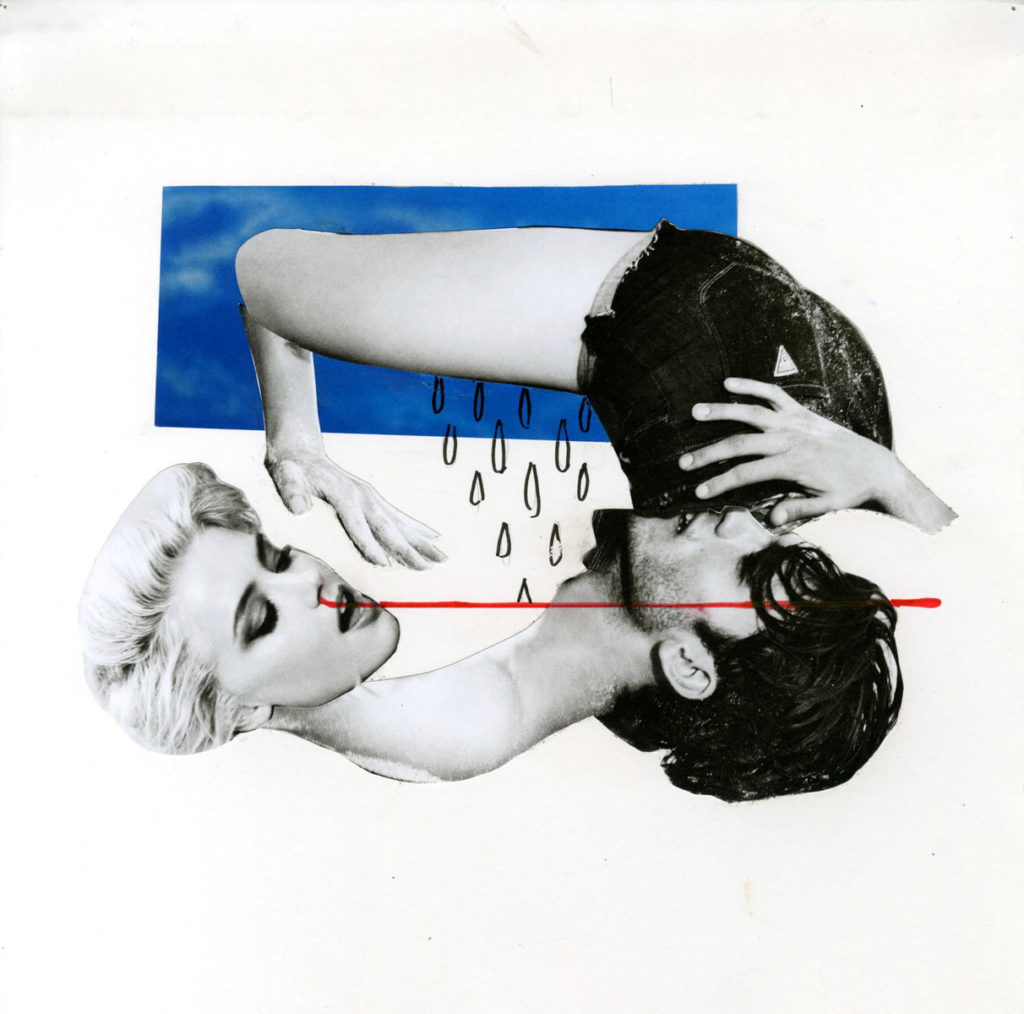 Save for her stint in Athens while attending the University of Georgia, artist Meg Rossetti has been an Atlantan her entire life. She's also been a woman and an artist for just as long, moving through the world with these three truths always pinned to her: artist, woman, Atlantan.
A current Westside dweller, Meg received her painting degree from Lamar Dodd School of Art at UGA. Her personal website features no "About" page or artist's statement, just links to her various pieces of work — mostly paintings and collage, and most featuring women. Not long ago, she created a series of painted portraits from "sexting" selfies other women submitted to her for the project.
"These images have been carefully and consensually rendered to embody the beauty and power that is involved the initial exchange," she states. "These paintings attempt to take control of the secondhand distribution of these snapshots and show women owning their actions unashamedly."
Here, Meg talks to CommonCreativ about digital intimacy, how women inspire her, and her greatest artistic achievements to date. (Note: Some of these images may be NSFW.)
CommonCreativ: What first sparked your interest in art?
Meg Rossetti: I've been drawing ever since I can remember. When I was younger I would always find one thing I was obsessed with and draw it nonstop.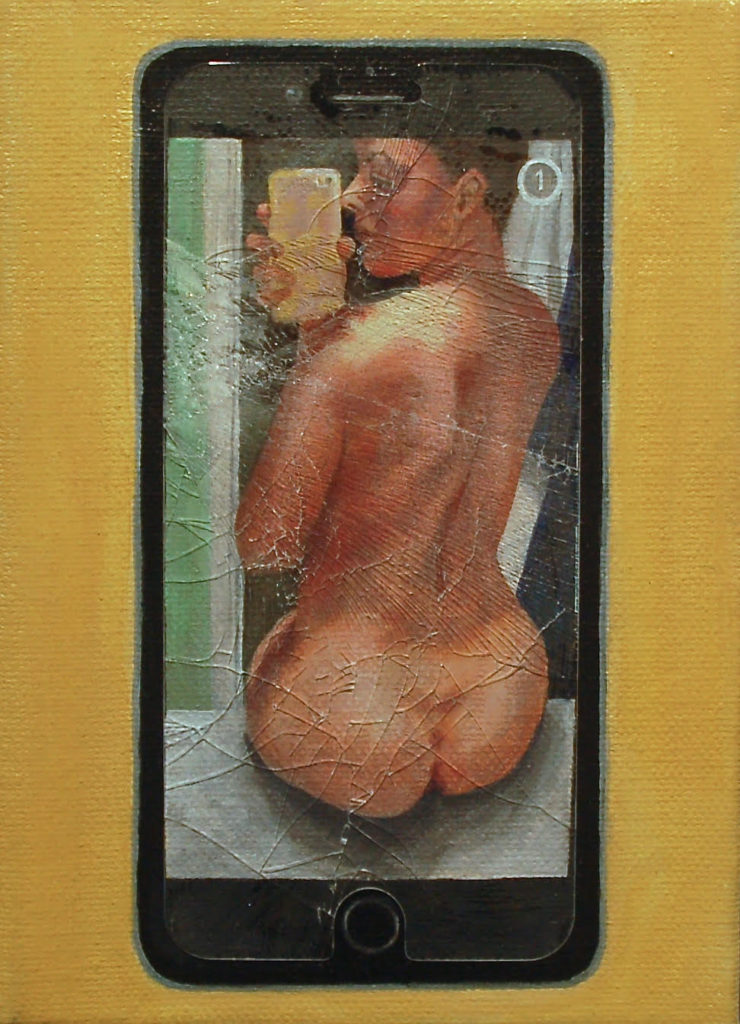 CC: Which medium did you start with, and how did you transition to others?
MR: I first started using acrylic paints in the third grade and quickly fell in love with painting. I began experimenting with mixed media in high school. My art teacher Chris Greenway encouraged us to think outside of the box when it came what materials we could use within our paintings. I was sewing into and putting things like Band-Aids onto my work. Using collage and different types of media [became] an integral part of my process to create art.
CC: How would you describe your artistic style in one sentence?
MR: My paintings are stylistically realistic and traditional with modern-day concepts celebrating women as sexual beings.
CC: What inspired you to do the "sexting" painting series?
MR: I was involved with a guy for about a year who I had exchanged a series [of] photos with. When things went south, I was worried about the possibility of the photos being leaked on the internet, or sent to others without my consent. I was talking to a friend about all of this and joked that I should paint them first to beat him to the punch. She loved the idea, even though I didn't mean it as a serious thing at first. However, the more I thought about it, the more intrigued I was to do the series. I know a lot of people who have been in similar situations with leaked photos or even have been blackmailed. Sexting is a new form of intimacy which is more often than not turned against women. I thought it would be interesting to challenge that and make it something that celebrates women instead of shames them.
CC: You said "By affirming [these types of photos] through the context of a canvas, I hope to take the negative and immoral connotations away from the images. Women have the right to own their bodies and decide who does and doesn't see them. Using these pictures to shame, demean, and even control women will never be appropriate." What are your thoughts on how art can be its own form of resistance?
MR: I think a lot of people think of resistance as a protest, but I think resistance can just be challenging people to look at something differently. One of the biggest critiques I got about the sexting series was the idea of objectification. If I'm just painting these sexual pictures, am I just further objectifying the women in the pictures? I'm trying change the way people perceive women in a sexual context. Painting them allows people to connect with the subject on an emotional level as an individual, not just a sexual object, while empowering the subject at the same time.
CC: The people in your work are almost always women. How do women inspire you?
MR: This is such a hard question to answer, but really shouldn't be. I love being a woman, and badass females have always been inspiring to me. It's hard to put exactly how into words.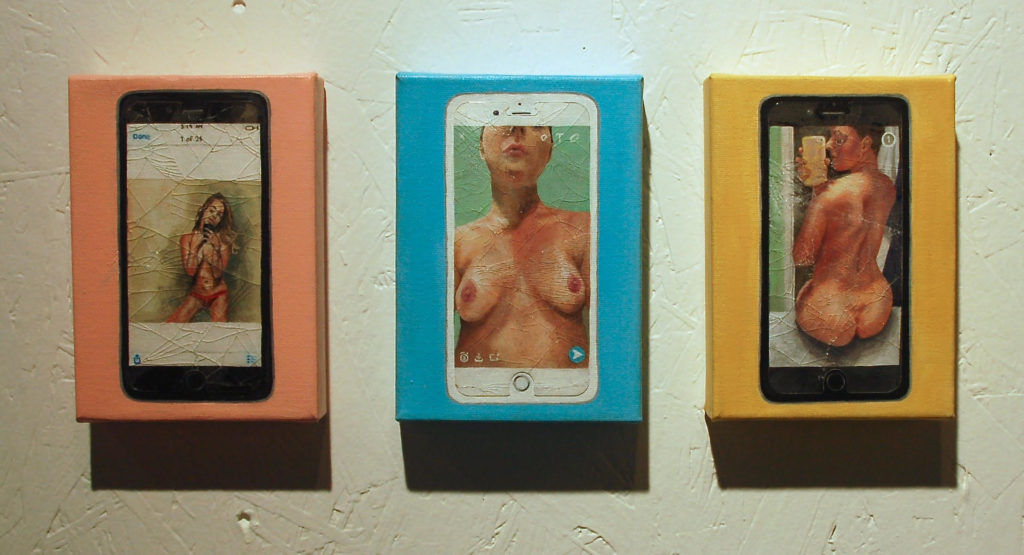 CC: How do you approach collage pieces vs. drawings or paintings?
MR: I used to approach collage with the idea of a painting in mind — they acted as sketches for final paintings. However, the more of them I did, the more they started to stand on their own. The painting portion of the piece became unnecessary, and the collages themselves became the final product. The idea of the sexting series came along and allowed me to simplify my paintings and continue to explore collage separately.
CC: What have been some of your greatest personal achievements as an artist?
MR: So far graduating and receiving my BFA. There were times I didn't think I was cut out to be an artist in college because of things in my personal life that got in the way of creating. So being able to actually complete my exit show and receive my diploma was a truly amazing feeling.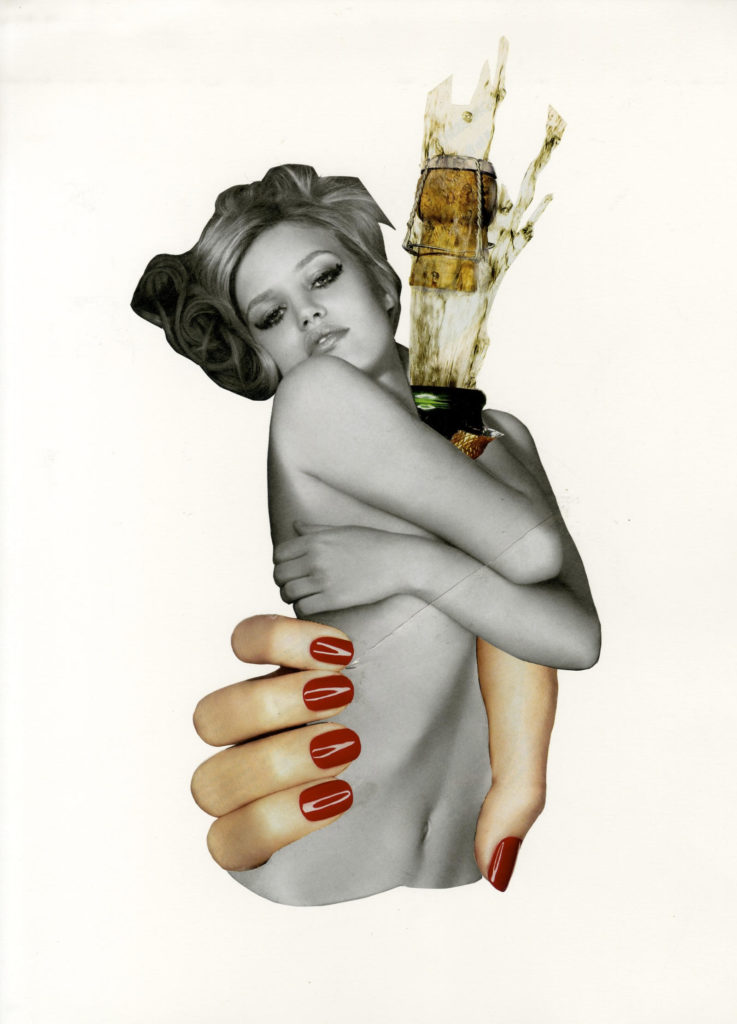 CC: Who are some of your favorite artists?
MR: Some of my favorite contemporary artists are Oda Juane, Jen Mann, Erin Riley, Jeremy Mann, Will Cotton, and Till Rabus. I love looking at Alphonse Mucha and John William Waterhouse's work with the female figure. Hannah Hoch is one of my biggest inspirations for collage. I also enjoy looking at Ashkan Honarvar's collage work.
CC: As an artist, how do you effectively promote yourself?
MR: I'm still trying to figure this one out. Instagram has been the most effective venue for getting my work out there so far. That's where I post my most recent pieces as well as things I'm working on. I also have a website that I'm terrible at updating, but it's a good way to have all of my work in one place. Showing my work around the city has helped as well. My friend Justin Meyers puts together great group shows with local artists that I've loved being a part of. Not only have I gotten the chance to meet other artists in Atlanta, but it's been a great venue to further promote my work as well.
CC: What do you think about the current state of Atlanta's art scene?
MR: When I was younger there wasn't much of an art scene, and it's definitely grown immensely since then. I've really enjoyed watching murals and sculptures pop up around the city. There's always something to see wherever you go now. I do wish there were a few more figurative artists though. I sometimes wonder exactly where my work fits in, if it does at all.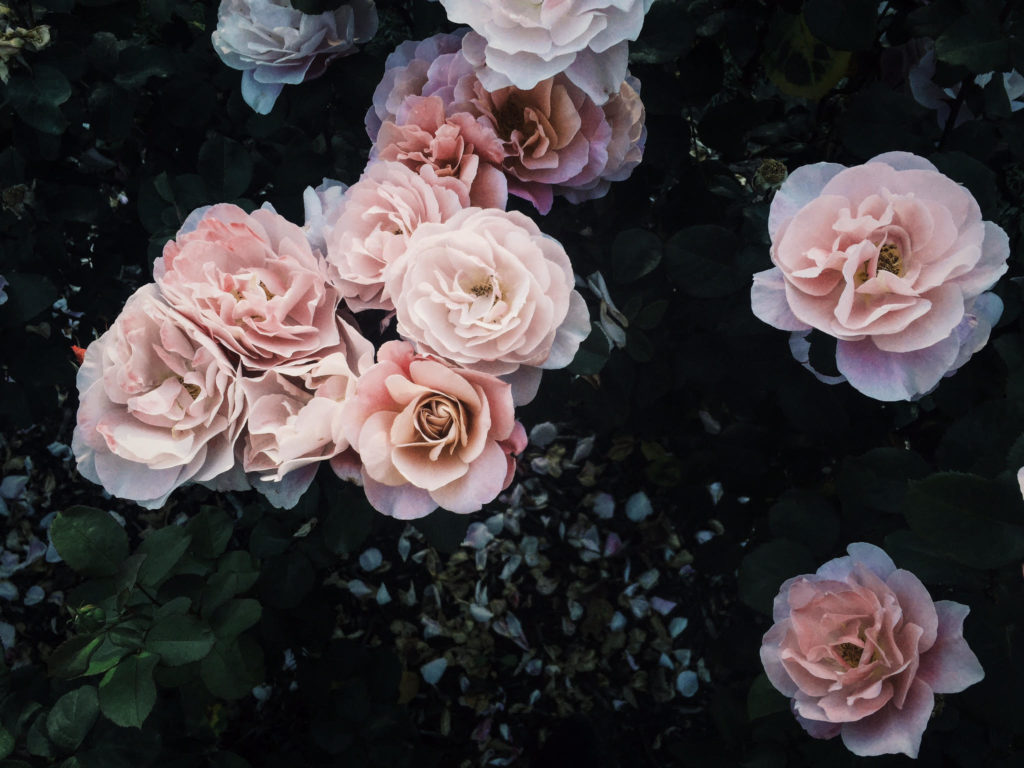 CC: What's next for you?
MR: I'm actually applying to grad school at the beginning of 2018. So right now I'm really focusing on getting my portfolio together and completing paintings for that. I [was also recently] included in a group show in Athens called Nasty Women, at a new art gallery off of Broad Street called the Trio Contemporary. The show is serving as a fundraiser for The Feminist Women's Health Center in Atlanta.
CC: Lastly, why do you make art?
MR: It's what I've always loved to do and I knew I wanted to be an artist from a young age. Making art keeps me sane, and I can't imagine myself doing anything else with my life.
See more of Meg's work on her Instagram or her portfolio site.