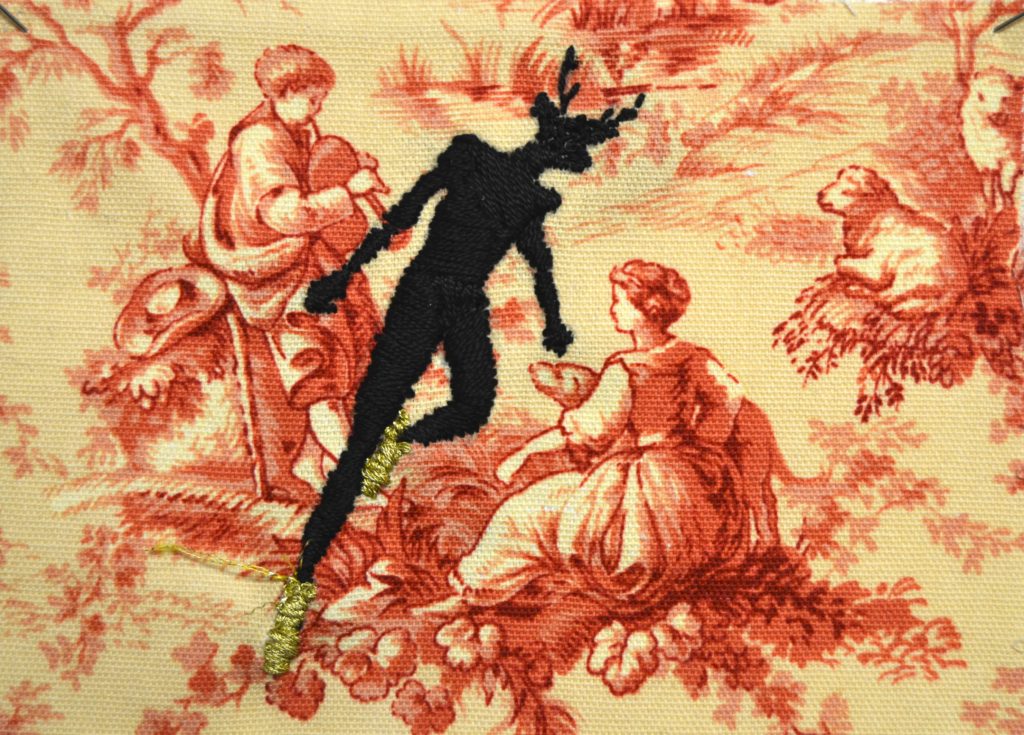 At first glance, Shanequa Gay's pieces resemble Southern landscapes on a regular, hot summer day. But as you take a closer look, you'll spot the two-legged half men, half-deer figures jumping over fences and frolicking with regular deer in their natural habitat. These mythological creatures are part of the artists's FAIR GAME project, a series inspired by the current violence issues in our country, specifically toward black men.
An Atlanta native, the artist uses her work to speak on issues important to her — she believes art can spark change and empathy. "I am a mother of a now doe-eyed 17-year-old son," says Shanequa. "I felt like I needed to speak on these issues through my work, from my perspective, from my point of view as a melanin mother, daughter, sister, and friend of melanin men. That I see, that I know, and that I have empathy."
The SCAD graduate's work has been displayed around the country, in spaces including the Atlanta Contemporary Center, Emory University, the Chattanooga African American Museum, and more. Samuel Jackson (yes, that one) even has one of her pieces in his private collection, and she was chosen as the illustrator for the 2013 First Lady's Luncheon hostess gift. All attendees, including former First Lady Michelle Obama, received a piece of her work.
Here, Shanequa talks more about using mythology to address race issues in her art, using word of mouth and networking to promote herself, and connecting with other artists at this year's Forward Warrior.
CommonCreativ: You're an Atlanta native — what keeps you here and draws you to the city?
Shanequa Gay: I love where I am from. I love everything about being a Southern ATLien. What keeps me here is family, familiarity, convenience, and affordability — which are also the exact reasons I am looking to leave. I will always be a Georgia peach wherever I go, but I do intend to experience a lived world outside of the best state on earth.
CC: Many of your paintings show the South and life as a black woman. What's your experience so far as an artist in the South?
SG: I've had up and down experiences like any other artist. However, I would be [remiss] if I didn't say that I'm aware that I get opportunities because I'm a woman of color (WOC), and I'm also aware that I may not be considered because I'm a woman of color, but I focus very little effort there. I received the coolest opportunity ever to create illustrations for First Lady Michelle Obama's Luncheon back in 2013, I was chosen because I am a black female artist from Georgia… I mean, it really doesn't get any better than that. I have had the most amazing support from fellow artists like Peter Ferrari, galleries like Anne O Art, nonprofits like Lumen, organizations like The Creatives Project and WonderRoot, and local great resources like Burnaway have given me several opportunities.
CC: Your ongoing series, The FAIR GAME Project, tackles the subject of violence and injustice in America. What inspired it?
SG: I started The FAIR GAME Project about 6 or 7 years ago now. It was developed from a dream state where I saw men running in the woods shape-shifting between deer and men while being chased. Initially, it was my way of responding to all the violence that was going on in our nation, most specifically toward black men.
I am creating my own narratives and macrocosms pulling from media, poetry, folklore, African and Greek mythologies, and using wood panel, oil, acrylic and flashe vinyl paint to relay my MO. We all have a platform to advocate for issues we are most passionate about — I choose to use my artwork.
CC: The use of animals, specifically game animals, in your work to illustrate violence is poignant. What discussions do you hope to spark?
SG: What's so great about mythology is the way it collapses hierarchies by creating hybrid forms of animal and man to enforce morality, but also create these dualities of fear and intrigue, beast and god. The hope is to expostulate with the viewer concerning the evils of senseless violence against any being. Rollo May's "A Cry for Myth" talks about how American culture creates heroes out of the bad guy, how we praise senseless violence in movies and television. We are seeing that same asinine mindset being reenacted in real life. We are a blood-thirsty culture.
The discussion should be, why and how do we turn away from this barbarism? How is it that in Iceland police officers and a whole community can mourn over the first person ever killed by police since 1944, but here in the U.S., we are at 498 persons killed by our officers, and it is commonplace? The same can be said about the homicides in Chicago and Los Angeles. We feel sad for 3 seconds and keep scrolling. We are being desensitized and lulled to sleep. The human body is the new hunting game. I think it's a hella relevant body of work, but I am [biased] or whatever.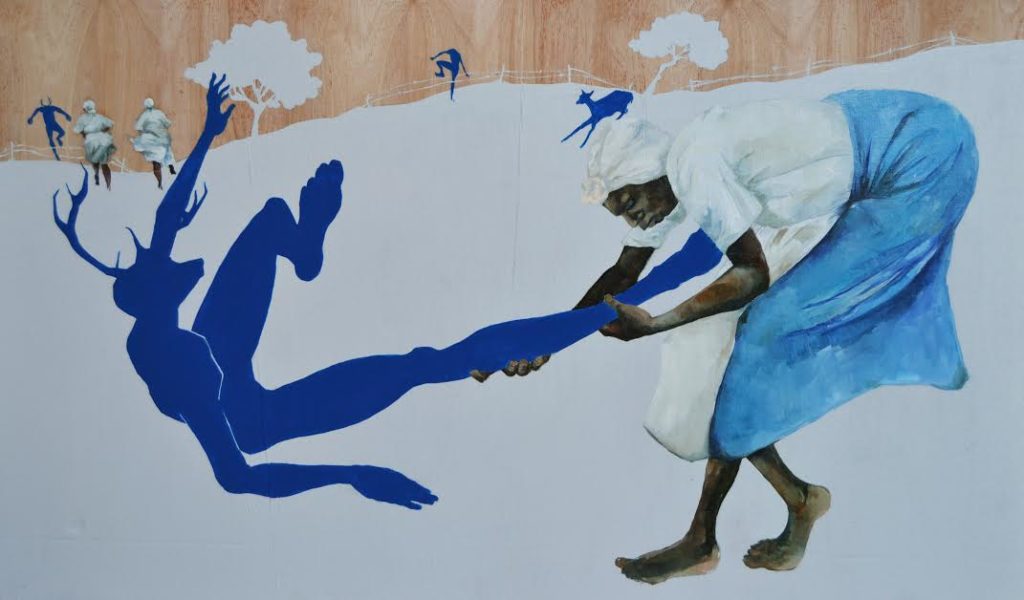 CC: Why is it important to use art to the spotlight issues like injustice in America?
SG: Because art is the game changer and the culture shifter, period. Visual imagery impacts in the most dynamic ways. In large, we all bought into the Obama campaign because of Shepard Fairey's logo. I mean, it looked hopeful as hell. Artists are using painting, video, performance, publishing, design, music, murals, clothing, architecture, VR gear, 3-D printing, websites — so many various mediums to approach and talk about the injustices happening in this 21st-centuryy world.
I mean, have you seen the new Jay Z video? That's a culture changer in its simplest form. I don't believe you have to confuscate people to get your point across, speaking in cryptic art lingo and conceptions. Art can, does, and will remain the catalyst for change.
CC: You just finished up Forward Warrior 2017 — how was that experience for you?
SG: Yes! I am so very very excited and so grateful to be apart of the artist community. I was just pretty much [prepared] to do me. I had some volunteers, which is wonderful and welcomed. I was among fellow artsy friends and new creative folks, talking about styles, collabs and how dope we all are, because that's what artists do best.
CC: What inspires you?
SG: Everything. My son, I love poetry, writing (I do a lot of writing before I create, I am an obsessive note taker), reading books, music, observing people, overhearing conversations, discussions with friends, all things NPR, children (because they are untainted, carefree and always tell the truth), when I am growing in love (not falling — there's a difference), travel, documentaries, and Thai food.
CC: How do you promote yourself?
SG: When I first began, mentorship was my way of self-promotion. My mentor introduced me to a lot of major, amazing artists and collectors here in Atlanta. He taught me do's, don'ts, and networking. Because social media is such a saturated marketplace for artists, I've found word of mouth from the right people to be a necessary old-school resource.
Fellow artists, collectors, and friends have all been the foundation to get my work seen and before the public — SEO helps, too. I'm a quality over quantity person; quality people outweigh 100 thousand umpteen followers every time. Don't get me wrong: Social media is an amazing platform, and big ups to artists who work it well. But for those who are purchasing followers with limited results, what's the use of a bunch of likes and followers if they are not buying, supporting, or providing opportunities?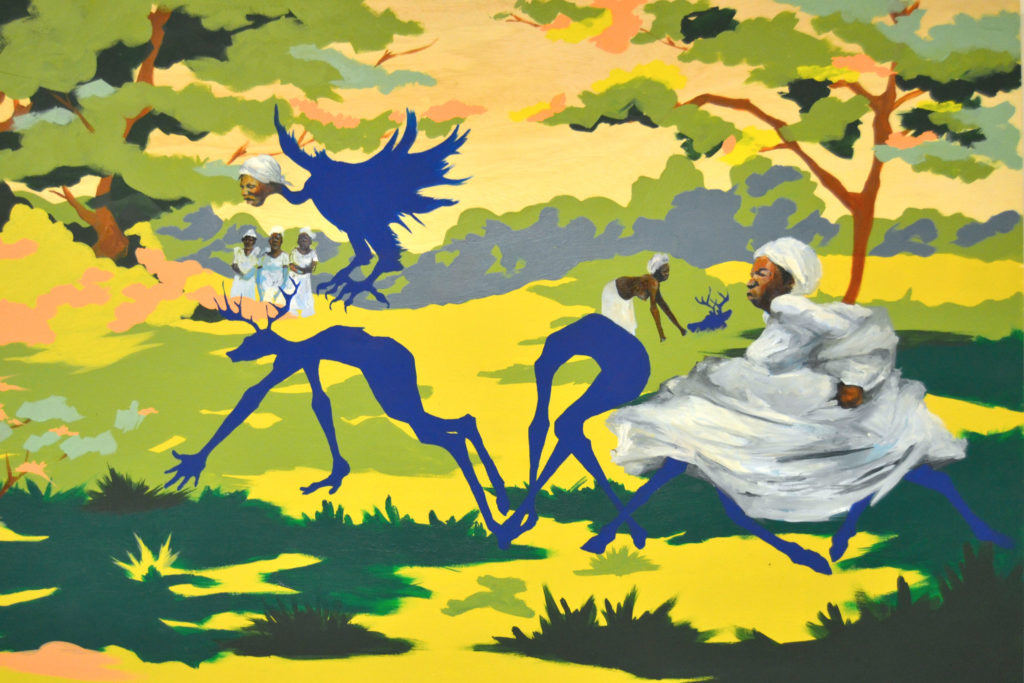 CC: Do you have any dream collaborations with other local artists?
SG: My dream collaboration is to do a group show with Grace Kisa, Lillian Blades, Jerushia Graham, Jessica Scott Felder, and Linda Lima. I really admire those women. I love their power, creativity, and versatility in mediums.
CC: What do you think about Atlanta's current arts scene? 
SG: I would like to see more local women of hue be placed in the center of creativity here in Atlanta. I see organizations, museums, and galleries looking outside of the state to bring in WOC to exhibit in the state, but there is badassery already here.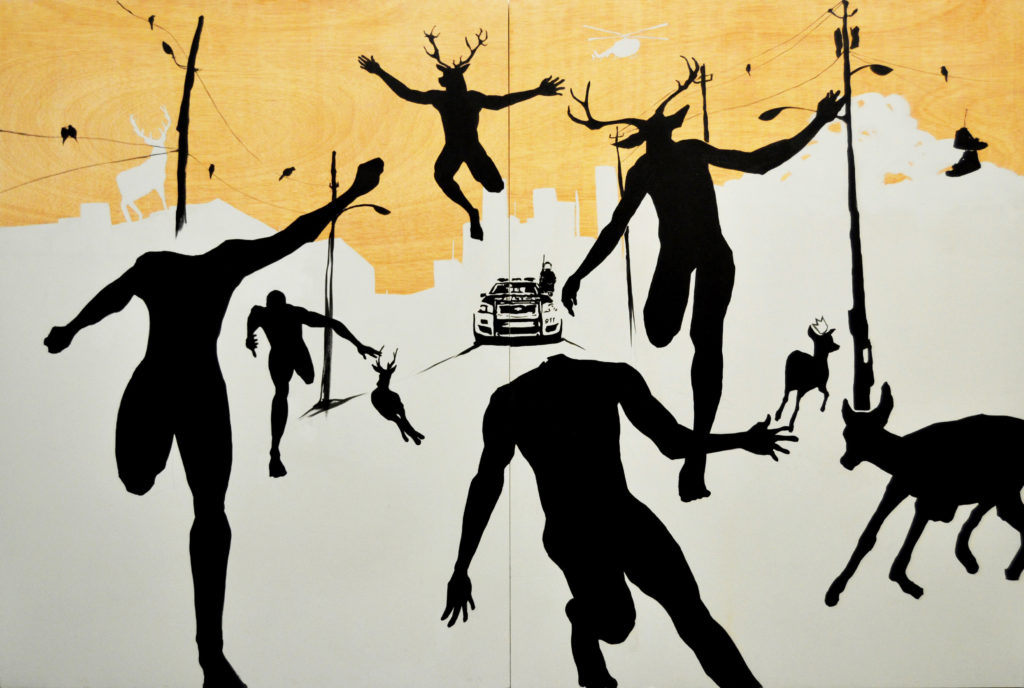 CC: What's next for you?
SG: I'm preparing artwork this summer for an exhibit at Augusta University in 2018. I'm collaborating with the curator at the University, Shannon Morris, and my long time friend Elizabeth Rassmussen. I will also be a part of an upcoming exhibit at Notch8 Gallery in August and heading to South Africa as an artist-in-residence in a couple of weeks.
CC: Why do you make art?
SG: At this point, it's probably some form of compulsion. I make art out of necessity, because it's habitual, possibly an addiction of some sort, traditional, a form of prayer. It is cathartic and helps quiet the storms in me. I am a maker and a messenger. Creativity is the best way to relay how we all feel — it expresses visually what we cannot say with words. It is a universal language I've been speaking for so very long. I am quadrilingual — I speak in English, black-speak, creativity, and hip-hop lyrics.
You can check out more of Shanequa's work on her site and Instagram.