The effect of Atlanta painter, weaver and garment maker Hannah Ehrlich's work is something many artists spend lifetimes trying to achieve: stopping the viewer in their tracks and inciting an audible "wow." Her large-scales woven tapestries, in particular, aren't the typical wall hangings you see on Etsy or Pinterest — her work is richly colorful, layered, intricate and evocative. 
Ehrlich is an Atlanta native who returned to Atlanta earlier this year after graduating from the University of Georgia in May. She attended the Lamar Dodd School of Art at UGA, studying textile and fiber art, and now dwells in West Midtown.
CommonCreativ chatted with the artist about deciding to pursue art as a serious endeavor, the artistic achievement still on her bucket list and "the time warp of art making."
CommonCreativ: What first sparked your interest in art?
Hannah Ehrlich: Honestly, I don't remember ever not being interested in art. When I was growing up, I would disappear for hours to draw. Because I obviously loved art so much, I began my formal training when I was 11, mostly in drawing and oil painting.
CC: What initially drew you to fibers and textiles?
HE: After years of studying painting, I wanted to try my hand at something new. I realized I was drawn to the symbiotic relationship between color, depth, and tactility of fabric, and the endless possibilities I discover when I'm weaving.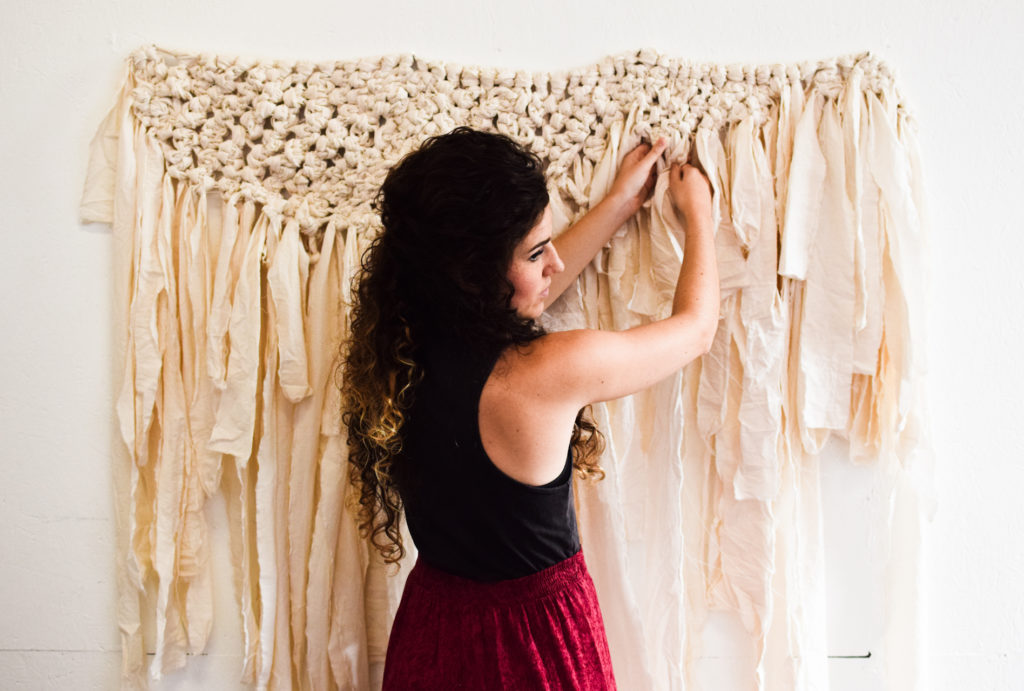 CC: What helped you decide to pursue art as a serious endeavor?
HE: I decided to pursue art because there is nothing I do in my life where I feel so connected to the world and where I feel so content. I lose track of time when I'm creating art, like nothing else. Ever since taking my first art class, I knew I wanted to pursue art seriously and live a life lost in the time warp of art making.   
CC: How would you describe your artistic style in one sentence?
HE: My work explores the idea of abstracted landscapes and how they can portray in a stochastic manner human emotional processes in hopes of speaking to an unrevealed layer of our being.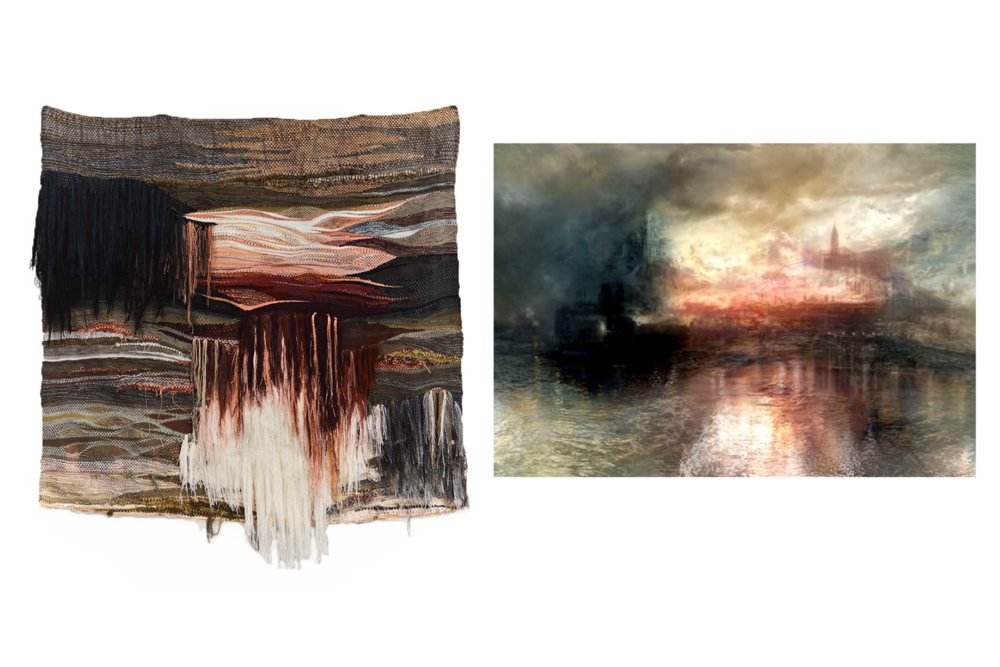 CC: I love the "Inspirations" part on your website where you show your work next to scenes that inspired them. From where do you most often draw inspiration?
HE: I've always been drawn to the idea that nature can exist without human effort, and I find it to be an infinite source of artistic inspiration. I'm especially inspired by the depth and light, literal and figurative, that is captured in photographs of landscapes and landscape paintings.
CC: Do you approach working with different mediums in different ways? How do you choose which medium to work with?
HE: When I switched from studying painting to textile/fiber art, I was surprised to find that when I weave I feel like I'm painting. I choose either based on inspiration and opportunity and find that my approach from idea to execution is very similar.
CC: What have been some of your greatest personal achievements as an artist?
HE: During my senior thesis show last April, I had a book for guests to write impressions or messages. One person who had never cared about art wrote that my piece changed his mind and had a tangible impact on him. Reading his comment was an affirmation for me that my art has meaning and value. This greatly humbled me and gave me a renewed focus for future projects.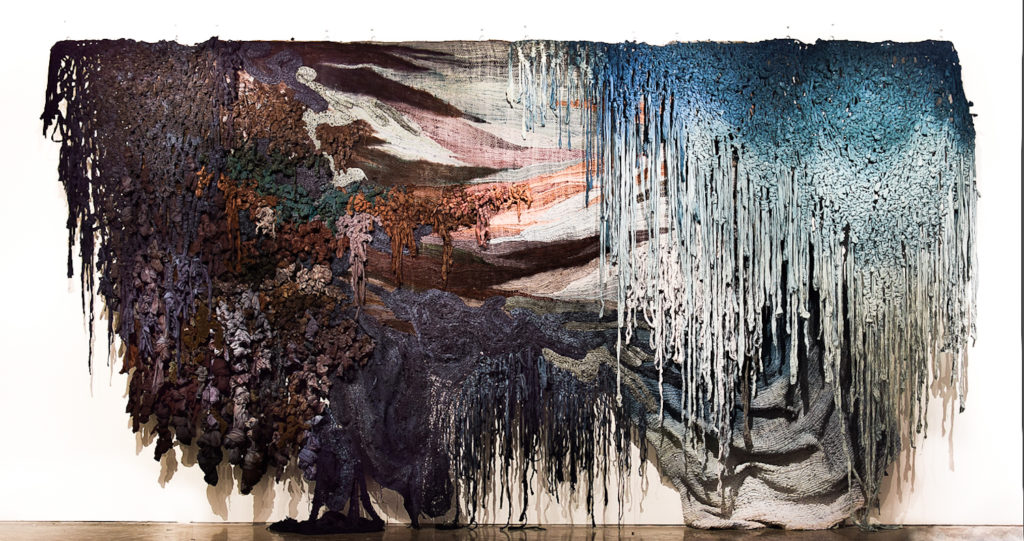 CC: What's one artistic achievement still on your bucket list?
HE: At some point, I would love to collaborate with the City of Atlanta on a project that celebrates Atlanta as the city grows and finds a new identity.
CC: Who are some of your favorite artists?
HE: Zipporah Thompson and Courtney J. Garrett. Both are Atlanta-based artists and greatly inspire my work. They are also amazing humans who have influenced me both artistically and personally.  
CC: As an artist, how do you effectively promote yourself?
HE: I frequently use Instagram, my website, art show submissions and attending events where there's the opportunity to meet people and make connections. My preferred method is through personal connections and relationships. It is especially important to me when I'm creating an art piece for a person that they play a part in the inspiration of the creation process.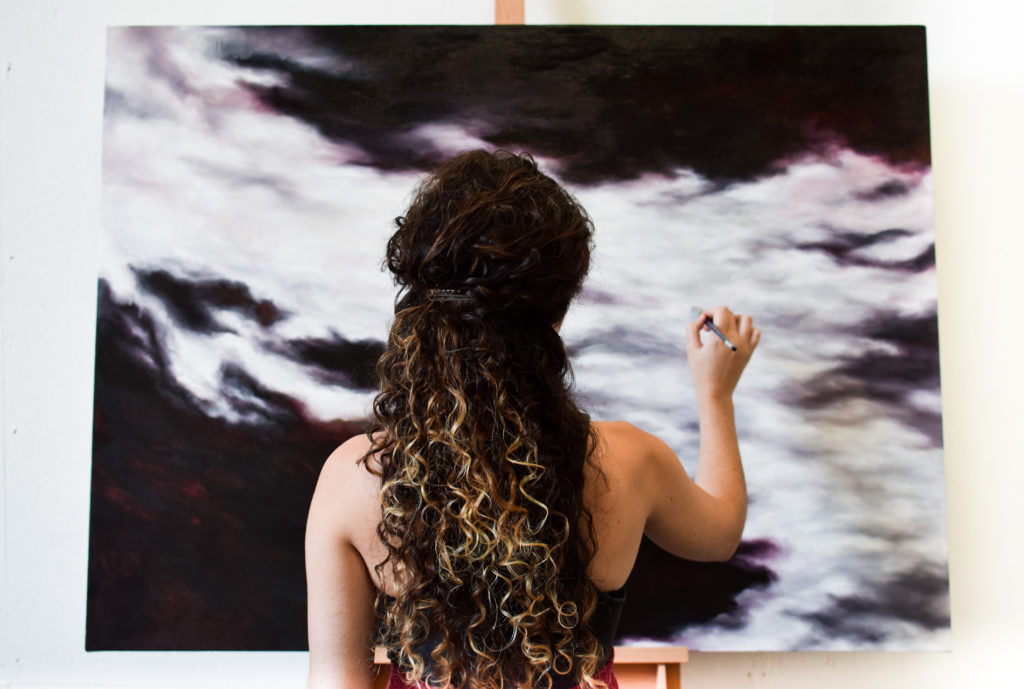 CC: What's next for you?
HE: I have a few collaborations planned with some other artists, and I'm building a frame loom for my studio at the Goat Farm. I'll be working on large-scale tapestries soon, beweave it or not.
CC: Lastly, why do you make art?
HE: Whenever I encounter someone who has been touched by my art, I'm reminded that artists have a great responsibility. Because of the potential for influence, I desire to create thought-provoking pieces that cause people to think beyond themselves and to ponder a greater meaning. Making art allows me to communicate to others my heart, soul, and mind.
See more of Ehrlich's work on her website and Instagram.