Rebecca Scott's work transports you into a world of whimsical creatures, quirky foods, and inspirational feminists. Her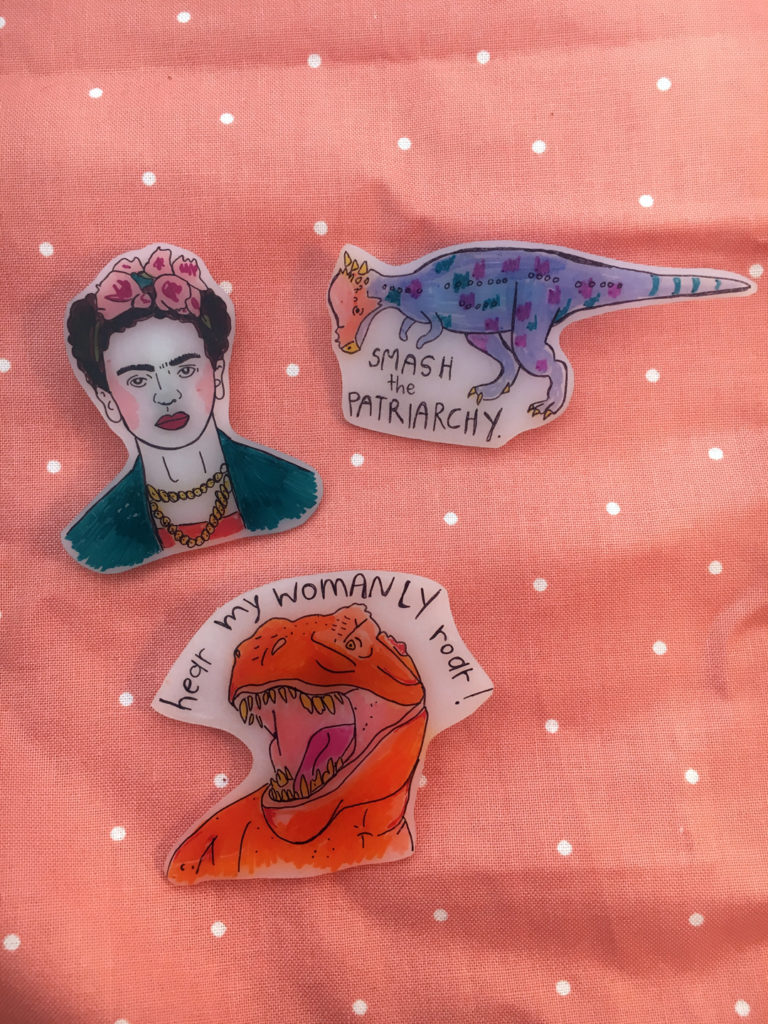 quirky style perfectly represents her not only as an artist but also as a human, melding her seemingly unrelated interests, namely dinosaurs and sushi, with her views on social justice, under the umbrella of her brand, Paper Bones.
You might have seen her vibrant jewelry and custom pet portraits at craft festivals around Atlanta. She primarily uses paint pens and matte plastic to create her accessories, but has also experimented with felt, embroidery, watercolor and acrylic paints, and ceramics. Every product is handcrafted, so each piece is completely original.
Here, she talks to CommonCreativ about finding inspiration in books, featuring her work at Dragon Con, and empowering people.
CommonCreativ: What is Paper Bones?
Rebecca Scott: Paper Bones is a one-woman art business that I started while I was still in college. It's a magical little micro-universe full of creatures and puppies! What I mainly produce these days are custom pet portraits, little watercolor monsters, and hand-painted pins. The pins feature all kinds of stuff — dinosaurs, pop culture references. But my work usually always comes back to creatures, any kind!
CC: What is your artistic background?
RS: I was self-taught for a very long time. I got most of my knowledge from art and inspiration books that I read. I had the most supportive parents. They loved all of my crazy ideas. When I enrolled at Georgia State University, I quickly switched my major from creative writing to printmaking where I made books and printed copper plates covered in monsters. I think what I learned in those printmaking classes has really stuck with me, and their influence continues to show in the work I make today.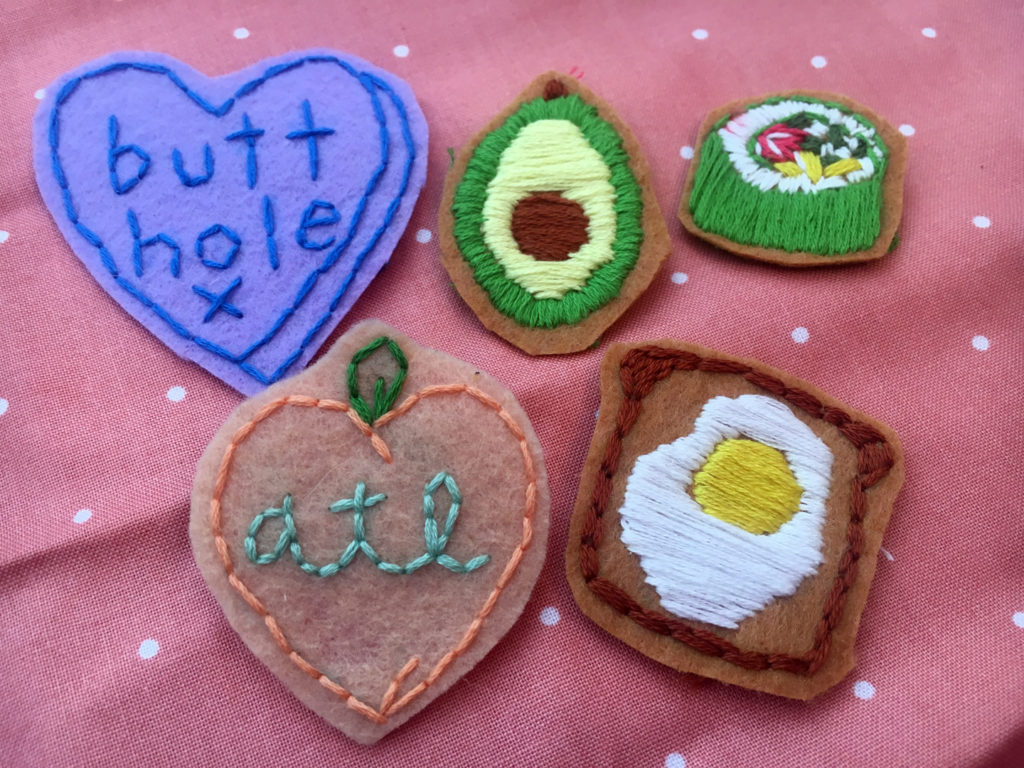 CC: What is your creative process?
RS: A lot of my days consist of admin work—updating the website, making pins, and applying to festivals, for example. When that burst of creative energy hits me, though, I drop everything and do whatever it is that has popped in my mind. It usually starts with sketching and working out how I can bring that creation to life.
CC: What inspires you?
RS: I think my biggest inspiration has always been books. I've always been so intrigued by the worlds that live in books. [I love] the way you can sit for hours in one place, yet go anywhere. That idea has always stuck with me, and I've tried to carry it into my work. I want people to feel like they are getting a glimpse into a world they may not have known before. I'm also really inspired by animals. Painting pet portraits is a newer aspect of the business, but I've really taken to it. I love getting to know people's sweet pets and being able to paint my interpretation of them. The best way I can think to describe the portraits is as a bright and colorful realistic cartoon of a beautiful pet!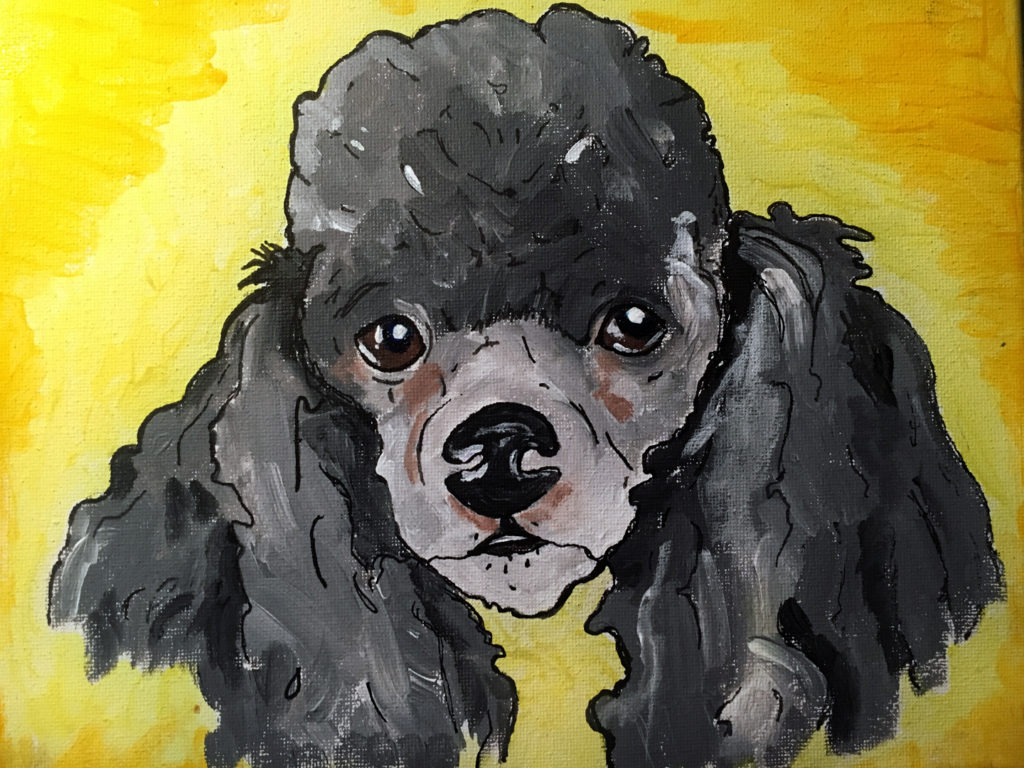 CC: A big chunk of your subject matter has to do with feminism. What do you try to communicate with those pieces?
RS: I always strive to create things that make people feel happy and empowered. The art that I make speaks to my personal experiences, but of course, I am always hoping to reach all kinds of people. As a child and teenager, I experienced being bullied and developed a deep depression because of it. I never quite felt good enough. While it's not my everyday life anymore, it can be very hard to leave all of that in the past. Making art was a big part of how I got out of a dark place. I want my art to be a silver lining in people's bad days so I can make them happy and smile. I want the girl who feels left out and alone to realize she is good enough and powerful and strong.
I know my pins and paintings won't fix the world, but if I can empower one person for even a second, I think I've done my job. Social justice is on my mind quite often, and I'm always trying to find new ways to approach it. I have so many feelings on this topic!
CC: You recently sold some wares at Dragon Con. What drew you to this event?
RS: This is only my second year being a vendor — I am so lucky they took a chance on me. I learned a ton last year, and [I hoped] to have an even better time this go-around. It's a really incredible weekend (four days!) of very passionate and unique people getting together to celebrate all the things they love. It's so much fun! I'm hoping it's something I get to do every year. I think there's something about my style that goes very well with that scene. I think my little monsters and characters are bright and fun and eye-catching, and speak to people without being directly attached to any genre.
CC: What do you do when you're not making art?
RS: I read a lot, and I'm also a runner. I'm usually outside when I'm not working, doing something with my little sidekick Doris, my 8-year-old rat terrier.
CC: What do you think of Atlanta, namely its art scene?
RS: I grew up in Tucker. I've lived in the city of Atlanta for a long time, and it has changed a lot. It's a good time to be an artist here — there are so many wonderful festivals and shows to do. The gallery scene is hard to break into, just like in any city, but there are so many other ways to get out there to sell and make friends! Another really amazing thing about our city is all the incredible street art and murals that are constantly popping up. It makes Atlanta even more beautiful in my opinion.
CC: Who are some of your favorite Atlanta artists?
RS: Some of my very favorite artists are also my friends! I think because I get to see their process and how they create things, I love them even more. My best friend Cori James is an incredible artist and my constant inspiration. Her drawings and tattoos continue to evolve in a really beautiful way.
I also really admire RYSHU (Ryan Shuckhart), who's a wonderful artist and friend. I am constantly impressed by how detailed and focused his paintings are. There are so many amazing local artists, and it makes me proud to be working in this city.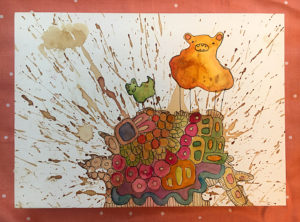 CC: What's next for Paper Bones?
RS: I've been focusing on finding the festivals that work best for me. Right now, I'm gearing up for fall shows and am really trying to figure out how to get my pet paintings out there. I want to keep building on what I've got, and I would really love one day to have a studio space somewhere (besides my house) to work out of. Other than that, I want to keep creating and making people happy.
You can see more of Rebecca Scott's work on her Etsy shop or on Instagram.