Gazing into the abyss, an act traditionally reserved for melancholic contemplation, is transformed into a slow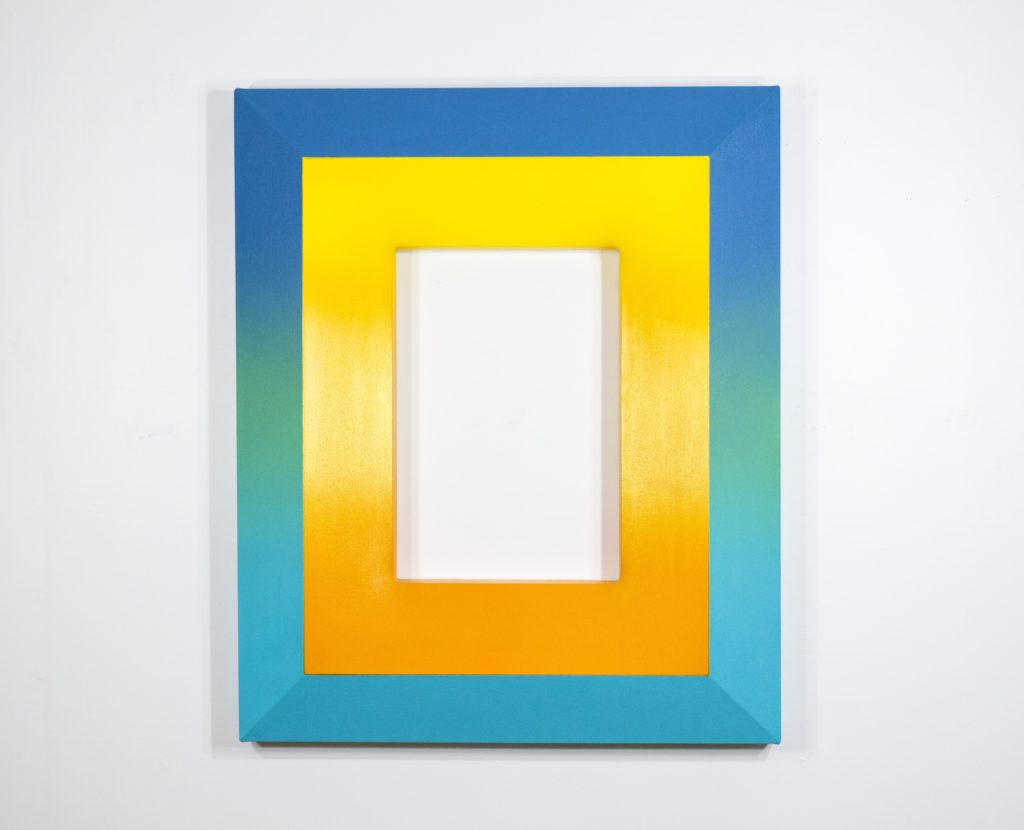 dance along the ridge of a rainbow by Decatur-based artist Tim Kent. He's an expert in the idea that opposites attract, his innovative work merging wild vibrancy with structural precision for a visual experience that wanders beyond the expected surface.
Tim's love of art blossomed in the no-bake clay aisle of a Hobby Lobby around the age of 7. The revelation that an artist is supreme master of his creation swiftly followed, which inspired an undeniable urge to test limits and bend expectations. Today, his series of 'void' canvases, hand-built by Tim himself, is an ever-evolving exploration of these early motivations. Each work is an elegant study in push and pull — altogether harmonious and sophisticated — and a wink to a child who couldn't wait to (politely) upend the norm.
With the bolstering of a BFA from SCAD, Tim continues to develop his voice in this realm of the unexpected edge. His pieces have graced the walls of galleries big and small from Atlanta, Georgia to Manhattan, New York, appeared in numerous group shows across the Southeast, and formed the 13-foot shaped canvas culmination of his 2017 Alumni Atelier artist residency.
Here, Tim shares more about his unique process, how Instagram has become his modern equivalent to visiting a museum, and how art is and remains a source of liberation for him.
CommonCreativ: What brought you to Atlanta, and what keeps you here?
Tim Kent: Atlanta has always been a sort of home away from home. I grew up in Kansas but I was born in Atlanta, so I have a lot of childhood memories here. My family would also visit during the holidays and summer because my grandparents lived here. I had a good feeling about Atlanta after I graduated from SCAD; I was very fortunate to have my parents' and grandparents' support, which helped me get established with a woodshop and studio.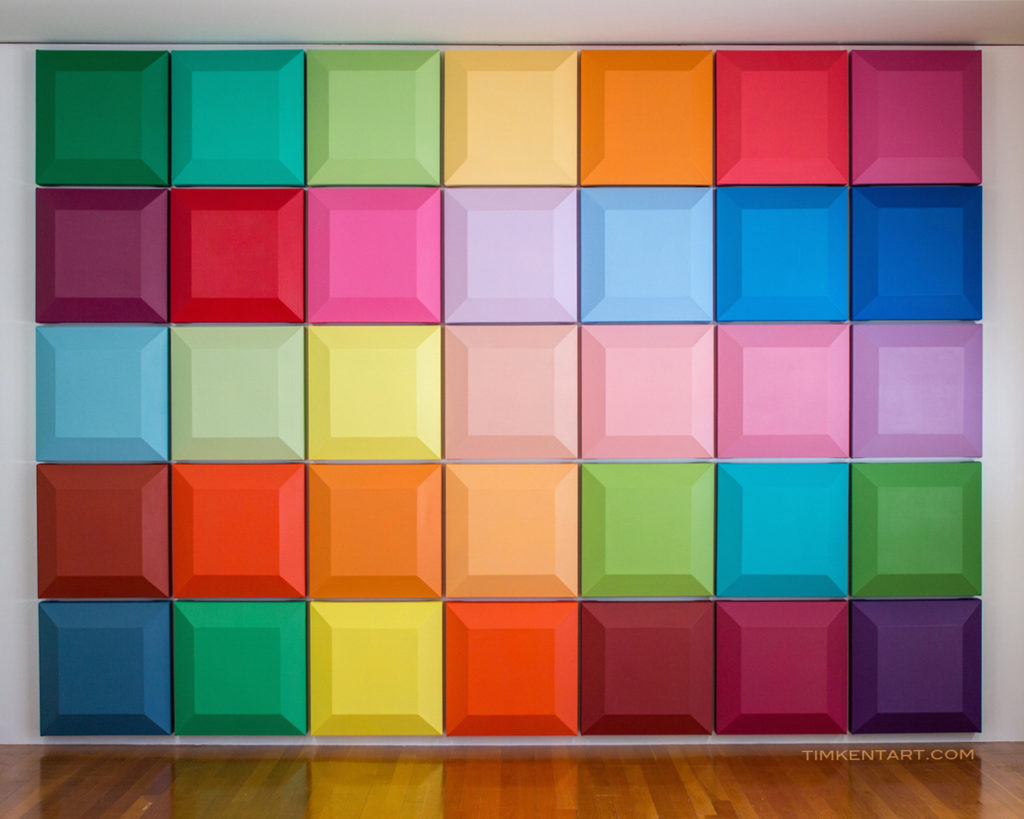 CC: Have you always been an artist?
TK: It's hard to pinpoint exactly when any artist crosses the bridge from art enthusiast to artist, but I've been interested in art since a very young age. When I was in second grade, my older brother came home from school with this clay gargoyle sculpture he made in art class and it filled me with childish younger-brother envy. All my young-self knew was my brother had this thing that I couldn't make for a really long time. Then one day I was in Hobby Lobby and found clay that could be baked without a kiln. I went crazy making all kinds of sculptures, they were all over the house.
That experience taught me that just because school was set up a certain way didn't mean I had to waste years of my life waiting to do what I wanted. In a broader sense, I realized that just because "that's the way things are" doesn't mean that's the way things have to be. Art has continued to be that source of liberation for me ever since.
CC: Where do you find inspiration?
TK: The shaped canvas series is almost self-sustaining because each shaped canvas I make asks more questions than it answers. Once I learn how to build the certain structure I was going for, I'm left with several "what if" possibilities. Namely, if I change up this part of the process, what effect will it have on the finished piece? There's never a null in the series because there are always questions to be answered.
Instagram has also been a big one lately. I say I'm not addicted, but I'm constantly browsing. To me, it has become the contemporary practice of going to a museum to get inspiration. The benefit with Instagram is not, only do you get to discover what thousands of artists and peers are doing, but there's also analytical data that manifests what is truly resonating with viewers.
Lastly, my brother; my biggest critic. John is a visual effects artist out in Los Angeles and I like to bounce ideas off of him because he often offers poignant suggestions that I wouldn't see otherwise. It's rare to get his stamp of approval, but he has watched my work evolve since I was in grade school, so he probably knows my work better than anyone. When I do catch his eye, I know I'm going in the right direction.
CC: Color is so intrinsic to your work. How do you land on color combinations?
TK: Color is interesting because it's one of those formal elements that the audience doesn't really need a complex understanding of to know they like the way an artwork looks, any more than they need an understanding of music theory to know they like the way a song sounds. The spectrum is a very powerful tool because it unlocks an abstract world and speaks to a wide variety of audiences that might otherwise be missed. I've had kids come up to me in a gallery and tell me their favorite piece, simply based on the color palette. That's really important to me because I know the impact that being surrounded by art at an early age had on me.
My key is to document anything I see that strikes me — I can find out why I like it later. This is especially true when it comes to my color choices. Whether I'm in nature or in my studio, I try to take a picture and jot down a few notes. I've gotten inspiration anywhere from ads I saw in a fast food restaurant, to the trash in my own studio. I examine everything I use to create — my spray booth, easel, mixing sticks, paint cups. Eventually, those colors start to have conversations with each other that inform a new direction. Once I have enough examples, I can start to find patterns in colors, figure out why they are effective, and tweak those formulas to make them my own.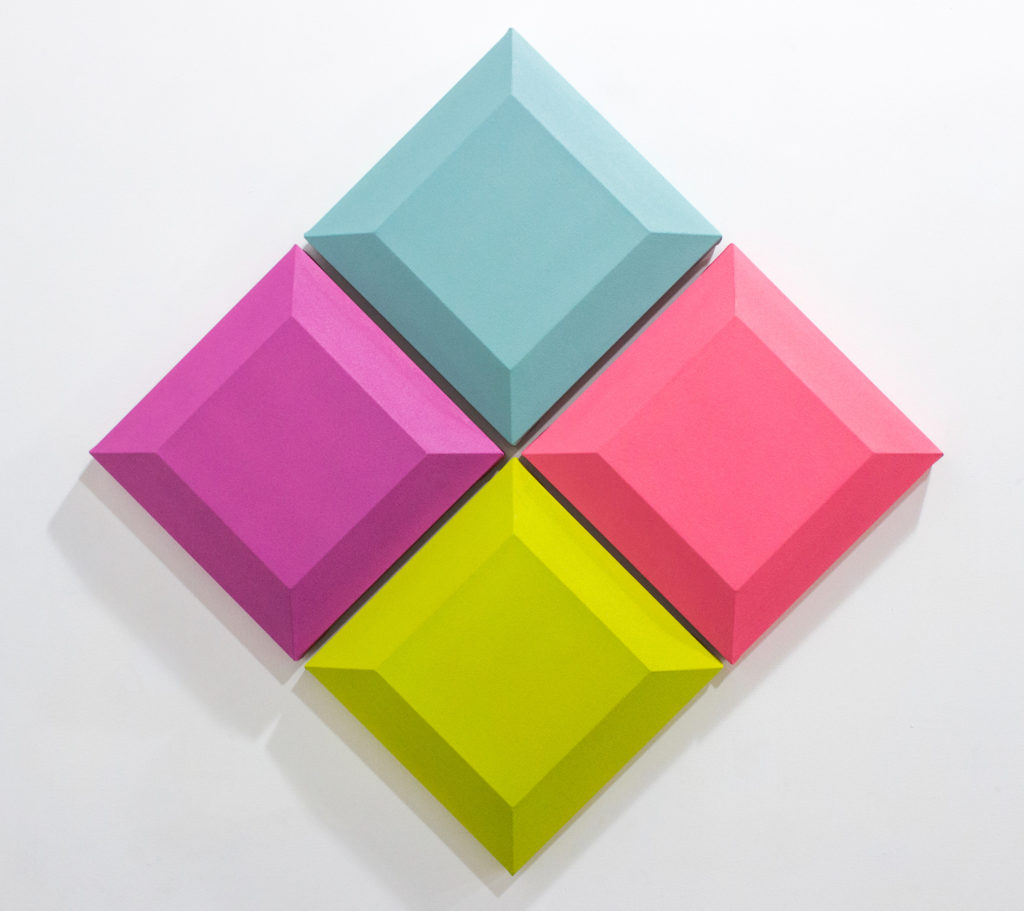 CC: In what ways does your work reflect who you are as a person?
TK: I would say a majority of my aesthetics stem subconsciously from growing up in Kansas. People tend to think of cow farms and cornfields when I say that, but I'm talking about someplace entirely opposite. Overland Park is a suburb that you really just have to visit. My friends have compared the city's manicured persona to "a place out of a movie." The entire city is laid out in an XY type grid, which makes it easy to get around and avoid traffic, and subsequently found its way into my geometric compositions. Growing up in such an environment definitely fostered a deep respect for quality, excellence, and craftsmanship throughout my process.
One of the great things about painting is it's very hard to mess up beyond repair. If you do, just paint another layer or even sand down old layers. Rinse and repeat when needed. But my shaped canvas series eliminates that safety net. Woodworking requires precision, problem-solving, and endurance — and a mistake means there's a good chance you have to start over. That pressure motivates me and I believe that my ability to achieve the end result depends on a confidence I have in myself.
CC: Your array of atypical canvases is mesmerizing. What prompted you to explore these various shapes and voids?
TK: I worked as a shop technician back when I was at SCAD and taught students how to create museum-quality canvases. When I would help them build their first canvas, they were typically blown away by how much was involved to create something they normally just picked up at the store. They would give so much time, care and attention to every measurement drawn, every cut made, and every staple shot, until the last drip of gesso was perfectly brushed out so it dried flawlessly. By the time they were finished, it was easy to see just how proud they were of this blank canvas they crafted. Some didn't even want to paint on them because they didn't want to mess it up. Unfortunately, the process becomes mundane over time. That initial pride of excellence they experienced was something I didn't want to lose at any stage of my work, but especially during the canvas creation.
The canvas has become a standardized formal element. When I talk with artists, the surface plane is normally something they have to get past in order to get on with the meat of their practice. I find when there's a stage in any process that the mindset is to "just get past it in order to get on with what you really want to do," that's where the most [innovative] and exciting things can happen. So, when I can get someone enthusiastic about a canvas that previously didn't think twice about it, there's something really good happening there.
CC: How are these pieces important to your creative voice?
TK: I want to add to the conversation of artists working with the shaped canvas by breaking away from the focus on the 2-dimensional outline and creating canvases with space and volume that explore color in relation to the form they're on. A shaped surface allows the audience to visualize color in a three-dimensional dialect. This element is important in my work because color is just as three dimensional as a point in space: We need an X, Y and Z to locate a point in space, whereas we need a hue, saturation, and value, in order to recreate a color.
The shaped canvas enables me to illustrate subtle X or Y tweaking of each color, in relation to the plane in space that they occupy. These color shifts contradict how our brain predetermines the way a form should look under certain lighting conditions. The end result offers real-life contrast enhancements similar to using filters on Instagram, or color adjustment tools in Photoshop.
CC: Tell me about your favorite Atlanta artists and art projects.
TK: Picking favorite artists is tough. I think anytime you work in collaboration with another artist it creates a special place for their aesthetic in your tastes. That said, I do have a few collaborations in the works that you will have to keep an eye out on my Instagram to see! I recently finished a piece with Jeremy Brown, which is on display in Spectrum at Kai Lin Art.
As for art projects, The Shops Around Buckhead Atlanta recently started a unique program called Buckhead Loves Locals. They are partnering with SCAD Alumni to create murals that replace traditional advertisements on retail spaces under renovation. It was a privilege to be selected to participate in their first round of artists. I was sandwiched between boutique shops while working on this massive 15-by-22 foot installation and found myself maneuvering scissor lifts around luxury cars. Not to mention, the area is bustling with foot traffic, so you get to meet tons of people and never know who is going to see your work there. I was looking through my notifications one day and it turned out a VP for one of Atlanta's largest companies tweeted an image of my mural.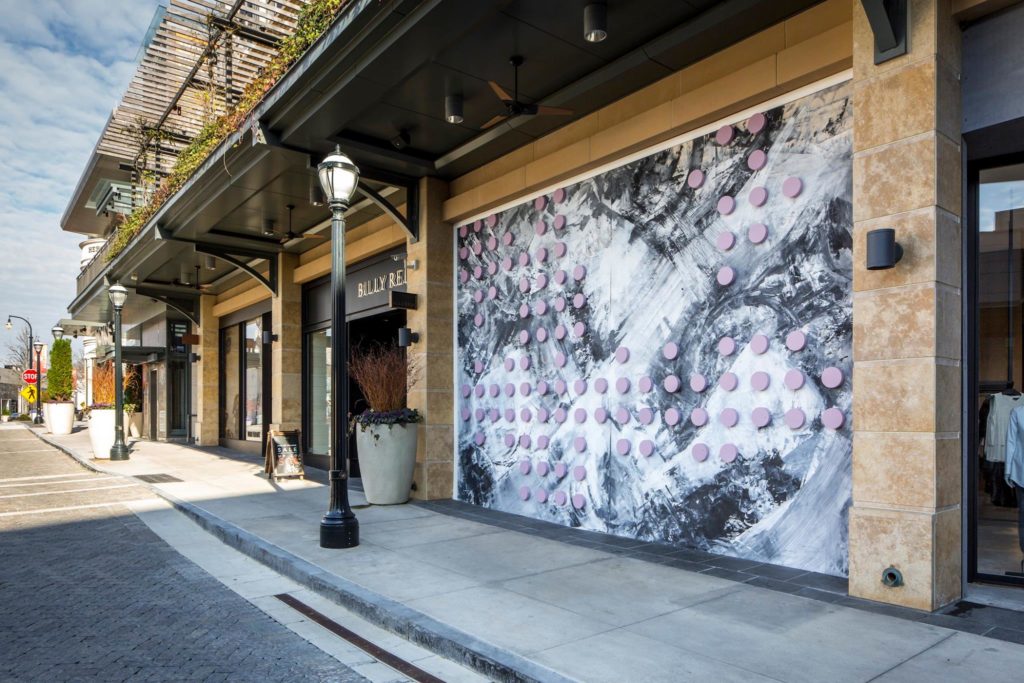 Lynx Nguyen has a show going up at Kai Lin Art after Spectrum comes down, which I'm looking forward to checking out. He has some impressive work and is always fun to have a conversation with!
It's also been fun to watch what all is happening at Colony Square. Earlier in 2017, The Hambridge Center gave out several vacant retail spaces for artists and groups to [use] however they wished. I thought that was a great idea. There are a lot of places around Atlanta that could benefit from something similar.
CC: What are your thoughts on Atlanta's arts scene overall?
TK: Atlanta's art scene is in a really interesting place right now because of the booming film industry. It's pulling in a lot of people from the west coast, which is translating into a larger audience with an allure for fine art. On top of that, Atlanta is already a great city for artists because the art scene is so diverse. With one end of the spectrum, you have established artists exhibiting in world-class museums like the High, which can seem almost impossible for an emerging artist to achieve. On the other hand, Atlanta offers plenty of stepping stones to build a career as a professional artist.
When I first got here I was very grateful for all of the juried shows, publications, and group exhibitions catered towards emerging artists, which helped me get my foot in the door. There are definitely viable paths to get your work seen and help transition yourself into more prestigious exhibitions and venues.
CC: Aside from painting, are there other mediums you work with or would like to learn?
TK: I do believe in ongoing development as an artist and I would love to take some industrial design or welding classes to branch into creating outdoor/public art. I try not to limit myself to any one medium. I choose whatever materials best convey the idea I am expressing at the time. Just recently, with the shaped canvases, I've started exploring different surface qualities through various fabrics, resins, and automotive materials.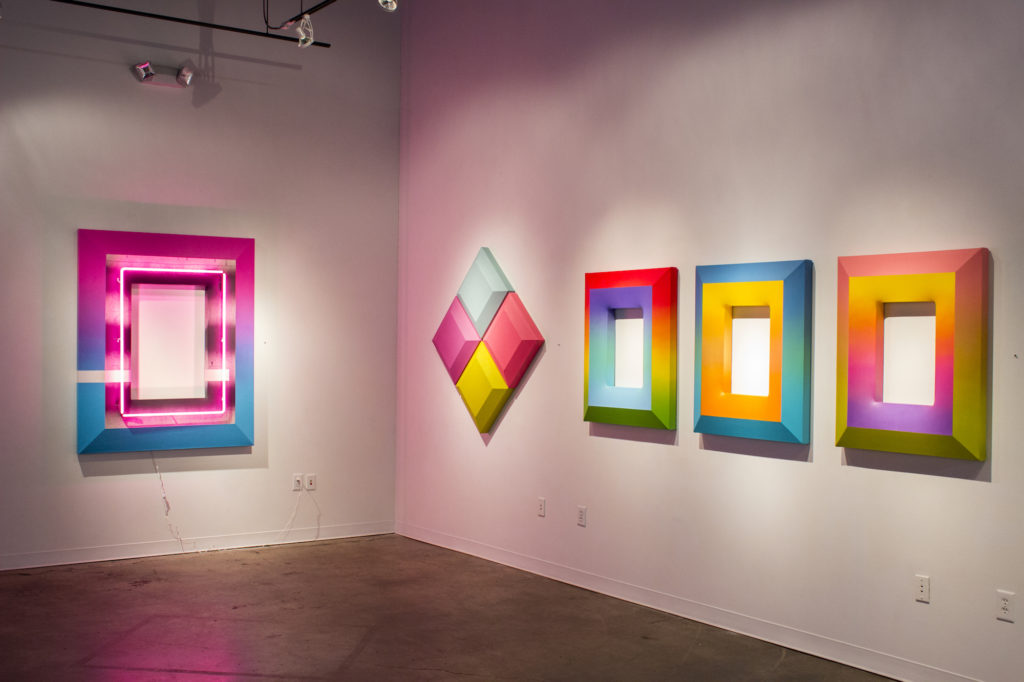 CC: What's next for you?
TK: Most recently, I was selected as a regional finalist for Bombay Sapphire's Artisan Series! It's a fantastic opportunity with a chance to exhibit work at SCOPE in Miami Beach this December. For now, I'm continuing with the Shaped canvas series with a few exciting exhibitions and commissions lined up. Always waiting to hear back from the last opportunity while working towards the next!
Revel in more of Tim's work on his website and Instagram. Photos of Tim Kent by Raftermen. Other photos courtesy of Tim Kent.