Next to the floor-to-ceiling windows inside Ponce City Market's Citizen Supply boutique, Brooke Powell has set up her newest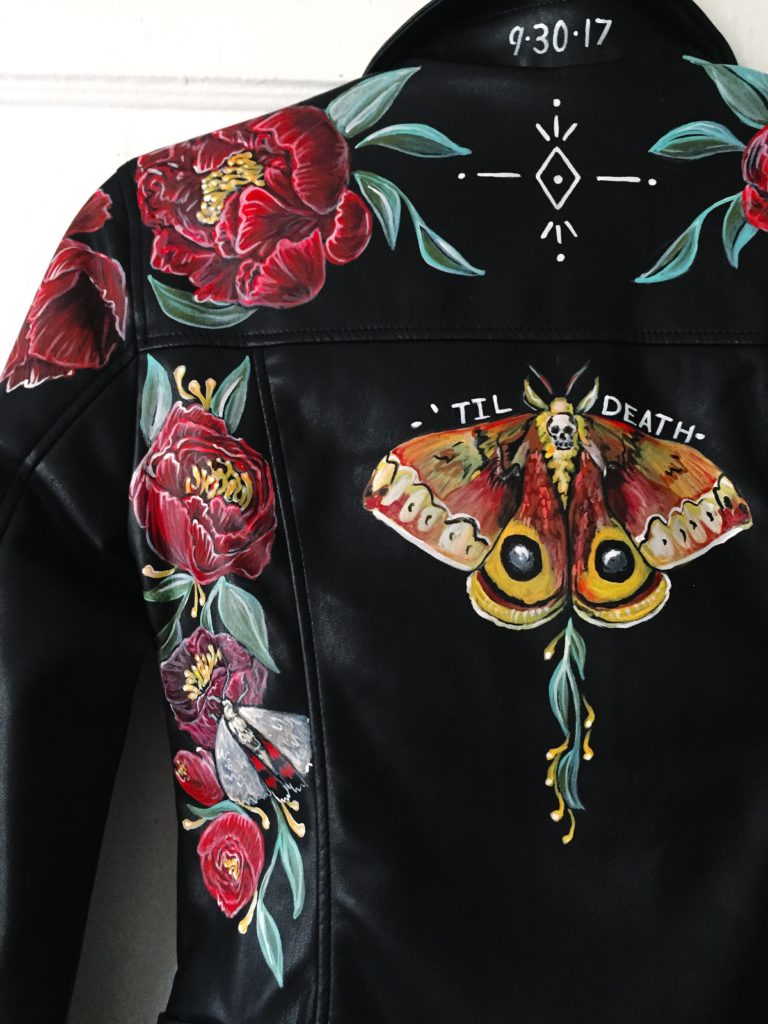 pop-up studio. Across the table, you can eye detailed patches with nature and animal motifs — wolves, flowers, moths, and butterflies — all handpainted by her. Nearby, you can see a jacket made of the supplest leather with flowers delicately painted on the back.
Prior to gravitating toward accessories, Powell was an illustrator and portrait artist. Frustrated with searching for clothes that she liked, she started making them herself and fell in love with painting on leather and denim. After exploring multiple themes, Powell found her artistic voice in her Native American heritage. As for what inspires her, Powell laughs and shares, "Life's just beautiful, y'all. It's a beautiful, gut-wrenching, relentlessly inspiring thing." We couldn't agree more.
Despite being new to Atlanta, Powell has found her place in the growing arts community with her recent ColorATL coloring book collaboration as well as her new mural in Cabbagetown (near the Forward Warrior murals on Wylie Street). Here, Powell shares more about rediscovering her Native American ancestry through her art, how her patches feel like a traveling art collaboration, and how she finally pushed herself to go after her ideas.
CommonCreativ: Have you always been in Atlanta? What keeps you here?
Brooke Powell: I grew up in Mobile, Alabama, before venturing to Springfield, Missouri, to study music and later Memphis, Tennessee, to study art. Atlanta was an unexpected life turn for sure, but I've loved learning about its creative community. Besides having a personality and charm that's unlike other places I've been, my favorite part of this city is how valued and supported the arts are — I mean, genuinely valued. I've made some amazing friends over the past six months alone through the Stacks Squares mural projects and ColorATL; in both opportunities, there was an extreme sense of family and sharing of ideas. That's hard to find in such a competitive field.
CC: You made a transition from paper illustrator to accessories painter. What triggered the change?
BP: I've spent so much time being interested in so many things — music, portrait painting, carpentry, fashion, styling… aaargghh! I sincerely love them all and find joy from each of them, and for so many years I've tortured myself over having to pick just one thing and being stuck with it forever. Then, a dear friend asked if I could paint bride-and-groom leather jackets for her wedding day.
Realizing how much I enjoyed that project really woke up a thought in me that I've been telling myself ever since: I have the desire to create in multiple formats, not because I can't make up my mind, but because I've found my artistic voice. I know my style because I know who I am. So, why not go after ideas now? Who knows, maybe by this time next year I'll be writing music again. I hope I never lose that passion to go after what brings me joy.
CC: Your work features many nature and Native American motifs. What drew you to that style?
BP: Growing up in the South and learning about my Native American ancestry (Cherokee on my father's side and Creek on my mother's) has been the biggest influence on my imagery.  I am so proud of the history that helped make me who I am; what a breathtaking culture. I use images from nature in combination with this, simply because I can't get over the beauty of the world we live in and the creatures that inhabit it with us. I'll sit in the mornings and stare at a woodpecker on my fence like a 10-year-old kid who's never seen a bird before. Nature just amazes me.
CC: What do you hope people feel when they wear your awesome handpainted accessories?
BP: My hope is that the people who wear something I create can be reminded of their own unique beauty, moved by the imagery I dream up, and free to express themselves through these designs. These pieces are unique, handpainted, hand-punched, and hand-stitched, making every finished product a one-of-a-kind wearable work of art. It's been so exciting to meet the people who realize and appreciate that.
I recently sold a jacket I designed at this year's Chomp & Stomp Festival, and the customer said, "I don't think you understand, this will be with me forever. This is my forever jacket." That meant the absolute world to me. She got it.
This is something that no one else has that she now gets to take out into the world and make her own. Even more exciting is seeing those who want to buy a patch and literally make something their own by stitching it on [a piece of clothing] themselves; it becomes this sort of traveling art collaboration.
CC: Tell me a bit more about your new animal-themed Cabbagetown mural. What was the process behind it?
BP: This was my first mural in Atlanta, and I couldn't have asked for a better group of people to do this project with. Austin Blue did an amazing job curating and making us all feel like family. I knew that since this was my first public representation of my art in this city, I needed to stick with doing what I love: vibrant but classic color palette, Native American inspiration, and flora and fauna with an illustrative quality. I pretty much just got there, stared at the wall for a bit, and then attacked it. If I overthink things, I tend to not like the end product quite as much as when I just let myself go.
CC: Do you prefer to paint leather or walls at this point? What are your favorite materials to work with?
BP: You know, I genuinely love it all equally for different reasons. I can say that I'm very excited to keep making beautiful clothing pieces and seeing the confidence it gives people, but every now and then I just get an itch to paint with watercolor again or explore something else and learn. I think it's so important for me to switch it up occasionally.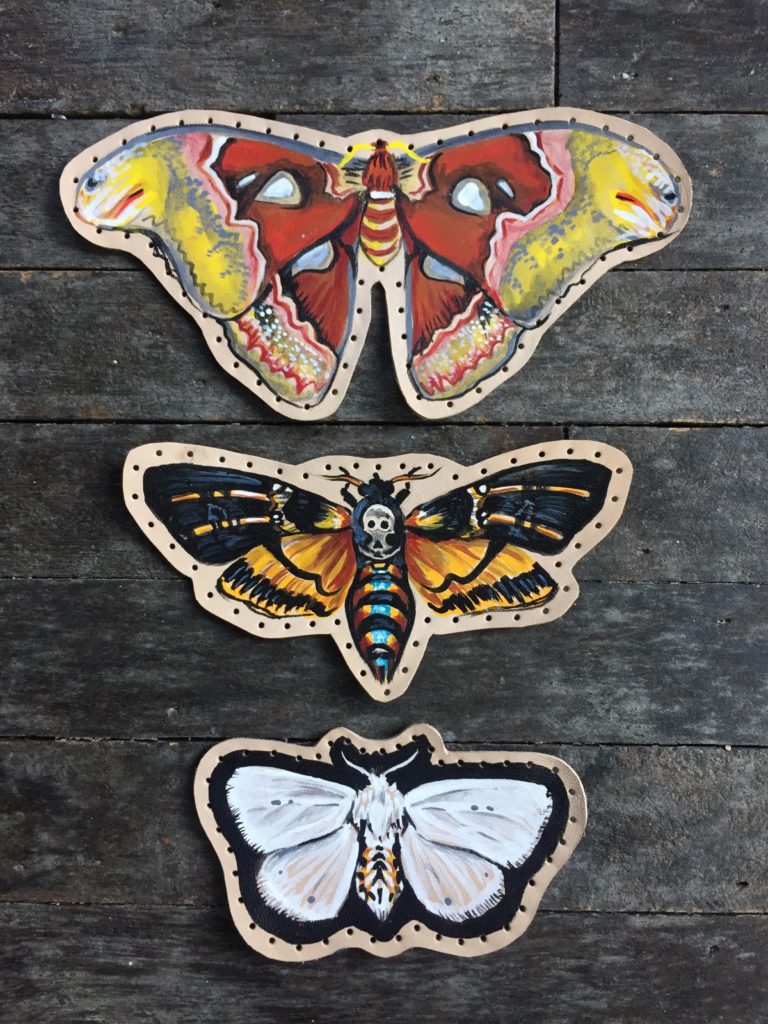 CC: What have been some of your greatest accomplishments as an artist?
BP: The past six months have held some doozies — I'm officially a full-time small business owner, I finally did that mural, I got to be a part of Vol. 2 of ColorATL, and I've opened a new painted leather shop [inside] Citizen Supply. Honestly, the thing I'm most proud of is learning to stop limiting myself because of outside expectations. It's taken time for me to really value the challenges and failures while letting myself grow because of them.
CC: What's the most effective way you've found to promote your work?
BP: Instagram and hashtags can work wonders for sure, but nothing has had more value than being face to face and just letting conversations happen — the original form of social networking. Along with that, I would say that even when results don't come right away, keep producing work and getting it out there. To keep the ball rolling and build up momentum, you have to keep pushing.
CC: What are your thoughts on Atlanta's current arts scene? How do you hope it will evolve?
BP: I'm still getting my "feelers" out there and discovering all that's available to artists, but I do hope that Atlanta will continue to draw creatives that broaden the diversity of artistic styles. I think that was the most exciting part of the Stacks Squares project: working alongside people from different backgrounds with different styles, most of which had never done murals in Atlanta before.
CC: You recently collaborated with Color ATL. Do you have any other dream collaborations with other local artists?
BP: I'd love to partner with some local makers that work with leather and release a line of painted jackets or bags or wallets. I've been doing some digging for possibilities, but maybe this interview will help out with bringing the right people to me!
CC: You just recently jumped on board with Citizen Supply. What's next for you?
BP: I'm working hard on developing my next round of painted leather jackets and patched denim. Aside from that, I have plans to work on a small run of watercolor paintings and a few special custom commissions for painted leather jackets. There's also the possibility of another mural coming up by the end of the year- the craziness hasn't let up yet, but it feels so good to see things moving and evolving every day.
CC: And one final question — why do you create?
BP: I wouldn't be able to stop myself if I tried; it's just something I'm meant to do in whatever way I can. It's in my nature, and I want to honor that while I'm here.
You can see more of Brooke's work on her site and on Instagram.