Doused in black with jolts of purple and red. Delicate, feminine hands wrapped in snakes. Women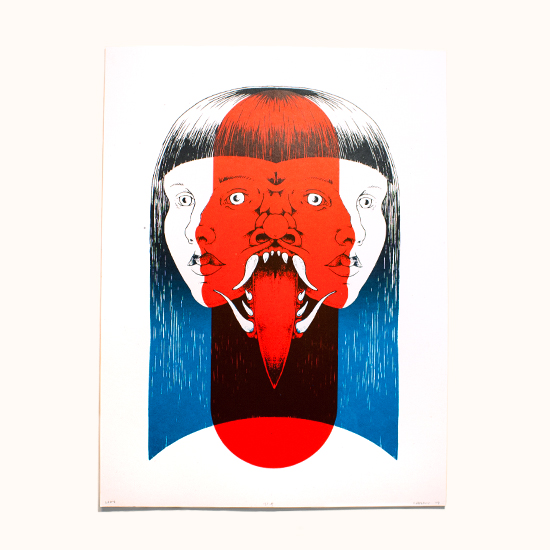 brandishing switchblades and with eyes made of fire. This is just a taste of the imagery you'll find in artist Brittany Baum's striking work.
Brittany (AKA GABEAUX) grew up south of Atlanta between Stockbridge and McDonough. These days, she resides on the outskirts of Avondale Estates with two dogs and her husband, Matt. Though she majored in Art Education at the University of Georgia and had dreams of being a sculptor, her innate drawing abilities and discovery of printmaking are what ultimately led her to where she is now — spending more than half of her working hours as a professional artist.
Below, Brittany chats with CommonCreativ about triumphing over personal tragedy, her fascination with death, and her simple advice for artists looking to develop their own style.
CommonCreativ: How did you end up in Atlanta, and how long have you been here?
Brittany Baum: Growing up, my family would always say we were from "Atlanta" even though we lived in the suburbs, but I moved to the city of Atlanta back in 2009. I had tried to leave the South with a move to Boston right after college and that lasted less than a year. When I moved back, I lived in McDonough for a few months before getting an apartment in Poncey-Highlands with Matt. As a kid, I would come to Atlanta pretty regularly with family for all kinds of cultural events and ballgames, and later with friends going to shows and getting up to trouble. I never imagined I would have lived in this area for as long as I have, but I've come to appreciate seeing our city evolve and change for better and worse.    
CC: What first sparked your interest in art?
BB: When I was maybe four years old, my dad's job had him working part of the year in Pittsburgh, Pennsylvania. My mom and I went up for a few weeks that winter to see if we would possibly be interested in moving up there so my dad could permanently transfer cities. Clearly, we stayed in Atlanta, [but] while we were there, my mom — who loves museums, zoos, art and outdoor markets — took us to the Carnegie Museum of Art.
Although I was a really young kid, I already loved to draw and I was completely impressed with everything I saw, especially "Walking Man I" by Alberto Giacometti. Not fully comprehending the somber context of his work, I just thought it was the coolest and funniest thing to make a sculpture of a super skinny man who nearly disappeared when you viewed him from a certain angle. Throughout my childhood, I continued drawing and painting with serious encouragement from my mom and my grandmothers, who were both skilled painters. I guess you could say that thanks to the women in my family, I never had a choice but to love experiencing and making art.    
CC: What material did you start out with, and how did you evolve to others?
BB: In college I was an Art Education major, which means I had to have experience in a wide variety of mediums. Although I badly wanted to be a sculptor (I dual-majored in sculpture for a short time) and really loved clay modeling and stone carving, my drawing abilities kept getting way more attention and encouragement from my professors. I eventually pursued all of the drawing classes available in our program and took as many painting courses as I could get away with. Of course, I didn't take a printmaking course until my senior year, completely falling in love with Intaglio. Years later, I went on to study design at Portfolio Center and rediscovered printmaking via screen printing, which is the medium I work in most commonly now. I greatly improved my printmaking skills at Atlanta Printmaker's Studio to the extent that I began printing at home.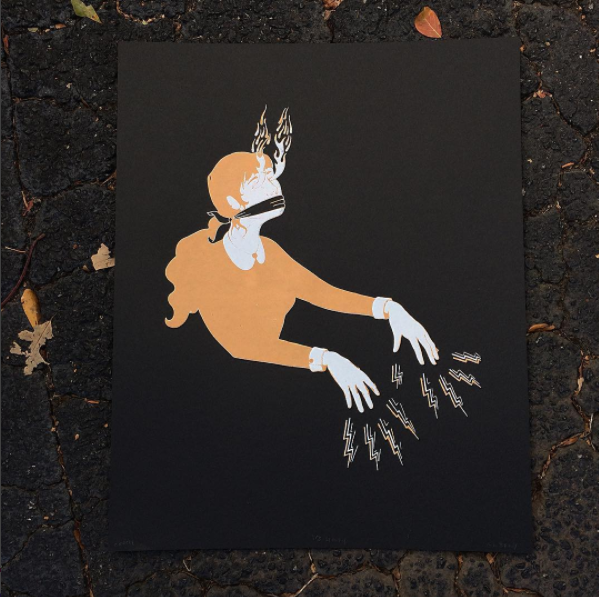 Screen-printing, in this case, it would be called Serigraphy, allows me to reproduce my detailed, graphic drawing style while maintaining a similar exploratory nature to painting. My favorite pieces I've made lately actually incorporate a mix of painting and printmaking. In addition to traditional materials, I look at my wearable pieces, like pins and bandanas, with a similar value to my art.
When I first got started making art as GABEAUX I had a great conversation with Christian Clay, one of the tattoo artists at Pain and Wonder [in Athens] and who makes really incredible art, about how many people see tattoos and wearables as visual art in that they don't necessarily have or want a place to collect a ton of art pieces. Although I love fine art, this viewpoint really helped evolve my own definitions of what can be perceived as art, not just in a historical sense but day to day.  
CC: From where did you get the moniker GABEAUX?
BB: My last name prior to being married was Gabey. My grandfather Mel had a thick New York accent, was fluent in multiple languages and had the most bizarre stories about his childhood in the Depression Era Bronx, his parents, and their mysterious family history. My great-grandparents were both deaf and mute and met at a school for children with special needs. [They] were also both orphaned with little known about their parents. According to a family tree my grandpa made, these great-great grandparents immigrated to the U.S. from France, and their surname wasn't Gabey, it was Gabeaux.
Mel always had strange stories about them, how they were actually Russian and Jewish, but then there were the stories about them being horse thieves, war deserters, and more. I have no idea what stories are true and which weren't, but it's all family lore. Essentially, Gabeaux came to mean anything regarding my family's mysterious past. I always wanted to relate to that mystery so I took Gabeaux as an artist name.
CC: Where did you go to school, and what did you study?
BB: I graduated with a BFA in Art Education and a ton of credits from the Lamar Dodd School of Art at the University of Georgia. I gave teaching a serious try and realized I missed making things as my actual career, but was in a very insular and insecure place with my art and wanted to feel like I was contributing somehow with my creative work, so I studied Design at Portfolio Center. To be fair, I have always had a love of design as well as art, and although my decision to go to Portfolio Center sounds almost like it was a cop-out, it was actually a very excellent decision for me. Ironically, design school was probably better for my art practice than forming me into a designer. It got me out of my head and forced me into mobilization despite my insecurities. To this day, having a foot in the design world and a foot in the art world serves me well.  
CC: How would you describe the aesthetic of your work in one sentence?
BB: Southern Gothic Femme-Punk.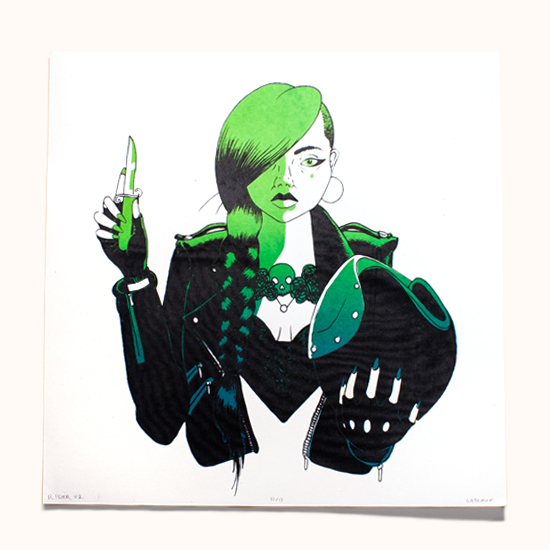 CC: What inspires your pieces?
BB: This is always a hard question for me because it's hard to know exactly what in my life experience most directly influences my image making. To answer this I almost need to work backward by looking at the visual content of my work as a reflection on where it comes from. A lot of imagery includes bones, distorted female faces, fierce surreal animals and disembodied hands. I think that mostly points to my experience in a female body and the borderline mysticism that surrounds its biological functions. I've also always had an uneasy fascination with death and the possibility of liminal consciousness. Also, nature, even in our urban forest, is so incredible and magical, but we often take it for granted because we are always exposed to it. I like finding ways to expose the special qualities of the mundane, like using weeds from my backyard for a plant study.
CC: What does the creative process look like for you?
BB: Typically I'll get an image in my head I can't shake while I'm doing something boring. Sometimes I won't sketch it immediately and let it develop more and more as a repeated thought so I can see it really well. Even though I consider myself super proficient in creating imagery on my computer, I always start my work by hand. For me, it's one of the things that separates my design work from my artwork, at least for now. I'll dig through books, bones, the internet, or whatever I need for references and I'll make lots of rough, gestural drawings, of this image in my sketchbook or on throw away paper until I get everything in its content and composition right. This part is always the most nauseating because sometimes it takes no time at all and sometimes it takes days of drawing and rethinking what it is I'm trying to capture.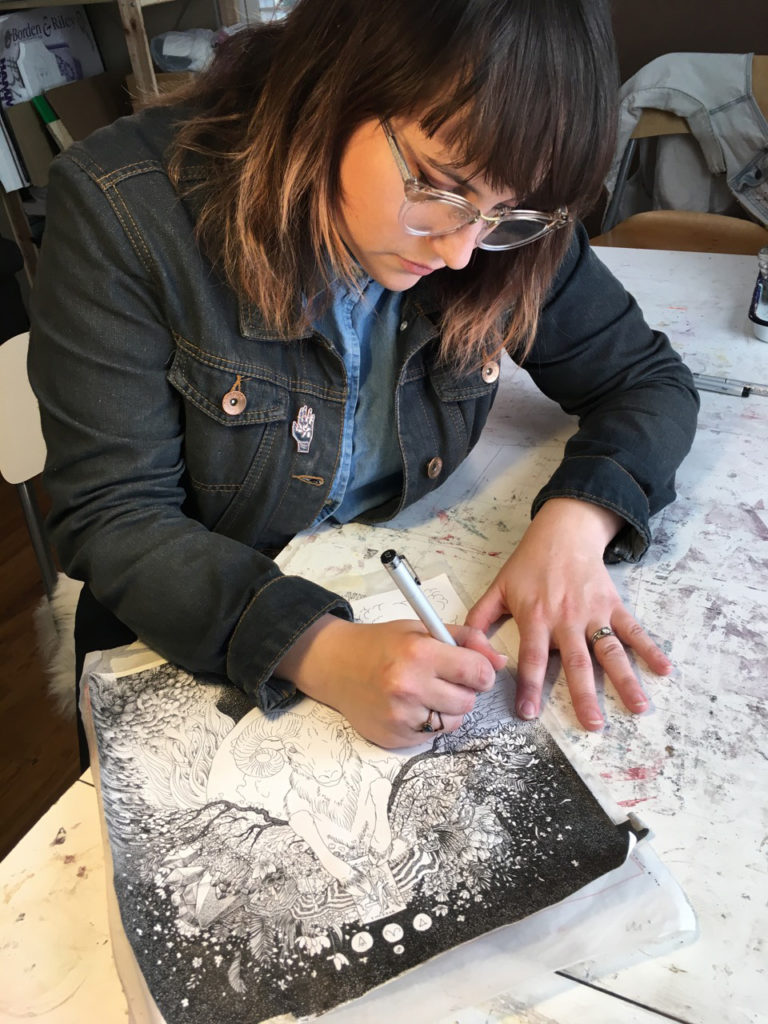 Also, I'll seriously draw anywhere. I always keep a sketchbook with me specifically for this quick informal kind of drawing. Once I'm happy with everything I'll redraw the image in my studio (a glorified extra bedroom in my house which is always embarrassingly messy and crammed with a drafting table, table press and an absurd number of shelves full of art materials and random items of inspiration and books) in drafting pencil, make more edits and then redraw it again in ink, making last-minute stylization decisions. It's only then I'll take my drawing into the computer to play with color and graphic shapes to get a sense of what the final print series will be. I'll make edits both by hand and on the computer as I discover new possibilities in this process.
After that, I'll clean up all of my drawing mess and prep my space for printing. I coat my screens in my guest bathroom, expose them in my studio on a tiny exposure unit, wash them out with a cheap pressure washer in my driveway and then print on an Ikea table with hinge-clamps for the screen. Prints dry on whatever free surface is available. I run a very serious DIY printmaking operation. Given where I am in my process, my studio can look like it belongs to an archivist collector type, a freshman art student, a freelance designer or a tragically under furnished printmaker.
CC: What have been some of your greatest personal achievements as an artist and maker?
BB: I hate this question! [Laughs] Mostly because I'm my own worst enemy and literally started pursuing my art in a serious sense only in the last year and a half. To be perfectly honest, the fact that only recently dedicated more than half of my working time to making art and it hasn't backfired yet is incredible to me. When I started making work as GABEAUX I knew I was taking a huge risk and betting on what had only been a very private art practice. Not only do I at least get by selling my work, but I've met so many incredible people, experienced so much of our awesome art and maker scene, and for the first time as a lifelong "Atlantan," I feel a real and deep connection to Atlanta.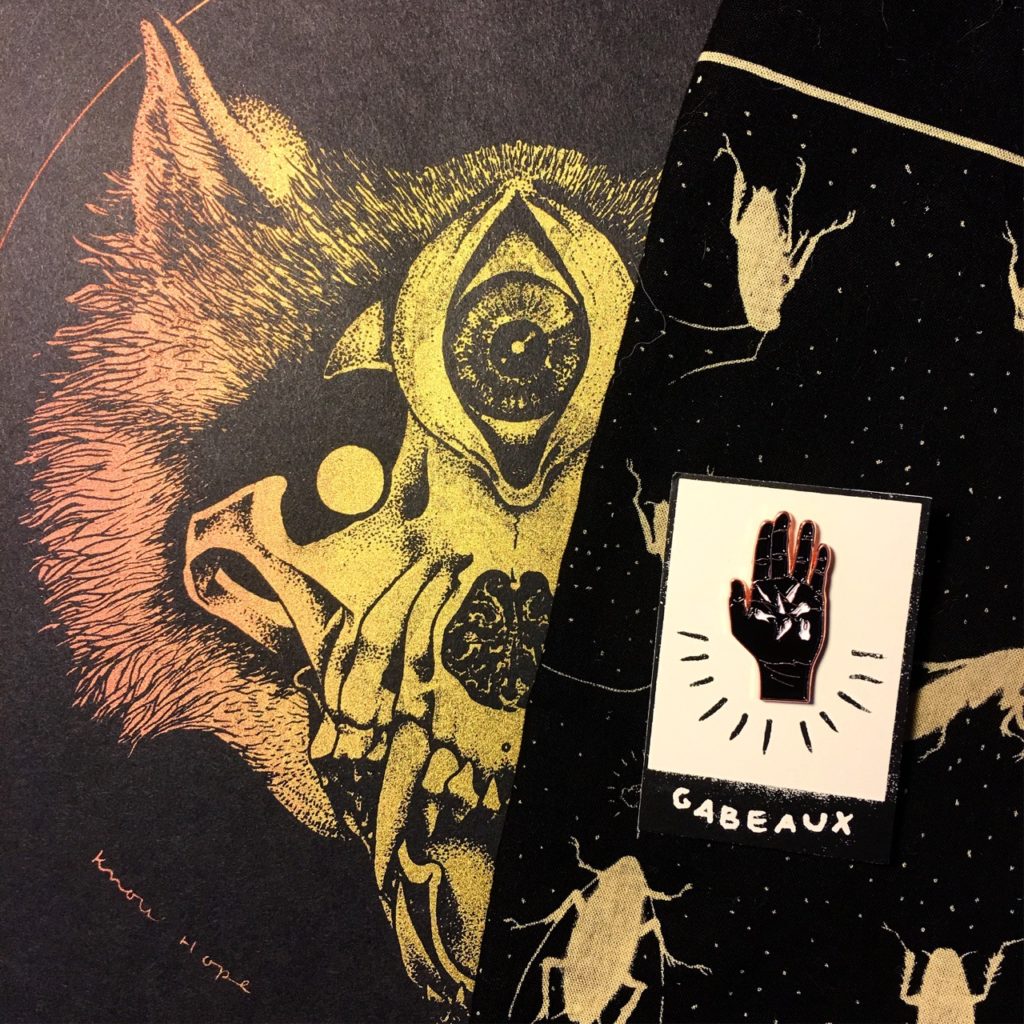 As an example of what I'm talking about, last Halloween I was accepted into my first gallery show ever. I had never tried to enter a piece for an artist call before and I was super elated that after all of these years I finally did it — huge thanks again to Facet Gallery! Before then I was always very intimidated to submit art to shows, but now I'm super encouraged. I already have some shows lined up [this year] and will be submitting to as many shows as I can. Again, a year and a half ago, I wouldn't have predicted to be working as an artist in this capacity.
CC: Who are some of your favorite artists?
BB: I love and follow the work of so many artists — I'll take it back to some of my earliest influences. I started honing my artistic voice in high school and college and found a lot of familiarity in the works of Egon Schiele, Vania Zouravliov, and Kiki Smith.
CC: How do you effectively promote yourself and your work?
BB: I definitely feel like I'm still learning, but there are a few things that have worked really well for me. First off, just getting out into the public selling my prints through art markets, festivals and local shops has been really important to any success I've seen. I sell original prints on paper and fabric goods, so this model works really well for me because my art and wearables aren't too expensive. Getting some finer and larger mixed media pieces in a gallery show and even in local restaurants like The Highlander were also effective at getting my images out there and directing people back to me for those specific pieces, commissions or other prints.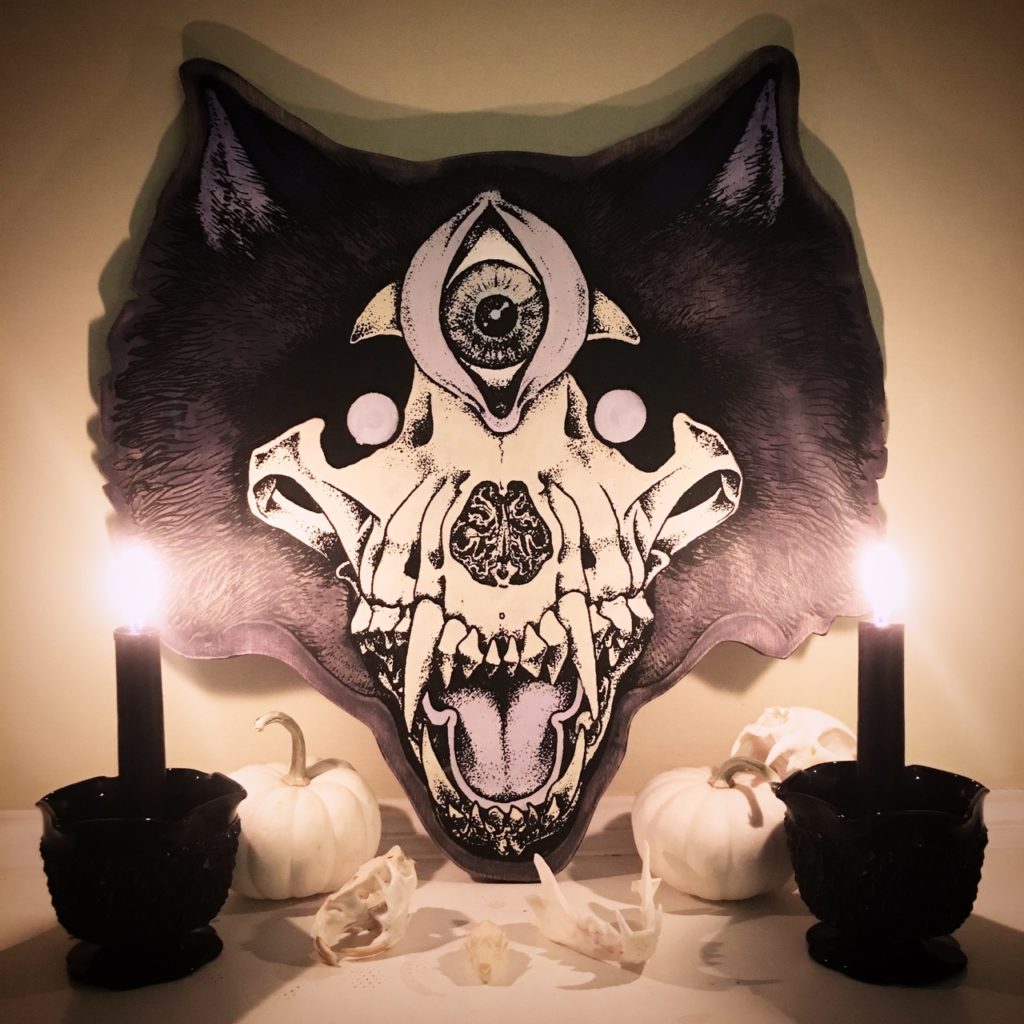 Instagram has also been really useful for me. I post very regularly and love sharing my process in real time not just with patrons, but with other printmakers and artists too. I've actually made a good number of acquaintances here and across the country just through posting process posts. But again, more than anything, just getting my work out into the world by any physical means, traditional or not, has been the ticket.
CC: What advice do you have for artists looking to develop their own style?
BB: Make, make, and keep making! Style evolves out of experiments, accidents and simple repetition, and for that to happen you have to never put your art practice to the side. I would also advise anyone not to force themselves into a style they desire to be good at and instead let their actual intuitive style happen and take shape over time. Your influences and unique personal qualities come out of the weirdness that you may be frustrated with at first. Seriously, work through it and trust the process.
CC: What do you think about the current state of Atlanta's art scene?
BB: From where I'm at right now it looks very exciting. I'm most impressed with the opportunities available for artists at so many different levels. If you want to get your feet wet you can reach out and find a neighborhood project like the Look Up L5P signs or a random public art event like the Paint for Peace jam by All City Murals in Krog Street Tunnel.
If you want to get more serious, there are multiple gallery artist calls [at galleries such as] at Mint. And the public art — do you realize how much public art we have now, compared to just a few years ago? Everywhere you turn there's a new mural or streetside installation. Then we have many major galleries: The High, MODA, MOCA and incredible arts organizations like WonderRoot, Eyedrum, the Goat Farm and maker groups like ICE and Root City. To me, it seems as though Atlanta has art more accessible than ever before and an ever growing love for their local artists old and new.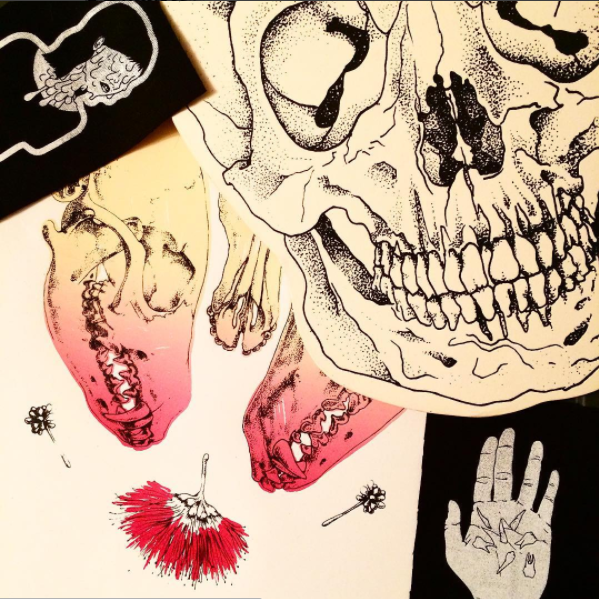 CC: What's next for you?
BB: 2018 is going to be insane. I'm working on a Zodiac series and hustling to get that completed for a possible joint show with photographer Angela Medlin. I've got a solo event happening at Diesel Filling Station in August and I'm currently working on large pieces for artist calls happening now and throughout the year. Also, I always have a backlog of print series ideas that are just waiting to be made. This year in addition to the zodiac series, I will definitely be completing a series on "psycho-somatic" expressions of being a girl, an exploration of the relationships in our urban wildlife and a series on Southern spiritualism. I've also got a lot of more design and illustration related client work on deck, including logo projects and album art for Watchout For Snakes.
CC: Lastly, why do you create?
BB: I have to. I've always gotten really unhappy when I'm not engaging in image making of some kind. It's almost like an impulse — I draw on everything and all the time. Until mid-2016 being a designer who made art for myself in my off time was enough to kind of fill that need.
In late 2015, I had a really catastrophic health crisis mid-pregnancy that ended in the loss of my son and which I nearly died from. Before my prognosis was certain and my life was actively in danger I had this super clear thought that although I led a fulfilling creative life on the outside, I never made my art. I never gave voice to the ideas and images I had lived with my whole life and they could be lost forever. Since my family and I have recovered from that tragedy and since I had that terrible epiphany, I've dedicated most of my working days to making and distributing my art and I've not looked back. Never in my entire life have I felt as fulfilled and whole as I do now.
Find more of Brittany's work on her portfolio site, Instagram, and Facebook.