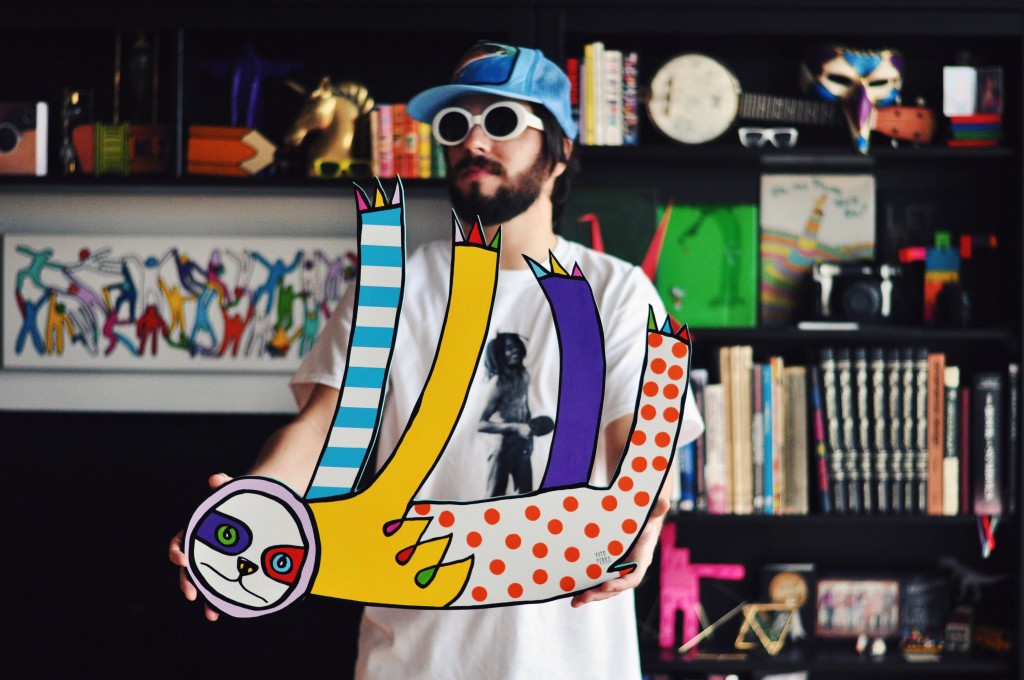 You may have run into artist Yoyo Ferro at a recent Root City Market pop-up with pen in hand, listening to some of the attendees' personal journeys as he blindly contoured their faces on paper. Ferro is originally from Brazil, but has embraced Atlanta as much as any native—so much that he got engaged to his now-wife at the top of the Bank of America Plaza building and got married at one of the most iconic views of the city, the Jackson Street Bridge.
He's found a place in the city's arts community, specifically through social media such as Instagram. His work is vibrant and full of patterns, whether it's a mural, a pet portrait or a wood cut. You can't miss it. His work has also showed up at Phoenix Fest, General Assembly and elsewhere, and he's done collaborations with local artists and orgs like Barry Lee, Ray Geier (Squishiepuss) and #FAFATL.
Here, Ferro talks with CommonCreativ about loving Atlanta's arts scene, finding a digital community and embracing the flaws in his work.
CommonCreativ: How did you end up in Atlanta?
Yoyo Ferro: I ended up here thanks to a job opportunity after a series of fortunate events and because of that good ol' "American Dream." Atlanta is the first place I really fell in love with and was proud to be a part of.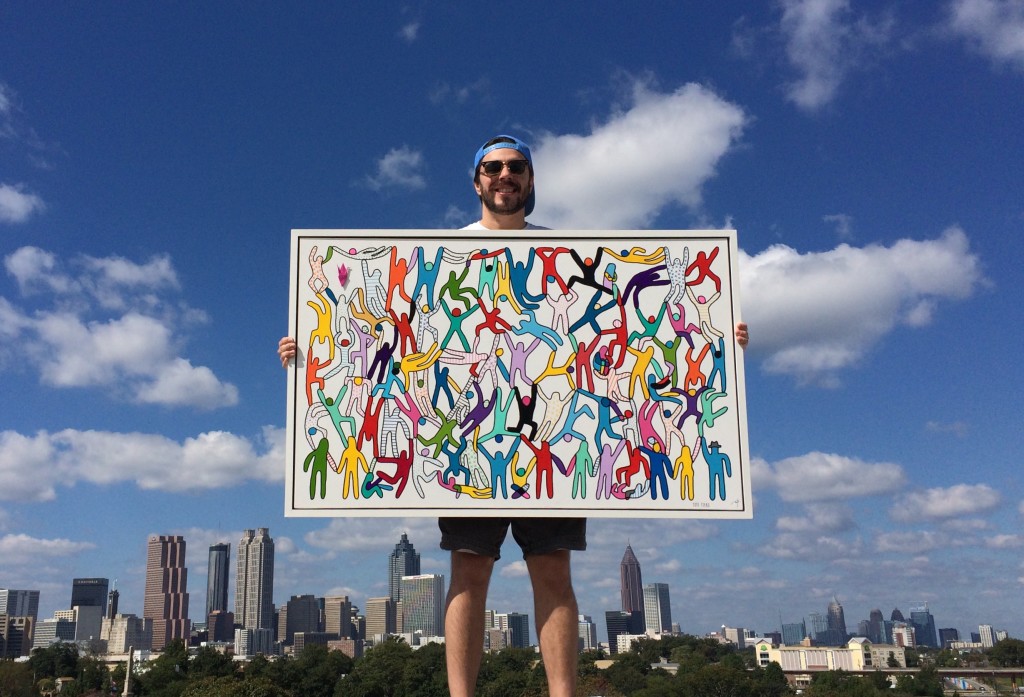 CC: Where you involved in the art scene in Brazil?
YF: Back in Brazil, my involvement with art was through music—I played bass in a punk rock band called Razura. It wasn't the most common thing to do, considering the dominance of Carnaval and Brazilian country music. My city had an interesting punk rock scene and there was a feeling of "us against the world." We hated the ridiculous rodeo, all their nonsensical animal abuse, and the mainstream radio that only played Country or Carnaval-style music. I guess that punk-rock kid attitude stuck with me from those times—always trying to avoid the clichés.
CC: Do Brazil's vibrant colors and culture influence your work?
YF: As much as I want to say "No," just because it's such a cliché thing Brazilian artists say all the time, I guess I can say "Yes," as it's engrained in my subconscious in a way. My uneducated theory is that in the USA, because we're a very patriotic country compared to other countries, the flag colors—red, white, and blue—are pretty much used everywhere, from beer cans, car dealership logos to toothpaste containers. This doesn't necessarily happen in Brazil.
I don't remember seeing much of green and yellow unless it's during the World Cup. Also, the fact that in the U.S. we probably learn more color theory and art in school in comparison to Brazil, where art isn't even part of the high school curriculum. The colors you see in your day-to-day life in Brazil might not make much "academic" sense—everything is a little more exaggerated and adventurous.
CC: You've been doing a lot of blind drawings lately of local folks. How did you come up with this idea? 
YF: I learned about blind contours on my first date with my wife, Kristin Ferro, who is an Atlanta native, an awesome high school art teacher and a photographer. The freedom and vulnerability of it stuck with me, and it became one of my favorite ways of creating art. I make the blind contour portraits very quickly, in 20-30 seconds, and I ask people to tell me a real story while I'm drawing them. The story is what makes it special for me, and sometimes, for the people being drawn. It's very common for some reason for people to even cry while I'm drawing them… although people "share" a lot about their lives these days in social media, nobody is really asked to look into a stranger's eyes and tell him a personal story.
I plan to do more of these blind contour sessions this year. Terry Kearns asked me to come to his house on Christmas Eve and make blind portraits of his family and it was a lot of fun, especially to play with forced perspective like I did with his glasses.
CC: What's your creative process? Do you use the blind drawing technique in all of your work? 
YF: I'm very inspired by blind contour, but I don't necessarily draw everything "blindly." I try to loosen up my hand as much as I can and not look at the paper too much, as I'm not usually trying to achieve anything too perfect. It has to be a little weird and imperfect to feel right. Then comes the coloring process, which is more relaxing and natural. I rarely plan colors, as I like to choose the colors one at a time according to the moment, but I have a few little rules that I've created for myself with regards to patterns. If you pay enough attention to my work, you can figure them out.
CC: Those flaws and imperfections are part of your work then. Do you embrace them?
YF: Oh yeah, all the time. The flaws open doors to possibilities I wouldn't even think of trying. Not all of my work follows the rules of blind contour strictly, and I do lift the pen off of the paper when I'm doing illustrations and paintings. I very rarely draft/sketch things and I hate wasting time, so I really target getting things right the first time. When that doesn't happen, first comes the immediate frustration, but then I remember that in many artworks I've made, my favorite part of them came out of a creative solution to fix a mistake I did. My wife will hear me from across the wall in the studio saying, "Ahhh, damn it!" often followed by "Oh, wait… hmmm… nevermind, I got this."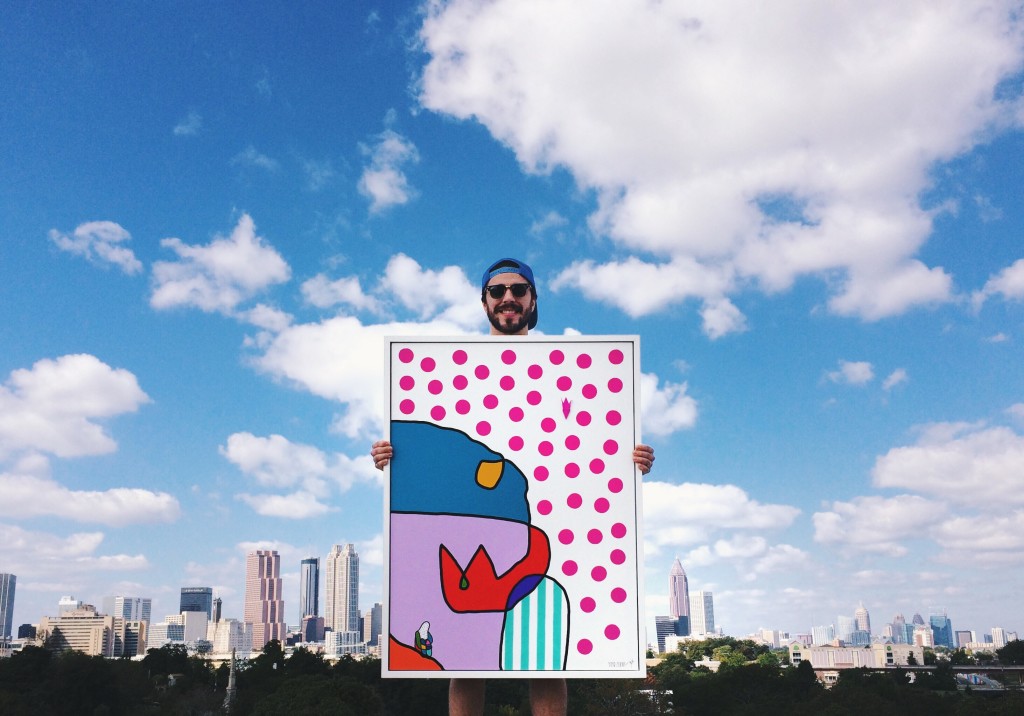 CC: What's your favorite material to work with as of late?
YF: I'm really enjoying painting on canvas and walls these days. I've played with paper a lot, doing origami, and have done a lot of pen and marker on paper, which I still enjoy. I'm now trying to figure out this wet mess thing that is painting.
CC: Tell me about your 1,000 Origami Cranes project.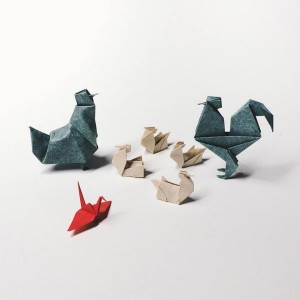 YF: I received an origami crane from a guy I met through Instagram that was doing a 1,000 origami crane project. He would make an origami a day and give it to people. That inspired me to start my own project, and I made origami for friends and mostly for people from Instagram that requested to receive one. It was a little positive gesture in the format of origami that I was trying to spread through people I met on social media. I made origami cranes in different styles, customized some, took photos in many different locations, but since making the same thing a thousand times can be boring, I started incorporation the origami cranes into my artworks. I sent cranes to 24 countries and 82 cities so far. Also got one tattooed on my shoulder, which is the 1,000th origami crane made.
CC: What inspires you?
YF: People and places mostly. I also like the contrast of comedy and sadness in my art. People often say my art makes them happy, which is a huge compliment, but I'm never really directly targeting for that.
CC: You're really involved in the Atlanta Instagram community. How has this helped you as an artist?
YF: The Atlanta "Insta-friends" are great. I've been around since the first Atlanta "instameet" in 2011 organized by Brandon Barr (one of the founders of #weloveatl), and it was always fun to meet interesting, creative people. Being around them definitely helped me improve my photography eye and the way I present my artwork and process to people on the internet.
CC: What do you think about Atlanta's current creative scene?
YF: I like it. There are many different things going on, which is good. I hear some cities are saturated with the same whatever-is-trendy thing. The only problem is that there's too much cool stuff and I don't have time to catch up on everything. We very often have two or three cool art events going on at the same time. But it's a good problem to have I guess.
You can see more of Yoyo Ferro's work on his portfolio or Instagram.