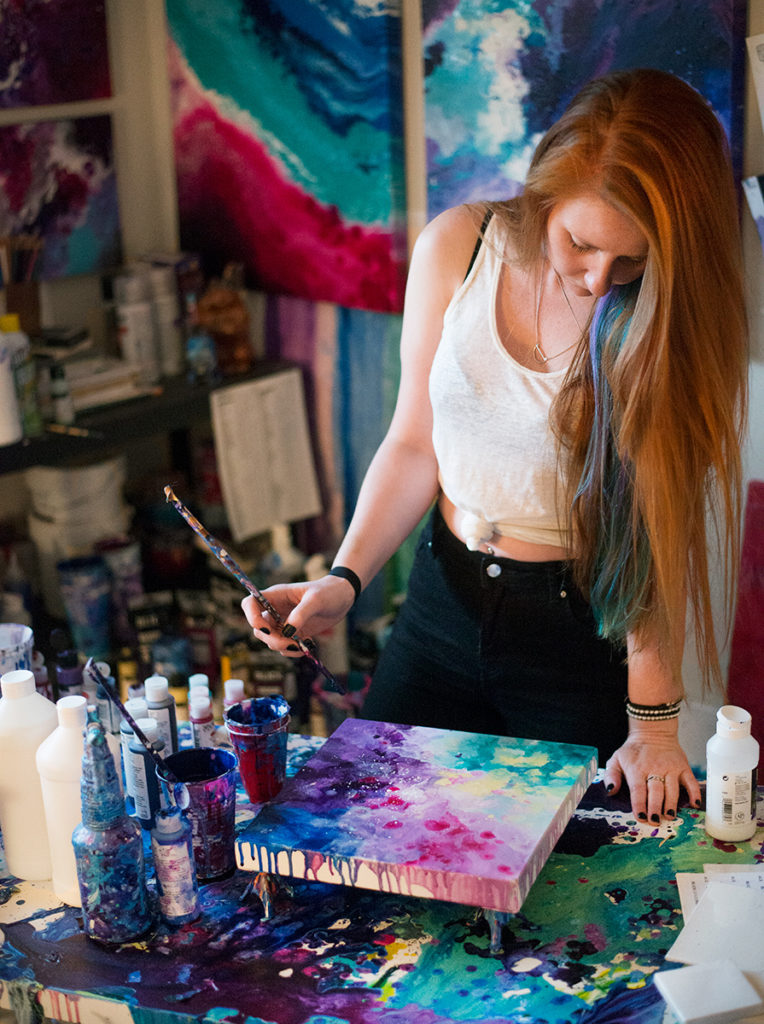 NASA recently announced that they discovered seven new, potentially life-sustainable planets. The cosmic discovery was an important reminder that there's more beyond our atmosphere. Hannah Pearman's work will remind you to look up as well — her purple and pink hues will make you dream about far away galaxies and bright stars.
Pearman embraces her art, both figuratively and literally, as you can often find her with stained hands since she often paints with them instead of a brush. "Some of my best networking has happened when a curious soul has questioned my purple hands in line at the coffee shop," she says.
Her journey to Atlanta took "2 parts love, 1 part wide-eyed wonder, and a generous side of youthful recklessness," she says. "I think I still have all of those things, but the ratios have undoubtedly shuffled." The New Zealand-native has found a niche in the local arts community, most recently in Mindzai's group show, "Querent: A Tarot Show."
Here, Pearman talks to CommonCreativ about how her love for the cosmos began, the (messy) creative process behind her vibrant artwork, and her growing for Atlanta's arts scene.
CommonCreativ: Have you always been an artist?
Hannah Pearman: The short answer is yes. The long answer starts with my two earliest memories. The first of those is glancing down at my arm after having just been attacked by a dog at about age 3, and the accompanying revelation that what was inside of my body could be on the outside. The second was during a kindergarten art class at age 4. I rebelled and swept my bare hand through a puddle of orange paint. I'll never, ever forget the unexpected wet, cool feeling on my skin, and the sheer thrill of being so intimate with a medium that was wholly foreign mere seconds ago. In that moment I discovered that what was outside of me could feel like it belonged as part of me.
There's bizarre synonymy there, and those contrasting experiences could easily be a preface for art and creation becoming central to my being.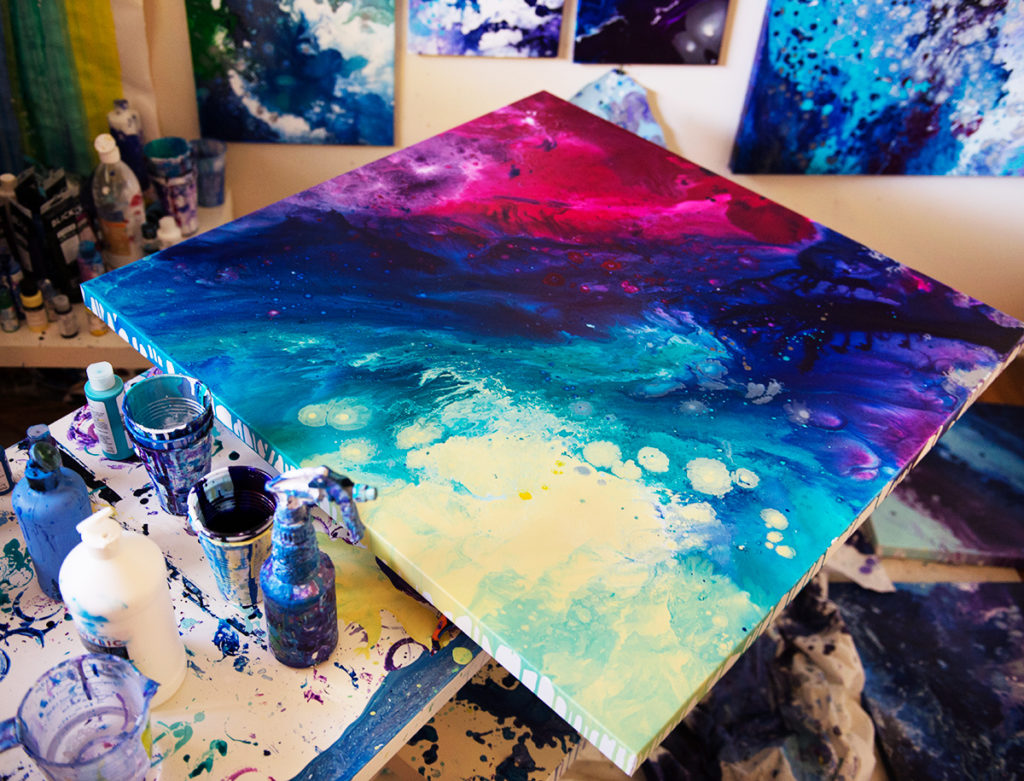 CC: You mentioned in your bio that you used to stargaze with your father. How did this experience influence your work?
HP: I think I get from my painting what Dad got, and gave to me, by watching the stars: freedom through perspective. My father is smart in ways that a lot of people don't realize they can be, and while I didn't know it as we gazed skyward, he was instilling in me a deep appreciation for the simple state of being. Presence and gratitude; plain, simple, and all-powerful. We'd sit for hours, pointing out constellations (the Southern Cross has and had great sentimental value), trying to wrap our heads around the distance between us and the moon, and contemplating our place in all of it. When I was perhaps 10 or 11, he helped me stick thousands of glow-in-the-dark stars to my bedroom ceiling, arranging them as closely as he could to the actual night sky.
It's amazing how empowering it is to learn that your life is really just the blink of an eye. Suddenly anything is possible and everything is urgent, and failure is not really failure at all. And I'm glad I grasped that early on with Dad's subtle guidance. Painting is a way back home. It expands the aperture of my awareness and helps me surrender to what is. It lets me shout a little louder into the abyss.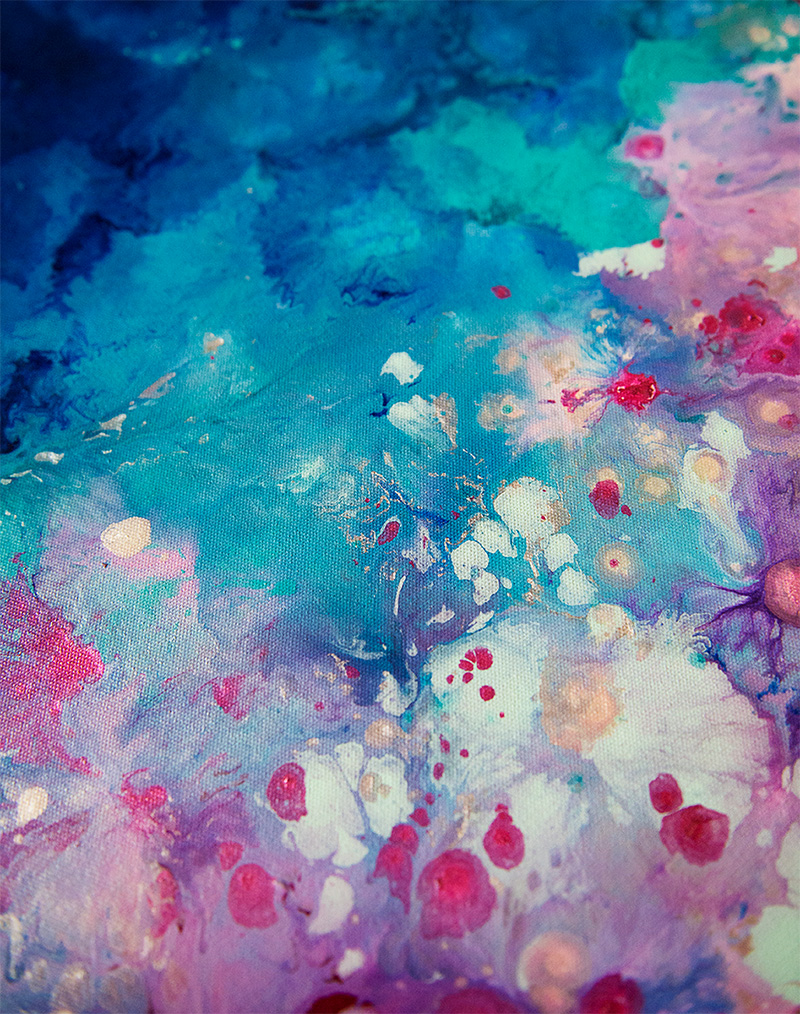 CC: How would you describe your style as an artist?
HP: Something like dancing on the fringes of the Color Field Movement in an ill-fitting, impulsively-purchased tie-dyed shirt, probably. It's spacey, but sometimes it's pelagic, so I think that adds up to being hyper-organic. Astral eyefuls. Cosmic curiosities. Some in the 'biz' call it fluid painting.
CC: Tell me about your creative process. How do you start on a painting? 
HP: The paint is queen. I don't use paintbrushes — I'm a slave to viscosity. I prefer stretched canvas as a substrate (square, ideally), but I've worked on wood panels and human bodies in the past and like those, too. I start by halfway committing to a color palette, and mixing fluid acrylics and regular acrylics with water and other mediums that make them more elastic and friendly. Then I pour them directly onto the canvas and work them together by tilting, blowing, and generally pestering them into submission. Some pieces are done in an evening. Some I'll revisit for weeks or months. Others might never be done.
I'm somewhat at the mercy of the moment, and I don't always have a lot of control over the outcome. That's by design — I wanted to get better at surrendering control in general.
CC: Aside from painting, are you drawn to any other materials? What's on your wishlist to learn?
HP: I am smitten with the work of Yayoi Kusama, specifically her 'infinity room' installations that combine mirrors and lights to create a surreal, all-encompassing environment for the visitor. It moves me to consider what I'd see if I could step into one of my paintings and look around. How can I harness the cosmos and bring it down to earth for a more face-to-face conversation? Lights, perhaps.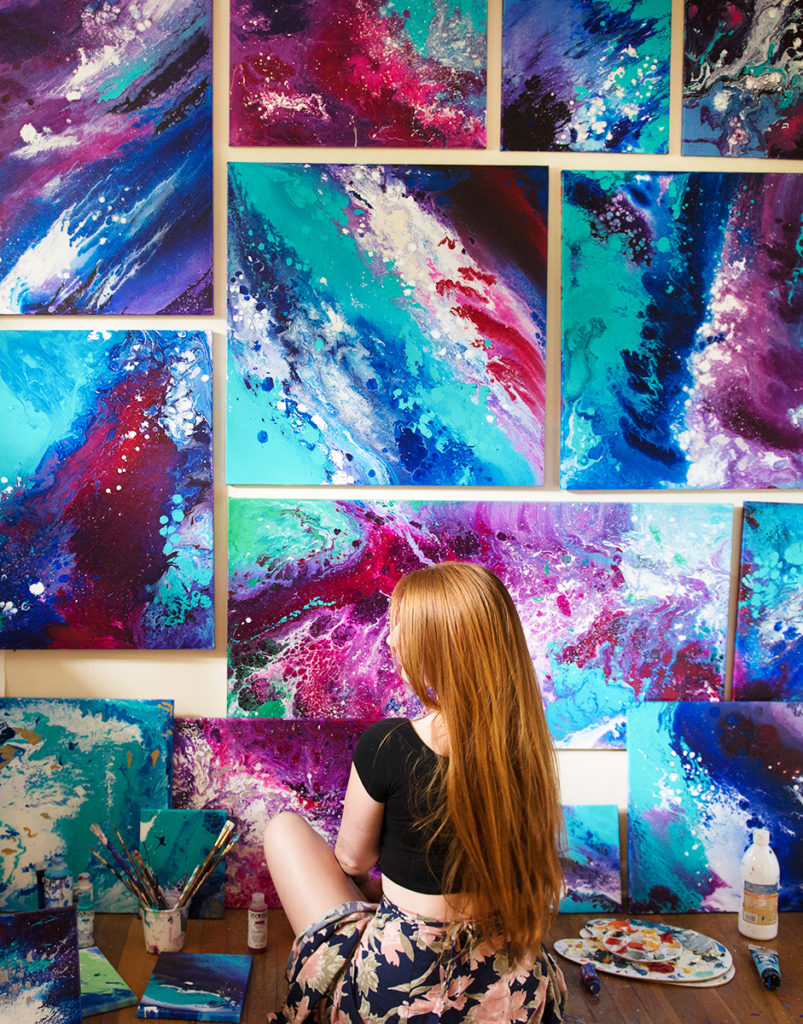 CC: What inspires you?
HP: Seeing and being. At first, it was almost exclusively heartbreak that inspired me to paint. During the darkest part of a fairly recent recovery, all that felt good was color, so I started using it with reckless abandon. Painting was probably the only thing that helped me feel some balance then. And here we are! Shout out to that guy, in hindsight.
Now, feeling good inspires me just as much as feeling bad. Finding the magic in the mundane. Thinking about home. Looking up and around will always fill me with joy and motivation and awe. We're such a tiny part of this moving, breathing universe, and the ebb and flow of life is bewilderingly beautiful.
Also, Led Zeppelin III. Man, that's a good album.
CC: How do you promote yourself? 
HP: This is the part I've never been that great at, honestly, at least not in the traditional sense. Selling my work hasn't been a huge goal for me, I'm mostly content with someone other than me and my dog seeing it. I do have a website which I strung together myself, and my Instagram sprouted wings fairly swiftly. That's probably grown into my biggest marketing tool, really. I post every day and find that cohesiveness and glacier-like evolution in style or palette helps me retain a steady following. Evidently, people don't like to be surprised too much. In the past few months, I've sold work and secured commissions via Instagram alone.
All that said, just owning my craft might be the best promotion of all. My style of painting is messy, to say the least, so I'm often multi-colored. I used to make a concerted effort to scrub the paint off before venturing out, but time and sensitive skin bumped that down the list of priorities quick-smart.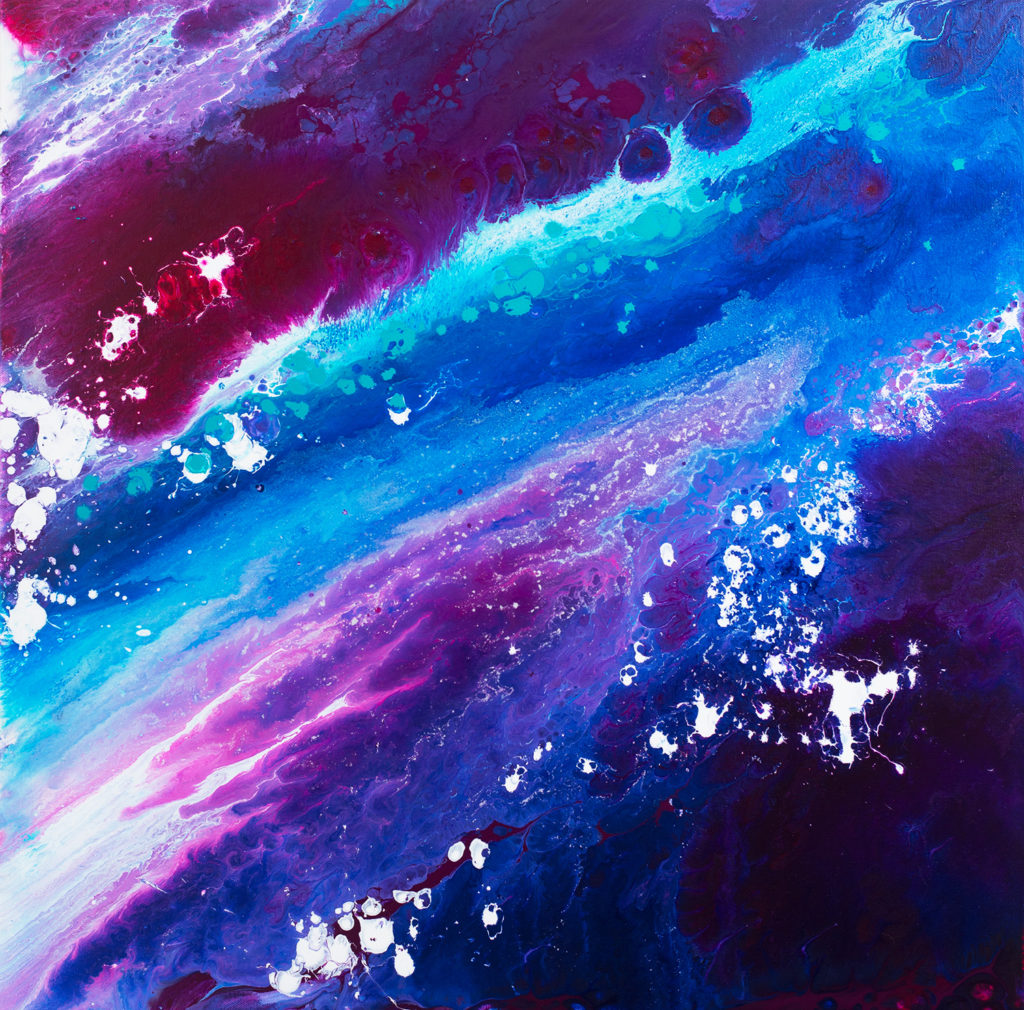 I never underestimate the value of real, raw, human connection, and creative authenticity. Once I started painting what felt good to me, without apology or second-guesses or worrying what people want on their walls, the universe gave me a little high five.
CC: Do you have any dream collaborations with other local artists?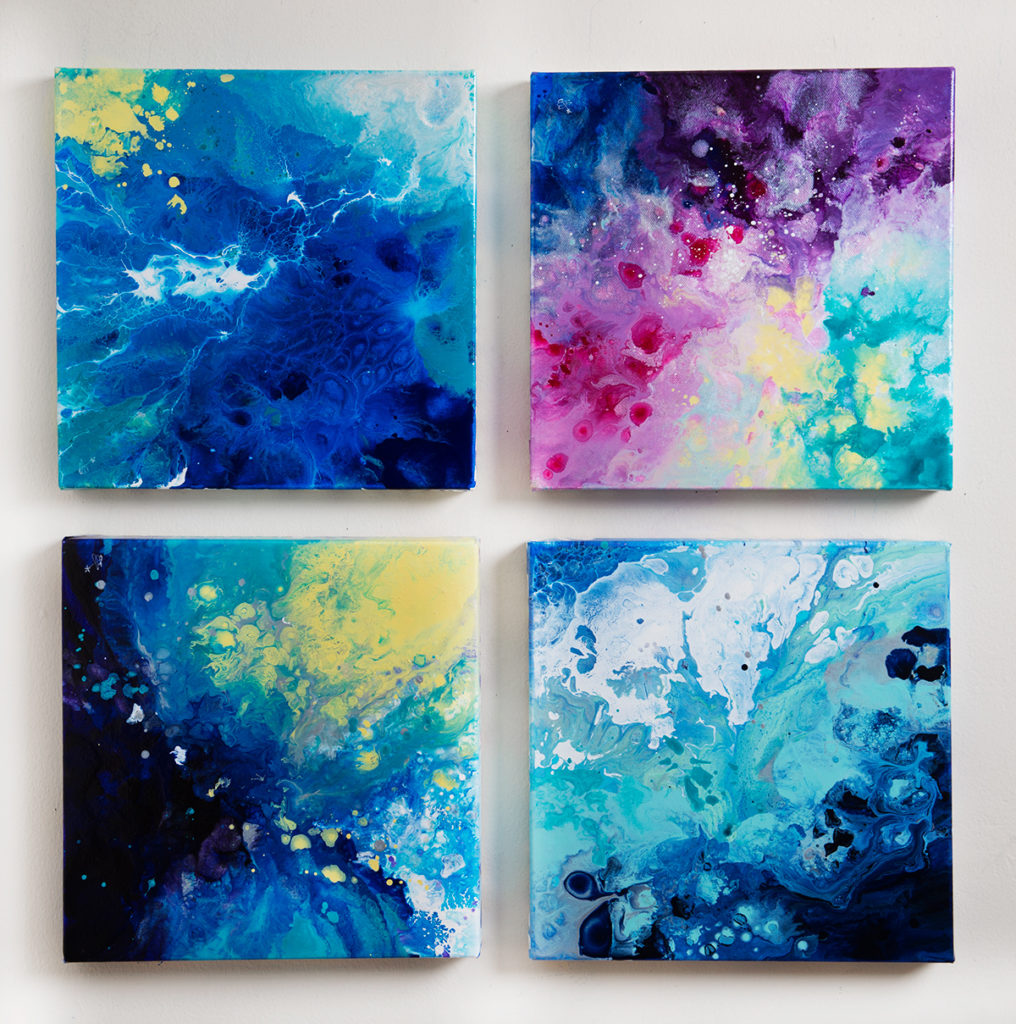 HP: Not-so-conveniently, I'm drawn to the artists that seem to be my stylistic opposite. I'm head-over-heels for Kyle Brooks (BlackCatTips), and that's at least partially sentimental. I remember seeing his work creeping into the East Atlanta neighborhood when I first moved here. He helped this city feel like home to me, and I'd love to paint something for him to folk-ify.
I drive past Molly Rose Freeman's murals just about every day and she inspires me to take my work vertical. And paint more vaginas. I'm pretty sure I'd drive Lynx Nguyen bananas, but I'm still in awe of his extraordinary creative discipline and can't help but wonder what contrasting magic we could make happen.
What are your thoughts on Atlanta's current creative scene?
I fell in love with Atlanta the way you fall in love with a stray cat. It's there, and it's cool, and you feed it, and then suddenly you're thoroughly insulted if it doesn't show up for its free breakfast one day.
That seems to be a good metaphor for the arts scene, too. I find it to be a very sharing, caring, bold, and collaborative community, and despite my newness to it — I feel completely welcome. My artist friends clue me in on spots to show my work, and I help them hang theirs. It runs parallel to the spirit of Atlanta as a whole — charming, smart, and feisty. I'm also now on a first-name basis with everyone at the art supplies store, so I'm trying not to let that go to my head.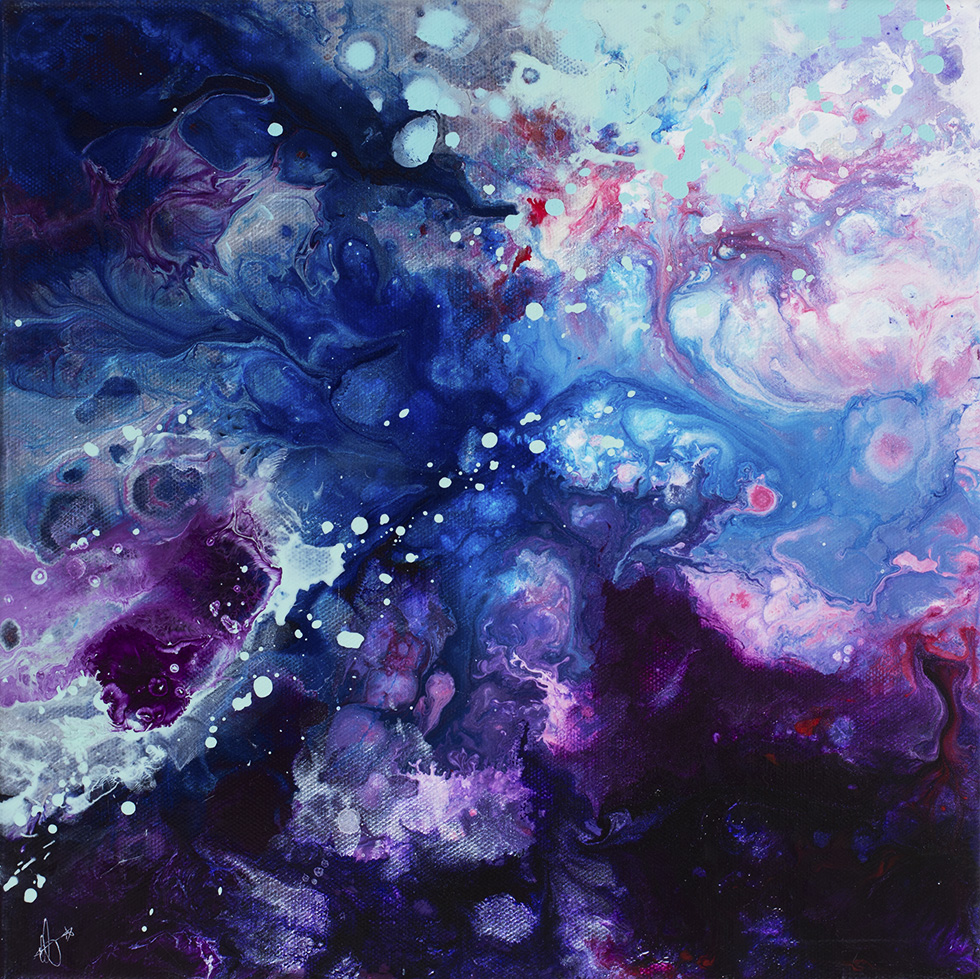 What's next for you?
I participated in the "Querent: A Tarot Show" group exhibit at Mindzai last month. Now, I'm digging my claws into a new, more cerebral series of work for a June solo show at Parlor. Until then, my work will be dotted around town — Taproom Coffee, Caroll St. Café, and Kavarna. Beyond that? I'll leave it to the universe.
Why do you make art?
It's my translator, my therapist, and the annoying neighbor I can always sort of hear through the walls. I must make art. If I don't, I'll either wither and die, or it will hunt me down. It will always win.
You can see more of Hannah Pearman's work on her site and Instagram.