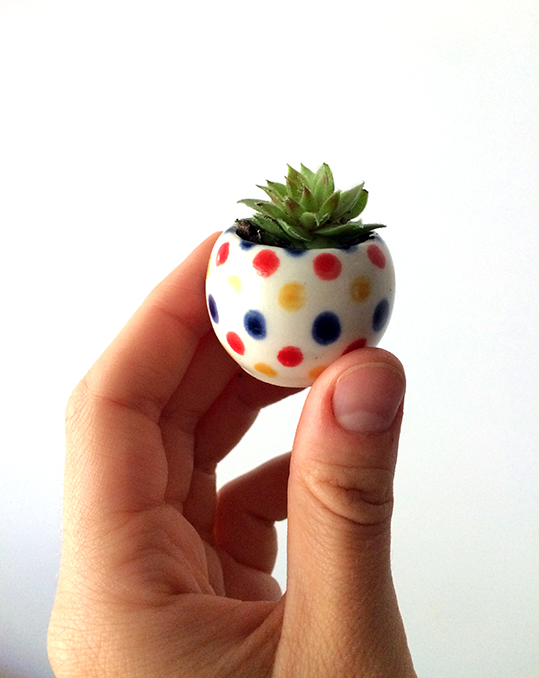 Just one year ago, Georgia Tech graduate Sonia Rose McCall started creating planters in her apartment — these days, they can be seen in homes across the country.
She now makes her wares under the name Rose Grown Ceramics. After graduating, McCall spent every day in the studio, and soon realized it was a nice change after designing for class assignments and sponsored projects in school. By the end of the summer, she had made hundreds of pots of all varieties.
Now, on her Instagram page, thousands are drawn to McCall's signature pieces in varying stages of completion: ceramic pots molded to mimic breasts (called Titty Pots), and her tiny Bitty Pots. But those aren't all the charming creations this artist is known for: McCall also handcrafts beautiful mugs, necklaces, and a new style she's dubbed Pregnant Pots.  
Here, the artist behind the clay talks to CommonCreativ about how she fell in love with throwing, the exciting announcement she released this month, and why she's proud to call Atlanta her home.
CommonCreativ: How did you land in Atlanta, and how has it influenced your work?
Sonia Rose McCall: I moved to Atlanta five years ago when I started studying industrial design at Georgia Tech. Atlanta's diversity inspires my work. The diversity of our people, weather, neighborhoods, street art, music, flora and fauna, and all the good hikes nearby… so much.
CC: How did you start making pottery? When did you bring together pottery and plants?
SRM: I worked at Paper & Clay, Georgia Tech's on-campus art studio, during college. I experimented with clay off and on (mostly hand-building), but it wasn't until my final semester that I started throwing, and I fell in love with the calm, meditative control it takes to find the form. The tiny plants I use in my Bitty Pots grow in groups and are usually planted as ground cover, so it's really compelling how people respond to the tiny plants once they have their own space.
CC: How did Rose Grown Ceramics come together?
SRM: I made slip-cast ceramic scent diffusers for the College of Design's "Make 10" symposium. I called them "Whiffs" and won a prize from local design firm Orange Sparkle Ball. I spent the summer after graduation doing an "internship with myself" centered around clay. A friend of mine offered to sell the Whiffs and the pots at her shop Young Blood Boutique. I created Rose Grown and an Instagram account to document and share my work and connect with other makers. Rose Grown turned 1 year old on August 21st!
CC: You've had many pop-ups at places like Madewell and Root City Market. Do you want to have a shop of your own one day?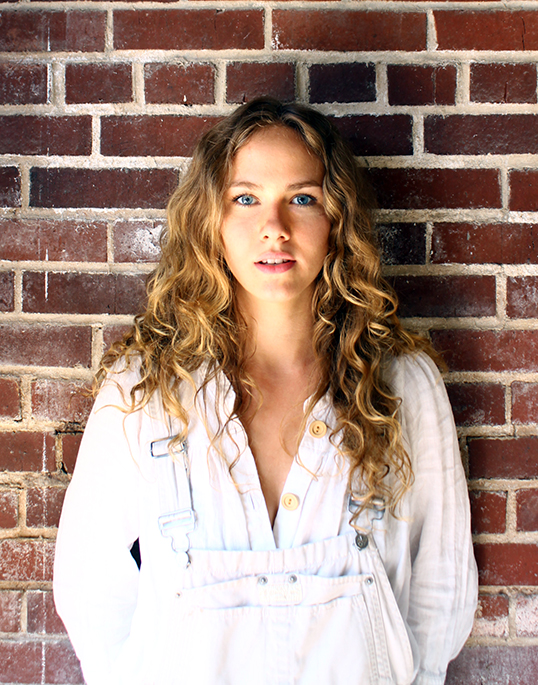 SRM: My social anxiety dreads pop-ups, but when I'm all set up, I love interacting with customers and meeting the people who buy and love my work. It makes me so happy when people appreciate the individuality of each pot. I also love meeting other makers. I can't imagine ever having my own shop. However, I most enjoy getting to work with independent boutiques across the country.
CC: Do you have any specific pieces that your enjoy creating most?
SRM: If I had to pick a favorite: Bitty Pots. I love to play with new designs, and on such a small scale, I'm very comfortable experimenting. It's nice when I can get in a flow state throwing and decorating as the process just happens, from idea to action to tangible piece. The designs of these pieces then seed larger projects.
CC: Do you have any wise words for artists looking to build a business?
SRM: Utilize social media. Instagram has been instrumental in getting my work out there. It connects me with people from all around the world who are interested in my work. It's amazing.
CC: What do you think of Atlanta's creative scene right now?
SRM: I'm learning how incredibly varied and huge it is. So many people doing such cool things, I'm constantly inspired by the work I see around me. Since moving into my studio in Castleberry Hill, I've met so many creatives and explored galleries in the neighborhood. So far, I'm finding the maker community in Atlanta to be very inclusive. I love that.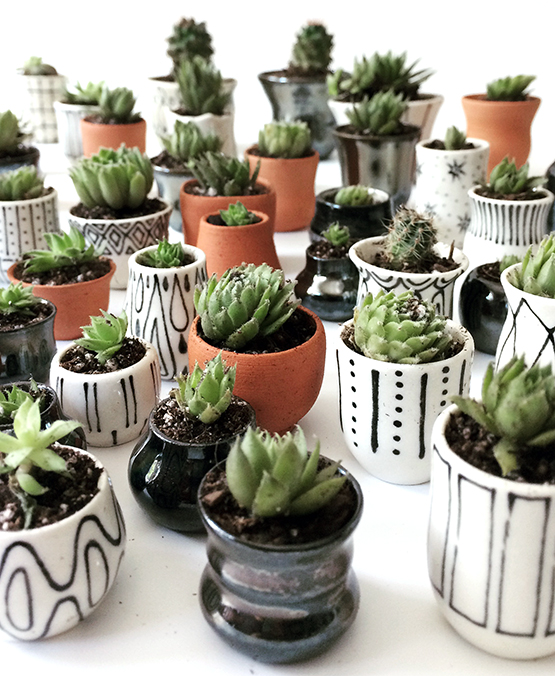 CC: Who are some of your favorite artists in Atlanta's scene right now?
SRM: I love Karen Glass' fashion design, Karen Anderson (of Tiny Doors ATL), and Charlotte Smith (who I'm so lucky to share a studio with).
CC: When you're not creating, where do you spend your time in Atlanta?
SRM: I take walks around my neighborhood and explore Atlanta by foot. I didn't have a car until a few months ago, so I got used to walking everywhere. Even though Atlanta isn't thought of as a walkable city, it's still my favorite way to get around and discover new restaurants, breweries and music venues.
CC: Where can people buy your beautiful pieces?
SRM: Locally my work is available at Young Blood Boutique. Also, I [just launched] my website!
CC: Do you have any exciting projects you're looking forward to?
SRM: I'm constantly adding to my project to-do list — it's hard to keep up! Currently, I'm expanding my line of "Goddessware" (including some pregnant pots) and experimenting with wearable pieces.
You can see more of Sonia's work on her website, Instagram, and Facebook page.